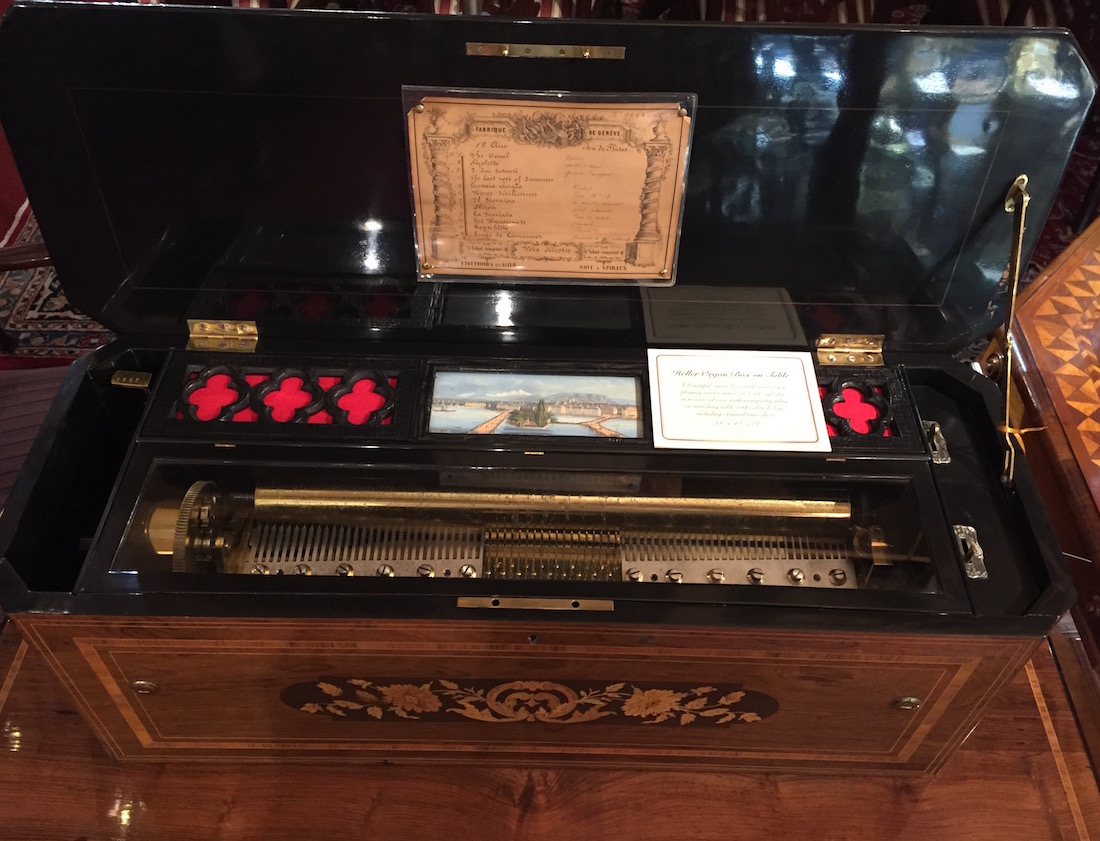 On the long drive from San Francisco down to Santa Barbara, we stopped in picturesque Solvang and happened upon an antique store that provided an impromptu lesson in the disruptive power of innovation.
If not for the wine, we wouldn't have stumbled onto the telling story of the rise and fall of music boxes. Wine bars beckon on nearly every corner in this quaint, Danish American hamlet, complete with windmills, gabled cottages, and a statue of Hans Christian Andersen. Solvang is surrounded by some of California's best vineyards, and for those with a weakness for rich, earthy reds, it's akin to a music lover's pilgrimage to Memphis, or an equestrian's tour of Kentucky, and after tasting several wines, our altered perception set us up perfectly for a little time warp.
We wandered into Renaissance Antiques, an antique clock shop, an anachronous oddity in today's digital world, when you consider that smartphones have clobbered traditional time keeping. Clocks and watches once asserted man's desire to dominate nature and regulate time and behavior. Old-timey grandfather clocks, and even modern wall clocks in schools and offices, defined our daily experience – both visually and with sound. They imposed an artificial order to our days, just as indoor lighting often distanced us from the reality of natural light and circadian rhythms, imposing the artificial structure of hours and minutes.
Clocks were a form of techno furniture, a traditional physical statement of design and wealth, and this packed showroom in Solvang featured almost every imaginable form of timepiece: gold watches, carriage clocks, desk clocks, grandfather clocks, and cuckoo clocks.
But we ended up more interested in the music. The shopkeeper, sensing our curiosity at the antique machinery, kicked into the role of docent, took us under her wing, and commenced her tour. First stop was a 1905 American Edison Triumph cylinder phonograph with its original oak directional speaker horn. The phonograph came with two wax cylinders, about four inches wide and two inches in diameter, each with the capacity to play a single, two-minute or four-minute song. Over and over again.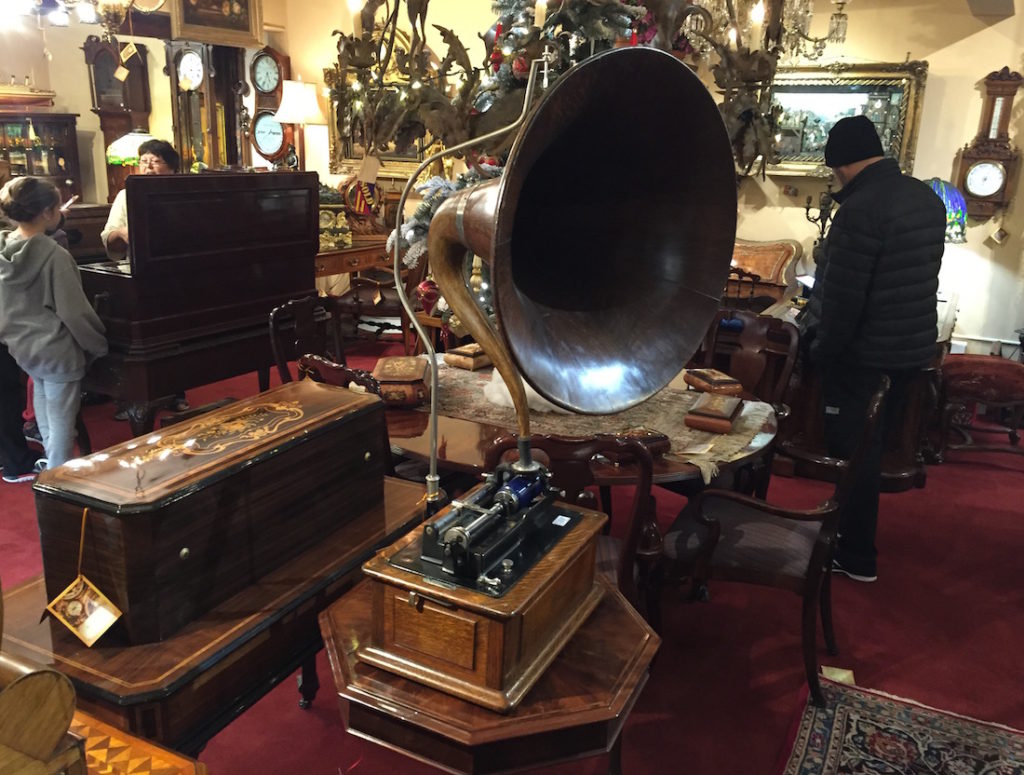 Next, we saw an 1890 brass disc player with six pronged metal discs the size of dinner plates, each of which also played a single song. She gave it a few hearty cranks and played an old marching song, tinny and instrumental. Then, our guide showed us an even older, ornate piano-sized music box from the 1880s – with a shiny silver cylinder a few feet long with pins sticking out of it, that played just a few songs.
Considering how sharing music with the masses helped lead today's tech revolution, starting with the iPod and iTunes, and more recently with a barrage of hot apps such as Spotify and Shazam and others, the forgotten tale of the music box reminds us of the everpresent march of innovation.
Before the latest advances in digital music, record players swept in and wiped out the music box industry.
Bad news for music box makers. Good news for music lovers. For back in the old days, music box makers tried to put customers in a box. Their own box. They forced customers into loyalty and submission by fashioning discs of different sizes and materials and wrapping them in beautifully crafted, expensive wood boxes.
This was done partially to avoid paying licensing or patent fees, but also to prevent the interchangeability of parts and discs from one player to another. Customers were pressured to invest in an arcane music box operating system. That day in Solvang, we were surrounded by these obsolete curiosities, these boxes that once framed the personal home music experience.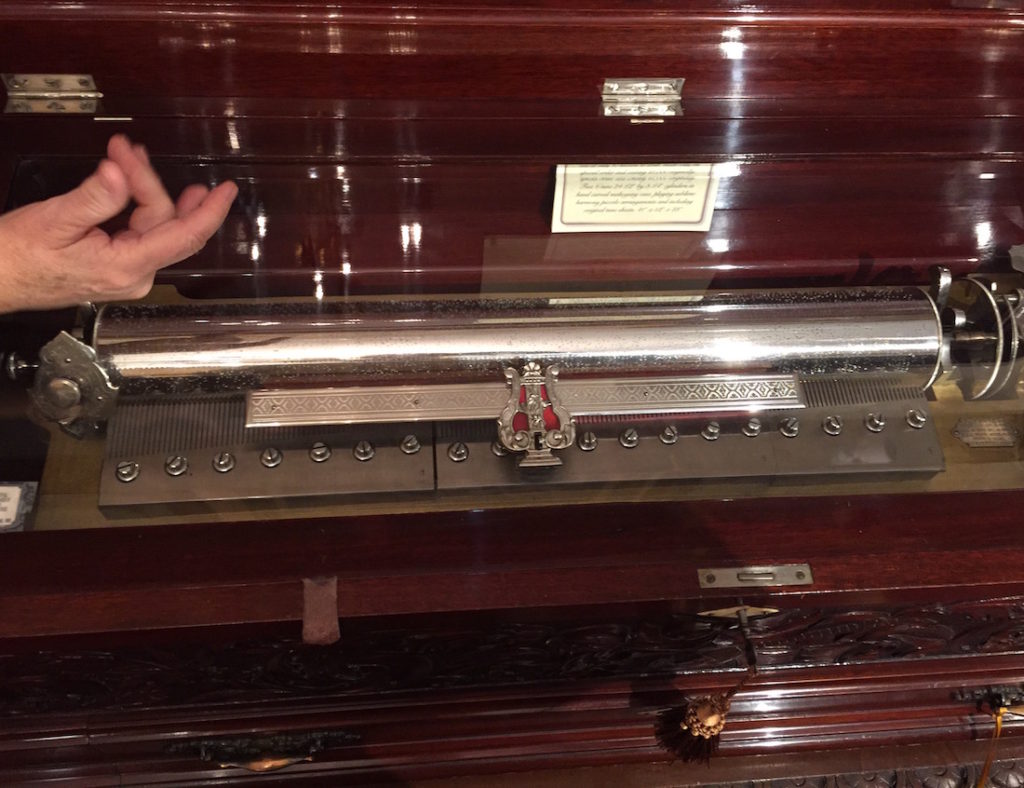 But of course, when you get past the nostalgia, there's another way to look at it. The remarkable advent of records – LPs of different sizes and speeds, but all standardized to fit any turntable – liberated music, and led to today's flourishing audio innovation.
The world of sound had moved on. Just as you no longer needed a big grandfather clock to keep time, that big slab of furniture in your living room called the music box was suddenly defunct.
The freedom of standardization made record players interchangeable, inexpensive, and addictive. You invested in music. All kinds of music.
You thought outside the music box.