About
SmartUp is about how you See, who and what you Cross with, where you Dwell, and how you discover and Prototype promising ideas. Anyone can find the proverbial breadcrumbs that lead to innovative brilliance. These insights don't just come from a stroke of genius. Rather, important inspirations arise from surrounding yourself with the essential elements—the people, places, attitudes and seeds to nourish a novel idea.
SmartUp is a robust tool for ideating. You may be working in a corporation, studying entrepreneurship, or one of the legions of creative individuals seeking to bring innovation to new fields. Our model is an iconic design-thinking framework built around highly focused storytelling. Use it, and you and your team will become more fluent at finding and developing ideas.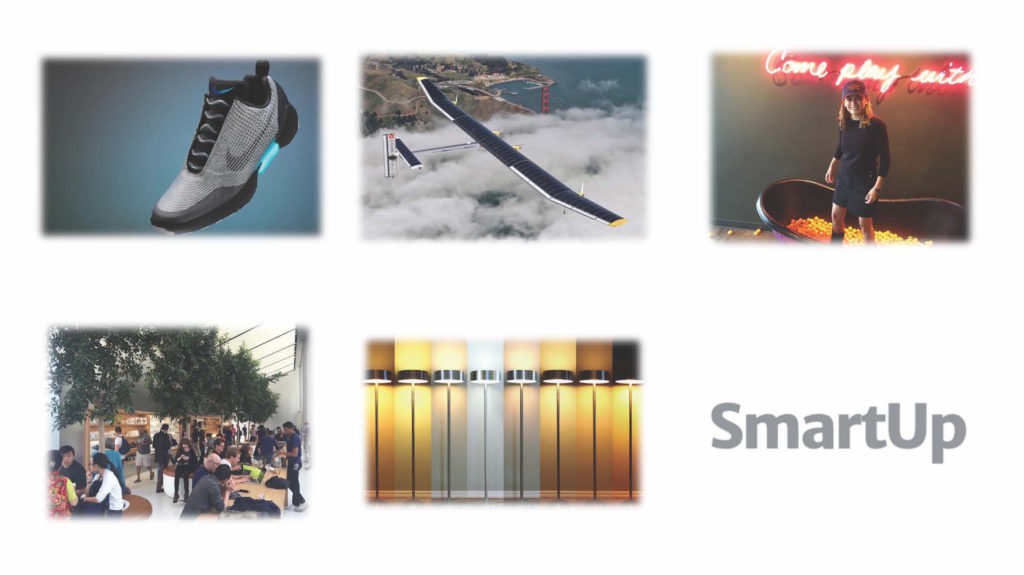 SmartUp gives you ten potent ways to look at innovation and entrepreneurship. You'll find inspirational, well-crafted stories of people, ideas, products, and companies. SmartUp demonstrates through example and analysis that these insights or successes aren't as mysterious as we think. Breakthroughs come through smart grounding in one or more of these fundamental building blocks. Our SmartUp team is identifying, researching, interviewing, and writing about new concepts and trends. We start with the fundamental questions: "How did they dream that up? And how did they turn it from thought to reality?" SmartUp is about applying the leverage that can come with small changes, exploring how subtle shifts in perspective can dramatically improve your ability to seize opportunities.
Innovations often come from embracing intangible, human creative sparks as well as an analytical approach. Our model combines those influences. SmartUp features the ideas and lives of creative and innovative people — some celebrated, some underdogs, some would-be famous — the hardscrabble men and women whose story arcs and grit and success grant us a potent understanding of the entrepreneurial journey. There's also an analytical framework to help you connect and spin off related ideas.
The icons are categories. You can can click on an icon to see all the related stories. The archive also lists all the stories by date.
Here are the ten SmartUp categories:
"See" –  Customer inspirations from smart observations and well-designed anthropology.
"Hurt"  – Develop empathy for your daily pains and frustrations for great product ideas.
"Dwell" –  Seek out places, communities, and people to exchange and nourish ideas.
"Cross-Pollinate" – Combine cultures, industries, and concepts to spark insights and new products.
"Prototype" – Practice rapid prototyping and experimenting with ideas, teams and projects.
"Immerse" – Rediscover essential truths through immersive experiences in nature and the world.
"Give" – Share ideas, resources, and energy to cultivate an attitude of entrepreneurship.
"Fail" –  Risk failure, and when you do fail (and everyone does), look to learn from it.
"Play" – Seek fun and fresh experiences to inspire yourself and new ideas.
"Remember" – Reimagine the old to form new products and innovations.
SmartUp's roots extend back to my major collaborations with Tom Kelley of IDEO on The Art of Innovation and Ten Faces of Innovation, two international bestsellers that have each been published in 11 languages, are taught in business and design schools worldwide and have sold over 750,000 copies. I am currently collaborating with Dev Patnaik, CEO of Jump Associates and professor at Stanford University, on a new book tentatively titled Unleash.
The last few years, I've found a fresh source of ideas through innovation consulting, writing and branding for a range of corporate clients. My class Creativity, Innovation, and Applied Design at the University of San Francisco has been a source of inspiration, keeping me in tune with how quickly smart young people can learn given the right tools. I've also spent a lot of time at the incubators Galvanize and Runway, experiencing San Francisco's booming incubator and co-working revolution. Entrepreneurs, students, and creative and passionate people of all walks of life inspire me. SmartUp is an effort to give back some of what I've learned from some very smart people and companies.
As an author who first published a work on innovation in 2001, I've been astounded by the surging worldwide interest in the subject. In the past few years, I've given innovation labs in San Francisco for executives and students from China, France, Germany, Italy, Portugal, Mozambique, Angola, Brazil, Turkey, Germany, Korea, Hong Kong, and Kazakhstan. In 2016, I did a week of keynotes and innovation labs in Lisbon, Portugal, and saw my work in China and with groups from China expand exponentially. I presented a major keynote at the 2nd Shanghai Innovation Conference, led eight innovation labs in San Francisco for entrepreneurs and business leaders visiting from China, and performed as Master of Ceremonies for a 1,200-person conference in Santa Clara on Artificial Intelligence for Chinese investors. My innovation workshops, slides, and exercises have been translated into Chinese, and I've become practiced at working with translators.
Entrepreneurship and innovation are now majors and increasingly popular subjects taught at universities around the world. SmartUp is about applying some proven techniques to accelerate innovation for individuals and teams. It's about the value of fundamentals, and it's my hope that SmartUp provides a vital, living foundation and jumping-off point.
SmartUp is a collective effort. Quality is our goal, and our stories aim to be unique, well-written, and professionally edited and researched. Special thanks to our indefatigable and technically astute Editor-in-Chief Susanna Camp (formerly of Wired Digital, Outside Online, and PCWorld), our web and icon designer Nicholas Petersen, our contributing writers Michael Walker (formerly of the LA Times and Hollywood Reporter, and author of Laurel Canyon) and Pat Hanlon, CEO of Thinktopia, contributor to Forbes, and author of Primal Branding.
Brian Hertzog was our first technical lead and Marc Hershon the naming and branding whiz has been superb at supplying catchy headlines (Marc also coined the BlackBerry). Cyrus Gill, a gifted student in two of my USF classes (now at Twitter), was our first intern. Haosheng Wang, another USF find, has been extraordinary in helping me to craft my innovation labs for Chinese audiences and in translating some of our stories into Mandarin.
SmartUp will be delivering some major enhancements in 2017, with Nicholas Petersen's technical skills, and the inspiration and assistance of my first intern squad, Team Vitality. I'm expecting great things from Allie Proctor, Eric Wang, and Jenny Sink of USF.
With all these creative and hard-working individuals. SmartUp has grown faster than I could have imagined (with thousands of weekly page views). In our year and a half we've published more than 90 SmartUps – bite-sized, professionally written and edited case studies on entrepreneurship and innovation. Stay tuned. We'll soon be offering some unique resources, including featuring some of the world's best startup incubators and accelerators, accented with the beautiful drawings of my former student, Andreanna Woodhams, USF class of 2017.
I'm proud to say that nothing like SmartUp exists. Our growing database of stories and mini-case studies is a unique resource for individuals and corporations exploring innovation, as well as students studying entrepreneurship and innovation in high school, college, and graduate programs.
Enjoy. Explore. Please share any thoughts or insights. You can check out my extended bio here.
Jonathan Littman
Founder
SmartUp.life
jonathanlittman@smartup.life