About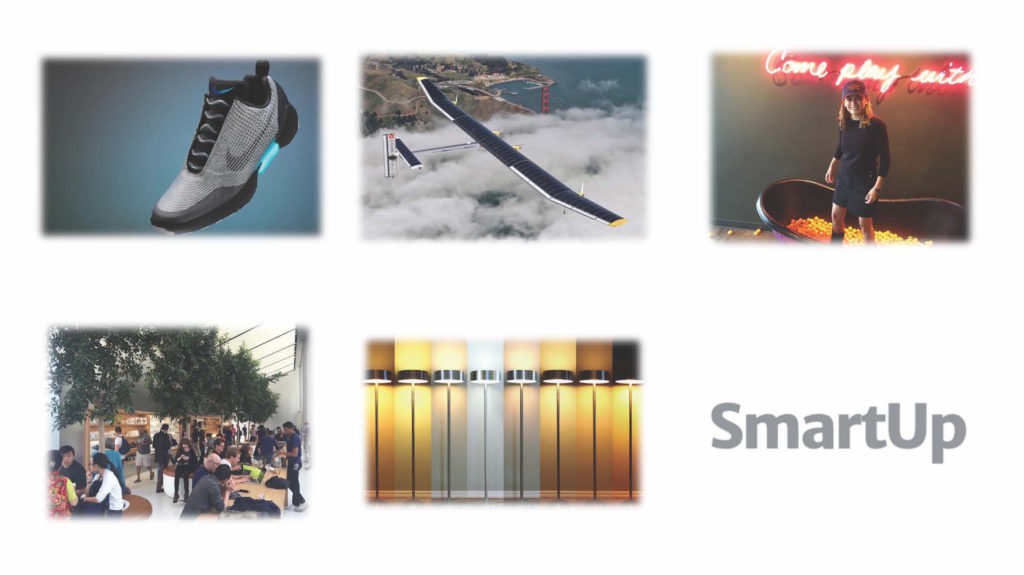 SmartUp is a collective effort to find and write original stories on entrepreneurs, startups and innovators. We're also keenly interested in how cities and nations build and sustain tech ecosystems.
Quality is our goal. Our articles aim to be unique, well-written, and professionally edited and researched. We write stories and host interactive labs. We're also writing a book on global entrepreneurship.
We are:
Founder Jonathan Littman, the co-author of The Art of Innovation and Ten Faces of Innovation. Check out Jonathan's extended bio here.
Editor-in-Chief Susanna Camp (formerly of Wired Digital, Outside Online, PCWorld, and Macworld). See Susanna's professional portfolio here.
Our web and icon designer Nicholas Petersen.
Contributing writers Michael Walker (formerly of the LA Times and Hollywood Reporter, and author of Laurel Canyon), Eric Wang, a USF graduate with sharp technical acuity and a knack for describing new technologies, and Mathieu Guerville, Head of UL Ventures and an experimenter extraordinaire. Marc Hershon the naming and branding whiz has been superb at supplying catchy headlines for our stories (Marc also coined the BlackBerry). Haosheng Wang has been extraordinary in translating many of our stories into Mandarin.
We're proud to say that nothing like SmartUp exists. Our growing database of stories and mini-case studies is a unique resource for individuals and corporations exploring innovation, as well as students studying entrepreneurship and innovation in high school, college, and graduate programs.
Enjoy. Explore. Please share any thoughts or insights.
Want to know how the site works? Here are the ten SmartUp categories:

"See" –  Customer inspirations from smart observations and well-designed anthropology.

"Hurt"  – Develop empathy for your daily pains and frustrations for great product ideas.

"Dwell" –  Seek out places, communities, and people to exchange and nourish ideas.

"Cross-Pollinate" – Combine cultures, industries, and concepts to spark insights and new products.

"Prototype" – Practice rapid prototyping and experimenting with ideas, teams and projects.

"Immerse" – Rediscover essential truths through immersive experiences in nature and the world.

"Give" – Share ideas, resources, and energy to cultivate an attitude of entrepreneurship.

"Fail" –  Risk failure, and when you do fail (and everyone does), look to learn from it.

"Play" – Seek fun and fresh experiences to inspire yourself and new ideas.

"Remember" – Reimagine the old to form new products and innovations.