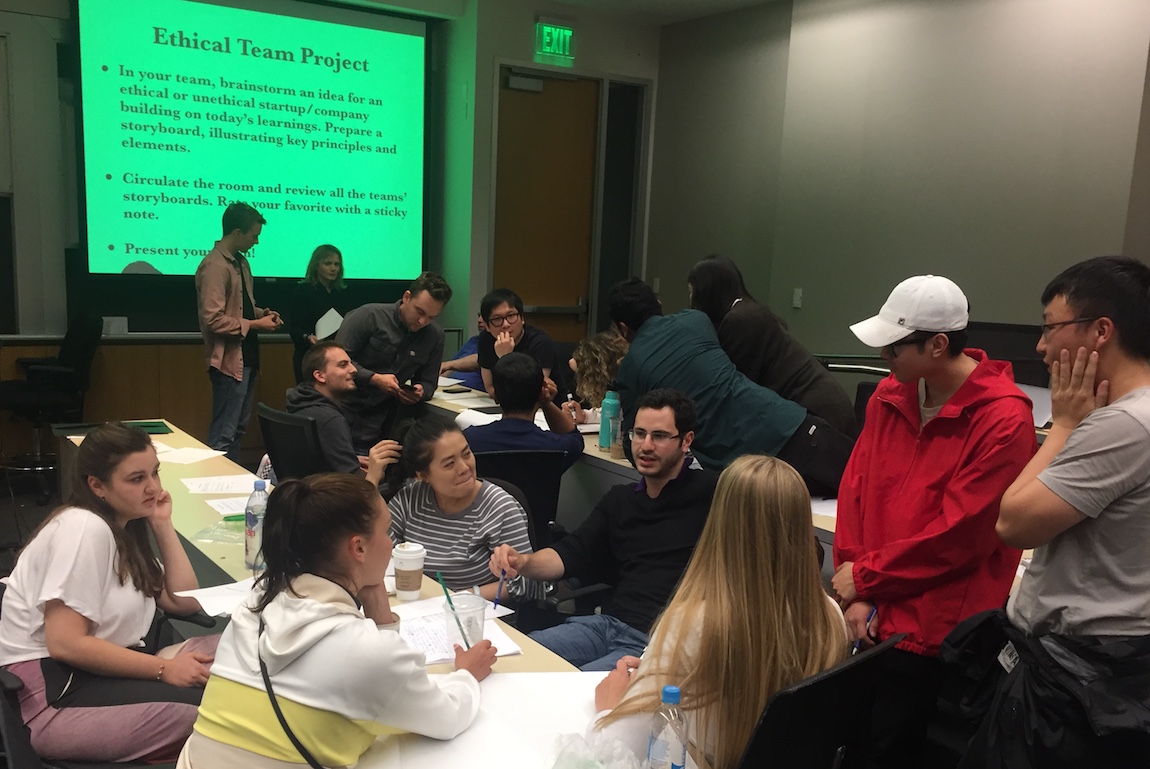 "What are the qualities of a good leader?" Professor Mark Cannice asked the group of MBA students at USF's School of Management. "Respect!" answered one student. "Fairness!" shouted another. "What about ethics?" Cannice probed. "What are the benefits to society of a good ethical leader?" The students tossed out a succession of answers: Empathy. Honesty. Moral Principles.
The 43 international students, hailing from 20 different countries in all, were in the last few weeks of USF's popular year-long master's degree program in entrepreneurship and innovation. Preparing to go out into the world and put theory to action. Which is why Professor Cannice opened the class by introducing the question of ethics, the application of a moral code of conduct that you bring to the real-world test bed – the workplace.
Ethics isn't so much about what you say, but what you do. We led the class through our interactive, two-and-a-half-hour seminar on Ethical Innovation, a deep-dive exploration of recent scandals, based on a workshop we first prototyped earlier this year at Schoolab SF (the local hub of the Paris-headquartered global consultancy) with 35 bright students from the Paris-based ESSEC's Masters in Entrepreneurship program.
Our seminar began with a detailed survey of the atrocious actions of bad leaders – from the dangerous, federally indicted Elizabeth Holmes of Theranos to bad-boy Travis Kalanick of Uber, and a few nefarious actors in between. The objective: to learn by contrast, exploring together what it means to be ethical. Next, we took the class through our "ethical scorecard" and guided them through typical ethical dilemmas – ranging from financial to social and tech. Then rocked them back on their heels with tricky scenarios where they had to navigate data protection, financial oversight, and relations with regulators. In a fun, final pitching project, we gave them carte blanche to dream up an ethical or unethical company.
The students left with a better understanding of how to lead gracefully and innovate with ethics. It's part of a global trend. Today, hundreds of thousands of students and entrepreneurs are tackling ethics and the larger purpose of innovation at an ever earlier age. Next week we're excited to be teaming up with Kyle Ashby of Startup Summer Camp, hosting his Brazilian delegation for one of our seminars at Schoolab SF. Forty Brazilian high schoolers hungry to push social and environment entrepreneurship for greater impact in Latin America's largest nation. On the agenda: Ethics and mission, the new templates for success.
---