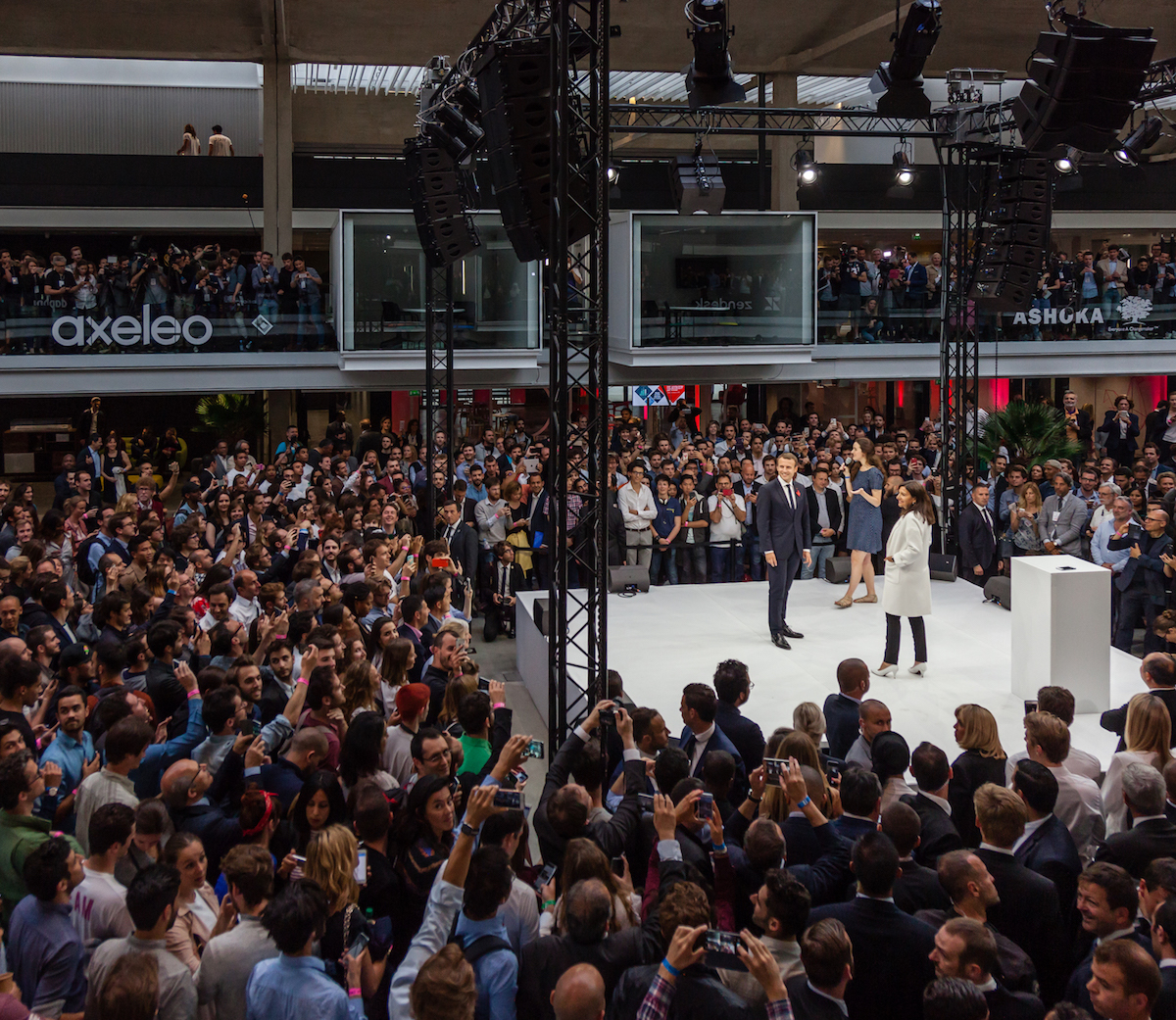 We stepped into the elevator at the Twitter building, joined by the general consul for tiny Malta, rode to the tenth floor, and entered the bustling, aptly named tech incubator Runway. But this wasn't the usual mélange of entrepreneurs and startups. The chatter was in several languages. Guest badges displayed a foreign bent: government officials, trade bureau representatives, and businesspeople assembled to hear the findings of a promising major report that one attendee ushered in with a shout-out: "Europe is cool again!"
There's a new wave of enthusiasm for tech entrepreneurism in Europe, epitomized by such developments as Paris's 1,000-strong new startup colossus Station F, the election of French President Macron, and the rise of impressive European tech hubs in London, Berlin, Amsterdam, Stockholm, Lisbon, and a host of other cities. Last week's event was about strengthening the growing California connection: "Innovation Bridge: Technology, Startups, and Europe's Connection to Silicon Valley." Willem Jonker, the CEO of sponsor EIT Digital, described major shifts in startup investment and development in Europe, long known for fine R&D and education.
Sean Randolph of local think tank the Bay Area Council Economic Institute authored the fascinating and detailed European report, and shared some highlights: home countries provide strong incentives for startups, including tax credits, R&D credits, startup grants, and venture funds. The EU has also been instrumental in spurring startup growth, with 40% of European venture activity supported by the European Investment Fund. Randolph's in-depth presentation outlined the numerous reasons international businesses come to Silicon Valley.
Tapping the SF Startup Culture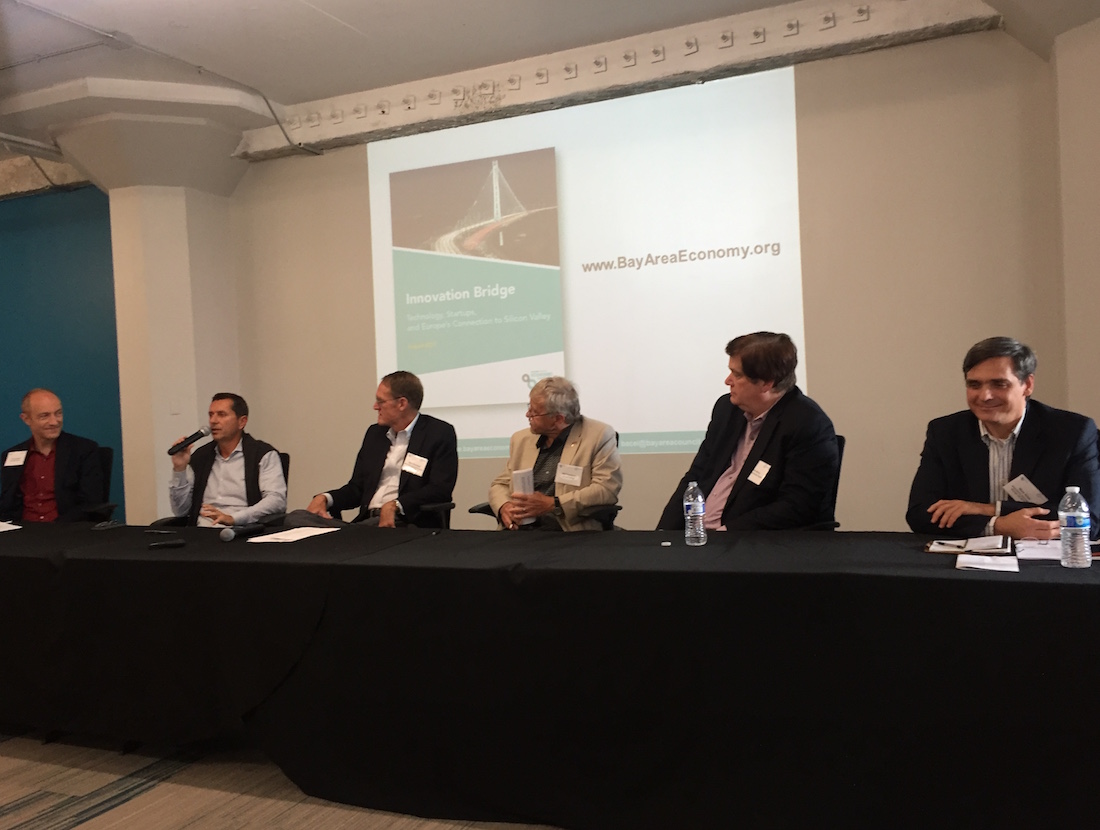 At least 35 European governments host accelerator programs in the Bay Area, drawn to the wealth of advantages such as opportunities to scale, access to investment capital, and developing partnerships with platform companies. The human element is invaluable: ambitious European entrepreneurs can attract mentors and seasoned executives even during a short California sojourn. San Francisco is steeped in startup culture. Failure is embraced, and sprouting new business and personal connections is a way of life in a city teeming with tech events. Everybody here seems to be somehow linked to the startup culture, whether as a founder, employee, investor or mentor.
Most European entities have established a local physical presence in San Francisco or Silicon Valley. Some take an all-in approach, such as the spectacular swissnex tech innovation hub on Pier 17, combining incubator, consulate headquarters, economic development and tourism offices, and a stylish event and exhibition space that invites cross-border collaborations. Nordic Innovation House in Palo Alto offers the synergy of bringing together five Nordic countries under one roof.  The French Tech Hub in SF's up-and-coming Dogpatch neighborhood  is one of three such French hubs in the US.  Other countries locate their local branches within a WeWork or in a smaller location serving as a nexus.
While American students once sought experiences and adventure touring Europe, students from abroad are adopting a more focused approach. At the Runway event, we met a number of European students taking advantage of summer entrepreneurship programs at UC Berkeley and Stanford.
Randolph's talk concluded with a panel of innovators and local international players who joined him on stage to share their reflections on the report and their own experiences in the industry.
Mentorship, Capital, and Innovation
"Innovation is a contact sport," quipped Chris Burry, Co-CEO of US Market Access Center and the arena is SF and Silicon Valley. His comments focused on Europe's gap in the number and quality of mentors. In contrast, the Bay Area boasts countless mentors who have already successfully launched startups and scale-ups, with "been-there, done-that" expertise. Good mentorship is like money in the bank. Burry cited data from Startup Compass showing that entrepreneurs supported by good mentors raise three to five times the capital and yield seven times the revenue.
Mark Searle, Managing Director of the Innovation Acceleration Group at UC Berkeley, seconded the report's findings that companies will often leave their R&D and engineering operations in their home countries while positioning a core management team here in the US to handle marketing, scaling, and market acquisition. A California base is necessary for California money. Access to critical Series B, C, and D funding only comes from growing local contacts, Searle noted. US investors, he said, are reluctant to jump in unless they know the financier who funded a company's Series A round, so it's essential for European companies to foster those connections.
Paul Campbell, VP and Head of Silicon Valley Innovation for Schneider Electric, a $30-billion Paris-based electric firm with a specialty in IoT implementation, recounted the origins of Schneider's local efforts. A few years ago, he said, when Google bought Nest, Schneider began to realize the company might be disrupted by IoT, so executives came to the US on an immersion tour. Since then the company has invested big in tapping into the local industry to grow its expertise in smart electricity. As the Innovation Bridge report detailed, early stage investment in European companies has doubled in the last three years, and Schneider is focused on scouting the most innovative companies they can support. Last year, Campbell said, they implemented 20 partnerships with startups, investing in companies back home and here, encouraging them to include the US in their growth plans.
Just as the California Gold Rush attracted fortune seekers from around the globe to the Barbary Coast, the city has once again become the world's center for entrepreneurship and technology-driven innovation. The next evening, just across town, we met an under-30 Hungarian e-book publishing founder at Google's Launchpad Accelerator during an open house for dozens of startups from Europe, Africa, India and South America. Several young entrepreneurs there told us they couldn't possibly make the leaps in technology, growth-hacking and connections back home that they accomplished here in a brief visit.
San Francisco and Silicon Valley's innovation bridge is open for business, and Europe is coming fast.
---
For more on the international startup scene check out: Out-of-the-Book Thinking: How a Hungarian E-Publisher is Breaking the Rules
Out-of-the-Book Thinking: How a Hungarian E-Publisher is Breaking the Rules