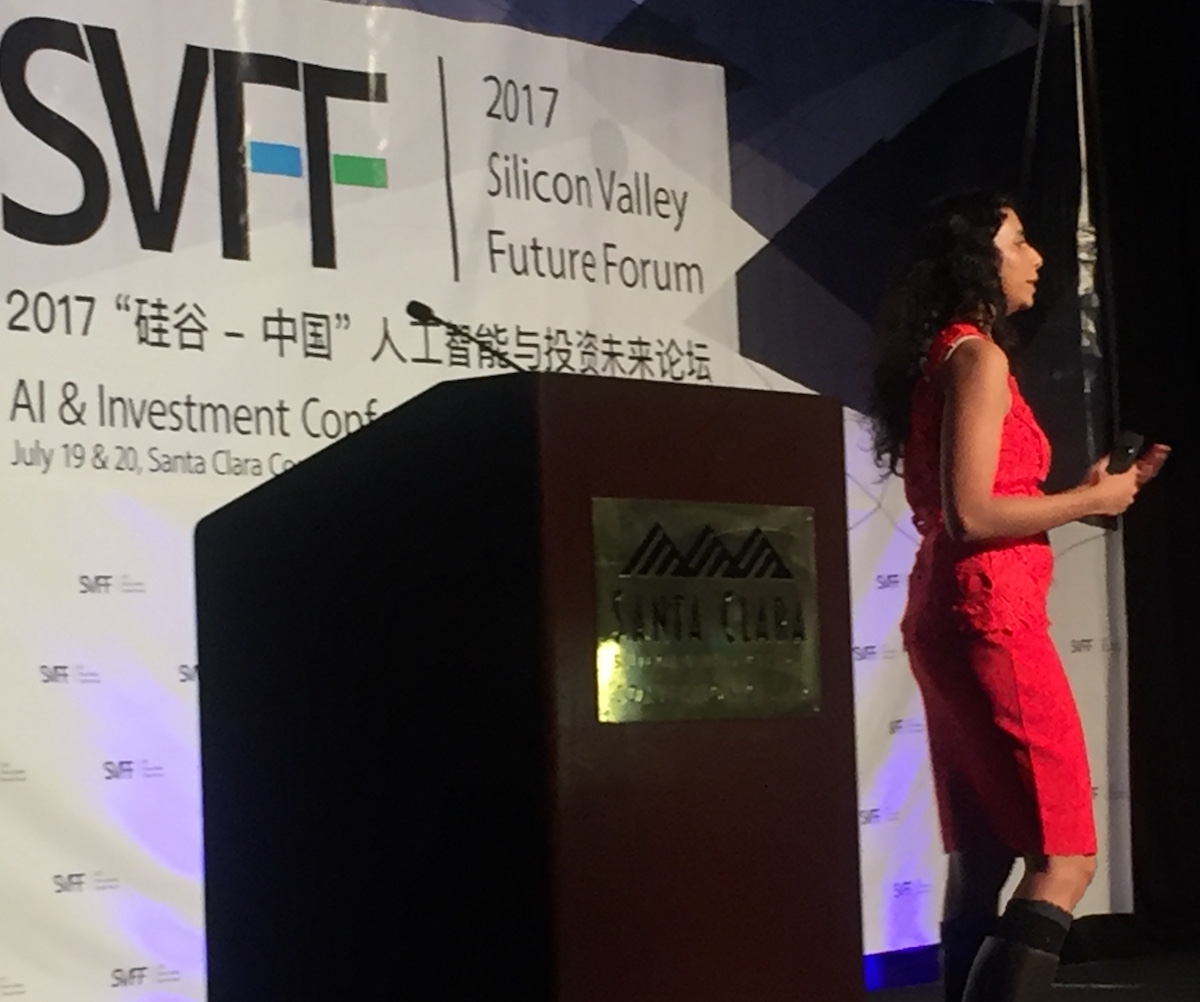 While Elon Musk shared dark doubts about our ability to control the genie that is Artificial Intelligence, big AI and data dogs from Microsoft, Google, Amazon and upstarts descended upon Santa Clara last week to deliver a call to action: inject business smarts and human common sense into this exploding digital revolution.
The Silicon Valley-China Future Forum 2017: Artificial Intelligence & Investment conference featured two days of speakers, panelists and startups discussing funding and business opportunities. There was a beautiful irony as Trump kicked off his "Made in America" month: this engaging, 700-strong conference in Silicon Valley – the engine of the US economy – was held by and for Chinese investors, venture capitalists, and technologists.
Advances in AI and big data are breaking down borders, and China is a leading force: many of the presenters were born in China or of Chinese descent, and 90 percent of the audience was Asian. Nobody was talking about resurrecting lost industries, bringing back coal jobs or restarting rusty manufacturing assembly lines. AI and big data is all the rage in China for countless business reasons, and you could feel the urgency in the ballroom, not least because intelligent design and machine learning breakthroughs often come through mining the reams of data emerging from a country of almost 1.5 billion.
But there's nothing automatic about this global seismic tilt. Knowing where and how to apply artificial intelligence and tap big data requires a higher level of human intelligence. The conference made clear that today many startups and large corporations chasing AI need to get smarter. One big theme: startups and corporates often hype technology and infrastructure, said the panelists, instead of doing the hard research and analysis necessary to find valuable product. Here are some key advances and insights:
AI "Legalizes" Shoplifting
Anima Anandkumar, principal scientist on deep learning at Amazon Web Services, described Amazon Go and its "Just Walk Out" technology, the world's most advanced AI-assisted shopping experience, currently being prototyped in Seattle, soon heading to Europe, and quite possibly about to appear at new acquisition Whole Foods. Forgot your wallet? All you need is your smartphone with the Amazon Go app. Scan in the app at the entrance, then just grab and go. Andandkumar laughed, noting that your first Amazon Go experience feels like "shoplifting."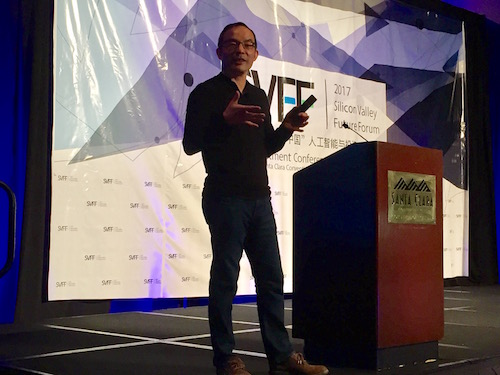 Cracking the Voice Barrier
Microsoft and Google are neck-and-neck in voice recognition. XueDong Huang, Technical Fellow and Chief Speech Scientist at Microsoft, touted the company's voice recognition technology, which has just reached parity with our human ability to understand speech (tests have shown it eclipses human transcribers). The long anticipated ability of computers to listen better than humans will spur countless new applications and transform multiple industries and services. Here's one: a new Microsoft Garage experimental project utitlizing Microsoft Translator, an app that can automatically generate subtitles for a PowerPoint in over 60 text languages.
Self-Driving Vehicles are Already Here
Mel Torrie, CEO of Autonomous Solutions explained how fleets of trucks, loaders, and farm vehicles are being quickly adopted in dangerous and harsh environments in Latin America, China and other markets. Entire operations can be carried out in a safe, remote location by a few operators. AI is helping mining and farming companies make in-the-moment economic and logistics decisions based on real-time fluctuations in commodity costs.
Putting Human Brakes on AI
Experts are seeking a more nuanced approach to AI, with targeted options, especially in health care and investment banking. They want their hands on the controls to test new applications and course-correct. And, yes, to avoid nightmare scenarios, like full AI applications that can potentially lose a fortune in an instant. We've seen harbingers of this already, flash stock crashes set off by fake-tweet hacks, spurring high frequency trading algorithm mayhem that temporarily skewed pricing. These are early warning signs that humans should still hold the reins in the coming AI-dominant future.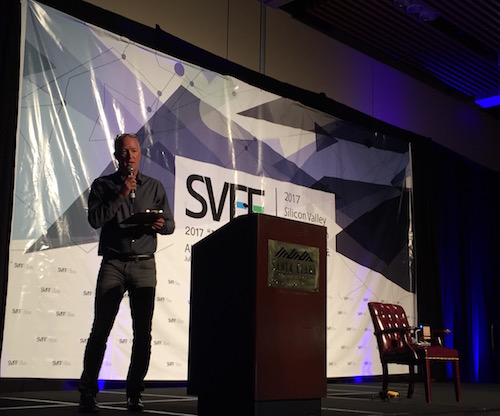 It's What You Do with the Data
While it's fashionable to herald your "big data" focus, panelists noted that soon "everyone will be a big data company." Advantages will come from finding, and correctly using, the right information. Forecasters predict that image and video data will soon make up a huge chunk of that data. And that will mean watching and interpreting human behavior to deliver services. Modar Alaoui of Eyeris described how the company is utilizing deep learning and facial recognition software to measure driver attentiveness and gauge how much control to give to a self-driving car.
Watch for Invisible Data
We also need to determine which human behaviors are the most valuable to analyze, study and capture as data sets. Subtle elements like how long you spend pondering an item on a screen or how you navigate an interface, or countless other previously imperceptible usage patterns are clues to future opportunities.
Yes, big data will fuel AI but finding little patterns or blips may provide the greatest boost. It's not just monkey-see, monkey-do, but remembering who created the machine. The best AI will start – and continue – with a little old-fashioned common sense and human intelligence.