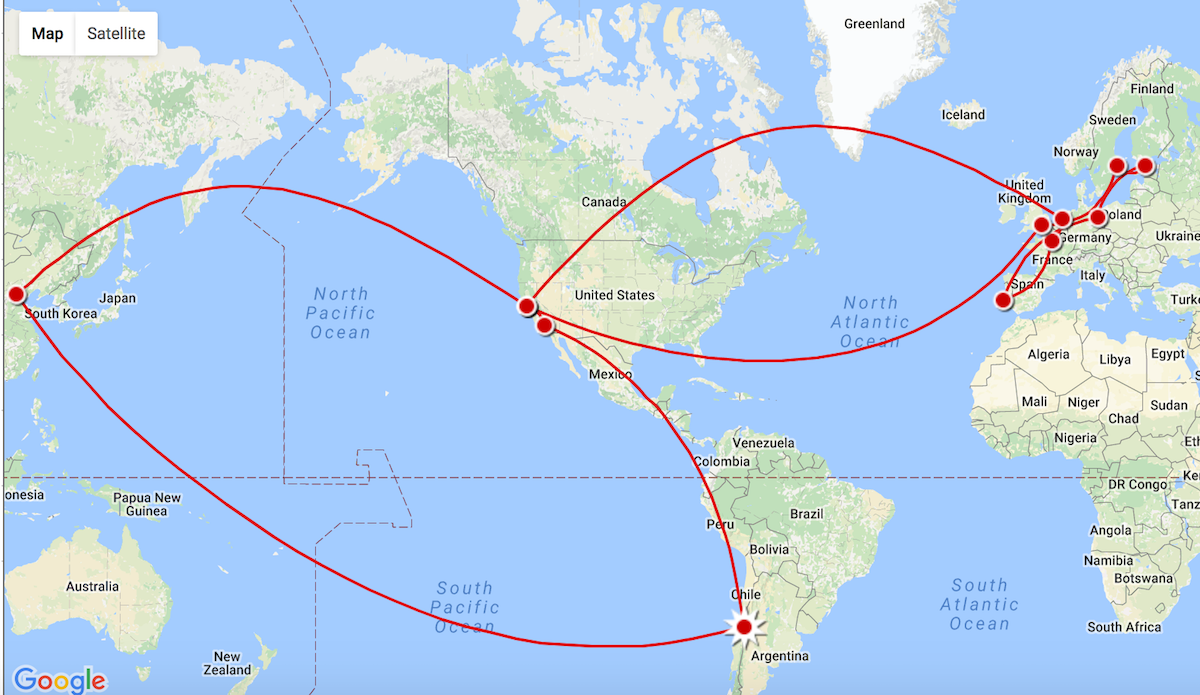 Team SmartUp is researching a major book, traveling around the globe to some of the hottest spots in Europe, Asia, Latin America, and the US, to discover first-hand what makes an innovative city, university or incubator, to see and engage with promising entrepreneurs and founders in their element, and perhaps, to meet you.
So far, we've already done more than a hundred in-person interviews in Switzerland, Paris, Lisbon (Web Summit), Marseilles, Slovenia, Warsaw,  Amsterdam, Tallinn, and Helsinki (Slush). It's been an incredible journey of discovery.
We're on the hunt for cool, authentic people of all ages who embody the innovative, progressive, growth mindset characterized by many of the individuals we've profiled over the years. We're fascinated by founders, creators and change-makers with inspired ideas, breakthrough products and transformative services. We're drawn to those who understand that work and play don't have to be separate, that life can be lived as a series of intriguing challenges met with nimble momentum and strategic pivots.
We've been fortunate to meet and interview over two hundred inspiring individuals over the last two years who've helped make SmartUp timely and engaging. Many of these people will feature prominently in our book, and have provided us with an authentic human baseline for the curiosity, ambition and creativity that we aim to chronicle.
Some of our favorites include Carlos Muela, the San Francisco-bred food entrepreneur, Mathieu Guerville, a businessman who has shaped his own career through collecting artifacts from spectacular business failures, Anne Cocquyt, a German biotech data scientist who rose up the corporate ladder and then dove into startups, Steve Hoffman, creator of the Founder's Space incubator who just published his latest book in Chinese before English, Brian Hoskins, a former Microsoft manager who left the mothership to take a chance on a startup featuring a brilliant and healthy solution to IoT lighting, Han Jin, a Chinese-German 3D camera manufacturer who launched his dream via skydiving, Michael Seiler, who has been instrumental to creating the community that binds a holistic multi-city group of incubators, and Jon von Tetzchner, a savvy Icelander who created a new, fair, team-centric model of a sustainable tech firm.
Our network abounds with both celebrated and lesser known entrepreneurs who hail from all over the world. You may notice that they represent a broad cross-section of occupations, side hustles, and ventures, but all share this essential ingredient: a common passion for innovative work.
It's a big wide world, and we could use your help. If you want to join in or clue us into someone or something cool we need to know about, please fill out our form.
This will be the tenth book for founder Jonathan Littman, co-author of the international IDEO bestsellers, The Art of Innovation and Ten Faces of Innovation. SmartUp's Editor-in-Chief Susanna Camp was an early Wired alum, and is a veteran of a number of computer publications and Outside magazine, along with her work as the Editorial Director of women's networking startup The GUILD. SmartUp launched in San Francisco as an experiment more than two years and 140+ stories ago. Our work has increasingly drawn us beyond local influences toward Europe, Asia and other centers of entrepreneurship, and we've realized that we simply have to get on more planes and trains to see and absorb this global transformation with our own eyes.
We've been posting stories from home and abroad. In September, Jonathan was in Beijing to deliver a talk at the World INS Conference 2017, share insights into SF startup culture, and connect with the local tech scene. In November, we met with entrepreneurs in Switzerland, then took in the massive 60,000-people strong Web Summit in Lisbon, Portugal, and visit a number of other European hubs. We explores Paris's massive Station F – a 365,000-square-foot former train depot turned tech incubator with 3,000 desks, 1,000 startups, 100 shared apartments – and the vibrant startup culture in Slovenia, Warsaw and Amsterdam, and make an extra trip to the outlier, Tallinn, Estonia. Arguably the planet's most digital nation, the tiny former Soviet Republic was the first in the world to declare Internet access a basic human right, and is a model for entrepreneurship, with a record of generating more startups and investment per capita than any other European country. We ended our European tour at Slush, in Helsinki, Finland.
Before we're done, we aim to acquire more stamps on our passports in China, Singapore, Mexico, and Latin America, and in between we won't ignore the home-grown innovation in San Francisco and in booming cities throughout the US, from Austin to Los Angeles, Miami, Boulder, Provo, and perhaps even Charlottesville.
We hope to see you along the journey.