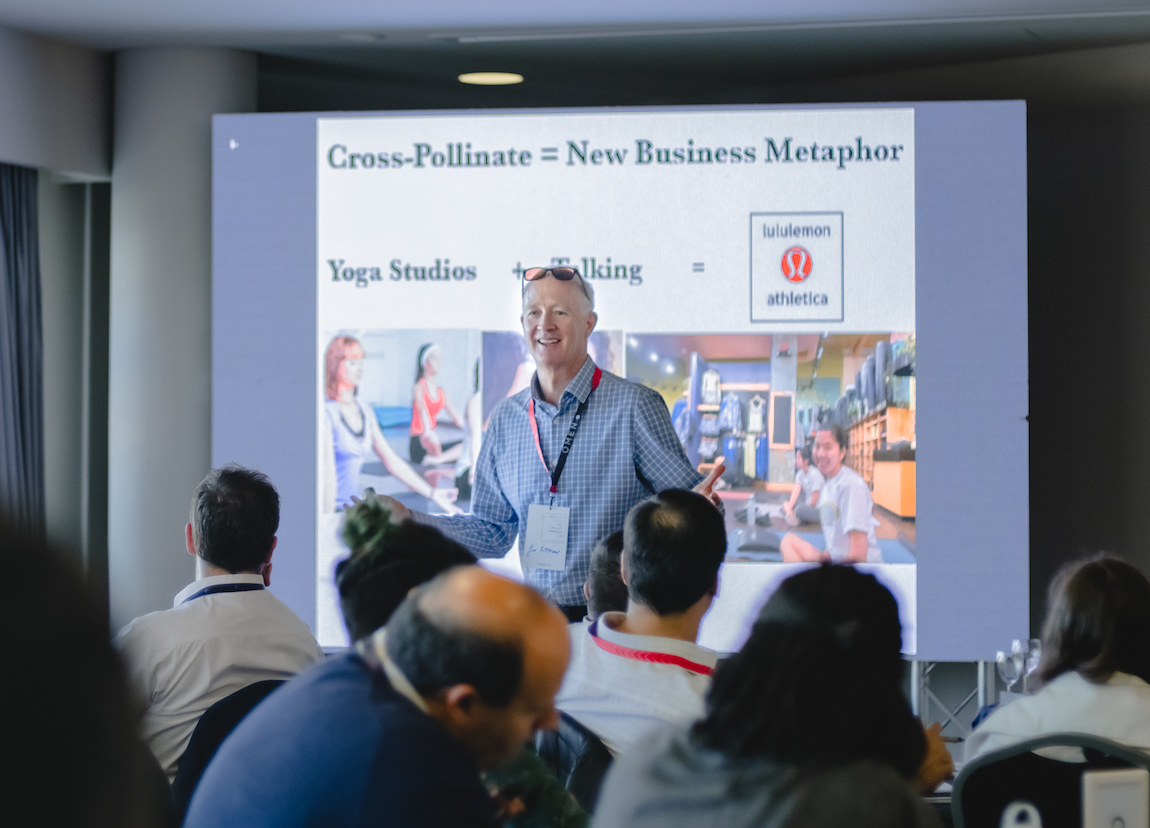 Teaching the latest methods of innovation to talented international students at the University of San Francisco, and rubbing shoulders with startups at the local hub of the French-headquartered Schoolab SF incubator – all the while delivering our immersive seminars to Brazilians, Portuguese, Italians, Nigerians and people from every corner of the world – makes us increasingly aware that we're global citizens. Case in point: as I write this, I'm taking in the glorious sunset and crashing waves below, from my perch at the rooftop café of the aptly named Boa Vista Hotel in Porto, Portugal, across the Atlantic from America. And there's a story in how I got here.
His name is Sandro Pinto, an entrepreneur and consultant who attended a seminar we gave this September at Schoolab SF with our long-time partner Leadership Business Consulting of Lisboa. A decade ago, I met Carlos Oliveira and Torben Rankine of LBC in San Francisco and since then I've had the pleasure of working with Portuguese speaking groups that they bring to the Bay Area for creative and mindset changing Silicon Valley immersions.
Sandro was among the group that day. He was captivated by how we tap cross-pollination to spark innovation. Once back in Portugal he dashed off an email. Could we come to Aveiro, just outside of Porto, to deliver a seminar for his consultancy, Outglocal?
Making it Happen
More is possible than we imagine with the right people and a forward lean. Less than six weeks after Sandro and I first met in San Francisco, I walked into the beautiful cube-shaped Hotel Melia Ria in Aveiro, the Venice of Portugal. Sandro had made it happen. He'd arranged for a giant 12-by-8-foot digital screen and a stunning conference room with glorious massive floor-to-ceiling windows overlooking the canal and the city. He'd brought together 50 clients and colleagues, a talented multidisciplinary group of professionals drawn from Porto, Lisbon and Aveiro.
Innovators gain personal momentum and inspiration from archetypal models, and in my upcoming book with Susanna Camp, The Entrepreneur's Faces, we'd call Sandro "The Conductor". He had the vision and weight to attract the lead sponsor – F.Fonseca, as well as the Forum Aveiro, the delightful open air mall by the canal that was our primary location for our design thinking immersion. Sandro even had a surprise after my initial lecture, a bright red boat to ferry us to our destination under the bridges festooned with brightly colored "love" ribbons.

Diverse and animated, the group included B2B firms, technology consultants, experts in retail and marketing, many of them seeking fresh ideas and markets for great products, as well as people like Paulo Bessa, Managing Director of Amorim Cork Ventures, the world's largest cork company. These delightful men and women, and our excursion to the Forum Aveiro and the surrounding shops to unearth fresh ideas all helped create the perfect atmosphere for a deep-dive into discovering their innovative faces and futures. By the mid-afternoon, they were slicing out photos from magazines, laughing and furiously creating project boards, before delivering some truly inspired presentations in their native Portuguese.
Achieving Dreams
A few kind participants told me the lab changed them, giving them a fresh new model for their businesses. The night before at dinner, Sandro's colleagues asked if I'd achieved my dreams as a writer, and this seminar reminded me why I'm so fortunate to have collaborated with IDEO on two bestsellers on innovation – books that took me beyond my own aspirations – to be caught up in this amazing new global thirst for creativity and entrepreneurship.
The friends I've made here are sincere, real, and the passion they demonstrate for their companies and projects is contagious. Sandro, for instance, has three other companies on the side, and is busy designing an entirely new office near the train station (to be closer to clients in Porto and Lisbon) centered around collaborative, creative work.
Soon, I'll fly to nearby Paris to join my co-author Susanna Camp for workshops based on The Entrepreneur's Faces at Schoolab's impressive offices, and with other firms and the global giant L'Oreal, before heading home to deliver a seminar at UC Berkeley with visiting Brazilian executives, and an all-day lab for the annual Women in Product conference in San Francisco.
This electric, fast-shifting world of prototyping, entrepreneurship, and innovation is getting more connected by the minute. We talk a lot about the primacy of Place for entrepreneurship: the location, people and networks that inspire and support our journey. Yes, San Francisco is a pretty great Place for an entrepreneur or innovator to call home, but here in Portugal and Europe there's plenty more to explore.