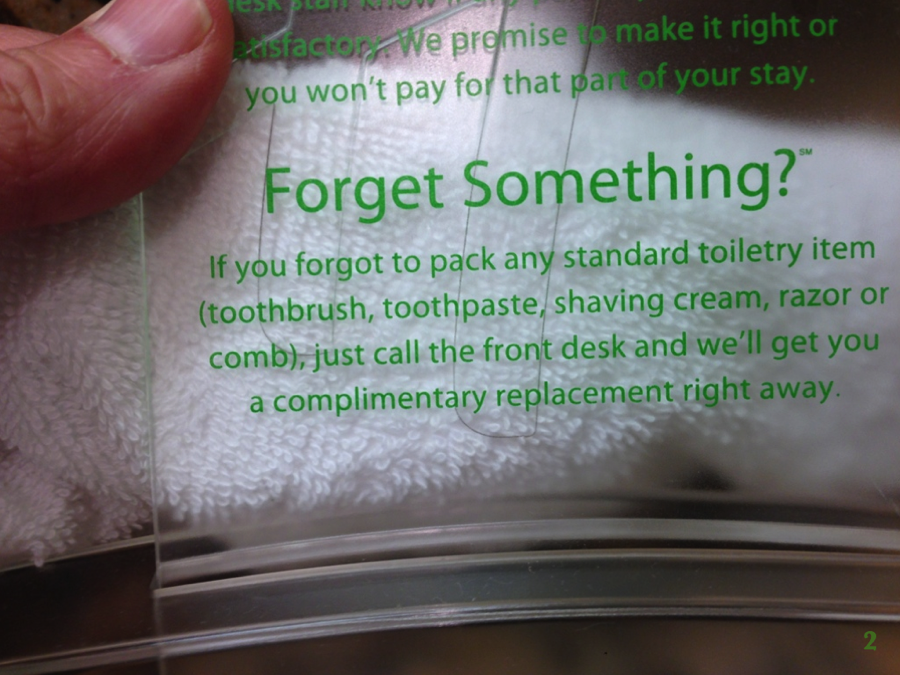 Skiing recently near Lake Tahoe I walked into my Holiday Inn hotel bathroom and found the small plaque behind the soap dish pictured above with the catchy phrase, "Forget Something?" Forgetting comes naturally. We forget our keys, our cell phones, our credit cards and countless other daily necessities. Frankly, it's a good day when I only have a couple of frustrating moments fumbling for my keys or phone. Pressure, of course, makes us more easily forget. When we travel we forget things, or simply can't find them, which adds up to the same pain.
I've spent thousands of nights in hotel rooms and never seen such a perfect peace offering. My first thought was the elegant simplicity of it — the green text written on a piece of plastic that couldn't have cost more than a dollar: "If you forgot to pack any standard toiletry item…just call the front desk and we'll get a complimentary replacement right away." It's part of the hotel's "Hospitality Promise" but the "Forget Something?" message anticipated one of traveling's biggest pains, and was one of those gifts that was all about the offering, the generosity of the hotel chain patiently thinking through the stress of travel. Though the hotel promised to save me from the inconvenience of not being able to brush my teeth or shave my beard, on that particular visit I was all set. Yet I still felt taken care of, and yes, more inclined to book another stay at a Holiday Inn.
Good ideas or innovations don't need to be pricey. Here the cost of a message printed on a piece of plastic was likely insignificant. Additionally, I'd be surprised if more than a small fraction of guests actually call down for a toothbrush or razor. It's the gesture. It's the care in thinking about the little pains that matter for a traveller. You may be thinking that this is trivial and doesn't apply to your world. I couldn't disagree more. Today, in our frenetic digital world, there are all sorts of ways to get lost or forget something. Reducing some of that pain and fear is a powerful way to gain traction.
Designers have long talked about physical "affordances." The rail on stairs is a critical affordance to keep you from falling, the handle on a teacup is designed to slip in your fingers to sip the hot beverage, the dotted line dividing the road helps save you from ramming into an incoming car, and a website nav bar helps you navigate the site. What's far more recent, has been a conscious effort by individuals and companies to think more proactively about these affordances in the broader, more slippery realm of complex experiences, both in the physical digital world.
Explore what hurts, and where the pain lies, and you're bound to find opportunity. Think about that hurt before your competitors and come up with a meaningful gift. Make that human connection and the odds are that you've just gained a little edge.
Story by Jonathan Littman