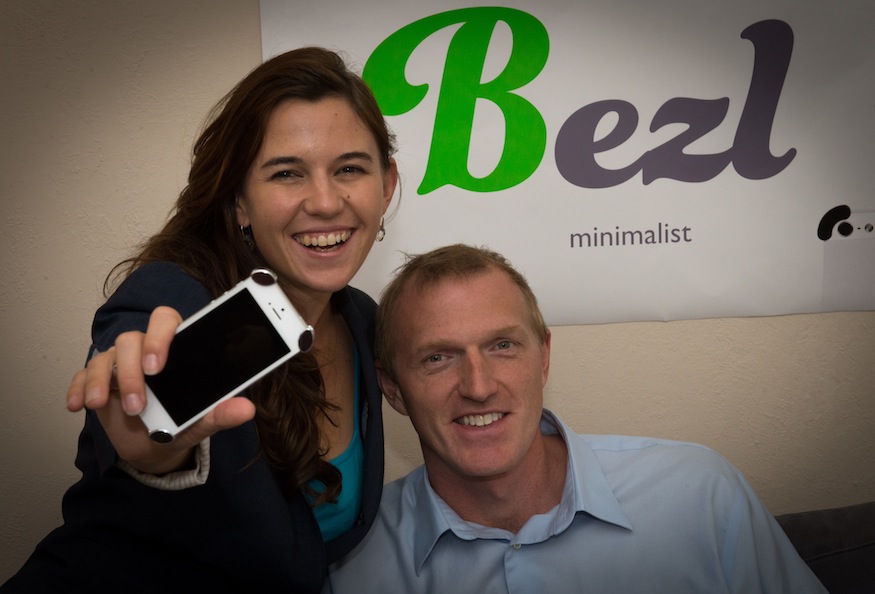 Jos Cocquyt quit his dream job designing drones for AeroVironment in 2010, and let the wind take him for an extended kitesurfing adventure with stops in Baja California, Holland, the south of Spain, Morocco, Vietnam, the Philippines, and Brazil. The iPhone was the Belgian-born Jos's trusty tether to civilization and knowledge. He'd use it to read books, study foreign languages, and Facebook with friends and family, until finally his rough-and-tumble travels tripped him up and his screen cracked, and he had to buy a new phone, slap on "one of those big rubbery protectors," and dream up something better.
Jos saw the iPhone as a "paradigm-shifting" beautiful piece of industrial design: "An engineer made these [bezeled edges] just right," he says. "To cover it up would be sinful." So, a few years ago on a beautiful beach in Rio de Janeiro (where very little is covered up), as he struggled to text in Portuguese ("You need the Q a lot in Portuguese, and I couldn't get to the edge of the keyboard to hit the Q") the idea came to him: Lose the cumbersome iPhone case without losing the protection.
That evening in Rio at the youth hostel, Jos roughed out his first minimalist sketch: four tiny, plastic clips to slip over the iPhone's corners. His team at AeroVironment had developed something similar on a bigger scale to protect heavy-duty ground control units to operate Navy drones. He knew that it worked. "Look at the suitcase: it has four corners," says Jos. "Nothing's new. But no one had thought of putting it on the iPhone."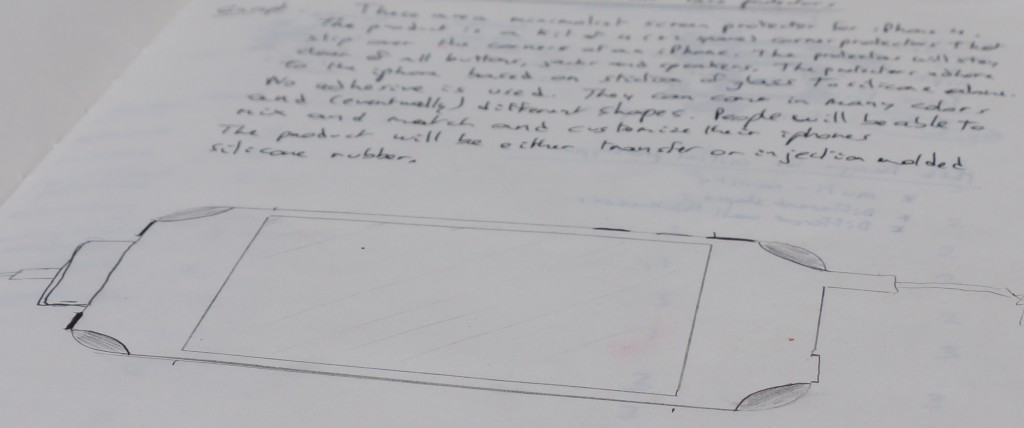 The initial design for the new iPhone protector took a couple of days. Back in the U.S. for a friend's wedding, Jos sent the designs to a CNC prototype shop (Computer Numerical Control Machine), and soon received his first ABS polymer prototype, which he dubbed "Bezl". It needed work. The clips' sharp edges quickly wore a hole in his jeans. There were other challenges. He'd hoped to raise capital through a Kickstarter campaign, but it failed to garner the expected funding. Then, love and work got in the way. Jos married Anne Zwerschina, a native of Germany, who like Jos had travelled the world. Anne had led mergers and acquisitions in IT and telecommunications and managed international projects, but never quite found the right product or business idea to make her want to give up her corporate career. The newlyweds moved to San Francisco, and Jos's little invention slipped into the hobby category. Anne had yet to get her green card, and Jos was busy with full-time consulting.
But when Jos slipped the little plastic clips on her iPhone, she caught the bug. "We showed it to everyone," Anne says. "I must have dropped my iPhone 200 times. It worked every time. No cracks." Anne added her business acumen to the mix. They refined the design and found a Chinese-French supplier and developed premium packaging with help from a friend in Portugal. Next, Odesk freelancers assisted with SEO for the website, and TaskRabbits promoted Bezl at Apple's keynote in SF. But when the first 5,000-package order was shipped to their Haight Street garage, they saw to their dismay that they had to polish each box to remove black smudges and slap on a "for iPhone 5S" sticker. Friends pitched in to help, and then they started offering up Bezls on flash sale Internet sites. Sales jumped for the "most minimalist iPhone case on the planet," and Bezl received so much publicity that distributors from Dubai, Japan and China reached out and ordered the "mini protectors". Sales popped again when Vat19.com, the hot Internet gift site, featured Bezl in a popular video that went viral.
Bezl was on cruise control, taking advantage of startups like Shipwire, a warehouse connected with your ecommerce store. Then, a distributor who had ordered 5,000 units abruptly pulled out. Thousands of Bezl packages filled their garage. Recalls Anne: "We were drowning in Bezls."
Overwhelmed with their new full-time jobs – Jos at Lighting Africa!, Anne at Genentech – they delayed working on a new design for the iPhone 6, and that ironically proved their salvation. A wholesale customer who kept prodding them to introduce their iPhone 6 model started talking about a buyout. In the space of a few days, Jos and Anne came up with an offer — cash plus royalties — and were stunned when the gadget company from Nevada agreed to their terms.
"When it closed, I didn't believe it," says Anne. "We were just jumping around!"
Looking back at their "moonlighting startup," Jos says the experience and lessons learned were worth all the hard work: "There was this huge sense of satisfaction to have a hand in everything — the design, packaging, and sales." The couple loved creating a physical product they could show.
Money is nice too. Royalties are streaming in, the new iPhone 6 case ships this month, and Jos notes with a smile that he's "happy to clear out the garage" of a few thousand Bezls.
Nothing like getting your startup out of the garage.