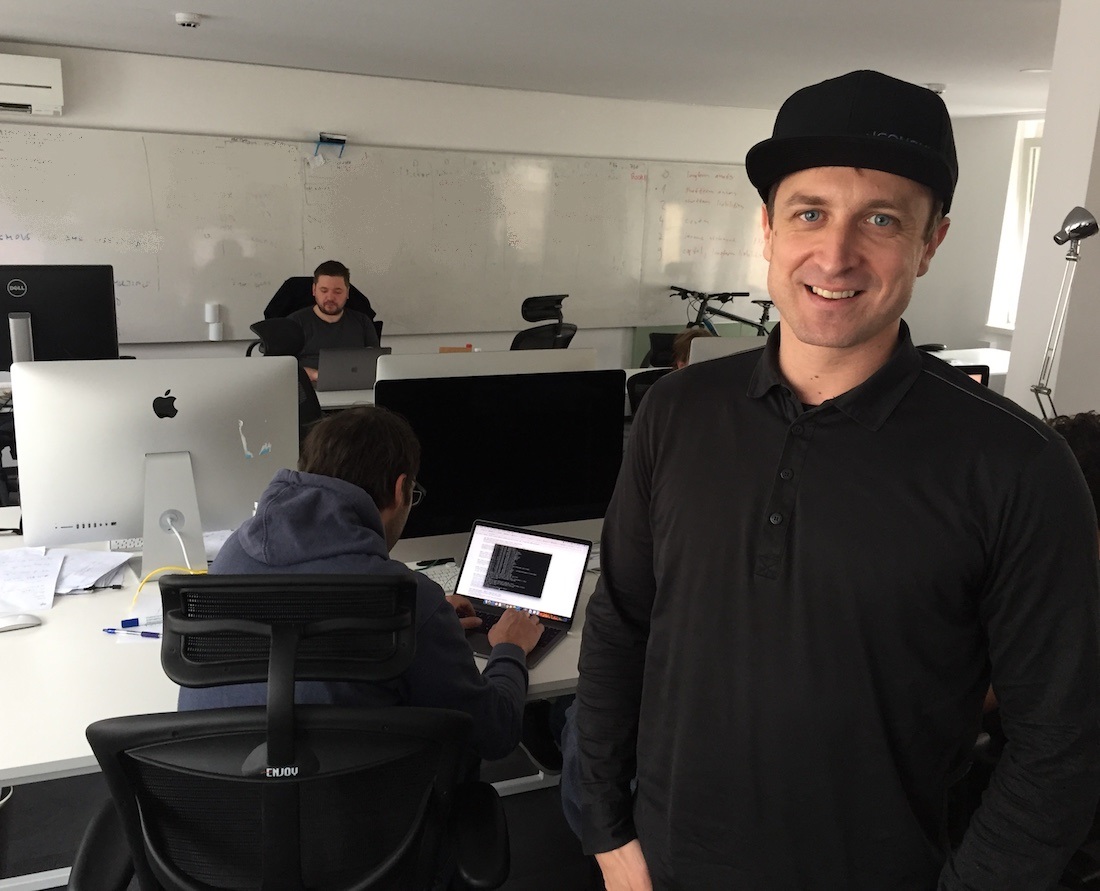 Zenel Batagelj is telling us about Slovenia's blockchain revolution. We're sitting outdoors in a café along the river that snakes through Ljubljana, taking in the last sun on a wintry day in the vibrant, picturesque capital of this tiny yet proud Central European nation. Zenel is passionate and big, and the meaty coat he wears to ward off the cold makes him even more imposing and authoritative. He's telling us about the bold technological advance that helped catapult his country into the future last summer. In just under four days, Iconomi raised a million dollars for its budding cryptocurrency trading platform, and instantly was in business, hiring engineers and making big plans. "It was an experiment," Zenel said. "It was so cool." At the time, it was the largest European initial coin offering: One million dollars in 88 hours. $10 million in five weeks, … and that was just the start.
Zenel is Slovenia's global connector, an unapologetic evangelist, fighting the local brain drain that deprived the country of talent and brawn during the recent international financial crisis that hit extra hard here. We met him in Silicon Valley two months ago, when he arrived among a small Slovenian delegation at SEC2SV to learn about US scale-up potential for EU enterprises. He sold us on his country, and himself. His parents were mathematicians with extraordinary access to technology. He started playing with computers at six, coding when he was eleven. He loved computers, but chose instead to study sociology in the 90s: "Computer-mediated emotions, the interactions of emoticons," he recalled. "The really interesting thing was studying social sciences at the time the Internet was changing the world."
Zenel was the perfect guide to introduce us to the key Slovenian players and lend a framework to grasp what he sees as the latest global shift, how cryptocurrencies, and more importantly blockchain, offer a fresh means of creating and funding startups. Our education came during a long, tasty dinner (filled with Slovenian delicacies, including orange wine), with Tim Zagar, the co-founder of Iconomi, his lawyer Nejc Novak, and Zenel.
Relocating the Center of the Universe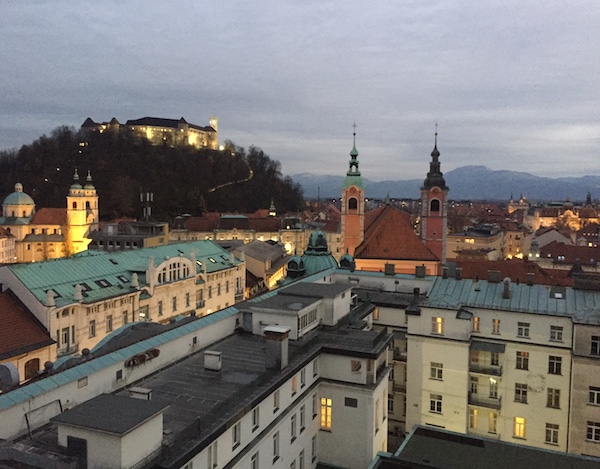 Tim Zagar wasted no time in getting to the point – that maybe the world shouldn't revolve around Silicon Valley. "Just open your phone and check your applications," he said. "Who made them? Mostly, like 95%, are Bay Area-based. This is something we can change in the future."
Radical talk for those who see the traditional old-boy venture capital network of Silicon Valley, SF, and gilded Sand Hill road, as the only acceptable way to develop and fund new startups. But that's a hard road for Slovenians and other Europeans. "If you were not based in, let's say, the Bay Area or even outside of the US, it was very difficult to fund your startup, your company," said Tim.  "Something's happening in London and maybe in Berlin and also Paris … but basically this startup ecosystem does not exist outside of US or it isn't very strong."
Enter blockchain. "So, with people who are also creative outside of San Francisco, now all of a sudden, they have the opportunity to get funding for their projects," said Tim.  "And this is what happened a year or two ago. With the companies raising money from this part of the world it's going to be a completely different picture if you look at your phone in your apps."
Much like Zenel, Tim also saw early-on the "great potential" of the internet. He dove into coding and games, but had the self-awareness to recognize that "there are other people who can code better than I do." Which led to a business epiphany during his first year studying "informatics" at University. "I was selling the projects, and leading the teams." His company built websites, then soon followed up with Open Hours, a search engine listing opening hours of local businesses that grew to a million users.
Native Payments: The Missing Piece
In 2011, he heard about Bitcoin, and in early 2013, he started to mine Bitcoin. "And the more I dug into it, the more I thought this is kind of the missing piece of the internet – a native payment solution."
He connected with the key people in Slovenia, and brainstormed a new business with his friend Jani Valjavec: Cashila, a bitcoin payment service: "Everyone can pay [with bitcoin] to whatever bank account," said Tim. "It's cool, amazing." They raised $500,000 in traditional funding from investors, and quickly learned they needed a payment license from a European national regulator. Slovenia said no. UK said no. Luxembourg was possible, but would be incredibly expensive.  Finally, they sought a small payment license from the Czech Republic. In the spring of 2015, they got the license and became the first European payment processing company "registered as a financial institution, and just dealing with bitcoin."
Just as quickly they discovered "people want to buy bitcoin more than sell bitcoin," and it was back to the drawing board. They watched the ICO craze take off, and after Tim's experience with traditional fundraising, he saw all sorts of advantages in the alternative model, including dramatically reducing all the time spent cultivating and communicating with investors. So he and his partners brainstormed a new business model targeting the real action: trading. The initial concept was to build an asset management company for these new crypto assets. They tried out the idea on a lot of people, and got some surprising feedback from a bitcoin miner. He said, "'Yeah, that's cool to have funds, but I want to create my own fund.'" So they pivoted from the idea of a classic asset management company to "an open platform where anyone can be a fund manager," and they would "take care of the secure environment and let investors buy into this different structure."
Disrupt VC
On August 6, 2017, Iconomi published their whitepaper, "Open Fund Management Platform to Disrupt the Investment Industry." Authored by Tim, his partner Jani, Zenel, the lawyer Ervin Kovac and Ales Lekse, the paper began with a quote from the physicist, historian and philosopher Thomas Kuhn, who gave us the term paradigm shift: "The crises of our time … are the necessary impetus for the revolution now underway."  The pitch was aimed straight at upending old-line VC: "We are pairing the business-model fundamentals of the crypto-world and the obvious trend of platform domination with new technological possibilities." Blockchains were described as "game-changers for the investment world, linking those with disruptive ideas directly to those looking for investing opportunities." Just ten pages long and about 2,000 words, the message travelled fast to online communities, including Reddit.
The world had only seen ten or so ICOs. Iconomi needed two to three million to realize the Ethereum-based project. They set the minimum at a million, and got it in 88 hours, eclipsing the largest kickstarter in Slovenia. The five-week campaign kept building. They hit $5 million, it slowed, and then with just a couple of days left in the campaign, accelerated. The team went to grab beers. "We were at nine million, and I think after the second beer we were over ten," said Zenel. "So one million while drinking a beer."  The total raised was $10.5 million.
To understand Iconomi you have to understand other, deeper factors. The tech ecosystem is tight-knit, and active. The biggest homegrown company is Outfit7, a games and entertainment company acquired this year for $1 billion by Chinese investors and now relocated to the UK. Many smaller startups and entrepreneurs flourish in the developer community, and there's a magnetic element, one that Iconomi too is counting on to help it scale: Slovenia's government is actively engaged in tailoring policy and leading EU initiatives to collaborate with startups, and help them succeed.
During our Ljubljana visit we had the kind of encounter we couldn't imagine in San Francisco. We walked into a modern office building housing the Government of the Republic of Slovenia and faced two stony-faced security officials who ordered us to remove our coats, and deposit them together with our bags, laptops, phones, and digital recorder in a locker in the lobby. Trade minister Tadej Slapnik vouched for us and escorted us upstairs with Nena Dukozov, the head of the Cultural Centre of European Space Technologies.
Tadej sounds and acts more like a startup founder than a top government official. Far from the typical bureaucratic molasses, there's an extraordinary public-private partnership taking place, and Tadej is leading that rapid shift: "In this fast-changing world, usually it's the government who is lacking speed. And if we would like to catch up, we have to do it together with the entrepreneurs. And the most important thing for the government is to be able to accelerate."
In his office overlooking the square, Tadej told us of the extraordinary chain of events that led to the "Slovenian Fourth Industrial Revolution", a new technological age here in this Central European country of just two million people, marked by major advances in technology, an infusion of wealth, and a fresh confidence among young people in their ability to shape the future. Iconomi's groundbreaking ICO led to a valuation of several hundred million Euros, followed by the creation of Cofound.it, which received even more funding (that's another story) and the country's investment model and technology-based economic development plan was off and running.
Slovenia had the potential to transform, yet Tadej was keenly aware that his office was out of the loop. "There was almost no knowledge in the public sector in different ministries, among bureaucrats, on blockchain," he shared, "And without knowledge, there's a big possibility they will be afraid of it." A lifelong civil servant who'd served in Parliament and led innovative social entrepreneurship initiatives, Tadej schooled himself. He drew upon the developer community for personal coaching and advice, read up on blockchain, and then prepared to educate his colleagues.
The Challenge
In June of this year, the Ministry of Public Administration organized a three-day intensive tutorial on blockchain, inviting "presenters from different ministries, the Ministry of Finance, and also presentations by regulators." Participants came from the National Bank, the tax office, and other key departments. Why? Tadej explained: "With our experts, we gave them knowledge – that it has a potential beyond bitcoin. To run the country, to run different processes. We invited Estonia and United Kingdom to share examples of how they already did some things. You know? When you are introducing new things, if you are the only frontrunner, then it's hard."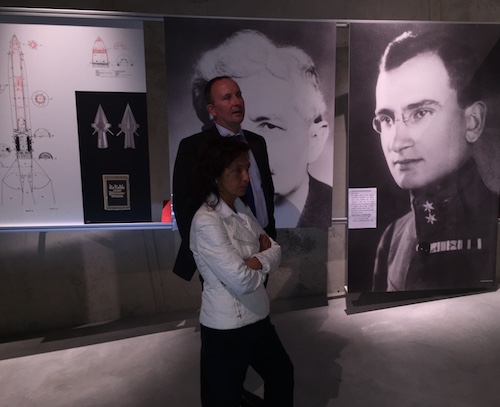 Building on that collaborative model, Tadej also knew that he had to tap the local developer community's collective brainpower to mobilize his peers in government. On the last day, they organized a national blockchain meetup: "to see who, besides a few that we already knew, were active on blockchain." They held the event in the Noordung space center, a futuristic, saucer-shaped building housing a museum dedicated the life and discoveries of the early-twentieth century visionary Herman Potočnik Noordung, whose designs inspired significant developments in aeronautics. The center is a long 100-kilometer drive into the country from Llubljana, uncertain of how many would make the long trip on a Friday evening.  Three hundred people showed up to the sold-out event, and they had to add another thousand participants via live webstream. The excitement and success of the endeavor, was captured that day in a challenge by Zenel Batagelj, who said to the assembled crowd: "Vice President of the government, Mr. Koprivnikar, State Secretary Slapnik, all 300 here, we are launching the first and biggest project that will be compliant with EU legislation on data protection. We are launching it in this year. We already know today that we can launch our project in Estonia. We also know that we can launch it from Malta. But we are telling you today that we will make an effort to launch it in three months from Slovenia."
Zenel was waving a giant carrot and a stick. To scale, the technologists needed the support of Slovenia's financial and regulatory sectors. That's no small proposition. It's a work in progress. So far, the developers are happy to provide the talent to educate policymakers, and Tadej says they are on their way to making it a reality: "We're learning, understanding, and co-creating. And with co-creation, it's not just we who are learning. The guys from the blockchain community are also learning what is the difference if you are running a company here, from Slovenia." Now, the Noordung space center is actively being rebranded as the Noordung Blockchain Hub.
Blockchain Green Gold in Slovenia
Blockchain fever is rampant in Slovenia, most visibly in the government's high-profile pursuits, such as green tech. Ljubljana won the European Green Capital Award in 2016, for its conscious efforts to preserve the environment (the quaint old city center is blissfully free of cars).  Just about any concept or service can be tokenized, to fund, distribute assets, and run a project, and blockchain projects don't have to entertain the speculation of bitcoin or cryptocurrencies.
Blockchain is seen as a new tech super power here, a way to accelerate national green and innovative initiatives. Tadej introduced us to Rok Gornik, a young professional working for SunContract, a blockchain-based peer-to-peer platform for managing surplus energy. The company raised $2 million last winter by proposing its plan on Ethereum, for a transparent energy service where consumers can track their usage and convert energy savings into currency. Rok was inspired by Iconomi's hit ICO. He blogged about blockchain for Coin Telegraph, a Slovenia-based internet publication, and won a job from SunContract. He's a believer in the transparency and automation benefits: "Our first main advantage will be that people can follow their consumption on a blockchain," he said. "SunContract's peer-to-peer energy trading platform will enable small producers and consumers to buy and sell solar power and heating through a blockchain architecture, and invest in different energy projects.
SunContract aims to provide a user-friendly, mainstream model for buying and selling electricity, tapping into the existing grid to optimize current operations while reducing costs and increasing efficiency. And this blockchain-enabled service is right in line with Slovenia's move to a circular economy. "We are shifting away from a linear economy that is taking out from nature," said Tadej "to focusing more on reuse and recycling."
The message we heard over and over again in Slovenian was that the country wants to do things right. The global ICO craze has led to frauds as well as overfunded offerings that too often lack the teams and technical know-how to build successful projects.
Tim seems keenly aware that a lot is riding on his shoulders. The success of Iconomi led to the idea for a separate company, Cofound.it, co-founded by CEO Jan Isakovic and Daniel Zakrisson (Zenel Batagelj is Team Strategist), a platform to crowdsell promising startup blockchain projects. Demand was so high this June that Cofound.it "white-listed" 3,000 subscribers for a pre-sale that raised $14.8 million in 60 hours. That broke the world record for the largest pre-sale, and eliminated the need for an ICO. Acting much like an online accelerator in just a few months, Cofound.it has already crowdsold five blockchain projects that have raised a total of approximately $50 million.
At the end of our visit, we met Tim at the Iconomi office in downtown Ljubljana, and saw the core development team hard at work, huddled around big-screen Macs and white boards filled with schematics. The headcount has already hit 40, and in just a few weeks Tim said they need to move to make room for the 150 they need to stay on track next year. "We're onboarding people as much as we can," he said. "You want to do this smart."
Instant blockchain mega-capitalization on a Silicon Valley scale has meant that Iconomi and Cofound.it are needing to compress the management and maturation process. "We are kind of a public company from Day One," said Tim. "That's kind of funny. You are a startup, but then you are a public company. We've had to discover how to handle this."
That's the big bet. If they can rise to the challenge, Iconomi, Cofound.it, and more importantly perhaps Slovenia, this tiny Central European nation, may help lead the blockchain revolution in Europe and beyond.
---
This is the Fourth in our European Series. Read the previous stories on Web Summit and on Paris.
Web Summit Formula for Success: How to Meet the People Who Matter