The destination is 1355 Market, home to Twitter, neighbor to Uber, the end point on a long snaking line of partygoers checking in for swag. Handed our compulsory logo t-shirts and swiped through to the elevators, we are whisked up to the tech incubator Runway. It's Thursday night in a San Francisco office tower, where another startup is lifting off toward the ultimate dream.
There's a frenzy to eat and drink. Two hundred people are making fast work of 20 large pizzas stacked high in boxes (startups are notoriously frugal), grabbing beers and pouring discount wine at the self-serve counter. A photographer snaps well-heeled women and their lesser male counterparts before a banner backdrop emblazoned with the company's logo. Attendees don VR headsets at a demo table, dual screens projecting their 3D visuals for the masses. VR geeks abound, including one who is modeling a quirky hologram player in a box held up to his head. Meanwhile, another techie inches through the crowd shooting immersive 3D footage.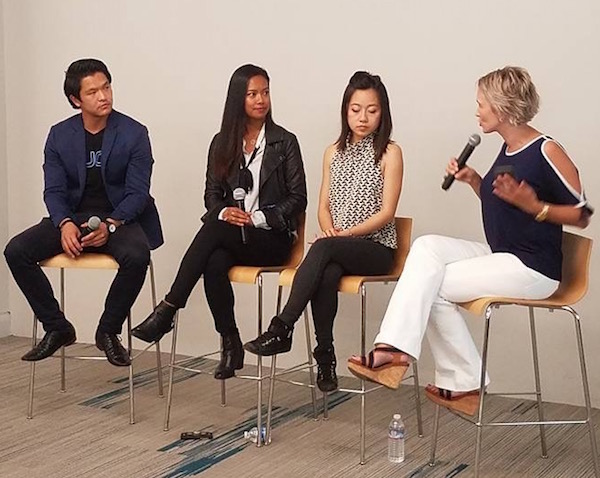 Tonight's launch party features LucidCam, maker of a versatile, smartphone-sized VR camera – now fully out of production and actually shipping units. Founded two years ago by Adam Rowell, a Stanford PhD, and Han Jin, a UC Berkeley engineer, LucidCam began with just $70,000 in angel funding, then raised another $115,000 after a bold Indiegogo campaign (for which CEO Han Jin leapt from an airplane to grab some cool VR photos designed to increase buzz). Han then flew to Taiwan, raised more than $2 million in funding, and found his manufacturing partner for the VR camera.
And tonight, just when the pizza runs out, Han takes the stage and offers a heartfelt thanks. "Now, two years later, we have shipped and delivered thousands of units. You are the community that made this happen!"
Shipping product is the first milestone for a successful hardware startup. Next comes the slog to see if the product will catch fire with consumers. The morning after the event, a large truck displaying images of the LucidCam will circle San Francisco's streets, promoting the camera, and handing out free viewing headsets.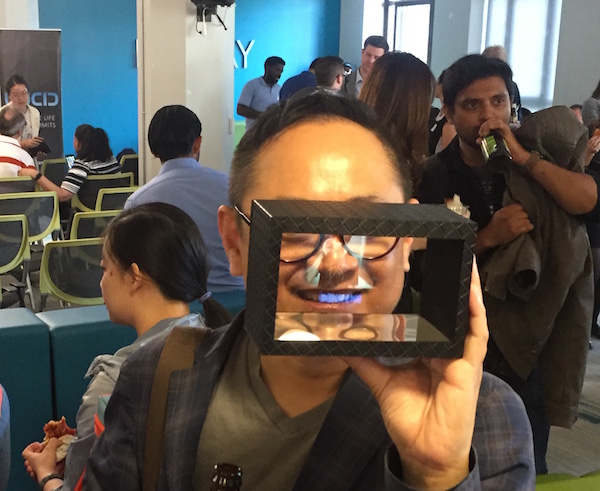 Han invites three experts to join him for a brief panel on the future of VR. Neilda Pacquing, a Sephora UX Designer and VR Evangelist, speaks about the urgent need to attract more subject matter experts to work with technologists in creating VR content. Karen Cheng, the founder of Karen X, explains the chicken-and-egg problem. Brands are experimenting with VR. "But they want impressions and views, and it's hard to guarantee the millions of views you might get on a normal TV video. You can't just make a viral VR video that people can experience on the internet, because the distribution and the hardware are not there yet."
"How do we get to that adoption?" asks Loreta Tarozaite, a producer at Western Digital, and the panel's moderator. "What needs to change to make it happen?"
Marketing may be one answer, replies Han. "If you look at Samsung, Google, Facebook, they are spending lots of money educating the market [giving away free VR cameras and headsets], and I think it just takes time to get to the next level."
"Why 180 degrees, instead of the full 360?" asks Tarozaite.
Han answers directly and with humor: 360 can be amazing, he says, but it's also tough. You may need to hold the camera above your head, or "hide behind trees so you're not in the picture." Content creation and editing with a 360-degree camera is also time-consuming.
"So with the 180 camera, you point and shoot and you're done," Han says. "You can see it right away on your phone. If you want to learn fast, you have to see more iterations," he adds, alluding to a central tenet of Lean Startup ideology: MVP, or minimum viable product. So far, LucidCam as a startup is a paragon of MVP. On pace and in sync.
Google just announced this week that its "Daydream Team" is going big on its new format dubbed "VR180", coming soon to YouTube. LucidCam's options just got wider.
If things keep rolling, they may need to have another party.