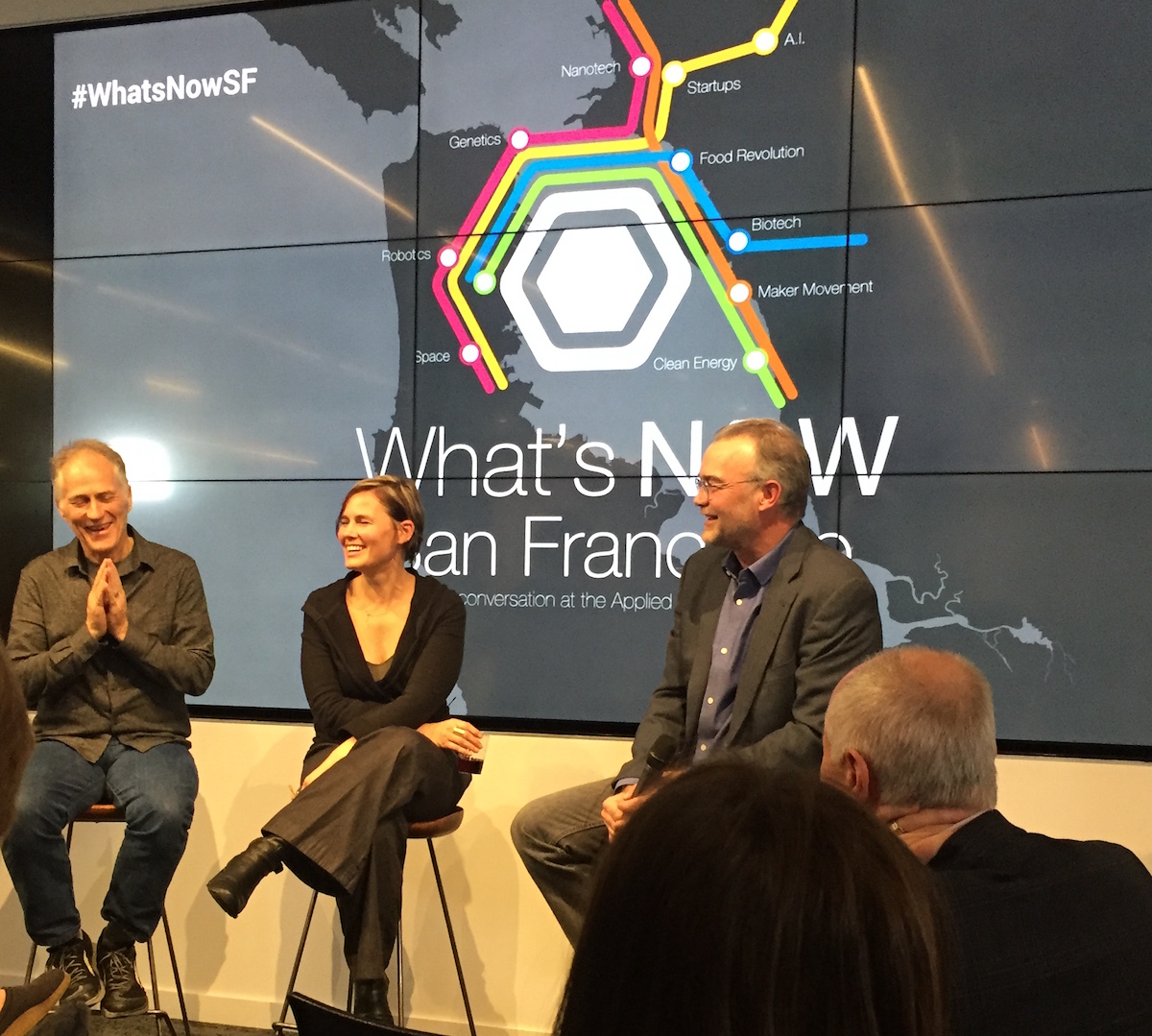 The night before the coronation known as the United States Presidential Inauguration, one of tech's power couples held forth on the future of digital government in the Trump era. Jen Pahlka, former Deputy Chief Technology Officer of the United States, and her husband Tim O'Reilly, Founder & CEO of the sprawling tech publishing and conference empire, O'Reilly Media, came to San Francisco's Reinvent What's Now Forum at Capgemini's Applied Innovation Exchange to answer the pressing question on many techies' minds: how should civic-minded technologists approach the ongoing reinvention of government in the new administration?
Pahlka's answer: lots of government is apolitical. It's simply about delivering services. "We are a non-profit, and we get calls from a wide variety of folks who want to have a position on this, including many Republican members of Congress. And they love it."
Along with her recent role as US Deputy CTO and a creator of the US Digital Services, Pahlka founded Code for America, and thinks many of the positive improvements it's brought to government – open source technologies, rapid prototyping, and better access to public data through superior digital interfaces – will continue under Trump. "It's not clear that it will be unraveled," she said. "It might even be accelerated."
"What's not to like about it? It's better for the American public and it's cheaper." Pahlka said, promoting a business-as-usual ideology.
While What's Now forum host Peter Leyden continued to press his guests to address the palpable anxiety surrounding the impending federal regime change, Pahlka and O'Reilly underscored their own desire to distinguish politics from government, and to separate governing from tech.
The Elephant in the Room
Strangely missing from the well attended talk, and the closing Q&A session, was the elephant in the room. Trump garnered headlines by attacking the often tone-deaf and bloated self-interest of high-profile American technology firms. Our Silicon Valley giants were painfully short on empathy and intelligence (human or artificial) during the campaign. Facebook and Google naively provided a disruptive online forum and major profit motive (online advertisements) to create and spread fake news, while Twitter revealed itself to be less a medium for liberty and more a bullhorn for hatred, prejudice, and lies. Recode co-founder and tech industry maven Kara Swisher blasted tech leaders in December 2016 for kowtowing to Trump and attending his transition tech summit at Trump Tower.
Then there's the digital divide. Just as San Francisco and other urban areas are enjoying a boom from tech profits and a thriving entrepreneurial culture that favors disruptive technologies, old manufacturing regions and rural outbacks are struggling. Tech is the new enemy of the American working class and not exactly a friend of Trump. Pahlka herself was among 145 prominent tech industry insiders who signed an open letter in 2016 to then-candidate Donald Trump, in protest to his stated anti-innovation views and his plans to block immigration and "shut down" parts of the internet, as clearly stated in a 2015 speech.
Tech's Agile Influence on Government
Yet Pahlka spoke of huge opportunities for bringing lean startup, rapid iteration, and minimum viable product agile development methodologies to federal and state sites and systems. "We're building iterative, user-centric, data-driven products," she said, arguing that it's possible to remain relatively apolitical while constructing such systems and just focus on delivering better services for people through best practices. "Regulations can be tested in the real world before they ship," she said. "This is a profound way of realizing that this is about not just tech but law, governing, oversight, and regulation. You can't govern if you don't have great tech people at the table."
Pahlka and O'Reilly pointed to success stories illustrating how small, agile teams have worked against the prevailing culture of federal bureaucracy characterized by legacy code, obstructive protocols, and byzantine rules for contractors requiring the submission of extensive RFPs. Smaller teams, they explained, can not only create highly functional applications, but can even create new ways to govern. For example, the initial roll-out of Healthcare.gov in 2013 was rocky. Hundreds of millions of dollars had been invested under a huge collaborative effort among several federal agencies, yet the site was broken and unusable at launch. Pahlka and O'Reilly detailed a "rescue effort" deployed by a small team of just thirteen "heroic" coders and project managers who got the site back online.
There's billions of dollars at the ready for techies. During the Q&A, attendees working in the field noted that the federal government has an enormous IT budget covering not just software development but also procurement (laptops, data plans, and hardware and software investment). Agencies spent $88 billion on IT in 2016 and are on track to spend $90 billion this year. In comparison, those figures dwarf the $58 billion invested in venture capital in 2015. Audience members with government contracting experience shared stories and competitive anecdotes on how freely the money was flowing.
Pahlka is optimistic, a self-described "Tigger" who feels "one of the things that makes me so hopeful about where we are is that we've built a fabric, a network of people who have consumer tech digital skills and have come in and built authentic, careful, meaningful relationships with the folks who have been doing the work all along" while embracing the value of public service. Her work at the US Digital Service has taught her that "it's not about building a website, it's about building a service."
For her part, Pahlka says she got involved in government not for the money but in order to give back. Pahlka has written that she worked as a volunteer on Clinton's campaign policy team and transition team but "made publicly very clear that I would not take a job in the Clinton administration."
The day after Trump's election, Pahlka argued in a blog that "If you don't like the outcome of the election (or if you do), this is a good time to remind yourself that politics isn't government, and governing isn't someone else's problem. It's ours." Thus far Pahlka says she's felt only support from her employers in Washington. "To the extent that I've been involved in conversations about the future of this work at the federal level under Trump," Pahlka told the audience, "both established Republicans and Trump's closest advisors think this is awesome … because it is."
Awesome technology perhaps, but to what end? Despite Pahlka's "Politics Isn't Government" mantra, history shows that when it comes to modern government, politics and technology are rarely separate. Indeed, technology can turn political promises into harsh realities. Our new president has called for building a wall to shut out Mexicans, and the creation of sophisticated digital databases and tools to find and deport millions of men, women and children from Mexico and the Middle East.
Can Tech Really Be Separate from Politics?
It's no longer just talk: The "America First" slogan is becoming hard-coded. The day after Pahlka spoke, WhiteHouse.gov was scrubbed of all references to climate change, civil rights, and LGBT initiatives – these issues were "disappeared," as some wrote. The new digital face of the Trump administration instead featured strident declarations of support for police ("The dangerous anti-police atmosphere in America is wrong") and hawkish demands to "make our military strong again." Trump also signed a one-page memo that may "seek the prompt repeal" of the Affordable Healthcare Act, and spark draconian changes to healthcare.gov.
This is just the first week of the new administration, but the facts suggest it may be naïve to expect tech can be separated from politics. On the day of the inauguration, protestors angrily reacted to what they saw as tech's prompt appeasement of the new administration. In San Francisco, activists formed human chains in front of Uber's headquarters in San Francisco to protest the company's collaboration with Trump's transition team. Across the city on the Caltrain tracks, protestors stopped a train headed south to Silicon Valley as a demonstration against tech companies that have fallen in step with Trump. The next day, the Women's March in Washington D.C. attracted three times the number of attendees as Trump's inauguration. It was one of the largest protests in history.
Tech leaders, entrepreneurs, and coders will have to decide for themselves in the coming months what role they want tech to play in the age of Trump. Demonstrating none of the optimism at the Pahlka-O'Reilly event the night before, the next day down the street at Uber SF headquarters the protestors were chanting "Hey, Hey, it's not OK. This is not just any day."