The Internet of Things and looming clouds of data challenge us to figure out where and what to measure. This January, in a hundred dorm rooms on Stanford's campus, early data points may be found in the prototype rollout of a fresh approach to performance enhancement, improving energy, mood and sleep through lighting.
The lightbulb was once the icon for invention, and this is a tale about how with the right openness, you just might find that your next big idea is right next door.
Brian Hoskins, the CEO of Ario, is the antithesis of a 20-something startup dude. A native of Louisville, Kentucky, Brian loved the outdoors, excelling at skiing, cycling and tennis. Entrepreneurism came early: by ten, he'd followed his older brothers into their enterprise, stringing tennis rackets for cash. By 13, he had contracts with local clubs and was stringing seven rackets an hour, which at $7-12 a racket was more than 15 times the minimum wage. Brian was a top ranked player, already teaching lessons, and was soon stringing hundreds of rackets for multiple clubs and camps, making $10,000 a year in high school, where he also found time to be valedictorian.
Studying Economics and French at Vanderbilt, Brian worked in corporate finance, earned an MBA from Harvard, won a prestigious Harvard Business School competition, and interned at NASDAQ. He did a stint in technology consulting, and then worked at Microsoft for eight years. Brian led new mobile products (he presented their Mobile Device Manager on stage with then-CEO Steve Ballmer), ultimately rising to Director of Microsoft's Emerging Business team, focusing on mobile and wireless startups.
But he didn't find the big idea he'd long been seeking at Microsoft or scanning the Internet. He found it on his street. Dale Dell'Ario, his next door neighbor of 12 years, had a masters degree in product design and mechanical engineering from Stanford, and decades of experience designing tech products in the health and lighting field. The two friends often had dinner together. "I brought him a copy of Microsoft Office," said Brian, and in return, in the summer of 2010, Dale gave him "this blue light."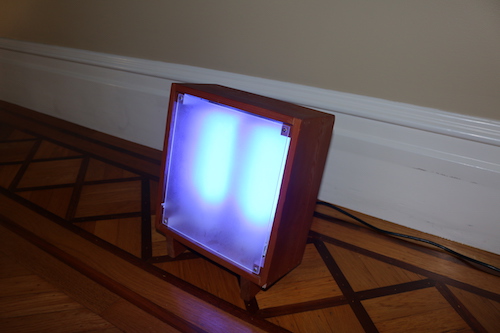 Dell'Ario had built a simple square wooden box that emitted a special blue spectrum light ideal for regulating your daily circadian rhythm. Morning light has a number of positive effects, suppressing melatonin, producing the energy boost of cortisol, and the mood enhancement of serotonin. "I'd literally never slept better," said Hoskins, who'd switch on the deep blue spectrum in the morning. "I couldn't believe it." He came to call it the "magic light", and would show it off to envious friends.
Dell'Ario kept prototyping, and the neighbors began collaborating. By 2014, Dell'Ario had fashioned 16 lamps of a new prototype with day and evening settings that they placed in the homes of friends and acquaintances. Most felt an immediate improvement in sleep, and ninety percent stated they'd buy it if it was a product.
Hoskins' day job at the time happened to be highly entrepreneurial. He was running Microsoft's business development portfolio for startups, meeting with hundreds of startups, charged with the responsibility to pick partnerships or acquisitions. Impressed by the innovation and desire he found in so many of these entrepreneurs, he began "to want to do my own things."
Work brought him out to San Francisco, where he caught startup fever, left Microsoft, and launched Slingkast, a mobile loyalty platform for local businesses. But though he attracted funding and paying customers, his first startup struggled. He switched horses and went all in with Dell'Ario. They won acceptance into Stanford's vaunted StartX incubator program, joining roughly 20 other companies to share experiences and knowledge. Stanford gave them space near the campus and a crash course in starting a company.
By May of 2015 they incorporated Ario and soon after earned their first major pre-seed investment from Lab 360, a hardware accelerator backed by Qihoo 360, one of China's largest internet companies. Working out of Lab 360 in Sunnyvale, they took another entrepreneurial step, preparing a Kickstarter campaign. By now Ario had patents pending on a highly technical and holistic approach to indoor lighting, including a color range designed to charge your morning with up to 6500k blue-rich white light, a more diffuse brightness mimicking mid-day sun, and then, stepping down in the evening to the firelight tone of 1800k amber light.
Key to delivering light in a fashion more similar to nature was directional control, achieved through the design of two interior engines for directing the light up, down, or horizontally. An integrated LED controller and WiFi modules powered the lights and could be activated manually or remotely from a mobile device. Ario is also smart, with embedded learning algorithms to identify patterns and refine a lighting sequence customized to individual needs. To cap it all off, the lights draw from a solid-state power source, providing energy efficiency and long-lasting bulbs to achieve minimum draw and maximum sustainability.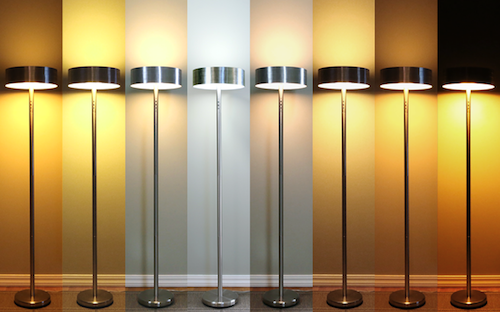 Those unique capabilities made the November 2015 Kickstarter a hit, raising more than $200,000 from over 800 backers in just over a month. That momentum helped Ario raise a few million dollars in its first round in 2016 and take a big leap forward to production, including setting up manufacturing in nearby Tijuana, Mexico. "We wanted something close where we have control over the manufacturing process," said Brian. "Here we're in the same time zone. We can fly to San Diego and drive right over. We don't have to put it (the lights) in a boat."
Pfizer recently selected Ario as part of its Health and Wellness Innovation program, co-locating the startup at the Galvanize tech campus and hub in SF's SoMa district. That elite designation has allowed Brian to meet with top executives of the pharma giant and major retailers.
The first big test will be at the Stanford Graduate School of Business this January, with the rollout of dorm rooms outfitted by the lights (280 rooms by this summer). Another paid pilot is in the works with three hotels from a major chain. "These paid pilots will enable you to customize the room environment through Wi-fi," explained Brian. Sensors on the lamps (tracking movement, occupancy, ambient light), plus seasonal and daily weather gleaned through Wi-Fi enable the system "to learn your patterns" and infer what kind of light to deliver, and when.
Students pushing their physical and mental limits, and travelers struggling to combat jet lag, are ideal candidates for a light designed to better regulate your circadian rhythms. With daylight savings about to end, many of us are bracing for the winter blues. It's not just the downer of the dark, it's the extra pounds that usually come with the dark months. Intriguingly, research suggests that people who get a healthy dose of real or artificial morning blue light kick start their metabolism and weigh less than those who get the bulk of their light later in the day.
So much of what we hear today about big data and IoT seems detached from our daily lives. Here's an early indication of the promise of connecting data in a meaningful way with human performance. With the light's potential to become a central IoT hub in hotels, dorms and homes, a bigger experiment is in motion, one that just might help us sleep better, work harder and come up with better ideas.
Here comes the magic blue light.