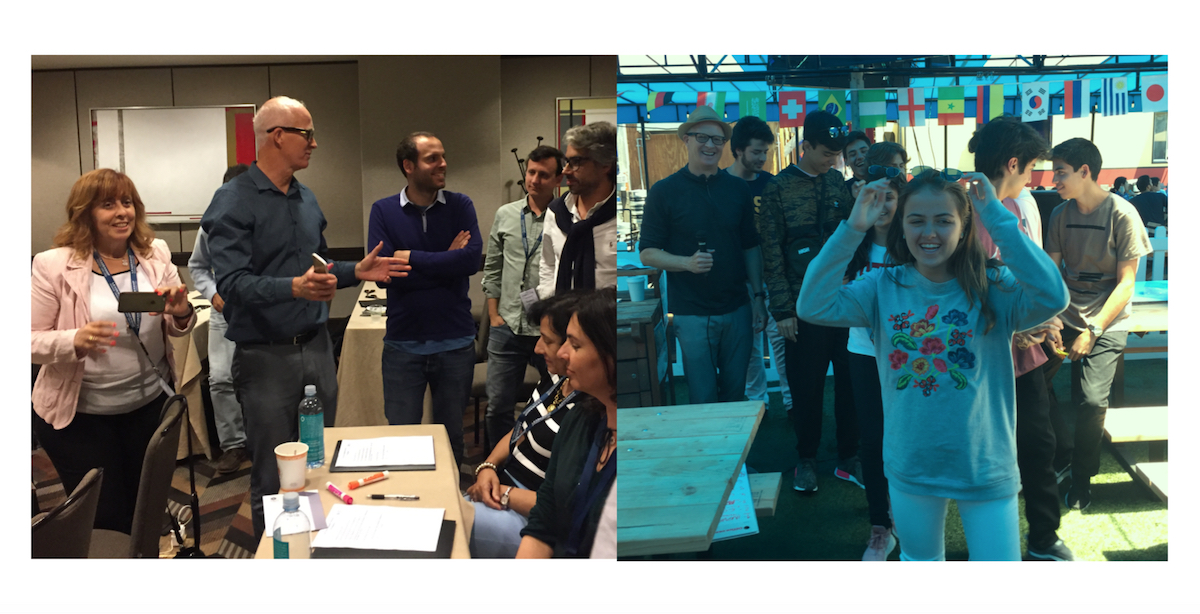 The best place to look for fresh inspiration is anywhere but home, as we discovered last week while leading innovation labs in San Francisco for Portuguese executives and Brazilian high school students, just days after we flew home from our own foreign immersion. To find new ideas requires hustle and initiative. Traveling is a great way to become a more effective cross-pollinator, to import new insights and fashion something original. Our advice during these lazy dog days of summer? Get up and go. Summertime isn't only about the beach and catching up on your reading, it's the ideal season to hit the road and expand your network and mind.
[Read the story in Portuguese here, courtesy of Leadership Business Consulting, and Maria Armanda Alexandre.]
Late this spring, we jetted off to Portugal for a ten-week reconnaissance of Europe and the Middle East, following a ten-city, five-week deep dive of Europe last November.  We immersed ourselves in Portuguese culture and language, explored incubators and business hubs around the country, met scores of intriguing entrepreneurs from the tech hotbed of Lisbon (home to WebSummit) the cool northern city of Porto, and the country's hot, rich interior.
Along our journey, we squeezed in a few weeks in Amsterdam, Paris, and Tel Aviv, keeping our schedule loose to leave room for serendipity. In Paris, we breakfasted with one of the founders of Les Napoleons, an alliance of elite international digerati who convene in Val d'Isere and Arles to hear keynote speakers such as Barack Obama and François Hollande, artists, startup gurus, and Google Xers, but more importantly to build "an upscale and influential network dedicated to worldwide innovation players." At the StartupCity Summit in Amsterdam, we led a session on "Creating a Globally Connected Ecosystem," and one evening, while floating on the city's famous canals, met Elad Kobi, a hip Israeli superconnector with Israel's GKI Group, and decided on impulse that we had to take in the startup-crazy Tel Aviv. Soon we were visiting the Israel Innovation Authority and meeting with Elad, startup founders and VCs shaped by the nation's rigorous, team-centric military discipline, and even tasting whiskey at Milk & Honey, Tel Aviv's first distillery.
Traveling jolts your equilibrium and resets your control panel, forcing you to contrast ideas, products, and business models. We met fascinating people for our book, and conducted comparative research on successful startup cultures. On the road we gleaned valuable impressions of experience design by intensively studying incubators, fresh models for business parks, co-working and co-living spaces, not to mention the global battles being waged between Ubers and taxis, and hotels and Airbnbs. The trip flipped our thinking with real data points, demonstrating how much there is to be learned by seeing and feeling the tremendous regional variations in service, design and tech.
The San Francisco Executive Immersion
The opportunity to instantly share many of our learnings upon our return to SF with Europeans and South Americans was a thrilling extension of our journey. The Portuguese group of 20 executives was attending the annual Global Strategic Innovation (GSI) immersion program put on by the Lisbon-based Leadership Business Consulting. Their week-long Silicon Valley course is representative of many San Francisco entrepreneurial programs, with site visits to Google, Facebook, Intel, Autodesk, Stanford and other local giants, as well as tours of top incubators (Runway, Plug and Play, The Vault), along the way meeting influential investors and startups. The programs are designed to give attendees an immersion in the region's heralded culture of innovation and entrepreneurship.
We've seen this trend accelerate firsthand — smart business leaders and MBAs from Europe and Asia coming here in increasing numbers in the last few years. USF, Berkeley and Stanford, all offer impressive programs that embrace these visitors in a designed, academically-branded experience. Think of it as a cross-cultural innovation indoctrination: a new, highly focused business travel industry rising up to help such groups soak up the Silicon Valley way. But here's the thing – it's not just executives and MBAs flocking to California. Just days after we worked with the Portuguese we got a taste of the future, a new and intriguing youthful wave we predict will also soon be arriving in droves: high schoolers coming to absorb the culture and implement their learnings back home at elite schools in their country.
Entrepreneurs are getting into the game earlier and earlier. Kyle Ashby, a serial entrepreneur, startup superconnector and master networker based in Santa Barbara, saw this trend coming a few years ago when he registered the domain name startupsummercamp.com in 2013. Busy building the stylish Sandbox incubator in the coastal hub, he waited until the timing was right, and last summer led his first cohort of teens. This year, the business has taken off, with several groups like last week's 75 Brazilian high schoolers coming for a deep immersion in entrepreneurship and innovation, along with tours of startups and major tech companies in Santa Barbara and the SF Bay Area.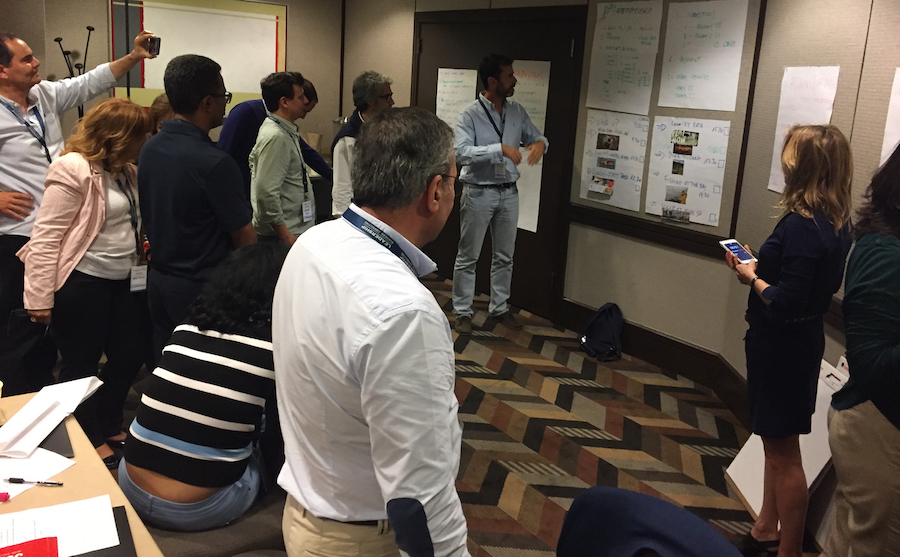 The GSI group brought together a diverse and animated mix of executives from Lisbon, Porto, the interior, and Cape Verde, working in tech, transportation, energy, manufacturing and consulting. After our Ten Faces of Innovation talk we walked to the bustling shops and cafes of the Ferry Building for a cross-pollination exercise. They went on a treasure hunt, discovering examples of great experience design, telling stories to the group about their findings, and getting excited about the possibilities of expanding their creative horizons. Back in our conference room, they got down to business, skipping forward from what they'd seen to brainstorm new innovations. Our favorite ideas: a "sleep bus", where SF immersion visitors like them could ease their jet lag while on the go. And an amazingly robust prototype of a "city experience" app, a dashboard where you can schedule and manage preferred destinations around town for a few days or a week-long visit. Both were innovative twists on a rich vein for new product ideas: starting with a personal pain point.
Startup Summer Camp
The Brazilian high school students had travelled more than 10,000 kilometers, from Colégio Loyola in Belo Horizonte, and Colégio dos Jesuítas in Juiz de Fora. We hosted them at Spark Social, the food truck park, where they first took to the soccer field before settling in for a visual presentation and then interview with the serial entrepreneur Carlos Muela, the 30-year-old at the forefront of SF's exploding foodie culture. Carlos also shared his advice for young entrepreneurs: know your field, and add the spice of innovation. Kyle also invited two more entrepreneurs onto the stage to host their own interactive sessions: Jake Disraeli, Sales Manager of InDemand Commerce at Indiegogo, and John Beadle, Director of Startup Weekend at Techstars.
After partaking of the tasty food truck fare, the students dove into an immersive, team-based activity to design entrepreneurial clubs for their school or community. They showed a natural inclination to gather ideas from their local community and to prototype innovations: science clubs to connect Brazilian students and scientists to entrepreneurs, co-working spaces crossed with theater arts, an incubator fueled by pursing new tech solutions rooted in local community pains and needs.
Back home in San Francisco, we're doing our own reset. You often don't appreciate the attractions of your own town until you see it through another person's eyes. Or leave it behind long enough for it to seem fresh again. Our Portuguese-Brazilian San Francisco week reminded us why the world keeps coming to our global center of entrepreneurism and tech, and leaving us with a renewed awareness of the value of exploration, and the certain knowledge that before long we'll get the itch.
The road calls.
---