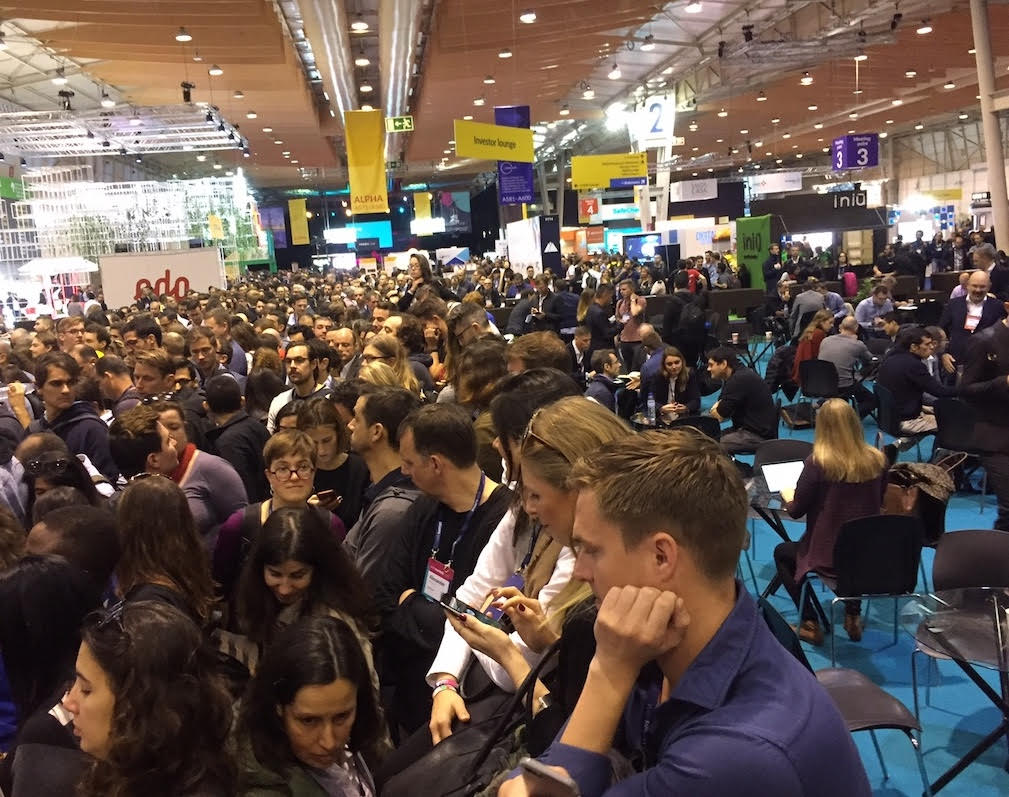 Fifty thousand techies, entrepreneurs, corporates and startups descended on delightful Lisbon this month for Europe's biggest tech conference. The agenda was packed: elite CEOs, heads of state, startup founders, supermodels and celebrities. We started with the little guys. We surfed hundreds of founders at the startup booths, took in the pitches, passed on the auditorium experience of Al Gore and Caitlin Jenner, and Sheryl Sandberg's phoned-in videolink appearance, and partied (yes, Lisboetas know how to have fun). But we never imagined the impressive entrepreneurs we would meet, and that somehow in this crazy, global startup smorgasbord, we would learn the secret to taking home the grand prize.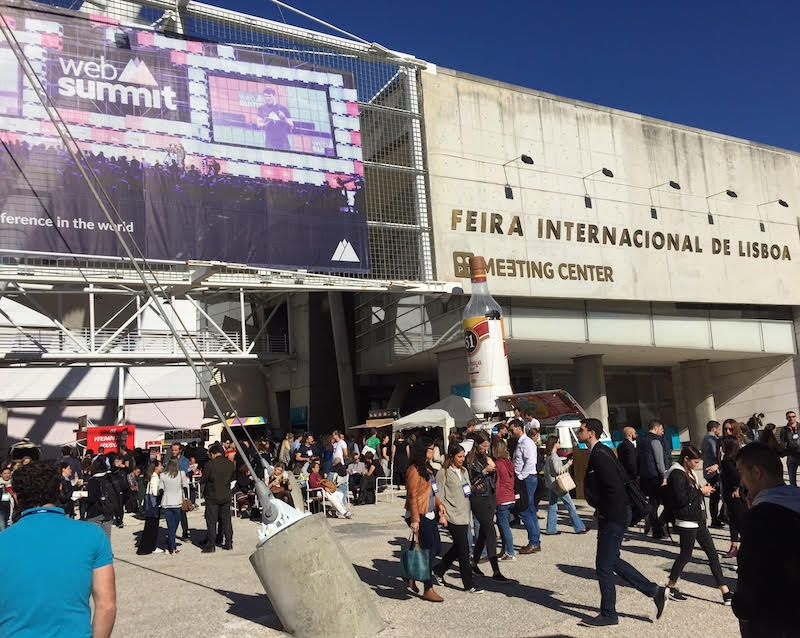 First, one thing most technology conferences could learn from Web Summit. Balance and class matters: Nearly half the 59,115 attendees, and over a third of the 1,200 speakers were women, and just about everyone oozed fashionable Euro cool. The logistics were also smooth, considering that the event included at least a dozen different sub-conferences (Growth Summit, Surf Summit, Pub Summit, and other thematic verticals). Registration began minutes after we got off our flight from Paris in an outdoor tent at the airport, aided by hundreds of smiling, friendly local volunteers.  Lisbon's clean, inexpensive metro was packed but efficient, with subway signs and maps marked with Web Summit destination stickers. Throughout the week, the Web Summit app sent out a steady stream of announcements – such as the news of an afternoon Uber strike. Fleets of food trucks in open air corridors on the grounds of the event arena handled everyone's food and drinking needs (beer and wine were a popular choice). Oh, and what's not to love about espresso machines dishing out free, fantastic coffee all day long?
Rule 1: Bring a Strategy
So how do you navigate four massive pavilions, with four or five simultaneous events running every 20 minutes? Strategy is paramount. We aimed for the personal. We opted for catching just half a dozen pitches the first day, with an eye out for products we wouldn't necessarily find in San Francisco. Petri Martikainen's Moprim motion-sensing app spoke to us. We'd walked so much the week before in Paris, (50 kilometers in four days) and in Lisbon too we'd been walking, taking the metro, grabbing taxis and Ubers, mixing up our means of transport to best take in the city's hilly, San Francisco-esque landscape. Moprim is a "carbon footprint" mobility app that tracks and "intuits" the modes of your daily movements – from walking to the bus, metro, and taxi, just by drawing from your smartphone's accelerometer. Petri is Finnish, and after his pitch he informed us we'd be able to download the beta at Slush, where we'll be in a few weeks. Next spring, a 100,000-strong Finnish city will begin a city-wide prototype to gauge the "carbon footprint of each of the citizens" and to do city planning "to see how much people are using the bus or the car." We can't wait to download Moprim. Why this isn't happening faster in more smart, green cities or universities? It could be a kind of Fitbit for personal carbon responsibility.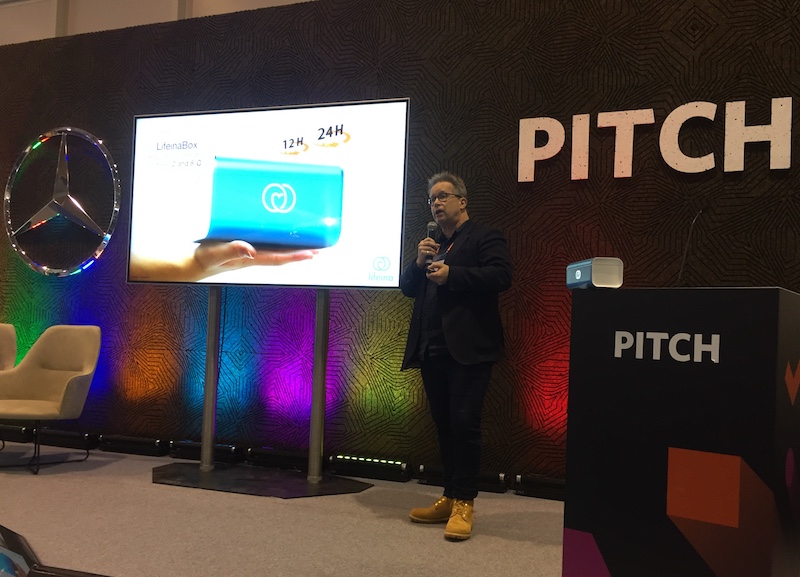 Hardware tech startups often face a hard road. Mobile or digital ventures are far more popular with VCs. But then we heard Uwe Diegel's pitch for Lifeina. His brother, who suffers from diabetes, was visiting him in Paris, where his hotel foolishly froze his insulin – nearly killing him. From this scary experience, Uwe discovered an opportunity to help millions of people. "About five percent of the global population is using a medication that has to be kept in the fridge at all times," he told the audience of thirty (and three judges) at the small pitch stage. "We're talking diabetes, cancer and multiple sclerosis. These people are de facto prisoners of their medication. It's a huge problem when they travel."
Uwe laid out the growing market for thermo-sensitive medicines: "Today, out of the ten top medications in the world, seven of them have to be kept in the fridge." Most people don't take their medication with them to work, creating a massive problem of missed dosages and waste.
"That's why we have developed Lifeina," he said. "It connects to an application. Not only to monitor the temperature of the medication in real time and the battery life but also to send you reminders and improve the non-adherence."
This elegantly designed, medical mini-fridge will be assembled by handicapped people in France. It should have a 36-hour battery life by the time it goes into production in February. "It's suitable for any kind of medication," said Uwe, smiling.  "It also works great for carrying ice cold vodka."
We caught Uwe as he stepped off stage, and he shared his story. He was the CEO of iHealth, a €1.2-billion corporation with a long successful record in creating medical devices. He'd been a concert pianist until age 26 before becoming an international expert in medical diagnostics. He recalled the episode with his brother in Paris: "Just for fun, while drinking, we sketched the idea of a miniature fridge," he said. "We're both engineers. We did it on paper and then I made a sample." He literally cobbled together bits of cardboard and string, and "stole the battery" from a Sony video cam. "We were playing, and launched the thing just for him."
But when they showed people the fridge and "everyone loved it," Uwe realized it was time to take a leap of faith. "iHealth had become so big that I couldn't innovate any more. I felt I'd become a manufacturer of plastic. The universe was showing me I was going in the wrong direction. I had a health scare. I figured, 'ah fuck it. I'm 52.'" In June of 2017, he resigned, climbed Kilimanjaro, then with a crack team of six started designing the product in September. Le Village, the premiere Parisian Credit Agricole incubator took them in.  LifeinaBox quickly won a number of design awards, and Uwe decided to make the trip to Web Summit.
Rule 2: Meet the Little Guys
After grabbing a quick bite from the food trucks, we canvased the booths (numbering in the thousands) to meet startup founders in person and get their face-to-face appeals. Our favorites:
Rule 3: Meet the Big Guys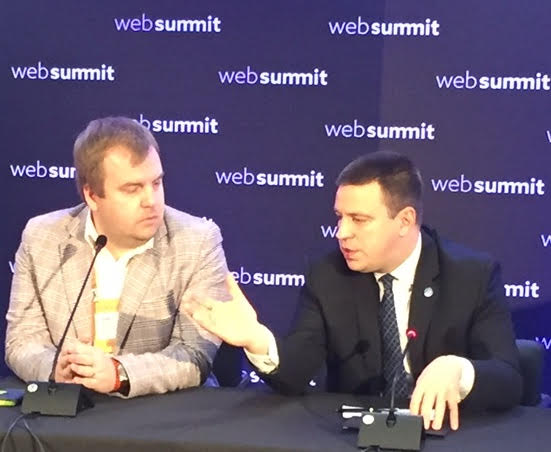 Serendipity fuels Web Summit. After Lisbon, our ten-country, five-week European exploration will continue north to Italy, Slovenia, Poland, Holland, Estonia, and Finland. We're here to discover first-hand how entrepreneurs emerge in a range of social and economic frameworks, and how tech sector growth and economic prosperity is unfolding in Europe by design. In the wake of Brexit, EU nations are rushing and seize the vacuum and to collaborate with each other, and many government leaders present a united, magnanimous front. And so Wednesday morning, we dashed over to the media center to catch the press conference by Juri Ratas, Estonia's Prime Minister. This remarkable nation of just 1.3 million is considered the first digital country, with electronic voting and tax returns, e-residency, and an unparalleled education system that begins teaching computer programming to schoolchildren at age seven.
Thousands of EU companies incorporate here. It takes just a visit to the capital and 20 minutes, versus weeks or months in other countries. Estonia's understanding of digital innovation is especially advanced, and the local capital boost created by the sale of Skype to Microsoft and other Estonian exits has seeded a thriving local ecosystem of entrepreneurs and investors. Yes, America has Google, Apple, Amazon and Facebook, but recent events (such as aggressive Russian cyber-interference) have shown our government defenses and social foundation to be flat-footed and vulnerable. Consider the bizarre anachronism of our individual identity being pinned to a social security number, and our outdated financial infrastructure rooted in 20th century technology that has exposed hundreds of millions to identity theft. When it comes to smart government, shedding bureaucracy, and innovating legacy systems, Americans are relative dinosaurs. Here at Web Summit, there's a resounding consensus on embracing the future.
"One cannot build a digital society without people trusting and believing in it," said Ratas. "I think that trust is most important thing. Trust and openness." Being on the front line of cyber security – and sharing a border with Russia – has brought enormous challenges, namely an onslaught of major Russian cyberattacks in 2007 and, more recently, security concerns related to its vaunted digital ID cards. "It's a question of mindset," said Ratas. "The state also has to be innovative and bold." Ratas alluded to the extraordinary public-private team of Estonian IT experts trained by the Ministry of Defense who volunteer (much like modern firemen) to defend their country.  "On the contrary, it made us work harder to become one of the leading countries in cyber security in the world."
What might other governments, especially those who've sent delegations to Web Summit, learn from Estonia?  Siim Sikkut, Estonia's Princeton-educated CTO answered with a line that seemed drawn from the famous children's story The Little Engine that Could. "It can be done. That's what we say to whoever visits us. We say, 'Look, change is possible, we've been doing it for 20 years. It just takes a bit of courage, a lot of work. But it can be done.'" Estonia's fast-prototyping, open-source, collaborative method is key. "A lot of our solutions we've been trying out on the go," he said. "We're always happy to copy something that worked somewhere else, and we're happy to share back. We've been building other things together with our private sector and our guys have now taken this know-how and the solutions of 60-plus countries around the world, so that literally there is stuff that can be transplanted to other jurisdictions."
And why would this country with a population not much larger than San Francisco's be a great place to prototype? "Estonia is the best place [to do tests] for self-driving cars, artificial intelligence, all kinds of things," said Ratas, pointing to their experiment-friendly, tech-savvy laws and regulations. "We are an open country, an open economy, and these are very concrete things." Added Sikkut: "We have talent from our education system, especially in the tech field. We work a lot on integration. We also are behind some special attraction programs to get IT talent in the country." But perhaps most of all, designing a government that acts more like a startup than a bureaucracy is proving evergreen, attracting yet more Estonian projects by providing what every entrepreneur wants, an "ecosystem with many players with whom it's interesting to build the new things."
The press conference ended. Journalists eagerly lined up for selfies with Mr. Ratas, and we too took the opportunity to meet and shake the hands of Estonia's Prime Minister and CTO, and to ponder how radically different this plugged-in country is from our own legacy-laden government. We headed back over to the pavilions to wrap up the day with some more pitches, and then met one of Portugal's own, Ricardo Ribeiro. He told us all about Unbabel, one of Lisbon's biggest startups, and then invited us to a party at the company's headquarters the following evening. With about 60 employees located in the Lisbon office (founded in 2013, and more recently headquartered in San Francisco), Unbabel offers AI-powered translation as a service, with transcription and plug-and-play integration for Salesforce and Zendesk. Total funding is over $8 million, from backers such as Notion Capital, Google Ventures, Caixa Capital and Y Combinator, with high-profile customers such as Pinterest, Skyscanner, Under Armour, Trello and Oculus VR. Best of all, the party was hopping with music, sangria, plenty of friendly hosts on site, and ping pong.
We were hooked. We could see returning to this city in the spring to write our book, and maybe even living here. This is exactly why Lisbon wants to host Web Summit, to attract individuals – and startups, corporates, and investors – to the rising local potential.
Rule 4: Follow Through
We caught up with Uwe last week. He told us that his first goal at Web Summit was simple and modest: give his keynote and meet with as many people as possible at his booth. Then, he was informed that Lifeina had been one of 200 startups selected out of 1,300 applicants to compete in the Mercedes Pitch Competition at the close of the conference. He didn't have any time to prepare.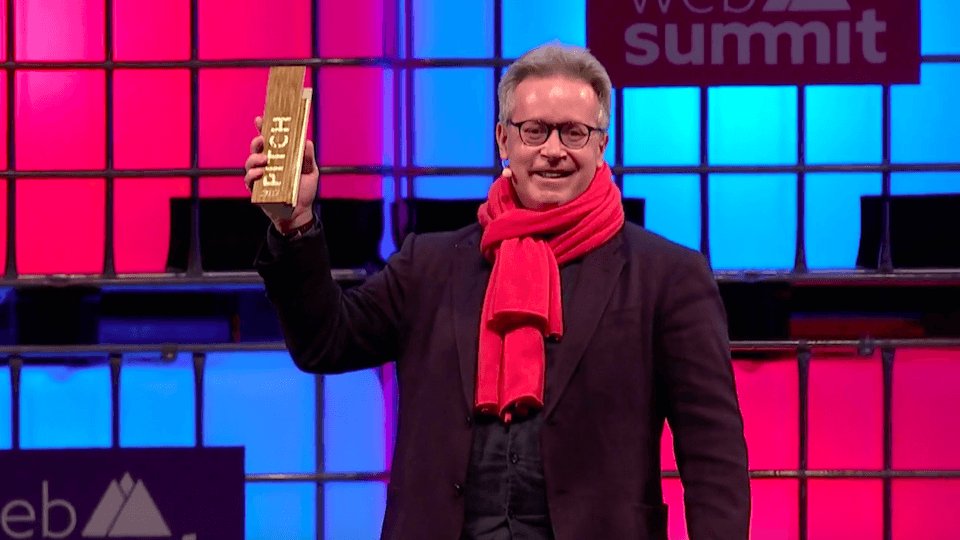 And then, he started winning. "Finally, we were one of the three finalists, but even at that stage it wasn't really that important to me." He had other, more important things to do. At night, he was busy finishing a new guide for Crohn's disease. Then the final pitch day came. It finally dawned on him that this was not just any old competition. He would pitch before 12,000 people. Get a chance to get the word out on a giant, global stage. And then came the moment of reckoning. The online voting began, and more than half the audience's votes were cast for Lifeina. The jury too had no doubt: "The winner is Lifeina!"
Backstage, the camera caught Uwe shaking the hands of his fellow finalists, and then he sprung out in front of the audience, still wearing the big brightly-colored lumberjack boots we first saw him in a couple days before. "This is an amazing moment," he said, before the cheering audience. "I had a dream last night. I dreamt that Donald Trump was no longer the president of the United States," he added, to laughs. "I dreamt that the world was a wonderful, peaceful place. Having a dream is easy, realizing a dream is not so easy."
But now – after winning Web Summit and a $50,000 check from Mercedes – Uwe and Lifeina are well on their way.
---
Catch the earlier legs of the SmartUp European Grand Tour here!
Startup Passion in Paris: Station F, Le Village, Ecole 42 … et plus
Starting Up in Switzerland: Batmaid, Studio Banana, MindMaze