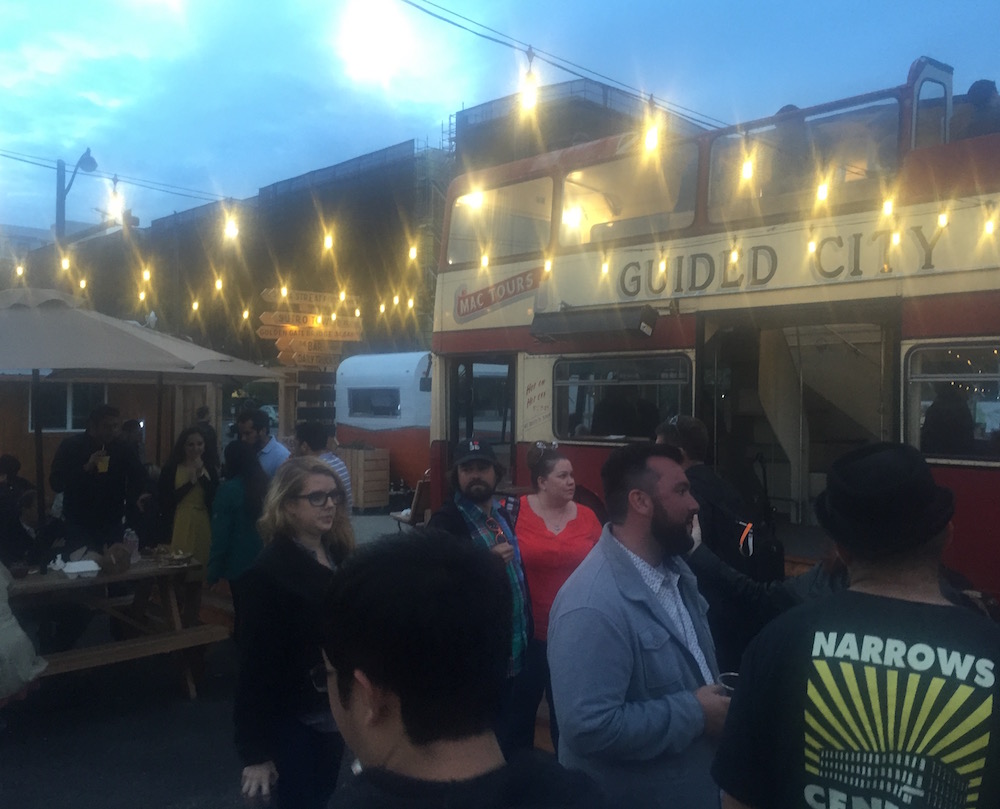 The food truck entrepreneur Carlos Muela told friends and colleagues once was more than enough, vowing to never again subject himself to the pain and stress he endured to make his first venture a success. But then his appetite got the better of him, when an email caught him "at just the right time" for a fresh opportunity in the city's booming new Mission Bay.
San Francisco, home to Uber and Airbnb, titans of the tourism and hospitality industries, also boasts a well-deserved international reputation as a vibrant, experimental zone for the latest flavors of restaurants and cafés. Carlos's journey, and his serial innovations are not only shaping where and how San Franciscans eat, they also reveal a lot about how the city's feverish tech entrepreneurism is spilling over into other businesses.
The email that stimulated his entrepreneurial hunger came in 2015. Nearly two years earlier, as a recent hospitality and entrepreneurism graduate of the University of San Francisco, he had taken the sort of leap that's fast becoming second nature to the city's young entrepreneurs. Carlos rejected the traditional. Not content to simply take the reins of his father's two thriving Spanish restaurants in San Francisco's Mission District, he tapped into the burgeoning food truck trend – and helped to kickstart a big opportunity in the city.
The mobile events-driven Off-the-Grid was succeeding by providing multiple venues for food trucks on weekends and for festivals, but there were more and more trucks needing locations to park and sell their food. Enter Carlos. After months of research, he leased an abandoned lot by a freeway ramp at Eleventh and Harrison Streets. Rent and architecture fees quickly accumulated with no income. The development and permitting process was tough, expensive, and capricious (no one had ever opened a food truck park in SF), and Carlos wasn't at all sure the crowds would come, feeding his understandable pre-launch anxiety. But come they did, and in June of 2012, SoMa StrEAT Food Park opened to instant success, soon playing host to a bustling tech lunch crowd and assuming a role as a hip new events destination for sports- and food-themed gatherings that each brought thousands of beer-drinking foodies and techies.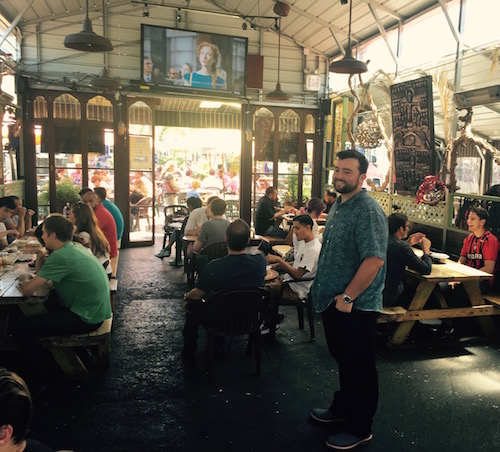 Skip forward two and half years to 2015, when Carlos received an email inquiry from Laura Tepper, a project manager with the Mission Bay Development Group looking for the food truck entrepreneur to create a "fun, creative park" in the neighborhood.
Mission Bay is sandwiched between China Basin, AT&T Park and Dogpatch, the site of USCF's gleaming new hospital, numerous corporate pharmaceutical offices, major new buildings for Uber and Cisco, and the Warriors' proposed stadium, not to mention a boom in gleaming multimillion-dollar condos. Carlos knew the area well, having scouted a location in the neighborhood years ago just after signing his lease for SoMa StrEAT Food Park, and thought Mission Bay "could be the next hot place."
Tepper showed Carlos 601 Mission Bay, and the ambitious plans for the area, and the entrepreneur had to consciously put on his best poker face, tempering his excitement to improve his bargaining position. He saw the scope of the project, knew that "they were not going to have restaurants for a long time," and sensed an opportunity to build synergy with his nearby existing park. "I had a big list of food trucks and nowhere to put them."
The success of his earlier venture inspired him to take on the risk. "We had good money in the bank, we were ready to take on something new." Finally, the redevelopment agency was willing to "invest and put a good amount of money in to build out the park."
Then it was time to make a deal. "It was complicated," said Carlos. "The city owns the land, they're leasing it to the agency, then leasing it to me." Carlos' lawyers had concerns. Negotiations dragged on for two months.
Next came the fun.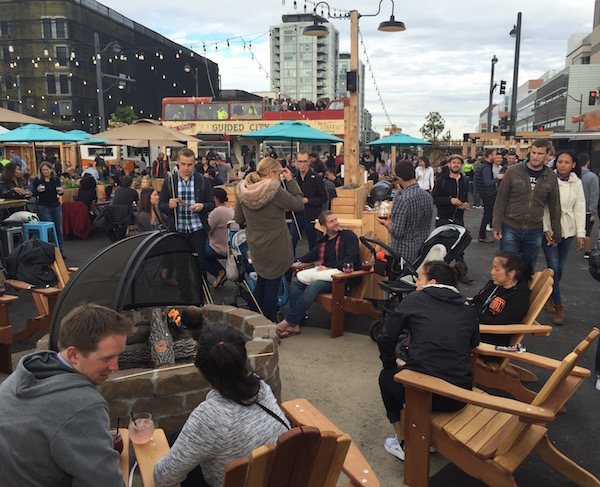 He named his park Spark. S'more stations anchor the park's four corners, featuring Adirondack chairs placed around gas-burning fire pits, with wooden sticks, marshmallows, and all the necessary fixings. At the entrance, an open English double-decker bus provides a fun setting for extra seating and lounging for events and concerts. Retro wooden signs around the park whimsically list the distance to nearby destinations: the bar, the food trucks, the fire pit, the adjacent soccer field – as well how many feet to iconic San Francisco destinations such as the Golden Gate Bridge, Sutro Tower, and yes, SoMa StrEAT Food Park. The overall effect is what Carlos calls an easygoing, "camping, outdoor feel." Spark is designed both for the evening and the day, featuring ample comfortable tables, bar stools, umbrellas, plenty of food trucks, and an adjoining small soccer field.
Spark's appeal as a fresh new San Francisco food venue helped Carlos book ten corporate parties for several thousand guests even before the packed gala champagne opening this June. The lunch crowd was bustling from the start, and the rentable fire pits and happy hours soon began drawing a growing evening crowd of local workers and residents. Wedding planners take note: at least one couple has exchanged vows here, and San Francisco Giants outfielder Hunter Pence has booked his wedding reception at Spark this November.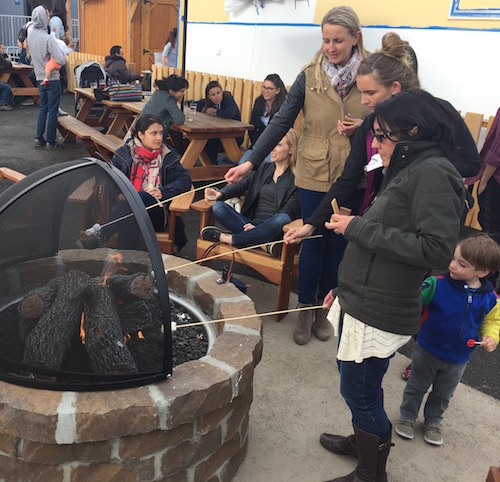 Today, Carlos Muela, the food truck king who just two years ago said never again, is thinking expansively. During my late September visit, he told me that just days earlier, he'd hired someone to create a sophisticated online ordering and delivery service for the trucks at the park. His ambitious goal: enable nearby companies to seamlessly submit a single mid-morning order for dozens of lunches from multiple trucks.
"We already have over a thousand people for lunch" said Carlos. "I wonder all the time how many don't come because they're too lazy or don't have the time." The entrepreneur sees his digital ordering system both as a way to expand business and as a hedge against cool weather or rain. "When it's raining, there are still thousands of people here who need to get fed," said Carlos. "I want the trucks asking, 'Can we be down at Spark?'"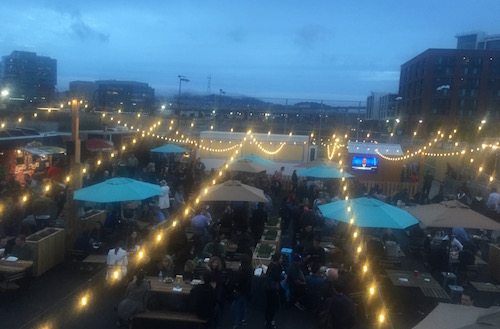 As he spoke, the Friday afternoon happy hour crowd was filling up the tables, drawn by the $1 oysters, music and discounted sangria and beer. Perhaps not surprisingly, Carlos has an eye on another opportunity. "I really like this neighborhood," he said, telling me how he'd recently emailed his landlord, inquiring about a big empty lot facing Third Street, where tens of thousands of fans regularly feed into AT&T Park.
Years ago, Carlos's father missed out on a once-in-a-lifetime opportunity to scoop up cheap property on the now-booming Valencia Street. He told his son he regretted not being bolder.
"I feel like the Mission Bay neighborhood is continuing to grow," Carlos said. "When the Warriors come in I think there could be room for another concept, maybe some sort of family fun and entertainment."
Maybe, mused the young man who once played to a 3-handicap, he might explore a completely new concept on that now empty Third Street lot. Maybe a miniature golf course and bar?
Here's what's certain: Carlos Muela isn't likely to satisfy his entrepreneur's appetite any time soon.
Read Parking Lot of Dreams (Part One) At eight years old, he started cleaning up in a couple of Spanish restaurants in San Francisco's Mission district. By fourteen, he was a waiter. By seventeen, he had risen to manager, and might very well have continued on this trajectory in the traditional restaurant world, had he not enrolled in an entrepreneurship program at the University of San Francisco.