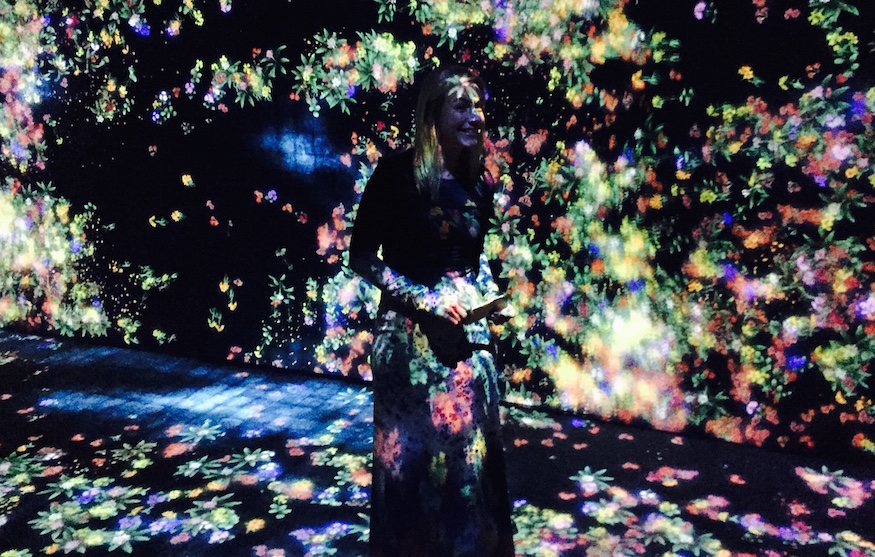 A giant, rosy shimmering cube hangs high above your head, like some unearthly AI God. The cube chimes lightly at your arrival, the music heightening in volume and intensity as you near. This must be what a bee experiences, entering the hive. Stand the "appropriate" Japanese distance from a bank of brilliant video panels, and your presence triggers a wall of gorgeous flowers to bloom in colors and hues so vibrant, with shapes so seemingly three-dimensional, that you ache to touch them. But get too close, and the petals will fall, the flowers "dying" from your intrusion.
Housed in a cavernous former Tesla dealership on the edge of the Stanford campus, Pace Gallery's "Living Digital Space and Future Parks" feels both novel and surprisingly natural. It's a thought-provoking installation from the Japanese tech-art collective teamLab, a clever crossing of art and technology, East and West, where you are invited to engage with mountains, waves, flowers, and space itself. Critics may debate whether it is truly art, but there is no doubt that it has arrived, and that it announces a future where art is immersion.

The images here illustrate only one small dimension of this experience. Enter this labyrinth, and you get the rare opportunity (through July 1) to feel the tremendous transformative power of technology. Forget static, traditional museums or galleries: we're accelerating into an era when creatives in business make space and objects (and Apple stores and Tesla showrooms) come alive through art and design thinking. Corporate conferences boxed into Hilton and Marriott hotels are out, while artfully orchestrated multi-layered experiences in dynamic spaces and locations are in.
Proceed down the gallery's dark hallway, where the near-life-sized "Black Waves of Infinity" (echoing traditional Japanese silk screen panels) undulates, waves foaming and breaking endlessly along the walls. The hallway then opens into a theater, where hidden projectors stream an interactive video across a series of walls and your body is swept up in the images and movement, and you almost feel as if you're taking flight with the Japanese mythological bird Yatagarasu. The children's wing is even more immersive, interactive, and creative. Touch shadowy icons flickering by on a giant wall, and make trees grow, mountains spring up, and birds fly.
Pace is a renowned gallery (New York, London, Beijing, Hong Kong), which more than a year ago established a "pop-up" beachhead here in Menlo Park to sell high-end contemporary art – think Tara Donovan, James Turrell, and Alexander Calder – to the new tech elite. Pace's president Marc Glimcher embarked on this collaboration with teamLab, a 400-strong Japanese "interdisciplinary group of ultra-technologists" (designers, engineers, and artists) who create immersive tech art. TeamLab founder Toshiyuki Inoko has no small goal. He aims to bring art sensibility into novel places and experiences for a higher purpose: "By connecting digital technology and art, I think it's possible to make other people's existence more positive."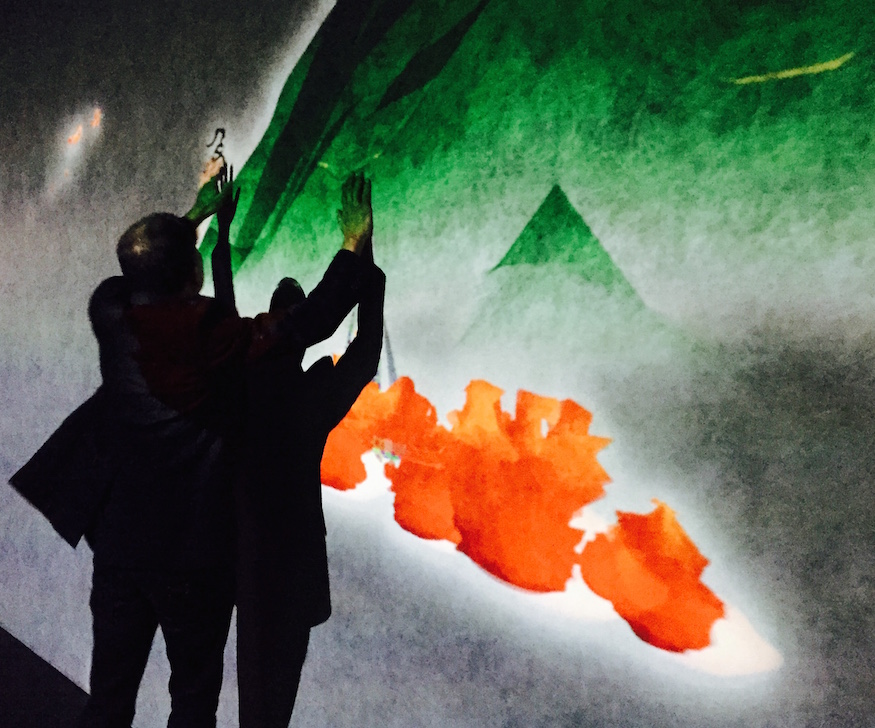 That joyful, humanistic philosophy imbues this sprawling space of more than 20 works. Behind the multi-sensory experience breathes technical might and mastery (virtual reality, sophisticated sound, video, LED lighting, and graphic computational horsepower) as well as vision and a lot of hard work. Pace's gallery director, Elizabeth Sullivan, says the Pace Art + Technology collaboration with teamLab was the result of six months of intensive prototyping and preparation by dozens of talented individuals. "We had a 'catalyst' fly in from Japan. There was lots of organizing and logistics. We had carpenters, painters, engineers, architects, programmers, and Stanford art and design students," says Sullivan. "The last two weeks, we had more than 40 people working, many of them until 2 or 3 in the morning."
In the heart of Silicon Valley, where companies can hunt too directly for innovation, missing the insights found through serendipity and discovery, Pace's 20,000 square foot space is something of a bright unicorn. Here lives a tech pulsing environment that simply invites you to be – to absorb and interact with light, image, and sound. It's an ideal realm in which to experience what it is to be human in a digital world coursing with art and beauty. A place to recharge and, strangely enough, unplug – before chasing the Next Big Thing.