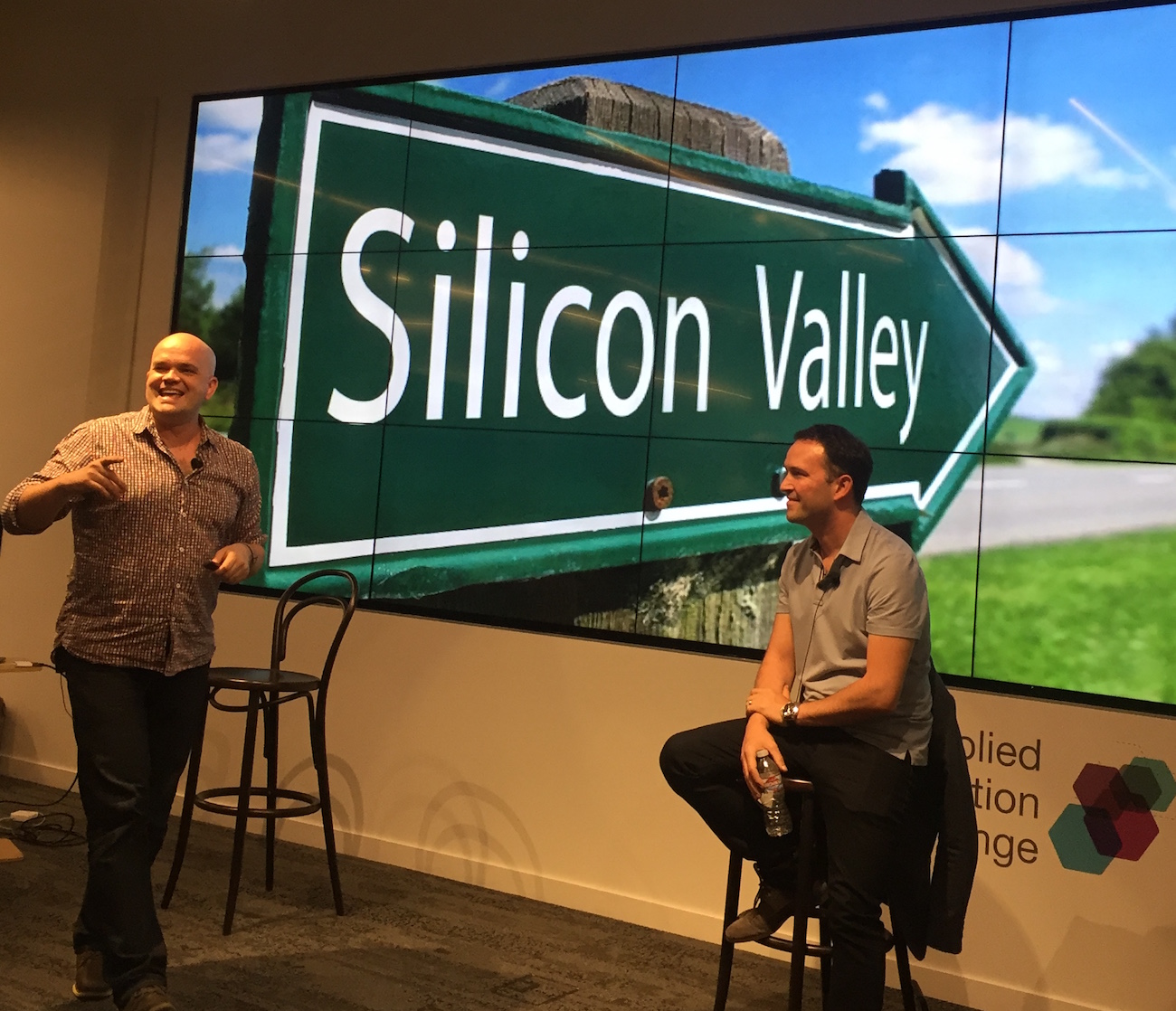 Disruption comes from escaping your box and approaching a business or service from an unlikely angle. Last week, in a packed ballroom at the Computer History Museum in Mountain View, you could view Silicon Valley on the ground, or from 30,000 feet. Either way, you'd gain the invaluable insights that only come from an outsider's perspective. Learning how startups thrive in more than a dozen, diverse European nations provides a global template for success.
At European Innovation Day, you could meet the former president of the tiny tech-savvy nation helping to lead Europe's digital transformation, a large, blockchain-focused delegation from Slovenia, the managing partner of a women-led Warsaw-based venture fund, the French head of a futuristic accelerator near Aix-en-Provence, and the eloquent dean of an enterprising international business school in Madrid that is re-imaging education. European entrepreneurs, fifteen promising European "scale-ups," high-level government officials, investors, and tech CEOs outnumbered Americans ten to one.
The conference featured a unique opportunity for Europeans to absorb Silicon Valley practices and European advancements, and for Californians to glimpse how tech-forward nations representing over 320 million people are building digital economies in radically different settings from the US.
Jointly sponsored by EIT Digital, the San Francisco-based Mind the Bridge Foundation, and Startup Europe Partnership, and supported by the European Commission and European Parliament, the one-day public conference was the centerpiece of Startup Europe Comes to Silicon Valley (SEC2SV), an intense, weeklong series of meetings, briefings, and tech company tours for select scale-ups and visiting delegations. Now in its third year, the conference offers a great exploration of the ever-evolving ecosystem of San Francisco Bay Area tech, as well as a window on the fast-growing tech scene in Europe.
The key takeaways for Europeans: pace matters, so dive into Silicon Valley's open, sharing mindset and speed up. Go big with new ventures and investment. Human, personal connections drive digital breakthroughs. Corporate acquisitions grease the startup exit strategy approach, and will spin the European deal wheel. And the secret sauce? Absorbing the learn-as-you innovate, risk-taking, fail-forward optimism of the iconic California entrepreneur.
Europe is Coming Fast (and Bringing Expertise)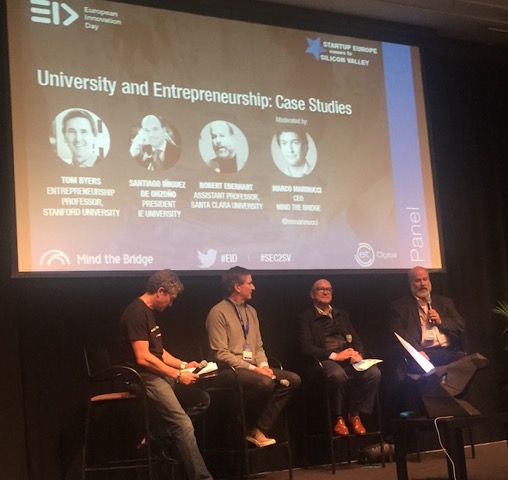 And what does Europe have to tell California? Europe is already here – and still coming fast.  Marco Marinucci, Founder and CEO of Mind the Bridge, noted that 45 European corporations have outposts in Silicon Valley, double the number from four years ago. European governments and the EU are all in. "Our heads of state [including Merkel, Macron, and others] are traveling to Estonia to talk about the digital single market," said keynote speaker Gerard de Graaf, Director of the Digital Single Market, Directorate F, of the European Commission's Secretariat-General, describing recent coordinated government interventions in plotting and executing this transformation to accelerate and scale. "They will be trying to harmonize, trying to align the rules across the board. Why is that important? Because we have a system in Europe that slows us down. If you want to grow fast, you can't afford to be constantly starting up" in separate countries.
Yet while Europe has been steamrolled in social media and search technologies by American powerhouses (Facebook, Twitter, Google, etc.), Gerard pointed to vast future European opportunities – from the industrial internet and IoT, to health care, cyber security, gaming, fintech and blockchain. Europe is pouring billions into building high speed internet, raising its high-performance computing capacity, revitalizing its already elite universities, and creating a broad array of partnerships between government and industry.
EIT Digital, part of the European Institute of Innovation and Technology's global network of innovation centers, is one of the organizations taking the lead in this effort. Their Silicon Valley office is located in San Francisco's Rocketspace incubator and headed by Director Eric Thelen and Head of EU-US Industry Partnerships Patrick Consorti. Since 2002, EIT has increased its corporate and academic partnerships (including Philips, Siemens, Ericsson, various European telecoms and major universities) from 40 to 150. CEO Willem Jonker says he'll be signing up another 30 partners before Christmas. EIT Digital is heavily supported by the European Commission and has hubs in 14 locations in Europe, helping to drive digital innovation and transformation.
Europe's fine academic foundation is poised to deliver more business and tech talent. Santiago Iñiguez de Onzoño, the president of IE University in Madrid, which has offered the top online MBA program in the world four years running, spoke on a panel with Stanford and Santa Clara University professors. He addressed the precipitous drop in foreign enrollment in US universities, contrasted by a dramatic increase in international students coming to Europe. "What we anticipate is a renaissance of the entrepreneurship spirit," he said, noting his university has just launched an edtech accelerator/incubator. According to Iñiguez, education will become "one of the fastest growing industries of the future" where "technology can transform the learning process."
But it's also about bringing the best of European culture in a modern framework. The continent's creative approach toward innovation and entrepreneurship could also be seen in conference delegate Sofiane Ammar, who this week opens The Camp in gorgeous Provence, a space-age, elegant accelerator and campus with a mission to create a sustainable, inclusive future.
Location, Location, Location … and Speed
European entrepreneurs who have struck gold in California offered tough, empowering messages. Mårten Mickos, the Finn who headed MySQL AB (acquired for $1 Billion US) and is now the CEO of the hot SF-based computer security firm HackerOne, was blunt. While he said the world has plenty of places to go to build a business, "there's absolutely no alternative to Silicon Valley. The only challenger is its neighbor, San Francisco." He warned those who dare to come, "you have to be an Olympic athlete." And if you can't come, "You don't have to be in Silicon Valley, but Silicon Valley has to be in you." Time is your most valuable resource here, a reality that doesn't always mesh with European manners and sensibilities. "In Silicon Valley, an hour is a long time. Doing things fast is more important than being frugal with your resources." Nor should Europeans expect that their startups will easily receive California capital. One of the Valley's most prestigious VC firms told the delegation later in the week that it only invests in California startups, most of which are referred by trusted partners.
The rise in Europe's Silicon Valley and San Francisco outposts, both government-funded and corporate-led has been dramatic. Joe Boggio, Vice President of the French IT firm Capgemini's San Francisco-based Applied Innovation Exchange, told of how they had a spartan office located near the San Francisco airport before relocating a couple of years ago to the epicenter of the city's startup culture in SoMA to offer senior level clients half-day to weeklong workshops in prototyping and co-locating. "We've seen this trend. Everybody labs up. It's not about drones and robots," said Boggio, who co-founded Capgemini's Innovation Outreach program. "It's how you change an organization. Having a presence here changed us. We learned about the openness of the culture. There's a willingness here by people to help you get connected. But you have to give more than you get. That gains you a lot of currency."
During an evening session at Capgemini, Risto Lähdesmäki, CEO of the digital strategy and design consultancy firm Idean, enthralled the European delegation with his charismatic approach to networking and business development. Risto plunked down more than he could afford to rent a home in Palo Alto more than a decade ago as headquarters for a US arm of his Helsinki company – down the street from the legendary innovation firm IDEO and Stanford's d.school. His disruption? Palo Alto was boring, so to connect and get the word out, Risto threw dozens of wild parties at the Idean house. He quickly attracted future clients, and the California side of the company exploded. One savvy move: talent mattered. He interviewed hundreds of Americans before making his first local hire, and today boasts an extraordinarily high retention rate. This February, Capgemini acquired Idean, a development that Risto said would have been impossible had he remained in Helsinki, and has enabled the international firm to grow to more than 230 employees.
Go Big – Or Small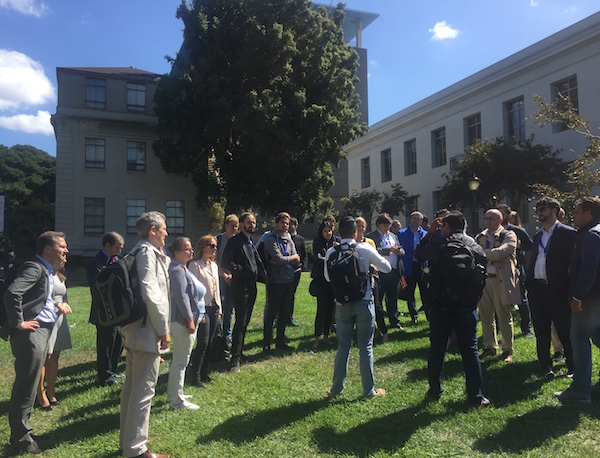 Increasing European investment levels by VC firms and other funds, and promoting acquisitions by corporations was a major focus of SEC2SV.  Marinucci of Mind the Bridge exhorted attendees to think bigger – both in concept and funding. Major US companies view startups as a path to innovation, to spearheading new products and services, he said, noting that "US firms acquire three times as many companies than European companies."
At the end of the week, at UC Berkeley's Haas School of Business, Professor David Charron expanded on the importance of making cultural shifts toward capital and big bets. He showed a graph that demonstrated that Europe ranked solidly third worldwide in Q2 2017 in the number of  deals, with 572 deals worth $4.4B in venture capital invested, versus 1,200 deals worth $18.8B in the US. "That's a big number," he said of Europe's progress. "Building that culture of [accepting] failure is part of how this works."
Modern venture capital in Europe is recent. There's another challenge. Most of the money is "held at the family office level," noted Charron. "And families are notoriously not risk-seeking."
Contrast that to Zoox, the mobility company du jour in Silicon Valley, which Charron told the delegation had just landed the largest Series A round in history – $200 million. "This is aggressiveness," he said. "They're going after the autonomous vehicle market, and they're about to raise a billion from Softbank."
Yet for all the talk during the week about going big, there was ample evidence of the value of small, coordinated efforts. Statistics show that Nordic nations outperform other European nations on startup exits and value creation, and not just Sweden, Norway and Finland, but Iceland and Denmark. Estonia, with just 1.3 million, is arguably the most technically advanced country in the world, and a leader in digital government initiatives. As for the vaunted Silicon Valley, go-getter attitude, Gigi Wang, Industry Fellow at UC Berkeley's Sutardja Center for Entrepreneurship told the group that she continues to be impressed by her work with teams from Amsterdam. "Some are so aggressive and proactive. They really work it."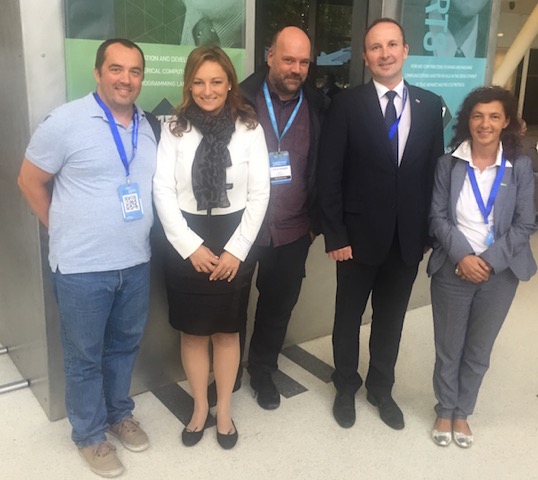 No nation was working it harder last week than Slovenia, which brought one of the largest delegations, despite being a country of just 2 million. I met seven Slovenians, including Zenel Batagelj of Cofound.it, a platform to connect Blockchain teams. Batagelj is hooking up projects with a global vision to attack key verticals with "intelligent guys with a business and investors." The government support for this bold, nationwide, all-in blockchain initiative was standing next to Batagelj, Tadej Slapnik, State Secretary in the Office of the Slovenian Prime Minister. "We see all the activity around blockchain and see the opportunity for the first time in the 25-year history of Slovenia to not just follow but become the front runner as a country." Slapnik pointed to a national Slovenian blockchain think tank boasting 200 member companies, and a special government team "working to change the legal environment" that is in close contact with the European commission. And just this month, Slovenia established the national Noordung Blockchain Hub to "spread the knowledge and put out the products and the ISOs together."
How is Slovenia moving so fast? "Because we are crazy," said Batagelj. "In a big country, it can be hard to do it so closely with the government. But small can be sexy." And the many proud and diverse countries of Europe might be the perfect place to create the next big thing.
---
Team SmartUp is headed to Europe this November to kick off the research for our new book focused on global entrepreneurship, landing in Geneva, heading to Station F in Paris, then Lisbon for WebSummit, The Camp accelerator in Aix-en-Provence, Blockchain innovators in Slovenia, and the countless entrepreneurs, startups and innovators in Warsaw, Amsterdam, Tallinn, and finally Helsinki for the Slush conference.  Please let us know cool people to meet and talk to.