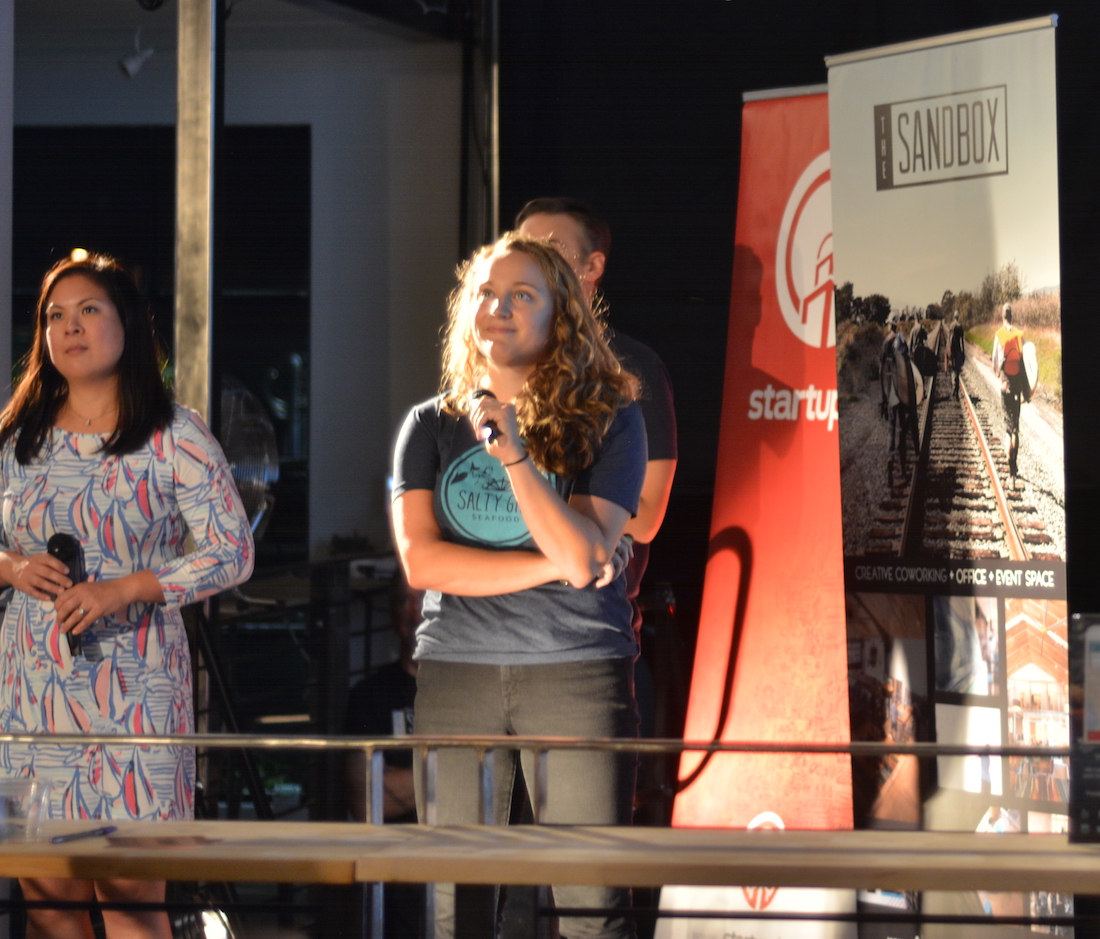 Judging a startup competition is tricky business. Aspiring entrepreneurs bring their best pitches, compressing their company's mission and value props down to the bare essence, in a do-or-die performance. The stakes are high: the company's future, the promise of cash prizes, and the chance to dance another day before angel investors and venture capitalists. The crowd is clamoring for a show, and it can feel like a public Tinder audition. What's a startup pitch night judge to do?
Last Thursday night I sat in that hot box as a judge at Santa Barbara's Startup Mashup, hosted by Kyle Ashby, co-creator of the hip incubator The Sandbox, and Frank Gruber, founder of media and event giant Tech.Co. The seven of us were perched on a balcony overlooking a boisterous crowd of 250 on a balmy Santa Barbara evening, a dozen teams ready to battle it out for an all-expenses-paid trip to the nation's capital to compete in this November's Challenge Cup Global Finals, hosted by the DC-based global incubator 1776.
"Every team has two minutes," said Ashby.  "It's sort of like speed dating, but it's speed pitching."  After each startup's slim 120-second pitch, our job as judges was to draw out the pros and cons during two additional minutes of Q&A. We'd been instructed to evaluate contestants on the classic criteria of idea, market, scalability, revenue, team, and presentation.
Problem and Solution
The teams hit the stage running. Speed and focus separated the pack. Those who dallied about why they were born to do this, and why they had a valuable, scalable business lacked traction. The savvy presenters began with an elevator pitch laying out the immediate problem and solution. "Here's the deal. There are a hundred million renters in the United States market," said Brad Batesole, CMO of RentTrack, an online rental payment and credit reporting system. "The problem is that as a renter, you don't get credit for the payments you make." After that concise description of consumer pain, he hammered home the solution: "So what did we do?  We built a modern fintech solution that takes rent payments online, and reports those payments to all three credit bureaus – so that you build credit."
Lack that focus, and one of the judges was certain to push back. "I might have missed this," said Christina Topacio, a veteran pitcher herself as the founder of the online women's talent network Jig+Saw, to a startup hatching a hazy gardening concept. "But what are you selling?" Pointed questions can reveal when an idea or business model isn't fully fledged, and judges who've been through the trial by fire on the stage can spot inauthenticity.
Growth strategy was a key theme. EVmatch, a peer-to-peer network for sharing home electric vehicle (EV) charging stations, was asked how the company would grow their crowd-sourced stations and users. "We're partnering with electric utilities to cross-market the service," said CEO Heather Hochrein, deftly fielding the question. "We're also targeting manufacturers, and then, of course, digital advertising and direct outreach."
Fielding Questions
Watching the talented judges blast out the questions – especially Devin Poolman, SVP of Digital at Fox Sports, Christina Topacio, founder and CEO of Jig+Saw, Chris Herbert, CEO of TrackR, and Steve Francis of LogicMonitor – I came away with a fresh recognition of how the pitch artist must be a cross between salesperson, performer, and debate team captain. You've got to roll (and smile) with the punches. After listening to a pitch by Urbavore for its "veggie nest," an LED grow-light mini-greenhouse that sounded suspiciously like a home system for growing another kind of plant, I couldn't resist asking: "How well does it grow pot?"
A dramatic, funny pause. "I have honestly never been asked that question before," Janna Ratzlaff replied, to a round of laughter. Then, she won over the audience: "In two months you could grow half an ounce."
"That's a great response!" said Chris Herbert through the laughter.  "So, what's your plan to do over a million dollars on Kickstarter?"
What works on pitch night? Chutzpah without arrogance, directness blended with humanity and character. My fellow judges were tough, on point, zeroing in on customer identity, competitor differentiation, and viable growth strategies.
Character counts. Startup pitching today tends to be a male-dominated affair, but braggadocio can backfire, as when one team namedropped a litany of all the companies and publications interested in his product – "you name it!" –  only to be smacked with Chris's sobering inquiry: "How do the economics work on the gross margin, and how will you acquire 100,000 customers next year?"
Ten pitches down, two to go, a twenty-something woman confidently took the stage, and put it all on the line: "My name's Gina, and I'm with Salty Girl Seafood, a company we launched as a team of marine scientists. A company that is improving not just the oceans, but the food on your dinner plate when you get home by disrupting one of the last frontiers of the grocery store – the frozen seafood case."
Gina Auriemma had just delivered Salty Girl's "Why Us" origin story, and the "Why It Matters" value prop in her first 20 seconds. When the clock is ticking, you have to get to the point fast.
Ten minutes later the judging team traipsed outside to Sandbox's Airstream conference room and huddled. We compared notes. Debated. Ran through those who just didn't bring their game. Championed our favorites. It felt a bit like sitting on a jury. The judges were first stuck on one startup, and then the mood shifted as we talked about one team's engaging slides, poise, and business promise.
Pitching to Learn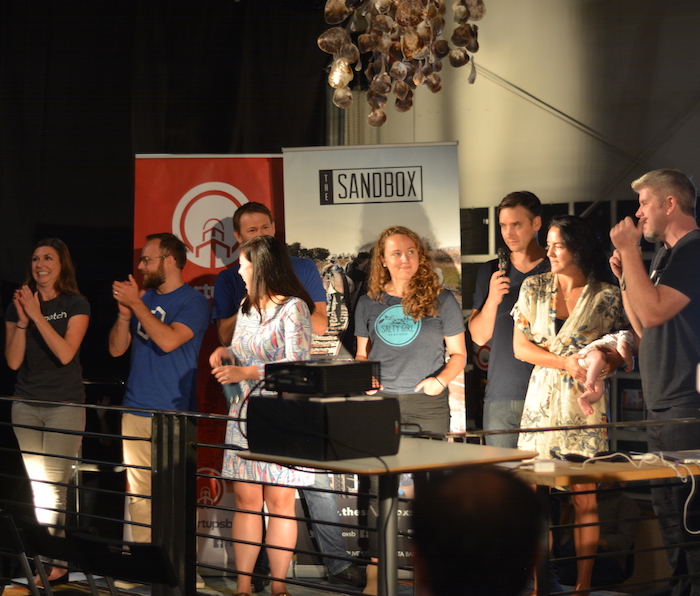 Every year there are thousands of pitch competitions around the world, giants like TechCrunch Disrupt in Silicon Valley and elsewhere, WebSummit in Lisbon, Slush in Helsinki, Webit in several European locations, as well as countless citywide, college and independent contests. Pitch night is an international institution, an iconic cultural event, a rite of passage central to a startup's identity and purpose.  In many ways, the pitch itself has become a core component of startup product development. It's one iteration – and competition – at a time, and one of the secrets is sometimes missed. Listening to, and incorporating constructive judge and audience feedback is often more important than winning. Borrowing from agile methodology, a startup doesn't cross the finish line at pitch night. Product development is an ongoing process where being receptive to new input helps refine the approach, business model and strategy.
There would be three winners that night. Kyle Ashby and Frank Gruber announced that EVmatch and RentTrack were the two regional winners of Tech.Co's startup of the year competition, and would enjoy a ride on local sponsor SurfAir up to San Francisco to compete in Tech.Co's October 9-12 Startup of the Year competition finals.
In the Airstream there was considerable debate over who deserved the trip to DC for the Challenge Cup Global Finals. It was close. Some valued the accelerating scalability of RentTrack, while others were drawn to the authenticity and promise of Salty Girl's lifestyle brand. The responsibility weighed on us, but later, in talking to the winning team, I knew we'd made the right choice. The first thing their CEO said to me was that next time she'd have even stronger replies to our toughest questions.
Salty Girl showed they're ready to play.
---
Check out our story on UC Santa Barbara's annual New Venture Competition, a startup contest that has spurred many student teams to launch hot companies.