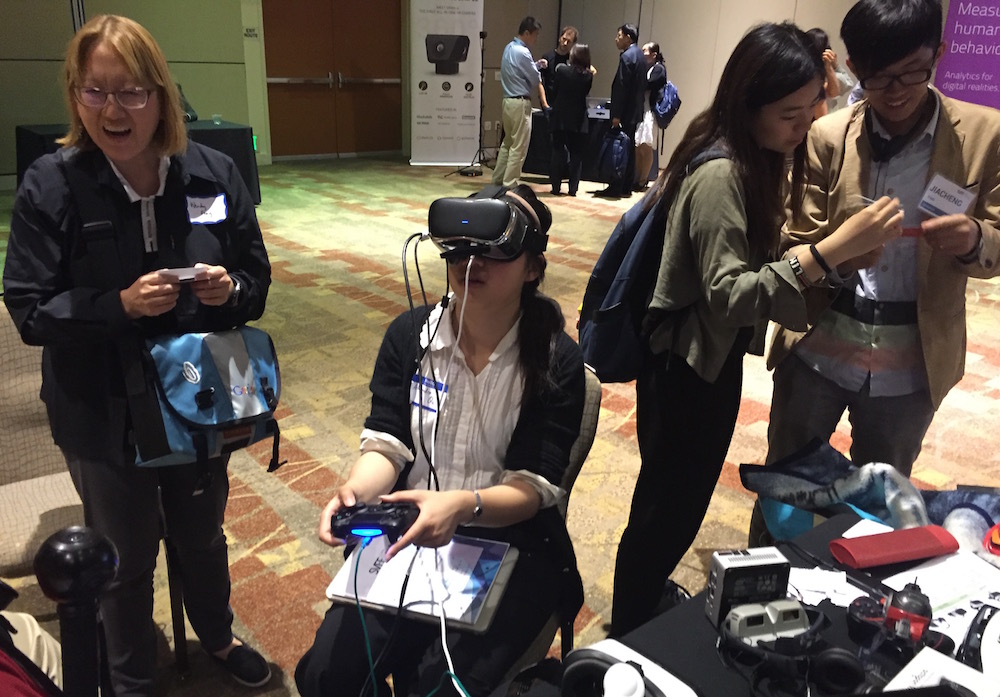 One after another, I hand the microphone to the next startup CEO, in front of two giant screens where they debut glimpses of their companies' virtual and augmented reality ventures. They're pitching for capital from an audience of roughly a thousand predominantly Chinese investors. We're not in Shanghai or Beijing, but at the Santa Clara Convention Center and, unlike virtual technology, this wave of Chinese investment is very real.
Last week's 2016 Silicon Valley Future Forum, sponsored by Makers Technology, was my chance to see up-close the recent surge of Chinese capital, partnerships, and interest in Silicon Valley and San Francisco technology. Chinese businesspeople, entrepreneurs, and investors view technology and innovation as their greatest chance to revamp their economy and add to personal wealth. Virtual reality and similar technologies are widely viewed as essential to growth.
The conference was headlined by Chinese and Chinese-American bigwigs including Makers Technology's CEO Daniel Zhong, venture capitalist and founder of the Runway incubator Allan Young, Chinese investment leader Fangri Hu, Stanford physics professor Shoucheng Zhang, futurist Sheng Zhao, and many more investment leaders and technologists. The conference gave venture fund stakeholders and investors (both Chinese and Californian) an early look at US and international startups specializing in augmented reality, virtual reality, artificial intelligence & biotech.
Most of the 28 companies pitched in English, with simultaneous translation provided to the majority of the audience via headsets. A few speakers pitched straight to the audience in Chinese, at which point I and a few dozen others in the ballroom were now the ones who had to don headsets to listen in.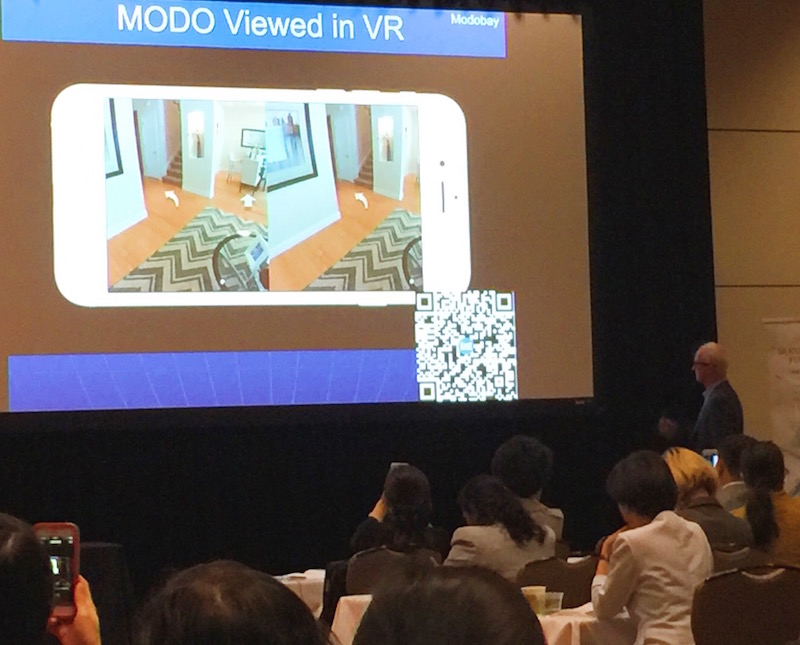 Up on the big screens and out in the exhibition hall, you could see, hear, and feel many of these new experiences. Many, such as Xspaced, are designed to let you "walk through" houses or condos, a popular end-use in China's gigantic property market. There was an artificial intelligence entry that seems promising but scary: the Tech Trader Fund, a fully autonomous AI-driven hedge fund that invests without human intervention. And there were many ventures with thrilling potential: Enflux VR's "motion-capture clothing" enables athletes to track their body movements to heighten performance; immersive nature experiences from Mindshift VR may help individuals recover from illnesses; an environmental stimulation device called Vortx from WhirlwindVR blasts air, and changes air pressure and temperature to heighten the immersive aspect of VR games and films; a smart ring called Talon from Titanium Falcon offers Wii-like controls for VR and AR headsets; Telepresence Robotics Corporation provides a Robots-as-a-Service (RaaS) platform and related apps.
This stunning Chinese transformation of business in Silicon Valley has now come to feel like the new norm for those riding the latest wave on the tech conference circuit. Chinese entrepreneurs with substantial backing are quickly putting together major conferences, (taking part in the quintessential Guanxi-building Chinese banquet, which last Tuesday was held for several hundred at the Santa Clara Hyatt) arranging tech tours and company visits for large groups of visiting Chinese at an accelerating rate.  Smart, trend-savvy Californian businesspeople are lining up to join on both sides of the podium. This explosive growth is fast outpacing earlier California beachhead efforts from Europe, Latin America and other parts of Asia.
The day after my Master of Ceremonies gig at the 2016 Silicon Valley Future Forum, I found myself on the Stanford University campus, delivering a three-hour innovation lab to 60 entrepreneurs visiting from China. Thanks to my intern, Haosheng Wang, all of my workshop handouts and materials were translated into Chinese, and I could deliver my lab in English, and easily convey my concepts. But here's the weird part. Four days in a row last week, steering large groups of investors and others through innovation events, there was only a single day that I didn't need a Chinese translator. Speaking to the incoming MBA class from the University of San Francisco, I found myself suddenly flying solo in English, an experience that now felt alien.
Welcome to the Chinese-flavored Silicon Valley and San Francisco. It's not augmented reality or virtual reality. It's real life in the expanding, increasingly international business of technology, a place where Chinese capital, communication, and cooperation are rapidly rising in importance.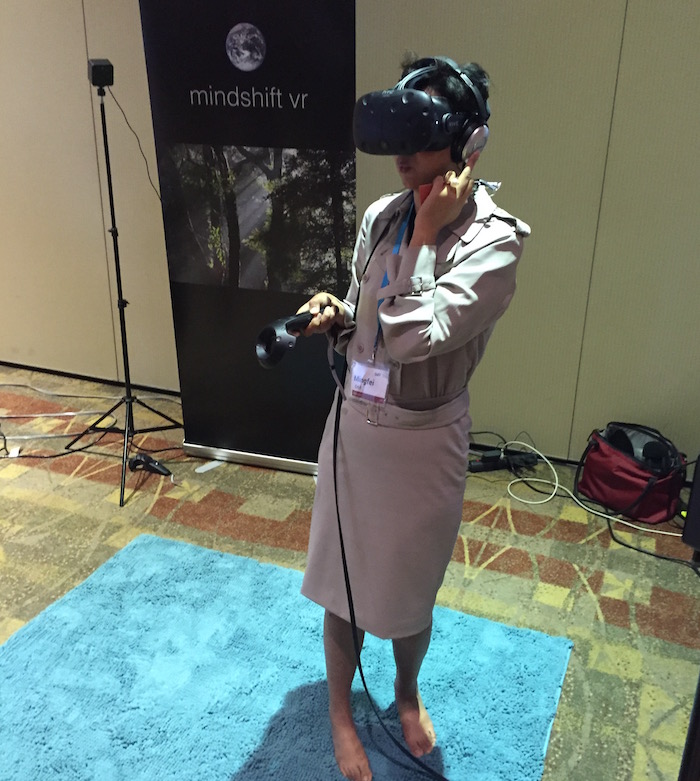 当中国人遇到了虚拟现实
一个接着一个,我将手中的话筒传递给下一位初创公司的CEO。当这些虚拟现实、增强现实产业的公司上台的时候,舞台两边的巨大屏幕上展示的将会是他们各自的简介首秀。他们正要向台下约一千多名大多是华人的投资者做路演来征得资金。我们并不是在上海亦或北京,而是在圣克拉拉会议中心。并且,与虚拟科技不同,中国投资的浪潮来得尤为真实。
上周开展的2016硅谷未来论坛由创客科技公司为我们主办。这次论坛让我近距离地感受到了近来中国对硅谷和旧金山科技的投资、合作的兴趣。中国的商人、企业家、投资人将技术和创新看作他们改善经济体制和累积个人财富的最大机遇。而虚拟现实和其他类似科技则被广泛视为这些增长的基础。
本次会议邀请到了诸多中、美重要相关人士出席,包括创客科技CEO Daniel Zhong,风险投资人及Runway孵化器创始人Allan Young,中国投资引领者Fangri Hu,斯坦福大学物理学张首晟教授,未来学家赵胜,以及许多其他投资业领导者和技术专家。此次会议为风险投资基金股东和中国及加州的投资者提供了一大批初创公司的早期展示,主要集中在美国和国际的增强现实、虚拟现实、人工智能和生物科技方面。
参加路演的28家公司当中,大多数都以英文做演讲。因此大部分听众都使用了主办方提供的同声传译设备。另外的一些演讲者直接用中文向听众演说,在那个时候,就轮到我和其他数十位在主会场的听众戴上耳机来聆听了。
在会展中心的这些巨大的屏幕之上你可以看见,听见并且感受到许多新的体验。例如Xspaced公司设计了一款能够让你"走进"房屋或者公寓的虚拟现实产品,会受到中国巨大的房地产市场欢迎。在会展中心有一个使用人工智能的金融公司看起来很可靠同时也有些吓人在里面有一家叫The Tech Trader Fund,一个全由人工智能来进行对冲基金和投资的公司。还有一些其他被风投的公司有着可怕的潜能:Enflux VR的"动作捕捉服装" 可以让他们的衣服可以记录运动员的动作由此来提高他们在赛场上的表现;Mindshift VR通过让用户身临其境的体验大自然来让用户从疾病中恢复;一家叫Whirlwind VR的公司有一个环境模拟器叫做Vortx,Vortx可以吹出空气,通过改变吹出的气压和温度来提高虚拟现实的游戏和电影的体验;Titanium Falcon的智能戒指Talon可以让人们像操控Wii 游戏机一样来操控他们的虚拟现实以及增强现实设备;Telepresence Robotic Corporation提供了一个让机器人服务(RaaS)的平台以及相关App。
这个由中国人在硅谷带来的巨大转型,现在那些走在科技浪潮最前端的人也在科技会议圈里面抓住了这个新的趋势。那些背后有着大量支持的中国创业家们迅速的召集着众多大会,迅速的安排庞大的商业考察团。对潮流敏感的聪明的加州商人们也排着队加入到讲台两侧。现在这种迅速地增长早已超过当初欧洲,拉丁美洲以及其他国家的人早期来到加州"抢滩登陆"的速度。
在我充满仪式性的主持了2016硅谷未来论坛之后的一天,我来到了斯坦福大学的校区,给一个由六十个中国创业家们组成的考察团讲一个为时三小时的创新课。再次感谢我的学生王豪盛,我的所有的演讲稿还有内容翻译成中文所以我可以在讲英文的同时我的听众可以简单地明白我的理念。但是有一些奇怪的是,在上周连续四天带领众多投资人参加创新活动中只有一天是我不需要中文翻译的。我在为旧金山大学MBA项目的新生们讲课时我发现我突然能够一个在不需要翻译的情况下讲英语,现在反倒让我觉得不习惯讲英语了。
欢迎来到有着中国口味的硅谷和旧金山。这不是虚拟现实或者增强现实。是我们的现实生活的地方,国际化的科技公司在不断地扩张,在这里那些讲着中文的投资人的重要性在迅速提升。
Translated by Zhiheng Gong and Haosheng Wang.