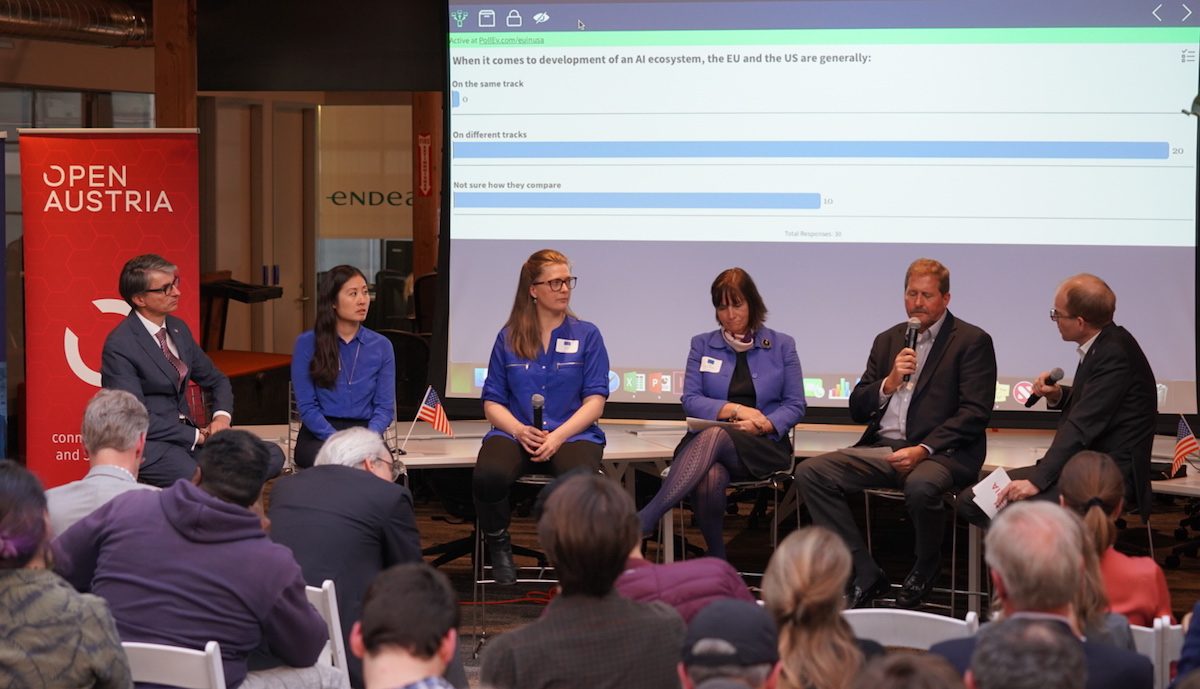 The promise and perils of AI are a hot topic among experts worldwide. Will it improve our lives? Take our jobs? What about ethics? Last week in San Francisco there was a rare opportunity to hear a radically different view that might surprise many. At the Galvanize tech hub in SoMa, voices from across public and private sectors came together to find common ground on topics in AI. The event was auspiciously titled "A European Vision of Artificial Intelligence meets Silicon Valley."
The night was decidedly interactive and engaging, aided by a diverse panel and inclusive live-polling event format. The hundred-strong crowd, drawn by a well curated selection of top AI experts, was yet another example of how Europe is making a bigger play in tech here in the booming Silicon Valley ecosystem. The European Union sponsored the event in partnership with the European Institute of Innovation and Technology (EIT) and Open Austria.
Some important tech facts to know: Europe leads the world in AI ethics and privacy regulations. Despite the issues of fragmentation, the region continues to make strides in AI advancement through the EU's Digital Single Market strategy, which could contribute €415 billion per year to economic growth, boosting jobs, competition, investment and innovation in the EU.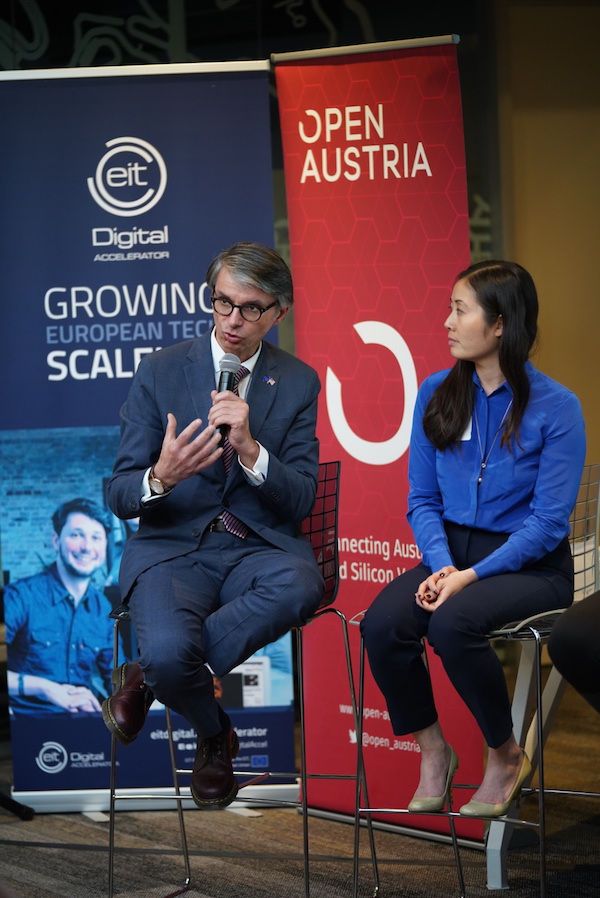 But make no mistake. Europe takes a radically different approach, a fact which became clear during a star-studded panel with key figures from the European Union, local tech giants Google and Cloudera, the World Economic Forum, and OmniBot, a voice and conversational AI platform serving clients throughout Europe and the US. Martin Rauchbauer, Co-Director of Open Austria, moderated the lively panel, with questions posed first to the audience, their poll answers guiding the panel's conversation:
What advances do we most look forward to? (Regulation and governance.)
Are Europe and the US in step? (Nope.)
What are the biggest barriers to progress we face right now? (Skills and education.)
Jobs, of course, go to the heart of the fears about AI, and the panel ventured mixed opinions. Some see jobs at risk, others anticipate new growth and product opportunities.
Global Voices in Policy and Practice
Rene Arvin, Co-Founder and Chief Commercial Officer at OmniBot spoke of an AI-embracing client in India whose "mission is really to reduce their staff by as much as 20%, and increase their amount of business." Eva Nahari, Director of Product Management at Cloudera and Advisory Board Member at the Swedish Innovation Agency Vinnova, countered: "I look across industries and the two strongest areas where machine learning is used is not to reduce jobs. In my opinion, it's actually to optimize processes" and to minimize risk. Peter Fatelnig, Minister Counselor for the Digital Economic Policy for the European Union Delegation to the United States, added that with AI, "There won't be fewer doctors, there will be more treatments … and more accurate diagnoses."
Elevating corporate and C-suite intelligence is seen as another key issue. Kay Firth-Butterfield, Head of Artificial Intelligence and Machine Learning at the World Economic Forum posited, "Where is trust and understanding?" She called for greater efforts to educate corporate boards about technology and "getting those boards and those C-suites to understand the benefit of AI to their companies."
Charina Chou, Global Policy Lead for Emerging Technology at Google, spoke of the increasing imperative for bilingual expertise in Europe, where "conversations can change quickly, from English and French, to Spanish and German. We want to explore and understand what that would look like for machine learning."
Chou also raised the important question of just how much and what kinds of things companies and users need to know about AI systems. "We probably know how to drive a car, but we don't necessarily know how to build a car. Right? And at the same time, we probably don't need everybody to know how to build a machine learning system, but should they know how to operate it?" New interfaces for learning and building AI, she suggested, will likely follow suit.
The event came full circle with the contributions of Willem Jonker, head of the European Institute of Innovation and Technology, a pan-European, decentralized university that's been training the international workforce through EIT Digital's MOOCs (serving hundreds of thousands of students) as well as full-fledged masters and PhD programs in data science, autonomous systems and other AI-related fields.
EIT kicked off the opening of its Silicon Valley hub the night before with a gala reception under the rotunda at the Westfield Center, making a bold statement about the agency's position at the intersection of international policymaking and developments in AI and beyond. "We are here to collaborate, we are here to connect, but we are also here to convince you that Europe is a great place to be," said Jonker. "Not only for innovation, for research, and for education, but you can also build your company in Europe in a very successful way." And AI will be integral to this increasingly high-tech Silicon Valley-European bridge.
---
---