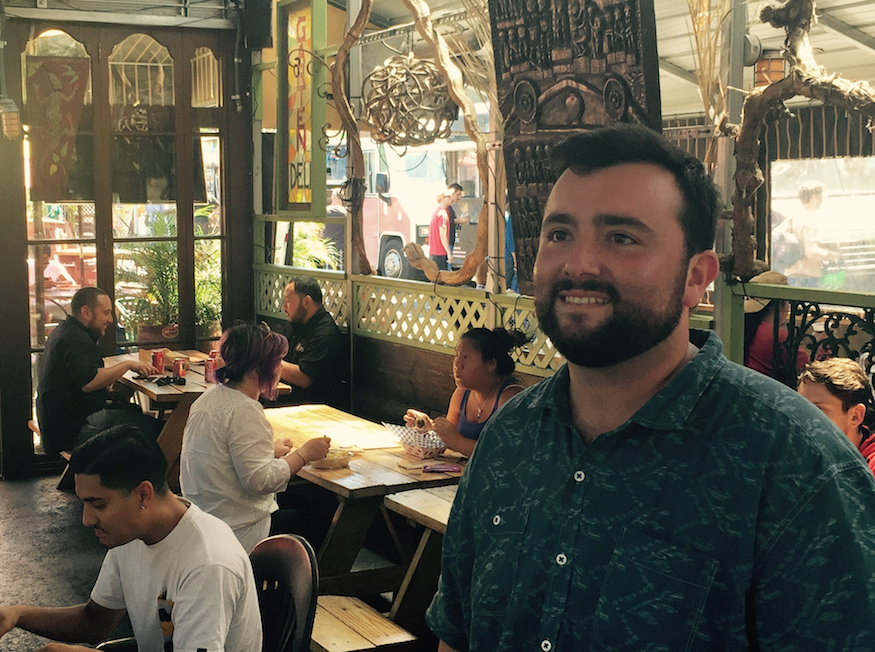 Carlos Muela feared no one would come.
The quick opening he'd anticipated for SoMa StrEat Food Park had dragged into months, then a year. No income but massive bills for rent, architecture, infrastructure, and improvements piling up. "It was a huge hit on my family," said Carlos. "There were fights, and it was scary." The pressure came to a head the week before the June 2012 opening. No one had attempted anything quite like this before in San Francisco. The food park might be a hit or a total flop. Carlos, just 25 years old, was rushed to the emergency room with a panic attack. But he quickly recovered, opened on schedule, and instantly had something new to fret about. The park was packed.
"We had our growing pains," said Carlos. Some days he only had five or six trucks instead of a full ten-truck line-up, and some days the trucks couldn't handle the demand. While the press saw the park as unique and different, elite food trucks remained on the fence. "This was something new," said Carlos. "There was no proof it was going to work."
Carlos wanted trucks to commit to every day, but many didn't want to be permanent. This made scheduling a challenge, but as the crowds grew over the long, unusually sunny summer, Carlos began attracting San Francisco's hottest trucks (eventually he figured out how to fit eleven trucks). He revamped his business model around variety and discovery. Offering some new trucks every day meant that he could stoke his growing social media following by teasing out news of the day's trucks – much like a restaurant's daily specials – and entice nearby tech workers to visit the park regularly.
The park became a physical metaphor for how entrepreneurism invites risk and serendipity. Carlos experimented with his unusual space. He partnered with the events website Funcheap, brought in big screen TVs for the San Francisco Giants' 2012 World Series, and two thousand fans showed up each game to eat and drink from his bar. That Halloween, he charged $5 a head, and four thousand people came and danced in the rain – with a line of another thousand revelers running around the block, hoping to get in. "That was absolute madness," said Carlos. "The cops told us it was so big that it was causing traffic jams in the city." Carlos began seeing that he had far more than just a food truck park. Soon Airbnb, Zynga, One Kings Lane, Intel, and other companies were paying generous fees to rent out the park for evening parties.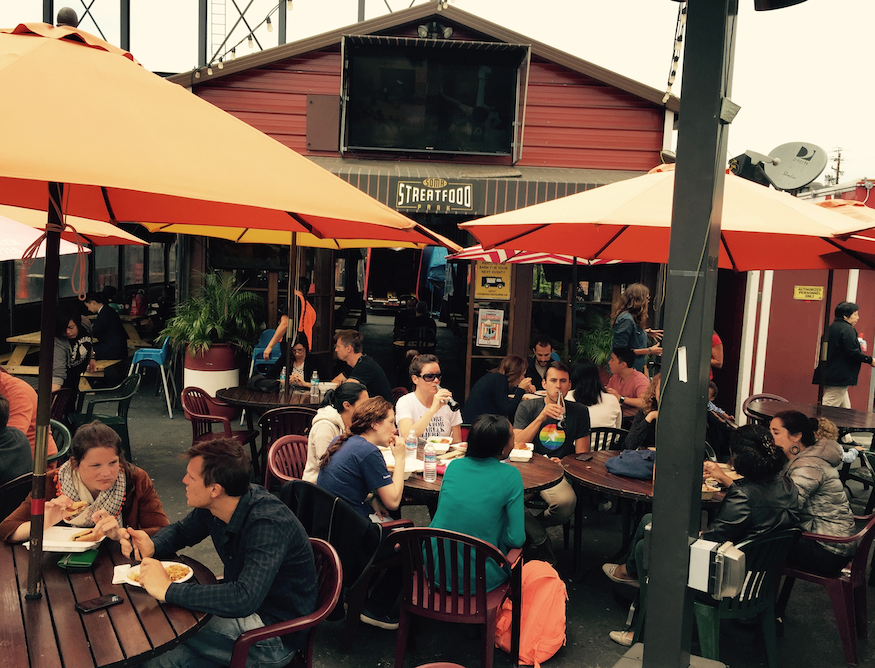 Carlos's team dreamed up attractions to draw people to the park at night – trivia, karaoke and comedy. Demand grew right on through winter, and then came the weird emails and calls. Urban planners from Norway, Australia, and even Tennessee wanted to pick his brain. A man spent a whole month at the park tracking the foot traffic. "They were financial guys, very professional guys. They had graphs and numbers." Carlos was offered a multi-million dollar buy-out. "I was tempted. But I'd put so much time and effort and love and tears into it. They would have totally changed it."
Carlos loved the freedom, and tackling new opportunities. A business phoned and asked if they could send a truck, and suddenly Carlos saw the potential of a broader service far beyond his parking lot. He sent trucks to San Francisco General Hospital, GoPro, Virgin America, Juniper Networks and Tesla – upwards of 30 trucks a week around the Bay Area. The service was free to the businesses, while the trucks paid Carlos a broker fee. Around the same time, his team began brainstorming events to draw traffic: a Mac and Cheese festival to which Carlos sold three thousand $20 tickets, followed by Crab Fests (one thousand $50 tickets) and a National Ice Cream day that drew huge lines for a $5 entrance fee.
Carlos has begun automating many of these opportunities, expanding the reach of his erstwhile parking lot. His website includes a page where companies can buy his brokered services in multiple ways, from Book a Truck to StrEat Fleet, a rotating truck service, to StEat Brew, a bar on wheels. Satisfaction has come in simple, human ways. "People walk up to the office all the time and say thank you for coming here," said Carlos. "That brings great fulfillment." Then there are the food trucks, Me So Hungry, Tacos El Tuca, Bob Cha and Little Burma: "They might have started off as a husband and wife team rubbing a couple of pennies together. Seeing that I helped them, and now they have a second truck or a restaurant, that's huge."
Many events are purely about building a community. Carlos has come to realize that he's created a vibrant urban playground that can be many things to many people, a fun spot to grab lunch, to watch sports, to party, and even to come together and mourn the loss of a San Francisco legend. The weekend after Robin Williams's tragic death, the park showed ten straight hours of his movies. "Several thousand people showed up," Carlos said. "We had two hundred people standing on our tables, holding hands and crying."
Carlos swore he'd never go through the pain of opening another food truck park again, but entrepreneurism runs in his blood. Developers for Mission Bay recently offered him an opportunity he couldn't refuse: A five-year license to a prime spot near 4th and Mission Bay Boulevard North. Carlos said yes, and is working out the concept with his architect: the antithesis of a macho beer garden, something along the lines of a Sangria garden with cozy outdoor seating around gas burning fire pits. "Think of summertime and girls," he said, "a more feminine space."
He hopes to open in Mission Bay in early 2016. "I've got a waiting list of 100 trucks," said Carlos, now 28 years old. the challenge of opening San Francisco's first food truck park three years in his rear view mirror. "I'm not concerned about the risk. Not even hesitant. I know the model works."
Read Parking Lot of Dreams (Part One) At eight years old, he started cleaning up in a couple of Spanish restaurants in San Francisco's Mission district. By fourteen, he was a waiter. By seventeen, he had risen to manager, and might very well have continued on this trajectory in the traditional restaurant world, had he not enrolled in an entrepreneurship program at the University of San Francisco. Instead, Carlos Muela discovered a homeless encampment infested with rats by a freeway ramp, and there found an opportunity to create something remarkable in the city's bustling world of food.
Prototype: Food Truck Style This is a story about McCall Vollum, a twenty-five year old "not living anywhere" who chucked her high-paying Booz & Company consulting job, flew out for a San Francisco weekend, and promptly launched a startup. It's about how a big chunk of prototyping is quite simply being bold.