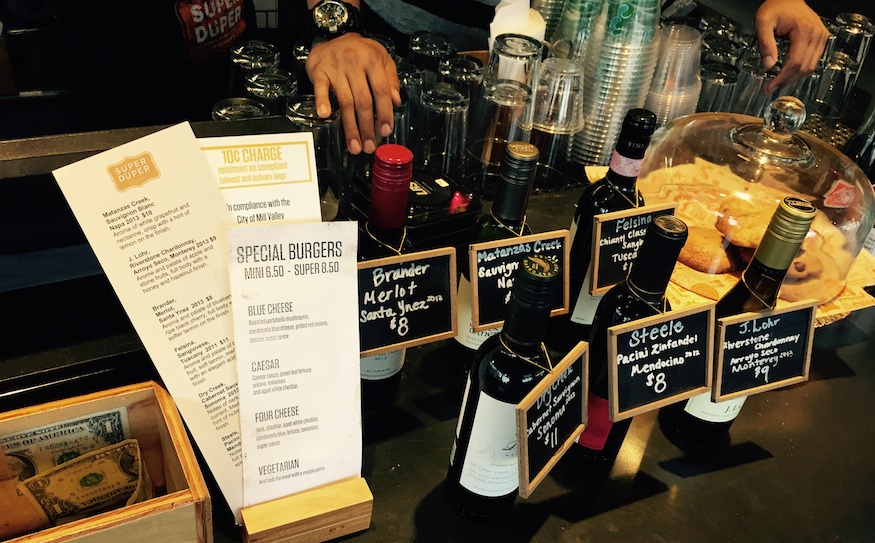 Want a rich bottle of Pinot with that burger? A smooth Sauvignon Blanc with that Protein Bistro Box? Just like that, fast food and fast coffee joints are crossing traditional barriers and tapping our growing thirst for wine and beer. The image above is from Super Duper, a small San Francisco-based burger chain that features prime Niman Ranch organic beef, avocado, house-made pickles, and yes, beer on tap and half bottles of pretty darn good wine.
Prohibitionists will be turning in their graves. Beer and wine are about to become another Americanized, franchised, performance enhancement (one drink a day is good for you!) legitimized by their ubiquity and freed from the traditional vestiges of Puritan stigma. This week at select locations, Starbucks is angling for the evening crowd with wine and craft beers, along with small plates like truffle mac n' cheese. By 2019, Starbucks thinks this "Evenings" move will garner them an extra yearly $1 billion. Part of what's happening here is that more nimble, entrepreneurial companies are recognizing that dated fast food outlets and local bars don't appeal to Millennials or Baby Boomers. They want a fun, reliable spot with beer and wine to hang, do a little laptop work, watch a video or meet a friend. Atmosphere and design is key. The Starbucks locations and burger joints hoping to draw evening traffic with the draw of alcohol-enhanced menus sport an upscale yet casual look and feel, with authentic touches like exposed brick and local art installations.
Yes, it's happening at a burger franchise or coffee chain near you. That iconic third place is morphing into a fourth place, a place where you can caffeinate, grab a burger, and then mellow out with an artisan beer or glass of Merlot.