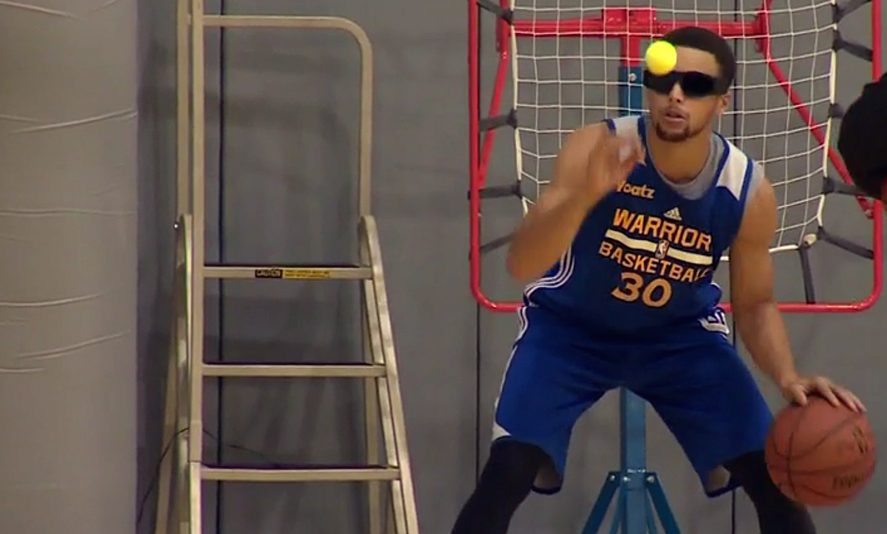 Steph Curry doesn't look imposing, but this skinny mild-mannered basketball star schools us all – entrepreneur, student, corporate wonk alike – in the value of play and creativity. Led by Curry's dominating shooting, the defending NBA-champion Golden State Warriors started their season at 24-0 (and counting), the longest opening-season winning streak in NBA history. Even in a nation that believes sport generates business lessons, there's something remarkable about Curry's success. If there's a saying that might encapsulate the player's edge, it might be a spin on Apple's mantra, "Play Different."
Injury and a zen-like openness to radical new techniques and experiences helped mold Curry into the greatest player in the NBA. Plagued by ankle injuries in his first seasons with the Warriors, he needed arthroscopic ankle surgery. And smarts. First, he addressed the injury with a sophisticated, custom-fit A2-DX ankle brace made by Zamst, an Irvine, California company with roots in Japan. Then, while rehabbing, he had a breakthrough. Accelerate Basketball, an elite training company based in Charlotte, North Carolina, introduced the player to new and innovative methods to improve his skills and dribbling in the aftermath of his surgery, before he could even walk.
That connection and creative approach stuck, and Curry began regularly working in the off-season with the training group. Together, they continuously experimented with what Curry describes as custom techniques "to shock your body, sensory things: like, goggles that flash in your face and obstruct your vision, while you try to make accurate passes."
The next time you imagine you are doing all you can to achieve peak performance, watch some of Curry's training videos, where he deprives or overloads his senses, pushing his mind and body to excel in radical environments. He dribbles a basketball in one hand while catching a tennis ball in the other, and then tossing the tennis ball over his shoulder to a trainer. Curry bounces tennis balls against a wall and taps flashing light sensors, exhibiting the dexterity and serenity of a practiced juggler. He dribbles multiple balls while wearing vision-impairing goggles that obscure his lower plane of vision. This helps him to fine-tune the effective technique of looking down-court for passing opportunities. Harnessed by resistance bands, he practices his signature cat-like explosive moves, and simulates jump-shots while being struck on the arms with padded paddles. This ever-evolving repertoire of shock treatments challenges Curry's brain and body to act and react faster than anyone else in the league. He's dramatically shortened his catch and release. He shoots faster than anyone ever before, and is already considered the league's best shooter, and by far the best three-point shooter in history (practice makes perfect: this past season, he sank 77 three-pointers in a row during one practice).
Balance, proprioception, and dance-like footwork are central to the cerebral Curry method. Traditional "dumb" training is absent. Whereas Barry Bonds, the bloated baseball star of the last generation, ballooned to 230-plus pounds from steroids and weight training, the 6'3" Curry is likely even skinnier than his listed 190 pounds. Curry is all about movement, agility and performance. He revels in the joy of the game and the spirit of competition, and conspicuously resists irrelevant tussles with opponents. Focus – and dedication – may be his true secret weapon. Even Curry's pre-game warm-up, an elaborate 90-minute choreography, is artfully designed, starting with finger-tip dribbling of two balls, and proceeding to over 100 practice shots. Watch, study, admire. And consider how you too might break from routine to shock your mind and body onto a new plane.