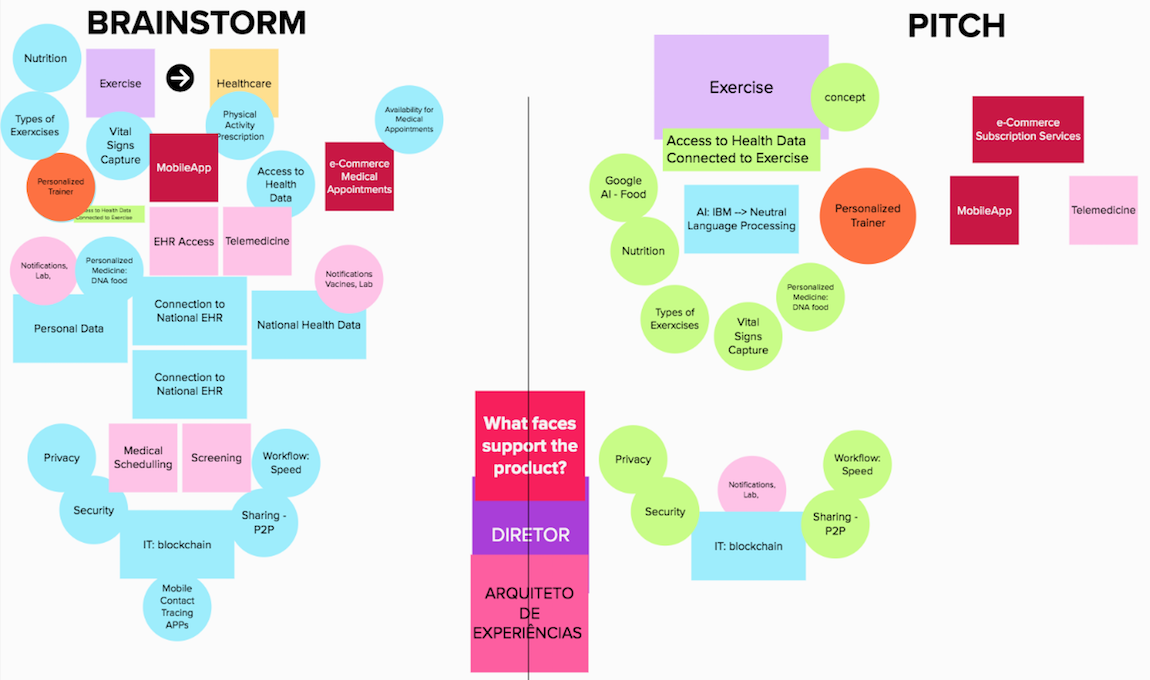 We lead innovation workshops, a real-world business seemingly rendered obsolete by the pandemic. Yet this past week we led our first paid online workshop, via Zoom video conference combined with the powerful digital whiteboard platform Mural. Even better: the experience was thoroughly international. Our participants were all entrepreneurs and businesspeople in Portugal, a global aspect that added another dimension to our quest to help innovators master these new tools.
Today what matters most is talent and an eagerness to prototype, collaborate and adapt. In our case, this all came about because we were hired to lead an engagement in Portugal in March. The event was inevitably canceled due to the crisis, leaving us two options – quit or pivot. So what did we do? We dove into researching how to invent a digital workshop, spending two months collaborating with our Portuguese partners on numerous live prototypes.
Search for Knowledge
With Sandro Pinto and Maria Francisca Pires of Outglocal, we quickly realized: digital workshops are crazy hard to do well. The world is growing tired of webinars, Zoom-fatigued, and suffering general screen burn-out. People's attention spans in an online environment are shorter than ever. And thinking you can simply mimic online what you did in person pre-pandemic is a mistake. Which is precisely why we believe the opportunity and scale lies in creating far more advanced, dynamic e-courses. Experiences where participants do more than just show up, they commit to learning by doing, and to letting technology guide the path. Why? Because the world has changed. This is a time of personal reckoning, what we call a personal and professional Reset. Survival hinges on sharpening our purpose through a focused pursuit of deeper knowledge. Mastery. Critical skills. A fresh awareness to gain an edge in your career or business.
Our goal soon shifted from delivering an online workshop to building a mini-executive course. We knew that we had to limit the total time of the online session, so we required our participants to do some pre-reading, and to meet beforehand to get their feet wet before diving in. The day before our core two-hour session, we gathered in Zoom for a 40-minute introduction to the tools and to each other. Preparation is key in this new fully digital landscape. And here's something else that we've discovered through experimentation. When people meet and see one another beforehand online, the next time they come together there's a far stronger bond, part of the fabric of the essential human connection that we all need to successfully collaborate and create. We hear a lot about nostalgia for the excitement and engagement of in-person events, and we believe this online connection may be the lost networking factor, the secret to bringing back that energy.
The Ground Has Shifted
Whatever your industry, these are not easy steps to take. Today our colleagues in the event business are understandably despairing the loss of major, highly profitable physical conferences and workshops. We understand and feel their pain. But we also recognize the ground has unequivocally shifted.
Which is precisely why we think this is the time to invest in your own personal R&D. Many of these digital tools we're experimenting with will be foundational – no matter what happens with the crisis. And if we're honest with ourselves, innovation has come slowly to this sector. Many conferences and workshops were often poorly conceived and haphazardly executed. Now that we all have no choice but to improvise in this constrained, digital environment, it's time to dream up new methods. We're gamifying group exercises and fashioning more explicit, supple ways for people to develop and prototype ideas. We think we're on the right path, though we've got plenty more to learn. That open mindset is key to the journey.
Take a look at some of the Murals created by our Portuguese participants. We think it's the start of something genuinely new and valuable – both for our current digital world, and that happy day when we all finally come back together again.
---