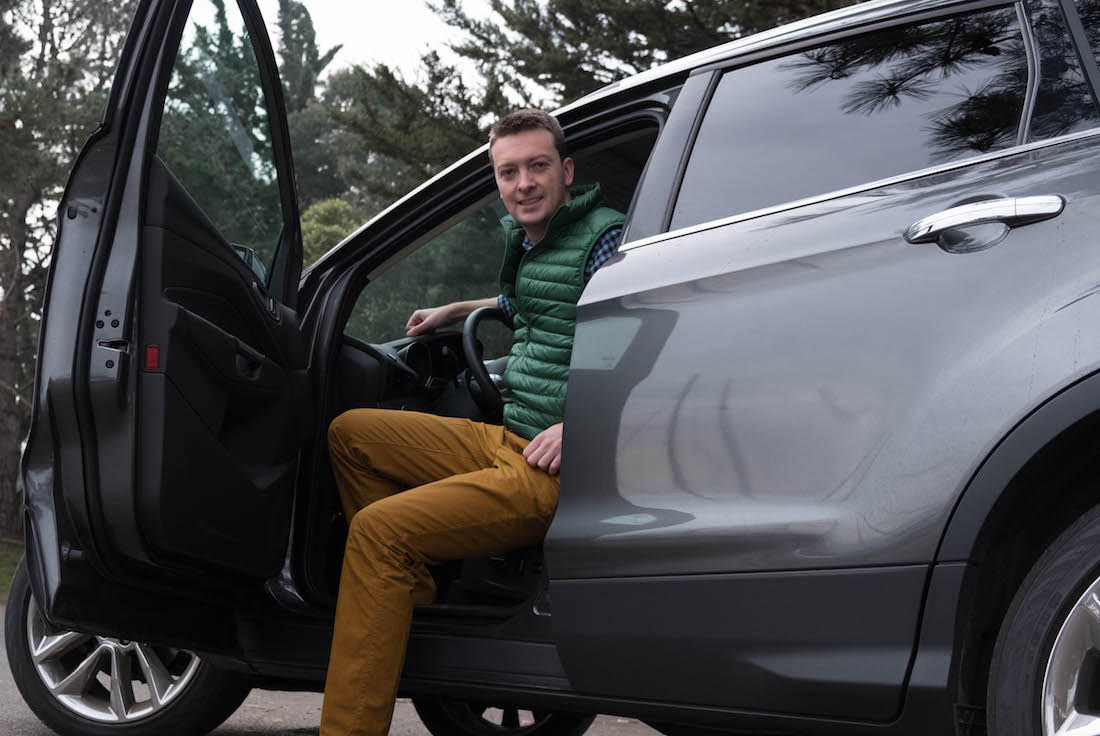 How could this be possible? In less time than it often takes to rent a car, I found myself behind the wheel of a Ford Escape I'd been eyeing for weeks. But this was no rental. And it felt nothing like the 3+ hours of haggling and dreary paperwork I'd labored through to buy my first car. Better yet, there was none of that dreaded buyer's remorse that socks you in the gut as you drive off the lot. Welcome to the subscription automobile.
This is as speedy, mobile, and millennial as it gets. Forget driving to a car dealer.  I'd chosen a one-hour drop-off window and, like clockwork at the onset of that timeframe, my phone buzzed with a text: "Hi, Mathieu, our delivery agent Luis is outside with your car." I rushed downstairs while Luis called to tell me where on my busy block he'd parked. Luis tossed me the keys, directed me to the driver's side, jumped into the passenger seat and got down to business. Driver's license? Check. Couple of signatures on his iPad? Check. Key documents in the glove box? Check.
"Any questions?" he asked.
Even for someone who deplores needless bureaucracy, it seemed almost too fast, too good to be true.  As an afterthought, I tossed him a few essential questions: "What happens if it breaks down? Who changes the oil? What if I don't use all my miles for the month?"
All covered, Luis confidently explained. The customer is king. I can just go to any Ford dealership. As for the miles, I can roll them over or downgrade to 800 per month, or 500 if the 1,250-mile package I selected ends up being excessive. "I almost forgot–" I stopped him on his way out: "What about FasTrak?"
Here's the thing. This model seems superior to traditional car ownership. There's the upside of driving a basically new vehicle without the commitment. I can keep it a month. Or a year. Stick to this model or switch it out for another that catches my eye. The price might seem slightly high at about $450 a month – but when you add in the value of the bundled insurance, registration, maintenance and roadside assistance, and the fact you don't make a down payment, the price is similar to buying a car without the risk. It feels more Tinder than Match.com. Not quite ownership, but not leasing or rental either. And yes, I didn't even have to worry about FasTrak – the car was already signed up.
This is a whole new approach to having a car. Canvas, by Ford, had popped up on my radar a few months earlier and instantly struck a chord. I'd been car-less for four years – though truth be told, I called it car-free initially – after moving to San Francisco from Chicago. But this past August, the itch to drive finally won me back.
On a month-long summer break from my rigorous MBA program at IE, I found my evenings and weekends free again without online classes and forums. I felt like I had wings, figuratively, but still no wheels. I love to experiment with new business models, so I hunted for the middle ground between full ownership and rentals services like Getaround or Turo. I wanted options. I was starting my third startup in as many years and knew that that I might have to do a fair amount of driving and hauling. Predicting how many trips I'd need to take between the East Bay and my day job in venture capital seemed tricky. The geek in me saw these variables as fascinating instead of a headache. What if I could select for mobile flexibility?  Perhaps an SUV for the winter (Tahoe calling) followed by smaller cars in the spring, maybe a Mustang for the summer….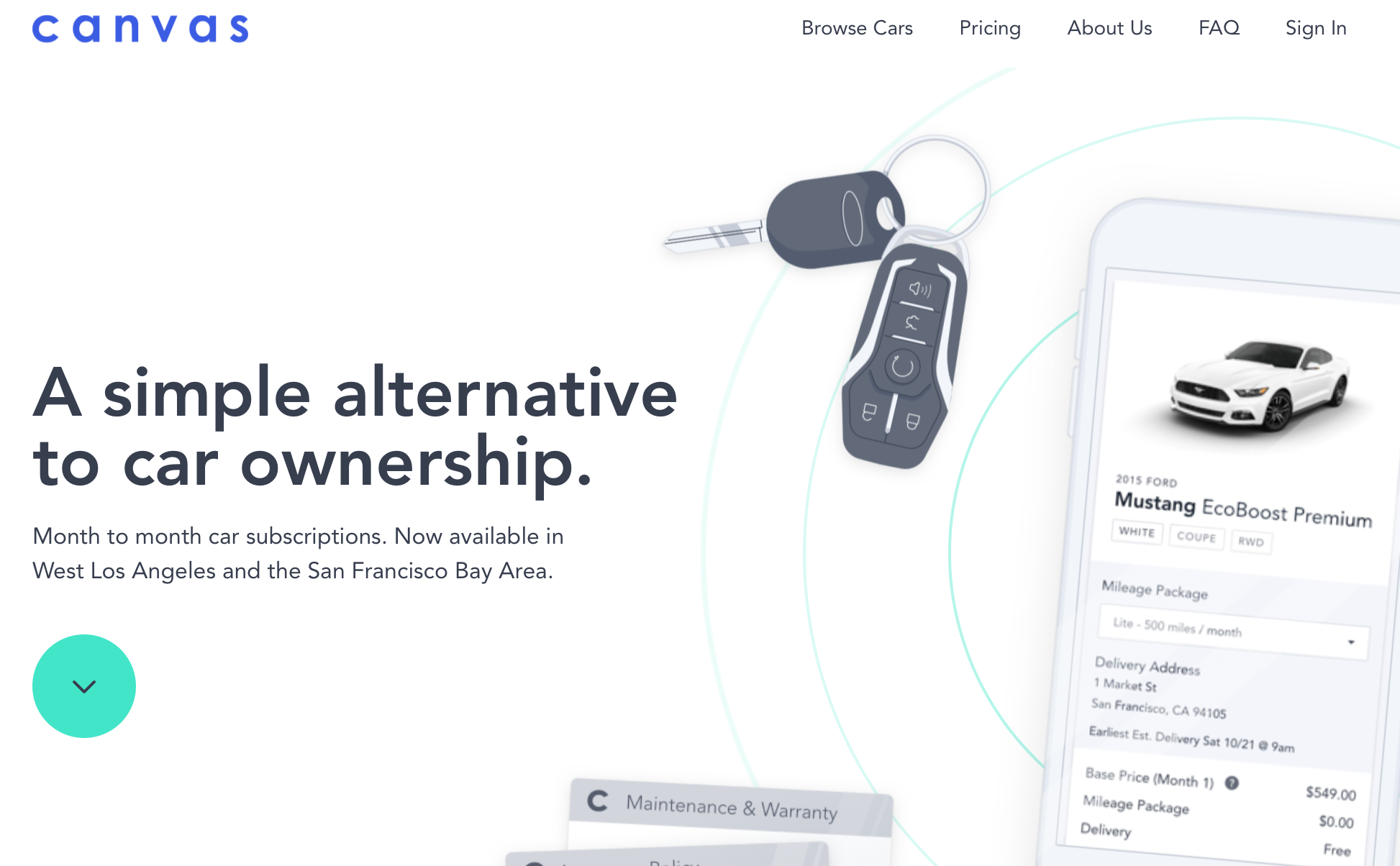 So Easy it's Hard to Resist
That's when the simplicity of Canvas beckoned. A single recurring payment to cover the car, insurance, maintenance, roadside assistance…it was hard to resist. I'd even get points on my credit card, I thought, trying to justify the new monthly line item in my budget.
Two months down the road, I've driven a thousand miles more than I'd ever Uber during the same time. I've taken trips to go hiking, skiing, and even to visit a friend in the South Bay. I'm hooked. My Canvas online dashboard is easy to understand and I've changed my mileage plan once already. I'm loving the model so much that I've become an evangelist. There's no shortage of people contemplating car leasing or ownership in the Bay Area, so I proselytize wherever I go. In part, this is self-interest. I want Canvas to succeed because I'm becoming dependent on it and would like it to expand from its Bay Area pilot to other markets.
When I move back to Chicago next year I will likely still be on the fence about traditional car ownership. We're at the crossroads of electric vehicles, autonomous fleets, and other accelerating mobility trends, and who can predict a year or two out? Luckily for me, I just found out that a Michigan startup, cleverly named Carma, is launching a similar service in Chicago. But then again, if Canvas will let me, I might just change my subscription to a Mustang (they have them!) and relocate via an epic cross-country Route 66 road trip.
This much I know: I can't imagine buying a car again. It's hard to beat that magical, on-your-doorstep 15-minute delivery process, the lack of commitment, the flexibility in being able to shift the monthly mileage package or model of my car. Ford offers a three-day 100-mile Get-It-Right Guarantee policy. If you don't like it, they'll take it back for no charge. And at the end of each month you can keep it or return it with "no hidden fees or penalties."
With my MBA training, here's what I'm starting to wonder. What will be the next tired experience to be revamped with a "bring it to me when and where I want it, on my own terms" subscription model?
Sign me up. My autopay is waiting.
---
Everyone talks about how the best entrepreneurs learn from failure. Read Fail Safe, our story on Mathieu's collection of artifacts from spectacular business flops. And for more car stories, check out  Susanna Camp's Finding MINI Love, and Haosheng Wang's piece on China's Tesla, the NIO.