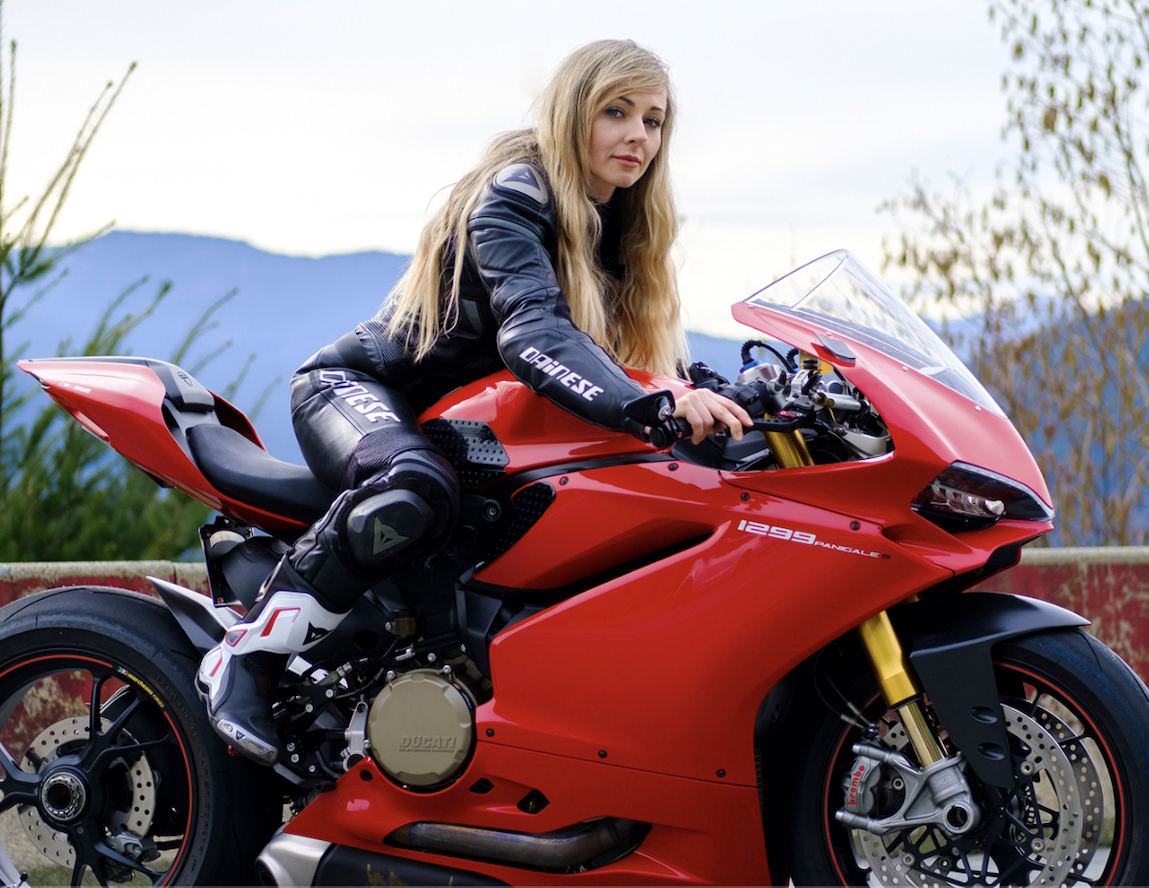 Amber Spencer was practically born with wheels. Her father owned a trucking company, loved watching Formula One racing, drove a motorcycle, and was thrilled to share all these passions with his daughter. Spencer started go-kart racing at age 5, and was "driving" dad's big rig at age 7, elated at how the truck responded to her controls as she steered around the parking lot. She has vivid memories of the first time she rode on the back of her dad's motorcycle: black leather motorcycle boots, a Harley jacket, skull cap – the wind in her hair, and a powerful feeling of freedom. "You hear things you wouldn't normally hear, and you sense the movement and the speed. Everything is so much more visceral," she says. "You just feel more alive."
That rush of being in the zone defined her, as she grew into an adult. A few years later Spencer found herself immersed in her work as a marketing executive, disconnected from the things she really wanted to do. So, she bought her first motorcycle – defying her mother's wishes – and set out to immerse herself in the community. On one of her first rides, she met the founder of Damon Motorcycles, and quickly joined the company as its sixth employee, first woman, and most outspoken evangelist.
Now VP of Marketing at Damon, Spencer speaks with first-hand authority about the experience of riding the iconic Damon HyperSport, a beautifully designed, award-winning bike launched to international acclaim in 2020 at the Consumer Electronics Show in Las Vegas. Without a clutch to maneuver, "there's less cognitive load," says Spencer – one of the many advantages of an electric motorcycle. Speed, braking, trajectory, throttle, power: "Whenever you're riding, and especially at the track where you're focusing on getting faster, there's less that you have to think about, which just gets you more into the zone."  With blind-spot detection, collision sensors, a back-up camera, and 6-inch display, the ride is supremely futuristic.
Spencer's not only an avid rider, she's also a competitive racer, dedicated to performing at her best. In tandem with this focused pursuit of excellence, she's also a professional bodybuilder. "There has to be focus and priority. I want to be the safest that I absolutely can be. And that comes with increasing my riding skills, making sure that I'm aware and focused." Racing and bodybuilding are related. "You have to make sacrifices. If you're preparing for a bodybuilding competition, you have to eat a certain way. You have to cut out certain foods. You have to get to the gym. And it's the same for any competition or any big goal that you want to achieve."
As a minority in the motorcycle industry (women make up only 20% of the rider demographic, and women racers are nearly non-existent), Spencer is ready to confront the barriers to diversifying the sport. At Damon, she's in a position to guide the future of bikes for women. Ultimately, she sees a future where instead of being adapted for smaller bodies, motorcycles might be built from scratch, for all shapes and sizes and abilities. "Damon is a unique company," she explains. "We're really think about not just the product, but the business model, the community, everything around the product as building it from basically scratch and rebuilding it into something that supports the needs of riders of all shapes, sizes, genders, ethnicities. It's a unique opportunity to start from scratch."
We asked Amber what drives her, and her answer was inspiring:
"I want to make a difference for women in the world. I want to show women that they can compete and excel at whatever they want, even if it's typically a man's domain, and I want to set an example. That's what gets me up in the morning: fitness, racing, and breaking the status quo. At Damon we believe not enough women are represented in motorcycling and we are here to change that—by living it ourselves inside and out. A company with more women will not only lead to greater equality but will also bridge the divide between men's and women's motorcycling needs."
---
About this content: I'm writing for Donna Loughlin's Before It Happened podcast, crafting weekly profiles of innovators, and showcasing their aha moments. This post originally appeared on the Before It Happened Blog. Be sure to listen to the related podcast.
---