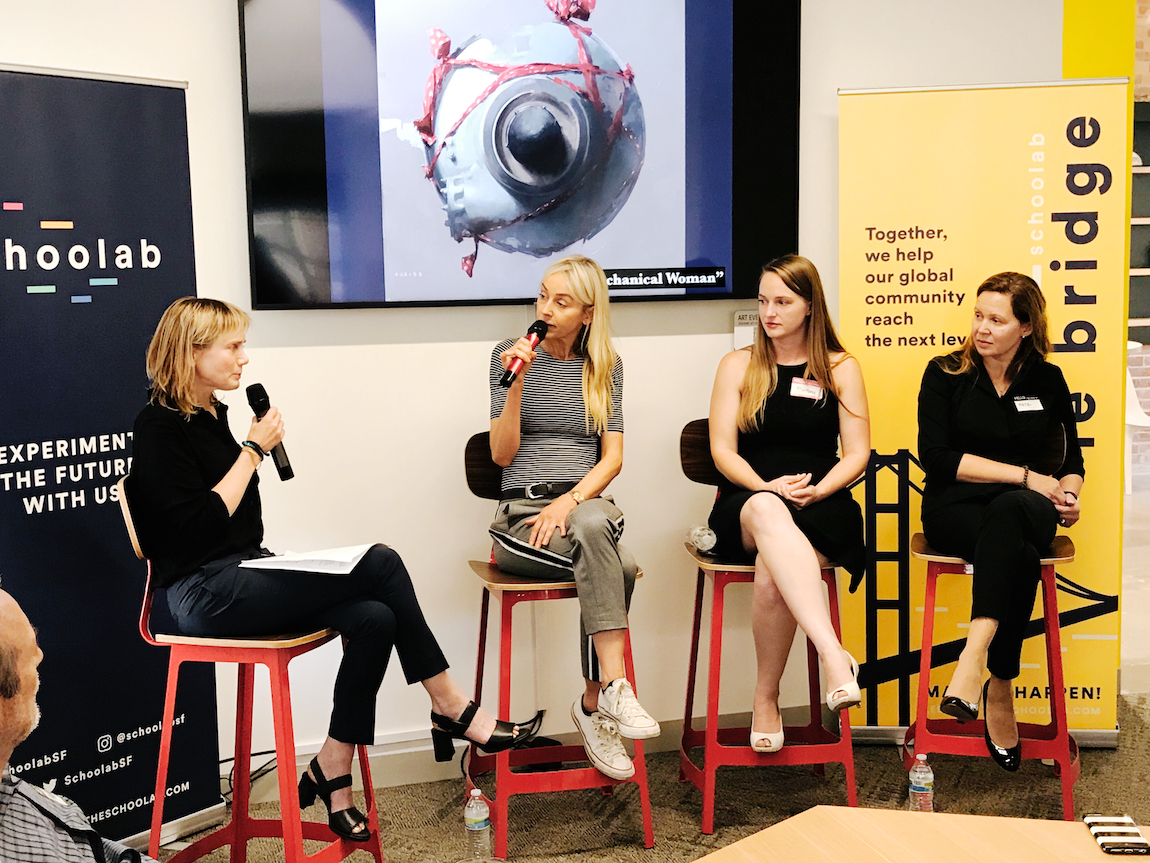 What does success mean to you? Showing up. Building things that become useful to people in ways you never imagined. Empowering others. These were a few of the answers shared by guests at our spirited "Redefining Success" series opener last week at Schoolab SF. Whether guided by external metrics or internal measures, here in Silicon Valley we're all united around the notion of success – along with the related pressure to meet expectations.
Sparking collaborative transformation and co-creation was the theme of "Humanizing Tech", the kick-off event in our series. The participatory format began with great wine and conversation, leading to a panel on art, government, and education, followed by small-group team work. We parsed the semantics of what it means to humanize technology. How do we live and work with technology? How can we educate people for a tech world? What are some new ways we can help refugees and others suffering from disruption to transition to a healthy future?
Humanizing Tech in Art, Government, and Education
Agnieszka Pilat, the celebrated artist whose series #disrupt: Machines on the March earned her the moniker of "Darling of Silicon Valley", talked about heroicizing technology by painting it in a human light. "Humans are storytellers and art is a good way to express ourselves," she said, "The history of humanity is a history of machines."
"The history of humanity is a history of machines."

– Agnieszka Pilat
Maja Kieturakis, San Francisco Bureau Chief of the Polish Investment and Trade Agency, shared the European perspective. Two thirds of Europeans see technological progress as harmful if not regulated, she said, citing a recent survey. The same number of Americans believe the opposite. "In the EU, regulation is very common and no one argues with it. Americans see it as a barrier against innovation."
Innovation driven by equity has guided the career of Brittany Bir, COO of Schoolab SF and former co-founder and COO of 42 Silicon Valley. "There is nothing better for innovation than diversity," she said, noting how studies show diverse workplaces produce superior results. "It inspires new ideas." She elaborated on 42's innovative approach to teaching coding – no teachers, no classes, no curriculum, no tuition – as a way to bridge the opportunity gap between under-advantaged youth and coveted, highly paid tech jobs.
Humanizing Future Tech
We transitioned from the panel to small groups, delving into tough issues. We split into four teams: the Future of Work, Education & the Digital Divide, the Morality of Tech, and Humanitarian Tech.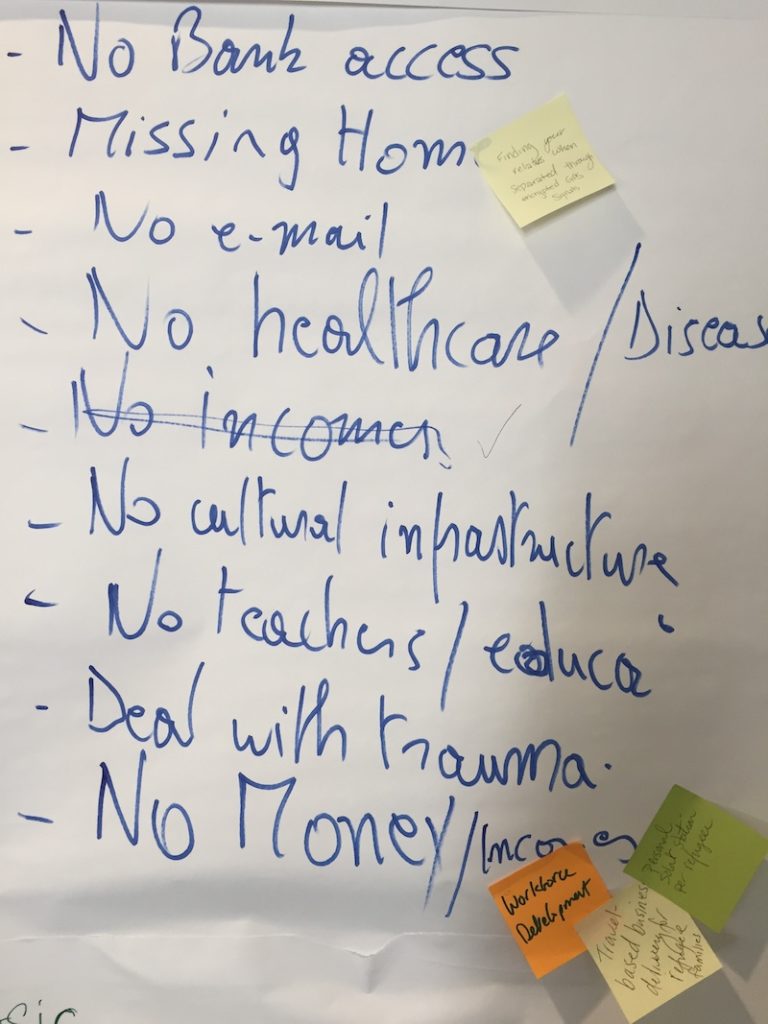 After some inspired brainstorming, we returned to Schoolab's fashionable kitchen for more networking and drinks along with the final presentations, each team leader standing on a chair as a makeshift stage to address the crowd. Our guests' cross-disciplinary backgrounds and impressive collective brainpower led to some inspired solutions. A task rabbit for refugees, leveraging their skill sets, so that they can be viewed as assets when they arrive in new cities, while building confidence, hope and self-advocacy. A new educational system that draws on the blockchain conceptual model of Decentralized Autonomous Organizations, with distributed teaching and employment-based tuition. A jobs marketplace for the future, with an emphasis on intellectual currency and human capital decoupled from payment. The mood was hopeful.
Humanizing Tech is just the start. Upcoming events in our series will focus on creative elders, anti-customer-centric design, and rethinking failure as an indicator of success. Care to join us in co-creating the future? Contact me for details!
---