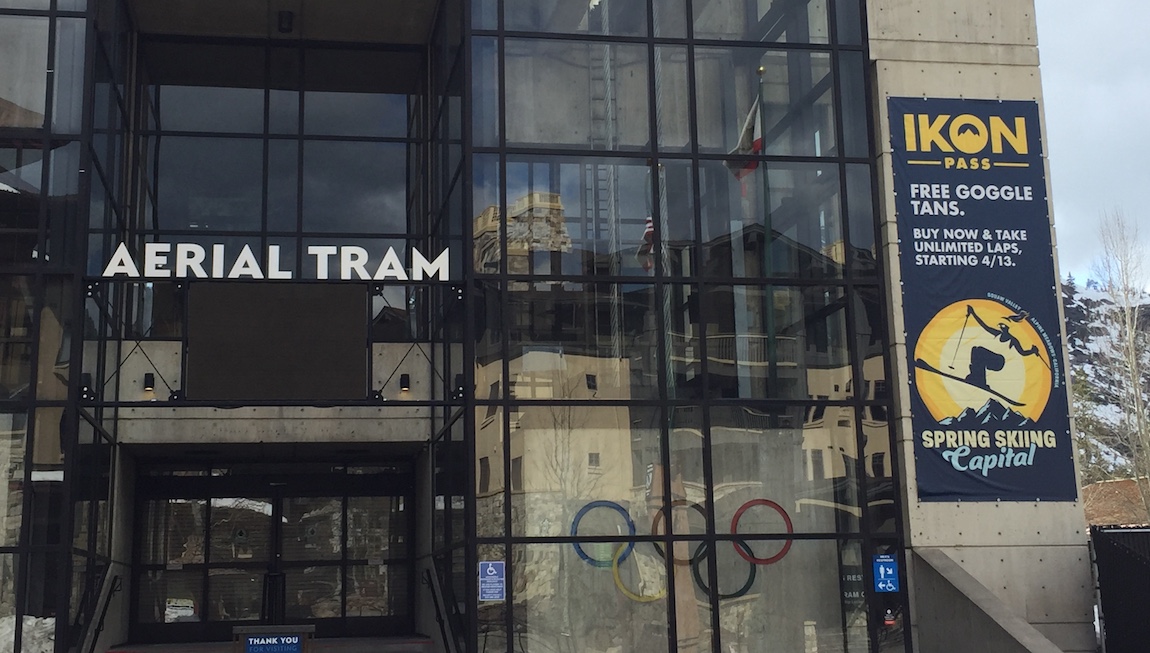 Saturday, March 14 was a packed day at the picturesque, Squaw Valley Ski Resort in Lake Tahoe, California, once the site of the winter Olympics. Tens of thousands of Bay Area skiers and snowboarders had driven hours to enjoy the fresh powder from a weekend snowfall. But that afternoon, word went out that the resort would be shuttered over coronavirus concerns in the morning. California Shelter-in-Place and restrictions for non-essential activities was still a week away, but officials around the state had for weeks been limiting the size of gatherings and mitigating risk.
Who made the decision? Squaw is part of Alterra Mountain Company, a mega ski and resort conglomerate that includes KSL Capital Partners, Intrawest, Mammoth Resorts – 12 mountain resorts and six million annual skier visits in total. They didn't want to risk an outbreak being pegged to their brand. Safe thinking. But that's where the good idea stopped. Whoever was in charge of communications seems to have exited at just that moment.
On the evening of March 14, the Squaw Alpine Twitter account officially announced the closure, and by the next morning Squaw's website had a notice of suspended operations "until further notice. All lift operations, retail and rental services are closed." Resort Closed, read a less-than-friendly sign on the road, and a few hastily erected "closed" barriers were placed at the base of the slopes.We later learned that seasonal workers were given a week's severance pay, and that Squaw had opted to "zero-out" or furlough half of the remaining full-time, year-round employees. Squaw had quite simply shut down. Drastically scaled back expenses and human capital. Ironically, just four days earlier, Alterra had announced it would spend a massive quarter-billion dollars that year on resort improvements throughout the US – improvements that will likely not take place anytime soon.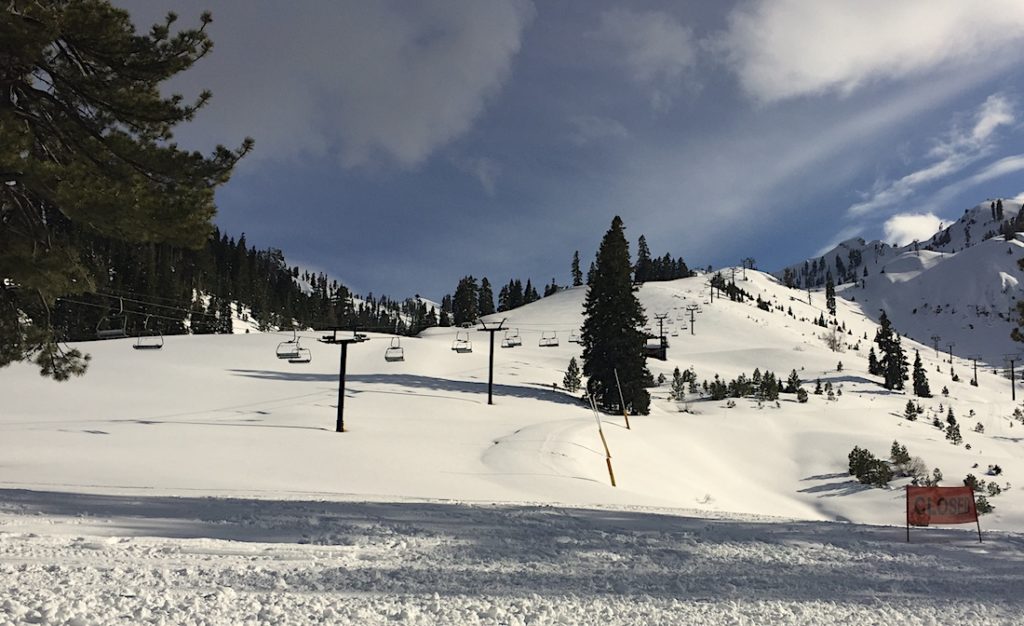 The Clock Stopped at the Moment of Impact
We happened to arrive that same fateful Saturday night, and it was an eerie feeling to be entering the scenic valley as the hordes were driving out. We've been there ever since, among a few dozen holdouts living in a shuttered ghost town – a coincidence that has offered a rare insight into how companies should not handle a crisis. We've seen this failure of leadership and vision repeated in all sorts of companies these past weeks. Retailers who never bothered to change their pre-loaded social media feeds, bombarding sheltering-in-place consumers who weren't in a buying mood, firms that failed to recognize that this was a moment for courage and reinvention. At Squaw, we were surrounded by a case study in corporate paralysis.
That weekend in mid-March, the snow kept falling, seven feet over the course of the next week. Yet it was as if the clock stopped at the moment of impact. The shops and restaurants in the village, tenants of the resort, shuttered. Promotional signs still in windows, obviated by hastily posted notes announcing closure "until further notice." We checked the Squaw website periodically looking for news. But the last real sign of life was a weather report by local legendary meteorologist Bryan Allegretto. Tahoe skiers swear by his dispatches, and Squaw features his news feed on the site as a bonus to anyone coming to the area. On Saturday March 14, at 8:37 am, Allegretto wrote: "Feet of snow: That is just the beginning as the snow will pick up in intensity Saturday and start to pile up quickly. Heavy snow is expected to continue Saturday night into Sunday…" Though the epic storm continued off-and-on for two weeks, Allegretto's last report on the Squaw site was frozen in time – the weather might as well have stopped to exist.
Similarly, the feature "Latest from the Lens" on Squaw's site was never updated, as if when the executives opted to "zero-out" workers they forgot how to tell a story. We were puzzled. If Squaw truly had a relationship with its customers, couldn't they have continued to showcase this vital connection to the mountains and snow? Two tweets went out over the next two weeks, a half-hearted attempt at showing their presence.
Missed Opportunities
As the snow piled up and we opted to stay put in the secluded village, real life went on ­– brave ski patrollers were blasting and skiing to prevent avalanches. Workers were plowing the roads. One restaurant owner was making repairs. Meanwhile, at the base of the tram, two giant banners shouted an upcoming spring skiing promotion for the multi-resort IKON pass: "Free Goggle Tans. Buy now and take unlimited laps … starting 4/13." Apparently the worker in charge of putting up the banners was dismissed before he could take it back down. The banners are still there.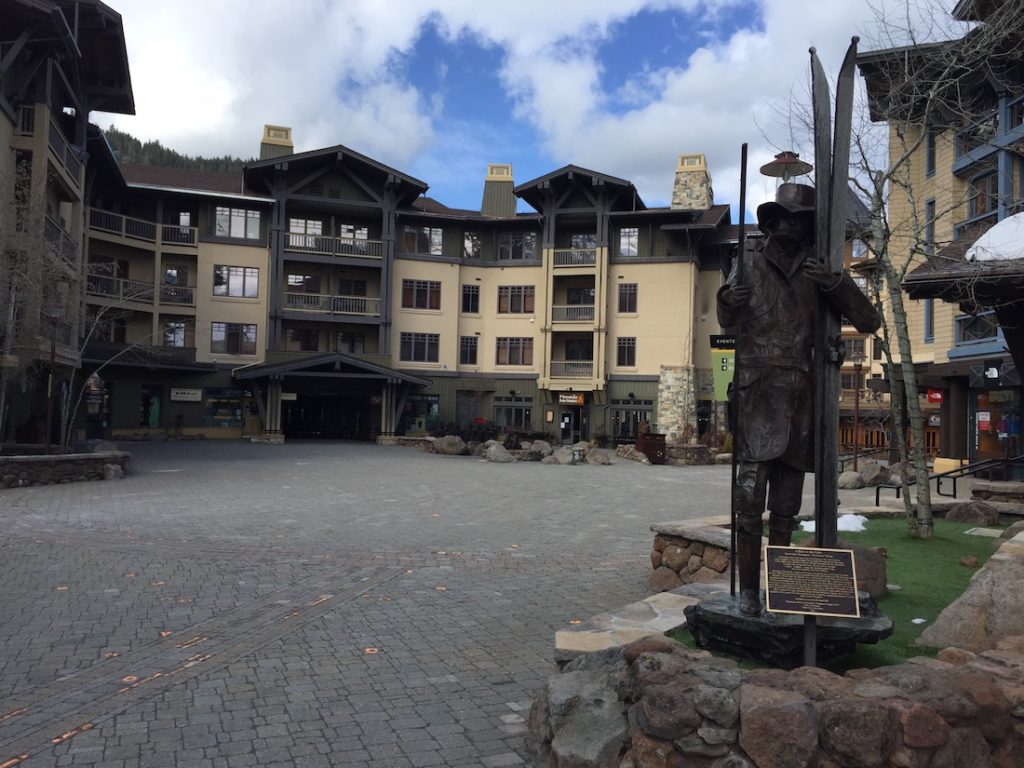 Californians are crazy about skiing – flooding Lake Tahoe on the weekends and holidays during the winter months. Yet Squaw seemed to forget about its reason for being at the most critical moment. You might say, what could they have done? The lifts and trams couldn't run. But Squaw could have done so much more. They could've posted pictures of their heroic avalanche ski patrollers … or of the pristine slopes filled with sugary, virgin snow… hosted online ski groups … provided stay-at-home ski training tips … helped feed the workers they'd just furloughed with contributions to the under-funded local foodbank … anything at all to connect to their fans. What's more, they could have promptly extended refunds to pass holders for the remainder of the season.
But this giant conglomerate, headquartered in Denver, Colorado, seems to have forgotten its California property. If it's true that how you act in a crisis magnifies your true character, then Alterra has shown its true colors. What kind of leader would ever say "zero-out" in reference to hard working employees who would soon be running out of rent money and food? The message was loud and clear: it's all about margins. Cash.
It didn't take long before pass holders at Squaw and other Alterra Mountain resorts rallied on Facebook to demand refunds for the shortened season. Last week the company responded, offering discounts on season pass renewals – but only for the 20/21 season.
Brand Loyalty is Tied to Experience
Customers form loyalty to brands when they see and experience authentic leadership. This means presence. Authority. Empathy. And voice, in the form of a local identity that instills trust. Elements sorely missing at Squaw these past weeks.
In California mega-corporations don't own vast stretches of nature. These world-famous peaks – one of the jewels of John Muir's "Range of Light" are operated under permits with the US Forest Service. Squaw is not any old mountain, but the place where in the 1960 Olympics Penny Pitou, who as a girl crashed a boy's ski team by hiding her hair under a ski cap, won two silver medals. Squaw is where the US hockey team pulled off the "miracle on ice," defeating the Soviets to take the gold. Where Walt Disney dazzled crowds and the world, ushering in a cinematic opening ceremony never seen before. And most of all, Squaw has always been the destination for serious, fast skiers, the mountain where some of America's greatest modern skiers, from Jonny Moseley to Julia Mancuso, first carved their turns before glory in Europe and the Olympics.
When your brand is a village, a living, thriving space where people bond, form lasting memories friendships and sense of self tied to deep, meaningful experience, you owe them more than a couple of tweets. This is no time to "zero-out" the men and women behind your enterprise. Local pride is an asset that should be nurtured. Think sports teams, alumni groups. The value of a strong community that continues to build and refresh with new members.
At Squaw, only time will tell if the skiers come back next winter.