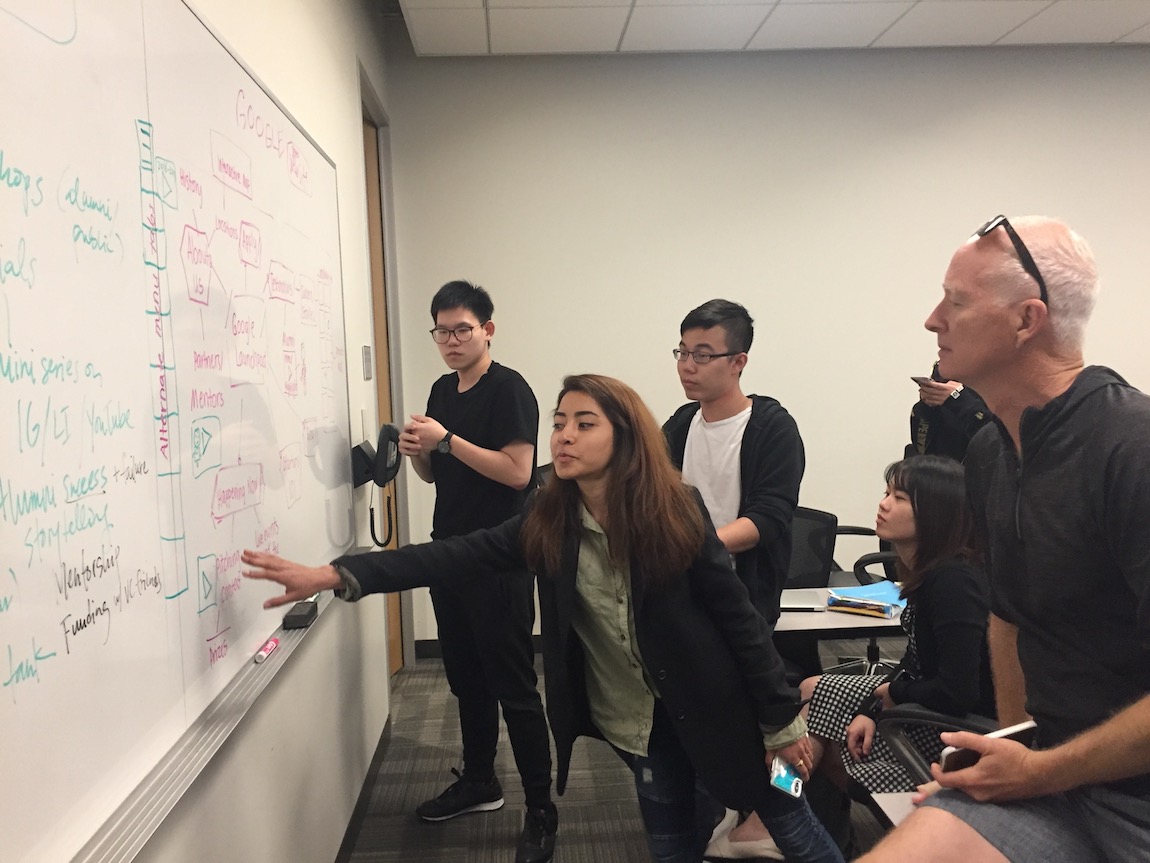 Youth and diversity powered by teamwork provides the exponential leverage you need to leapfrog past the competition. There's tremendous value to be gained through collaboration for the earliest stage startups to even established Silicon Valley giants. What's more, when a globally sourced team is composed of that uniquely potent combination of startups, corporates, and students – everybody wins. Fresh eyes and a beginner's mind are the hot sauce in innovation. This magic foundation was what we set out to create ten weeks ago when we matched mentors from Google, Stanford, and three local SF startups with our favorite academic offering – "Creativity, Innovation, and Applied Design" – at USF's Master of Science in Entrepreneurship and Innovation.
Our class featured 21 young international students from Egypt, India, Singapore, China, Latin America, and one native San Franciscan studying in a year-long immersive program that for many was their first introduction to Silicon Valley. We brought our own 50-plus years of combined experience in tech and innovation to the mix. The core curriculum: design thinking principles and creativity deep dives, anchored in the IDEO bestseller The Ten Faces of Innovation and our new book The Entrepreneur's Faces. Our class sessions were seasoned with guest speakers from our network of startups, ecosystem builders, and VCs, sharing their captivating stories of risk-taking and success. Working in teams throughout the semester, the students learned fresh techniques of brainstorming and prototyping both in class and out, switching frequently to other teams ("The Team Swap") to lend insights into how something might be done differently. The students produced high quality results worthy of well-paid consulting gigs in their final presentations. In return, the mentors received free advice and even working prototypes.
This virtuous cycle is one we've learned to promote and value. We see startups, corporates, and students in action every day around us at Schoolab SF, where we're Entrepreneurs in Residence. Schoolab is the largest startup incubator in France and a major actor in the French innovation ecosystem. For 13 years, Schoolab has trained more than a thousand entrepreneurs from 30 different nationalities and introduced 150 innovative products and services on behalf of 65 companies annually. The secret: a special, authentic brand of mentoring, where the students gain professional experience, and the corporates receive top-notch, cost effective consulting. At Schoolab SF, there's a steady flow of UC Berkeley students from the Le Bridge entrepreneurship program and the semester-long Deplastify the Planet class bringing vitality to the space. Of course, we couldn't resist bringing our USF students there for a session with CEO Mathieu Aguesse and on other occasions to cross-pollinate the ecosystem.
We captured the highlights of our class's accomplishments in this video, dedicated to our young geniuses. Watch, enjoy and share. Creativity and collaboration are contagious!