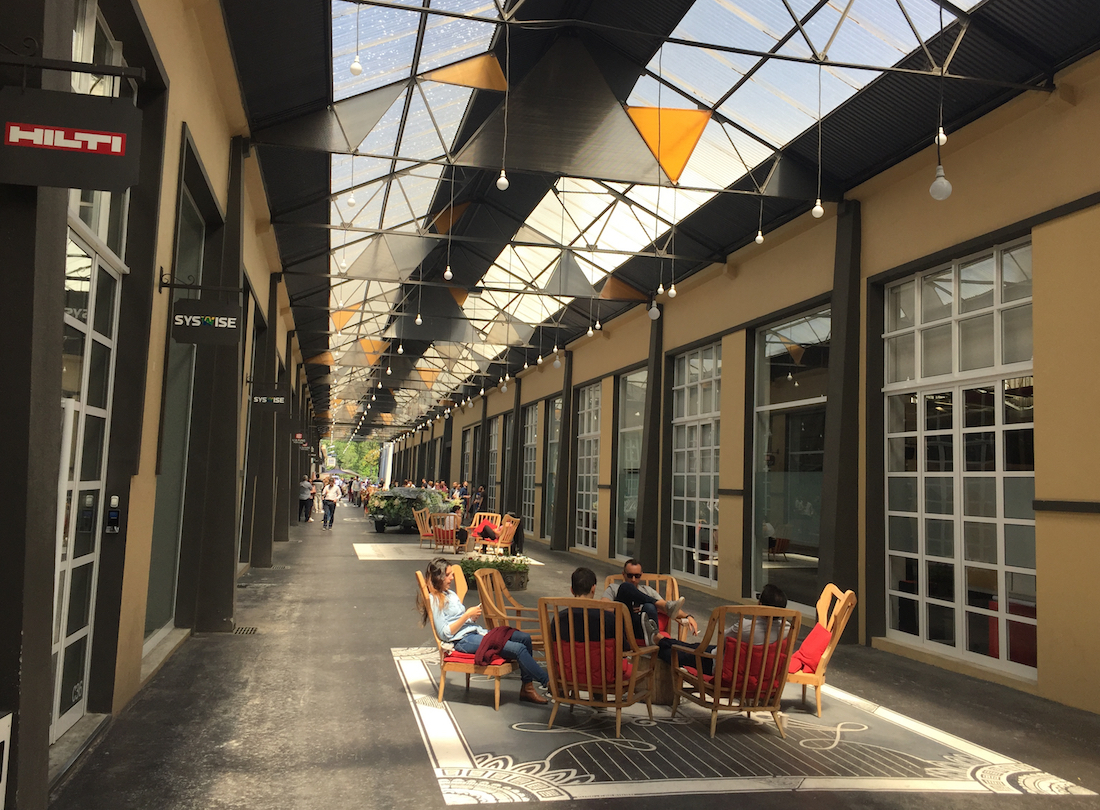 The lady in red shakes her head and sends back the bottle of vinho tinto for a better vintage from Portugal's famed Douro Valley. We're relaxing in a delightful open-air courtyard the length of a freight train station, a colossal yet almost intimate space brimming with tables and brightly colored chairs filled with international millennials reading books, chatting or smoking in clusters on their lunch break outside trendy restaurants and hip offices. Our host Eduarda Pinto is the Executive Director of Lionesa, a new kind of business hub and community that heralds an essential global transformation. Joining us at our table is Alexandre Santos, head of portfolio development for a major European venture capital fund. He's happy to explain what's obvious in our surroundings – why he just had to set up shop here. It's not just the good life. It's the good work. Several thousand people work at Lionesa in a hundred companies of all shapes, flavors and sizes. This is the place to be in Portugal, if not Europe. The thrumming human knowledge hive of tomorrow.
The workforce of the future will do their jobs in leading-edge yet humanistic destinations. Lionesa's appeal extends far beyond cool space. It's about tapping the abundant, spontaneous potential for cross-pollination and collaboration that sparks when you bring some very cool international firms into the mix­. Not just the anchor tenant, Portugal's unicorn shopping portal Farfetch, with 1,000 employees on site. But a dozen other major international companies that boast large local staffs, from Vestas, the world-leading Danish wind turbine energy firm, to Hilti, the multi-national Liechentenstein-based tool giant, voted the best place to work in Portugal the last three years, to the Chinese trading firm, Li & Fung. Lionesa is fully occupied and taking reservations for a vast expansion. More than a modern developer, the team sees itself as a matchmaker for the talent and capabilities in its expanding network. "We're superconnectors," Eduarda told us. "We spend a lot of time bringing people together."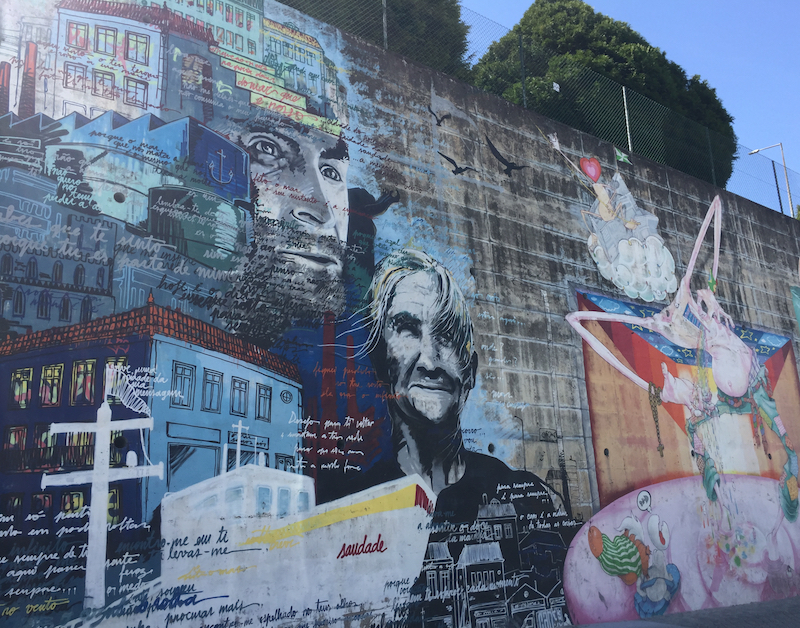 In San Francisco, discussions on the future of work can be pessimistic: less about people and culture, and more about dark fears that AI and the gig economy will decimate the job market. Here in Porto, a city often overshadowed by the more glamorous Lisbon, we've found a hopeful, less tech-distorted model. Located in a sprawling, revamped silk factory, Lionesa dances easily with its surroundings and past, weaving art, culture and modernity. Across the street, stairs cascade down from neighbor and partner Super Bock, and just 50 meters ahead lies Mosteiro Leça do Balio, the development's very own restored 12th century monastery.
All told, there are seven major buildings, 400,000 square feet of office space, a total that will more than double in a few years with a planned expansion. The main entrance is both urban and operatic: a massive retaining wall under the brewery features murals by several internationally known street artists, celebrating the site's proud local historical and contemporary culture. The indoor-outdoor layout and mix of attractive décor create a fun vibe. "We want to build a community and create a sense of belonging," said Matilde Barroso, Lionesa's marketing director. "Because we know this really makes a difference. We usually say we don't have 100 tenants, we have 5,600 friends. If they're happy, their companies are happy, and everyone is happy."
Lionesa is a compelling example of a reinvented historical site that anticipates the changing sensibilities and atmospheric collaborative interactions driving global innovation today. Diversity is invigorating, and here the diversity includes not just the space and the variety of businesses but also the 25 nationalities represented in the thousands of workers. Compare that to the US, where despite a recent seismic shift toward entrepreneurism and startups and some glitzy ornamental touches, most workplaces still echo the homogenous look and feel of the suburban 80s. US workplaces remain dominated by single, mega-employers – think Facebook's campus, Apple's Infinite Loop, the Google Ring – or dull, isolated suburban or downtown office buildings where companies are segregated by suite and floor.
In contrast, Lionesa's tenants combine to play a sort of work jazz: a medley of startups, scaleups, and outposts for established corporations, accompanied by creative service providers, hair stylists, personal trainers, five restaurants, a gym, and rotating art installations. The wide spectrum of companies is ideal. "We don't want to be only a startup campus," said Eduarda. "It's cool for the entrepreneurs because they can all meet, they can talk at lunch with CEOs from big corporates. And that can be a good value for the big companies that are here, which often have startups inside their companies, to develop innovation."
Porto's Legacy of Industry & Knowledge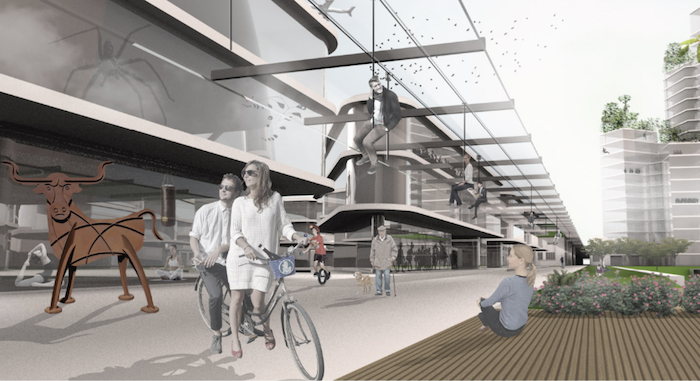 In many ways Lionesa owes a debt to Porto's deep technical and former industrial foundations. UPTEC, led by Executive Director Clara Gonçalves, is a massive, bold Euro-fund-backed university effort in Porto that has generated dozens of successful startups and reported $181 million in revenue last year. The roots go back even further. ANJE, the Portuguese Association of Young Entrepreneurs, started cultivating talent way back in 1982, and has a track record of converting knowledge-based startups to market opportunities and facilitating matches with VCs.
To help explain more about these northern initiatives, Andre Forte of Startup Portugal, a foundational player in the national move toward entrepreneurship, introduced us to Daniela Monteiro, Head of Entrepreneurship and Ecosystem Development at Porto Digital. "It's a different ecosystem from Lisbon. The economy in the north has been historically tied to manufacturing: textile, furniture, cork, shoes," Daniela told us over lunch in downtown Porto. "And then you also have a bigger connection to knowledge-based companies here. New companies are more connected to the universities."
There may be another difference. While the manufacturing region surrounding Porto is large and extends to include numerous top universities, the city center is considerably smaller than Lisbon's, making it easier to connect the players. Porto Digital is leading many local smart city projects, but also driving innovation and entrepreneurship. "One of our entrepreneurship projects is ScaleUp Porto," said Daniela. "For the mayor, it was part of his electoral manifesto from the beginning, and because innovation and entrepreneurship are really important for us, they are part of the DNA of the city."
A new venture at Lionesa spearheaded by Alexandre Santos is a case in point. When a friend told him last year that Eduarda was thinking of doing something in terms of entrepreneurship, the two met, and the idea aligned and took shape. "We saw a need for a new space and a different approach to entrepreneurship," he said. "We felt there was an underlying need for a space for entrepreneurs and companies. Where they could meet more openly and share." Added Eduarda: "We realized we really need to have entrepreneurs at an earlier stage."
Bright Pixel's Bright Entrepreneurs at Reactor
Those insights led to a partnership with Alexandre's Bright Pixel company builder and Porto Business School, Beta-i, and Chain Reaction, to launch the Reactor Innovation Hub at Lionesa's entrance. An early stage accelerator now hosting its first full cohort of startups, Reactor embodies Lionesa's openness by sponsoring events for the community at large, such as pitches from the startups, and talks from the big corporates. Alexandre keeps an office there and sees it as a strong model for Porto's new role. "I can share my vision, give my mentorship and start bringing some of my investments," he said, adding that it's time for Porto to take its well-deserved position in the new economy. "Most of the entrepreneurs in Portugal come from the north."
That's why Lionesa, cool as it is, is just one of the great places to taste the future of work in Porto. We'll soon follow up with another story on UPTEC, ANJE, and Founders Founders, where we found a culture abuzz with the energy and enthusiasm driving a major movement in startups and scaleups north of Lisbon.
Porto is coming into its own not just as a city, but as a globally connected tech ecosystem, and Lionesa symbolizes those new, larger ambitions. Construction begins later this year on a €100 million expansion led by architect António Leitão Barbosa that will increase the tenant population to 10,000, featuring an office tower and spacious business hotel all connected by a space-age suspenso por carril – an individual ski-lift-style shuttle designed specifically for this digital hive. Porto the city, and Lionesa the modern worker bee community, are taking reservations for people, startups and companies ready to thrive, create and work in the hub of the future.