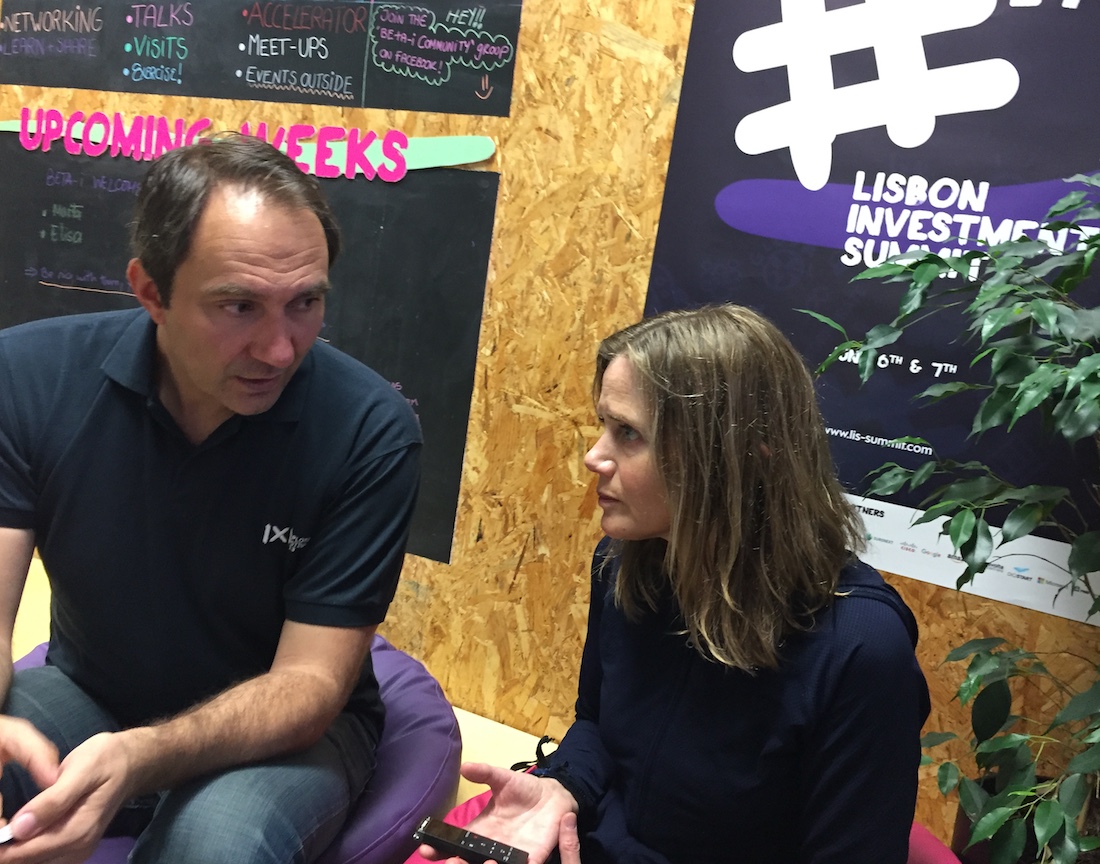 Ricardo Marvão, the lanky co-founder of Beta-i, trots up and down the steps to show us his eight-story progeny, Lisbon's top-rated incubator, explaining on the fly why it has become an international hub for tech founders and Fortune 500 corporates seeking the startup way. "One, they basically come because Lisbon's hot now, everyone wants to be here. Two, it's a cool place to be, and three, it's an amazing quality of life." The former aerospace engineer smiles at his good fortune. He knows he's in the right place at the right time. "We have so many people here who came to Lisbon for a weekend, went to our TGIF party, asked if we had any spaces available, and during the party we showed them a place, and that moment, they said, "We'll take it!"
Ideally positioned on Europe's sun-drenched West Coast, Lisbon is gaining momentum as a hip tech hub and startup ecosystem fueling the global entrepreneurial boom. Lisbon caught startup fever early, and Portugal's historical openness to other people and cultures, as well as its enduring ties to Brazil and Africa, make it naturally receptive to new trends and innovation.  There's a reason Ricardo and three of his co-founders Pedro Rocha Vieira, Manuel Tânger and Tiago Pinto, are in a hurry. They're about to jet off to Australia, to manage the second phase of Free Electrons, a global energy accelerator, devised and powered by an impressive group of international utilities, that kicked off in Lisbon this April. After going Down Under, the team will travel to Silicon Valley and Berlin. Free Electrons brings together ten innovative utility giants and select energy startups, in a great illustration of collaboration among would-be competitors.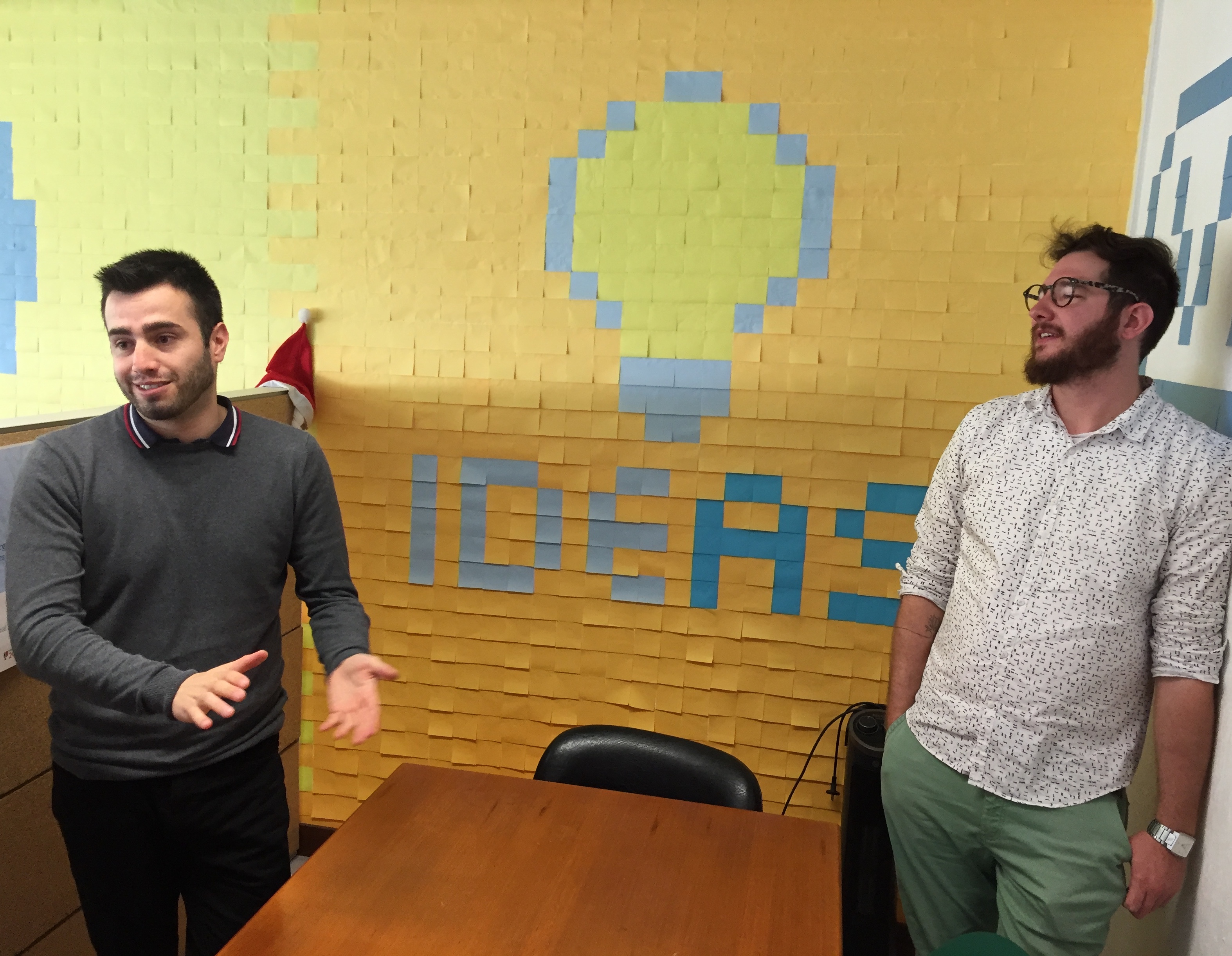 You can see and feel the shift toward improvisation and action in this lively, effervescent city on the edge. Leaders have a knack for sensing the next wave before others dare dip a toe in the water. Entrepreneurship is often viewed as a risky option in so many countries for what seem like rational reasons – especially when the local economy is stable, and good, traditional jobs are readily available. But just a few years ago that was not the case in Lisbon, and standing still could be terminal. Ricardo and his partners foresaw the deepening financial crisis in 2010 – well before Portugal went bankrupt and required years of austerity measures and an EU bail-out.
"The government had no money. Bit by bit, we started inspiring people to look at entrepreneurship as a way out of the crisis," he said. "People were like, okay, if you can't find a job, create your own. 'How can I use entrepreneurship to get out of this?'"
Sparking a Hot Ecosystem
Ricardo and his co-founders gave entrepreneurship a big boost in 2010 with the first Lisbon Challenge, a pre-seed accelerator that provides €10,000 for 1.5% equity, to help startups build and launch their products in 10 weeks. They also offered Beta-Start: "Because at that time, a lot of people had ideas, but didn't even have business skills. So, it's just, 'Bring your ideas. We will help you get an office, create a business plan.'"
Today, Lisbon's ecosystem has matured to the point where the Beta-Start program is no longer needed. The Lisbon Challenge, on the other hand, is still going strong, and Beta-i's staff has more than tripled in the last three years.  It's evolving into a startup-centric global consultancy and cutting-edge tech incubator that has outgrown several locations and is moving to a larger space this August. Wired voted Beta-i Lisbon's best incubator two years in a row. The team is feeling the warmth of the glow.
"Because we've been through a crisis, we know how to manage risk," said Hugo Vaz Oliveira, who heads media and partnerships. Unlike so many European incubators propped up by state sponsorship, fast and brave prototyping is in Beta-i's blood. They "can do things with less money," he explained, because they're coming from "a really tight spot" instead of a comfort zone. "So, we can save that extra dollar and put it to use."
Along with the global Free Electrons accelerator program, Beta-i will lead at least ten major accelerators this year for Fortune 500s, each time scouting thousands of startups from its proprietary 20,000-strong network winnowed down to roughly 15 spots for each extended, immersive corporate engagement. "When we used to go to meetings three years ago, we had to explain what innovation was. Nowadays, we get called all the time," said Hugo. "Even the big companies realize the economy is shifting, and this digital transformation is not just a buzzword."
And what do the corporates need? "Number one, they want to understand it. Number two, they want to ride it. So, more and more we are engaging big companies, which is good for us because they have the money and we can feed that money into the system and into the startups."
TGIF Lisbon-style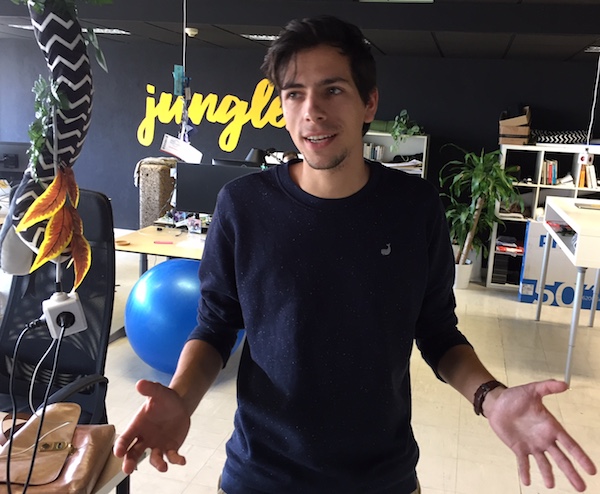 Our half-day series of impromptu meetings started with Ricardo and Hugo and went on to include a brief hello with co-founder Pedro, an inspired chat on the nature of entrepreneurship with Strategy Manager Joana Mil-Homens (who will be celebrating the unique Beta-i methodology in a forthcoming innovation book), and yet another tour with Community Manager Rodrigo Zwetsch, himself a Brazilian transplant.
Rodrigo led us into a playful office where one long wall was plastered with colorful post-its showing a lightbulb and the words "ideas" and "code." We met Gianluca Pereyra, co-founder of Visor.ai and an alumnus of Beta-i's Lisbon Challenge, and the Smart Open Lisboa accelerator, where he connected with the Lisbon Municipality (CML). To enhance their ML-based text processing, Gianluca and his team have developed an AI chatbot with human messaging that has already gained several enterprise clients.
Rodrigo also introduced us to Alexander Helmer, one of the Dutch co-founders of Jungle, an AI-based startup developing predictive maintenance solutions for utilities, and energy and heavy industry clients. which has won a coveted spot in the latest Free Electrons cohort. "The Portuguese are very helpful and open," he told us. "We came here on a Friday to the TGIF party. We started talking to Rodrigo and Carlos and the energy was just so good." A week later they were happy to flee a "corporate, impersonal" incubator in the Netherlands.
Alexander and his co-founders choose freedom over rules. "Lisbon is a nice place to start a company, it's a very pleasant vibe. When you're in a startup, it's an intense time, and you work long hours." But as soon as you step outside, "The weather is nice and you can grab a coffee for 60 cents down the street, and everything falls off your shoulders."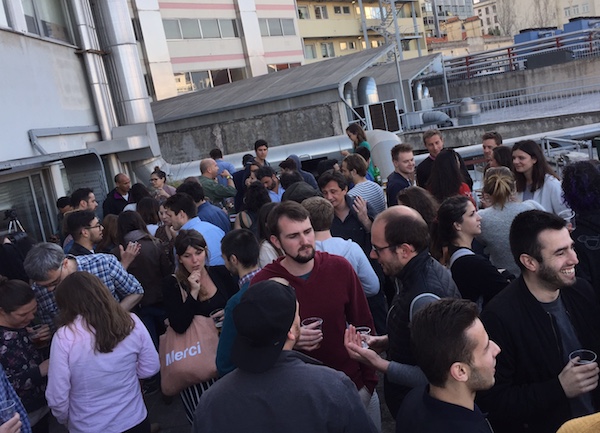 Last fall, we basked in the brightness of rising European tech stars on our extended tour of ten countries and numerous incubators, startups and entrepreneurs. But the distinctly human element is hard to beat in Lisbon, a classic European capital where the vibrant colors, singular architecture, buzzing culture and invigorating deep blue sky match the youthful optimism of the people. We too found ourselves drawn to Beta-i's música-thumping cerveja-flowing festa, befriended by amiable Brazilians who have made Lisbon their new home, a happy, upbeat Washington DC expat who could live anywhere, and the bespectacled and intense Ahmet Yildiz from Turkey's Ministry of Science, Industry and Technology, in town for nine months to study and absorb Lisbon's thriving ecosystem.
Ricardo Marvão once worked for the European Space Agency, and you can feel that vision and energy at Beta-i. It's hard to imagine a better launchpad for an entrepreneur with wings.
Web Summit Formula for Success: How to Meet the People Who Matter