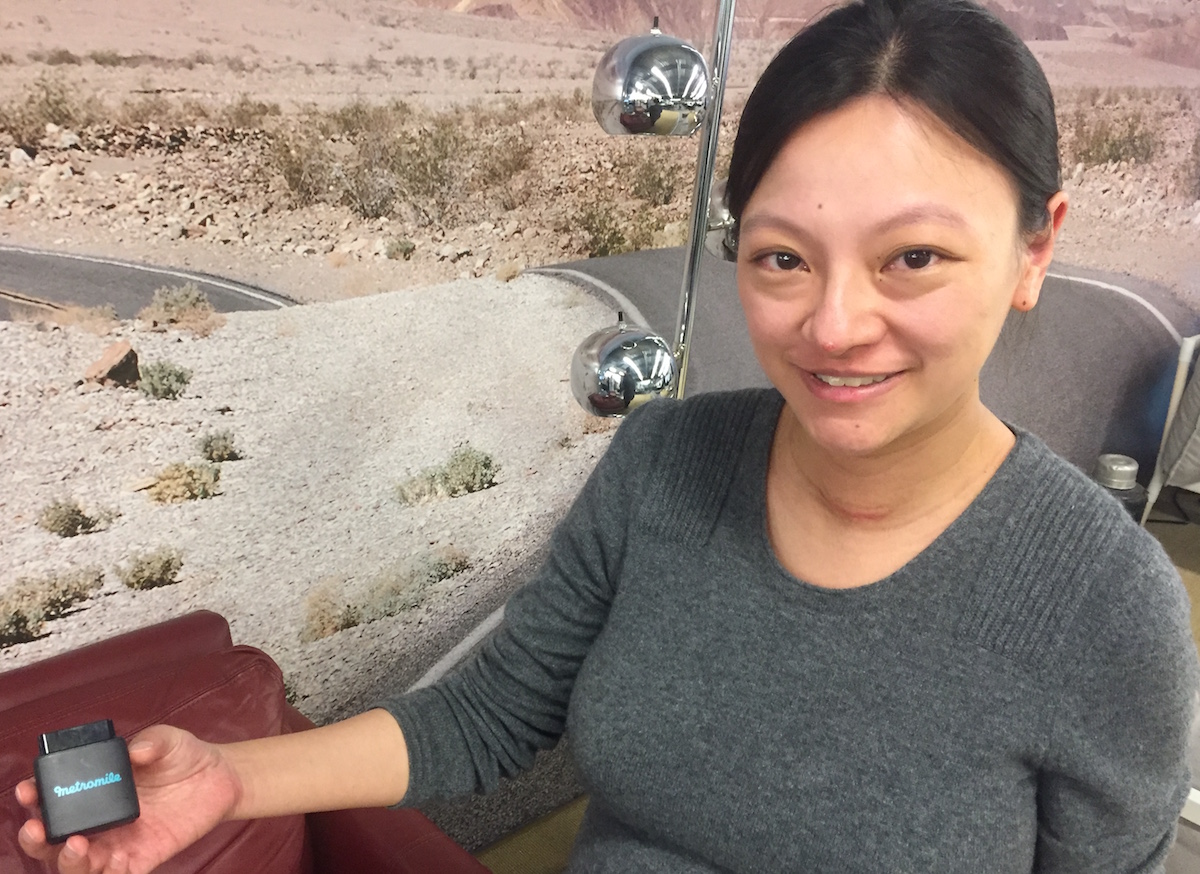 When you think of car insurance, design thinking and customer empathy don't exactly leap to mind. More likely, you recall inflated premiums and deductibles, the dreaded submission of interminable forms, and aggressive jousting with bureaucratic claims departments. But Metromile, a San Francisco tech startup founded by an astrophysicist, fueled by data science, and powered by a radical business model promises to reinvent the car insurance experience.
The goal is simple and profound: apply design and technology to target a new generation of urban customers who drive fewer miles, expect better service, and want to pay less. At Metromile's swanky headquarters by the Moscone Center in the heart of SF's SoMa – featuring an open floor plan with a central, glass-walled meeting room, a giant mural of legendary Route 66, a well-stocked candy wall, and unlimited access to the ping pong tables downstairs at SPiN – we met with Ida Leung, a Senior Product Designer for Metromile's claims department. She and other designers and programmers from all walks of the tech industry were drawn here not only by the prospect of getting in on the ground floor at this well-pedigreed and highly funded startup, but also because they are fascinated by the challenge of upending the market and inspiring environmentally-conscious changes in people's driving habits.
Metromile hopes to recast the design and workings of a huge, traditional business. "Insurance is not the sexiest industry, but it's relevant to a lot of people," said Leung, who like so many of the staff has worked at top startups or companies before (in her case as a Visual Designer at StubHub and then Senior UI/UX Designer at Microsoft's Yammer). "We pretty much all have insurance so it's important to have empathy. Most customers only need insurance when something bad happens. You already got into an accident, filing a claim should not add to your ordeal. How do we expedite and mitigate this experience?"
Design-Thinking Anthropology and Empathy
Metromile began just a few years ago by taking the time to learn more about potential customers, with deep-dive research into how insurance might better anticipate major demographic and generational shifts. Launched in June of 2011 in Redwood City, California, with a small amount of undisclosed funds, Metromile didn't even offer insurance until the end of the following year, after receiving $4 million in Series A funding. Metromile instead took a deliberative, design thinking, anthropological approach, experimenting with how urban, largely millennial customers might wish to engage with a tech-centric insurance firm.
Step one was transparency. With Metromile you pay by the mile. Customers received a custom dongle (the "Pulse") that plugged into a car's on-board computer port to track miles, location, and numerous diagnostics. But it was more than just a dongle. A companion app was initially given away for free, and Metromile soon found itself directly interacting with customers in a manner unheard of in the stodgy car insurance biz. Just as Fitbit transformed the drudgery of walking and exercising into something fun and trackable, Metromile took users beyond real-time information on the cost of the insurance. It delivered personal automotive metrics in its "smart driving app", a simple, fun dashboard designed to help users track their daily or weekly miles, commute time, and fuel costs. Metromile customers also received handy notifications that could save them money and avert problems, such as street-sweeping alerts and on-board diagnostics. "We called them test drivers," said Leung of the early users. "It was a huge learning experience." These early beta testers provided the designers and programmers with loads of customer insights, generating continuous feedback about functionality, bugs, and desired features.
"By observing users, instead of quickly jumping to solutions, we started slowly identifying that we are solving for the right problem," said Leung. Metromile engaged in classic design-thinking-style anthropological studies. "Solving for a true user need," is critical, said Leung. "For example, we've been running 10-day diary studies, where we go into people's homes and observe how users manage their car and insurance documents."
Another tactic has been to develop prototypes for claim submissions. The company has regularly invited users into its San Francisco office to test the latest interface updates. "Sometimes we think something is straightforward and it turns out it isn't," said Leung. "We pair this [anthropology] with metrics, and then find out through click rates or feedback that there are problems."
A Climate-Driven Business Model
Metromile stayed small during its first two years, then got a $10 million Series B infusion, followed by a $38.4 million jolt in November of 2014. Investors pumped in another $153 million in September of 2016, and the company strategically acquired Mosaic Insurance. What's the opportunity that big international players such as China Pacific Insurance Group, Intact Financial Corp (a Canadian insurer), and top venture funds like New Enterprise Associates, Index Ventures, First Round Capital, and Mark Cuban envision?
Metromile is targeting a giant niche that just might mushroom into a huge slice of the $200 billion car insurance business – the 65 percent of drivers who subsidize those who drive the most. It's doing it with design, data science, and an impressive A-list of founders, executives and investors. The company was founded by the UC Berkeley astrophysicist David Friedberg, whose first startup was Weatherbill (later renamed Climate Corporation), which had an initial goal of helping people and businesses manage and adapt to climate change. The model later morphed into crop insurance for farmers, and was subsequently purchased by Monsanto in 2013 for approximately $1 billion.
Friedberg was also a founding member of Google's Corporate Development team, and it's worth nothing that neither Climate Corp nor Metromile started out offering insurance. Both required years of hard, creative work researching the market to unearth key customer problems and product opportunities. And just as there was a strong environmental efficiency mission with Climate Corp, Friedberg sees Metromile as an opportunity to "reduce our footprint" through hardware, software, and data science. Metromile has designs on becoming the leading fully-digital car insurance company. Dan Preston, Metromile's CEO, is a Stanford graduate with a tech background (his payments firm was sold to Intuit in 2012 for a reported $100 million). In 2014, Preston connected with a former Stanford classmate who heads up insurance for Uber. Now, Metromile offers per-mile insurance to Uber drivers, for those miles when they don't have a passenger.
Agile Development for Continuous Improvement
At its heart, Metromile is the application of agile code development to car insurance. Teams embrace the scrum stand-up meeting and iterative development sprints to constantly tweak the product. Customers see the elegant, smooth interface, but the back-end is also novel. The system uses adaptive logic to streamline the customer's experience and target responses to the accident at hand. Is it a collision? Is it weather related? Did you hit an animal? Different answers will lead you down different paths.
Meanwhile, Metromile is engineered to give millennials options. "When we designed the claims submissions we wanted it to be dynamic," said Leung of how the claims algorithm is streamlined and tailored to individual situations. "We're designing for an experience. Do I want to call, or wait on the phone for a call back? You can go through these questions. Being a dynamic flow design, it's tailored to your situation." Customers can process their whole accident claim in the app. Because it's a two-way exchange, Metromile gleans a lot of information about the customer through the app, and customers gain not just diagnostics but also identifying information (VIN number, policy number, service records.) At the scene of an accident, they can also upload photos of damage, the other driver's license, or related documentation on the fly.
It's a fresh, disruptive approach to car insurance. "We use the food analogy," said Lauren Hartung, head of Metromile's public relations. "You don't go to a buffet if you already know what you want to eat." Hartung compared the business model to the millennial pay-as-you-go standard. "People used to pay for hundreds of (TV) channels," she said. "Now you have Netflix and Hulu. You can dial into what you want, and still have selection options."
Metromile's main competitors are the insurance giants, and so far the company says that most of its customers are switching from Geico and State Farm. And many are finding that it's not like their old insurance company. Metromile's smart driving app provides other advantages, like locating your car in a gigantic parking lot. Or tracking it down when it goes missing. Really missing. "We had a customer who went out and his car wasn't there," said Hartung. "He opened the app, and saw that his car was in the Potrero Hill neighborhood. The police used it to track [and return] the car, and gave us credit."
The Road Ahead
Metromile is currently offering insurance in seven states: California, Oregon, Washington, Illinois, Virginia, Pennsylvania, and New Jersey. New customers reportedly save an average of $500 a year. Metromile typically charges a flat fee of $35 a month, plus approximately $0.05 per mile – which, for those who drive a modest amount per month, can add up to thousands in savings.
The design? Expect it to keep moving.
Leung is currently working on making all the features in the claims app "slicker and easier," pairing with metrics to hone in on areas for improvement. "One of the things our team is good at is that we're not overly precious about design," said Leung. "We feel we're constantly learning."