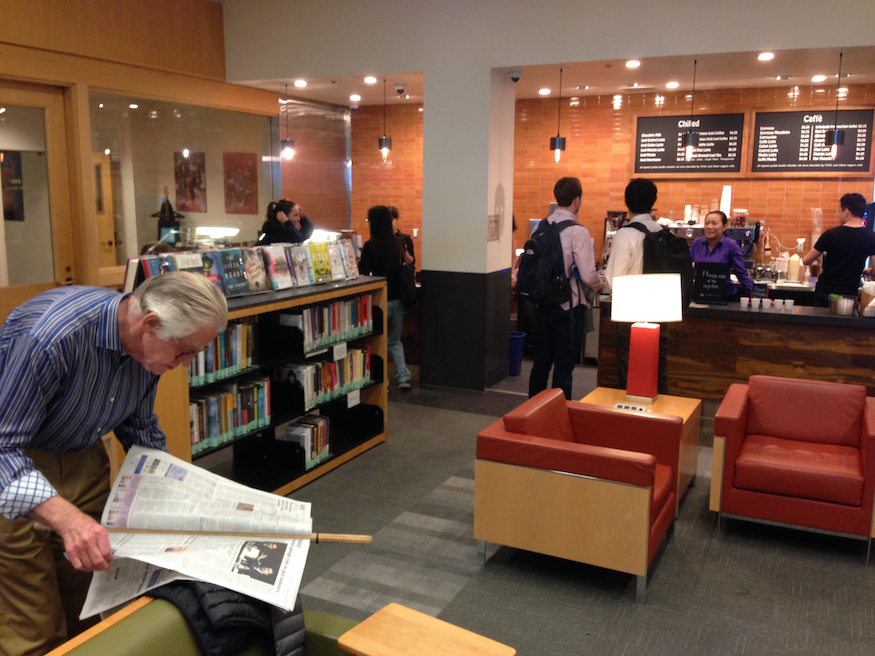 What do a world-class medical school library and a brand new San Francisco-based tech campus have in common? Each recently had the smarts to anchor its front entrance with an elegant café.
The University of California, San Francisco (UCSF) is consistently ranked number two in the world in clinical medicine and pharmacy, outperforming Stanford, the University of Washington, Columbia, and Johns Hopkins. Last week, I saw a tiny but telling reflection of how they do things differently at UCSF. The university's gorgeous Kalmanovitz library has added a fashionable café just inside the front door.
It's hard to understate UCSF's importance as a seminal place of learning and research. Five UCSF scientists are Nobel Laureates, and the university is a world leader in academic programs and medical research. This is a place where thinking that truly matters happens every day. Pioneering work here in recombinant DNA techniques helped lay the foundation for the biotech industry, and spawned premier biotech firms like Genentech. More recently, UCSF teams have transformed how scientists view cancer and have developed major advances in early detection and treatment.
A few weeks ago, while visiting UCSF's Kalmanovitz library (where I taught a cohort of post doctorates how to give more powerful talks), I did a double take – "what's a café doing inside a university library?" But it makes perfect sense. Designed by Esherick Homsey Dodge & Davis in 1990, the Kalmanovitz library has the light, airy feel of an elite club, along with a spectacular view of the Pacific Ocean and Marin's rugged headlands. It's the sort of library that elevates your thoughts, and now it's got something that affords another reason for researchers, doctors and aspiring students to stay and think: espresso and croissants.
Galvanize, San Francisco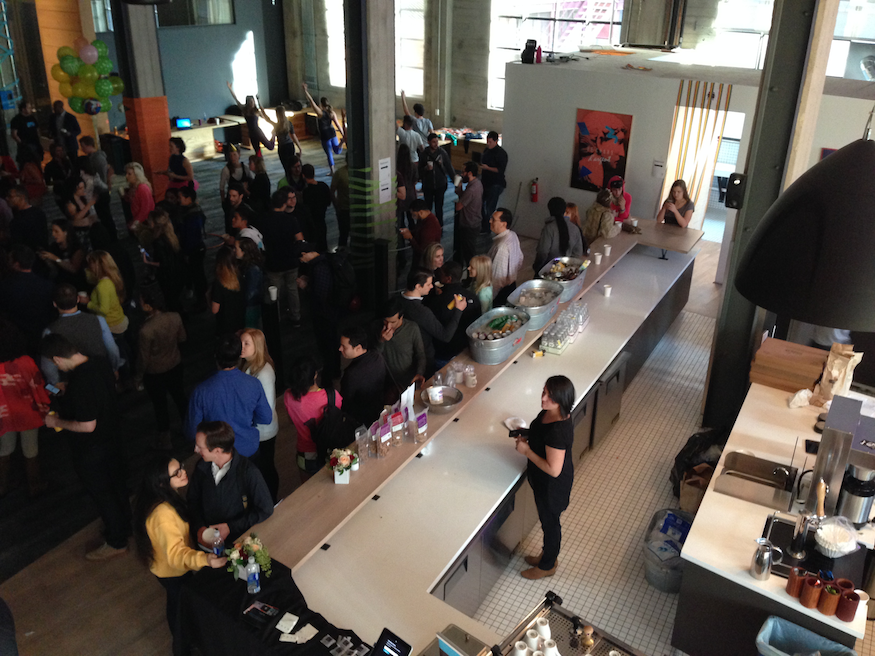 This is a big trend, 180 degrees from a prior era where stodgy, hidebound university libraries strictly prohibited food or drink. This is where learning is headed, and across town from UCSF, in the booming tech corridor south of Market Street, you can see evidence of this shift in a captivating version of the university library of the future. Galvanize, located at 44 Tehama Street in downtown San Francisco, is a new kind of tech campus and community workspace. Students learn to code alongside startups, financiers and entrepreneurs.
While Galvanize's five floors and Manhattan style rooftop garden are reserved for members and students, the tony Sightglass Coffee by its entrance is open to the public. The café is a physical metaphor for Galvanize's open network focus, a bridge to the larger San Francisco tech community, a recognition that what ultimately fuels the success of a tech campus or community workspace is an openness to people and ideas. Like UCSF's café, this too is new — just installed in January 2015. As a new member at Galvanize, it's clear how much the café changes the nature of the entire space for its 700 plus members. The openness of featuring a public café and hangout space is a tonal shift. The place buzzes much like a hot restaurant. In just months, Galvanize has gone from hosting a few company or networking events a week to featuring four or more a day. It's not just that it's a top tech campus, or that the space has a fun, curated look and feel. It also has a lot to do with the coffee by the door.
Imagine if this same attitude existed at premier corporations. A business world where companies built bridges to the public instead of moats, and "Open Innovation" was more than a slogan. Here's a small but stimulating idea for your enterprise: consider how to make it easier to share ideas with a wide range of people over a cup of coffee.
Who knows? It just might be the path to your next breakthrough.