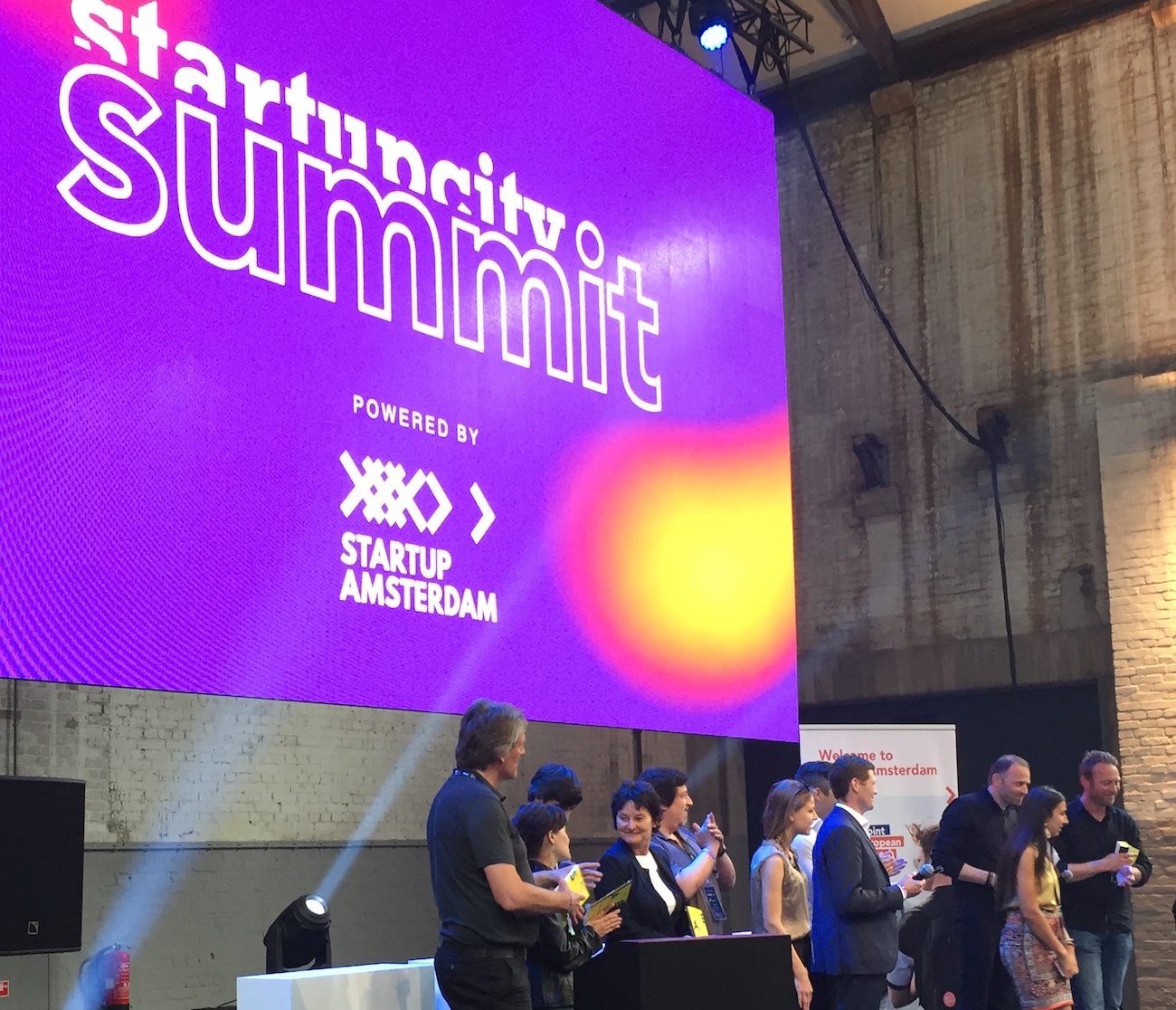 TNW's sprawling sun-drenched Next Web tech conference in Amsterdam felt like a California music jam, a bustling festival-styled European tech smorgasbord, bringing stars like Wired Co-Founder Kevin Kelly, Station F Director Roxanne Varza, and dozens of startups, digital innovators and thought leaders together on two spectacular days last week. But inside a historic gasworks stone building within Westerpark, another kind of international summit gathered around dozens of tables. Not startups or entrepreneurs. But forward-thinking vice mayors, government representatives, and incubator leaders. The men and women in town for the StartupCity Summit, hoping to draw some of the thousands of millennial techies across the square back to their cities to build a thriving global ecosystem.
"Today is all about having conversations with peers, as friends and as experts, " said Ruben Nieuwenhuis, co-director of StartUpAmsterdam, who along with his fellow director Bas Beekman helped build up the city's tech-based new economy, inspiring the annual summit. The global hubs represented numbered more than 80 – from Hong Kong, Dubai, and Kiev to Milan, Madrid, Munich, St. Louis and Porto. "It's about sharing examples, visions, and ideas for how to move forward as a city," said Ruben. "Let's make it an insightful, intimate experience."
The day mixed keynotes with a proactive program, where city officials and leaders rubbed shoulders and shared strategies at dozens of tables with titles like "Developing a StartupCity Action Program" and "How to Develop Innovation Districts" and the session that we hosted: "How to Get Your Ecosystem Globally Connected."
Thought Leaders Share Best Practices
Stockholm ranks just after Silicon Valley in startup growth, producing seven unicorns in the last 15 years. Private-public partnerships have been key to that success, said Par Hedberg, CEO of Stockholm Innovation and Growth (STING) in his keynote. He shared the story of Kista Science City, a former military training ground redeveloped through a "handshake" into an industrial zone that was then converted into a traditional tech center, and in 2001 reinvented again as a diverse urban tech center boasting tram lines, hubs and bars, shopping centers, and residential space. Par took inspiration from plugged-in Tel Aviv and Oulu, Finland, and other innovative cities to build STING, the leading accelerator and incubator in the Nordics. Now, 17 years later, STING boasts 240 startups with a 70% survival rate.
Chris Heivly, an Entrepreneur-in-Residence at Techstars, followed with a stimulating talk on the Darwinian forces driving global tech ecosystems today. Entrepreneurs and innovators gravitate to hubs where their best chance of success lies, and the world's top cities know they must fiercely compete to attract startups, innovators and corporates.
Start with knowing the customer. "If you don't understand entrepreneurs, it's hard to build an entrepreneurial system," said Chris, the co-founder of MapQuest. The risks are so high that founders must make nearly daily calculations about "when and how and where." On this entrepreneurial journey, the entrepreneur is seeking to be "surrounded by assets" to execute and deliver their tech to the people who need it. Urgency exists on the other side too. "Every city needs a startup community to survive," he said. "Great startups feed great companies. And attract people."
Ecosystems can be built, he said, presenting slides of three thriving tech ecosystems on different continents: Boise, Bogota and Berlin. And then he told the apocryphal story of Isaac Saldana, a young American living in Mexico who moved to the Los Angeles area in his teens and began founding companies. Three failed. "He needed a community to help him answer questions," said Chris, and it would have seemed that he could have found it in Riverside, California, which offered UC Riverside and close proximity to countless businesses and millions of Southern Californians. But the serial entrepreneur found the local resources sorely lacking. He left California and moved his family to Boulder, Colorado, an up-and-coming tech hub. There SendGrid, his fourth startup, gained serious traction, hitting $100 million in revenue last year and going public. Said Chris: "The community helped him grow fast."
Brand and Pitch to Startups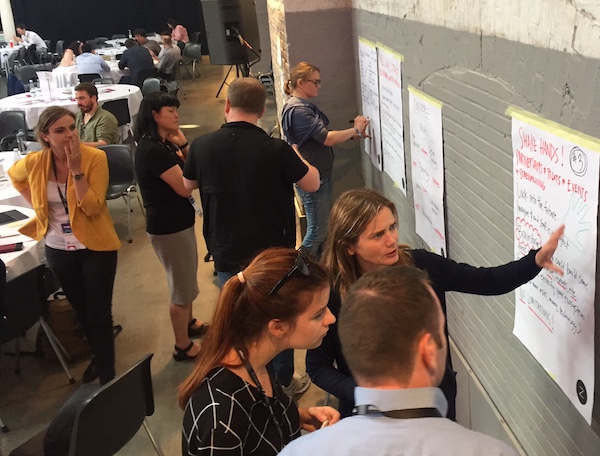 To attract startups to your city, shed governmental, bureaucratic ways of operating and be more startup-like. Brainstorm, prototype, share, network. And recognize that startup cities catch fire when they grow from a bottom-up model that fuels dynamic tribes.
Effective community and government leaders begin with empathy, listening carefully to the pains and needs of entrepreneurs, understanding that as central figures they can be super-connectors and master facilitators. That's why we kicked off our interactive session, co-hosted with the talented Olga Barreto Gonçalves of the Investment and Development Agency of Latvia, with an ideation wall, inviting participants to dream big about what they could do in three critical areas: storytelling, creating "affordances" or guides, and "shaking hands" by creating partnerships with the community.
We taped brainstorming easel paper on the stone walls, and got down to business, with participants from Hungary, Finland, Spain, Ukraine, United Arab Emirates, and several other countries. How do you attract talent and startups to your city? Especially when startups can easily choose the seemingly safer, more obvious mega hubs of Berlin, London or Paris.
Entrepreneurs are a city's prospective target customers, and you must give them every reason to buy in. Founders move fast, and you need to prove you can keep pace. The brutal truth is that most cities aren't up to the challenge. In the last year we've toured nearly two dozen global hubs throughout Europe, the US and Asia. We've learned that it's about more than strong universities, abundant local talent and action-based accelerators and incubators. It's about understanding that the same core qualities that attract tourists – friendly, receptive locals and superior service and design – are fundamental to drawing startups to your city.
The common pain point that emerged in our sessions: branding, storytelling, and framing. Up-and-coming startup cities may not all realize it, but they are just like startups – they need customers to scale. And founders are picky. Tw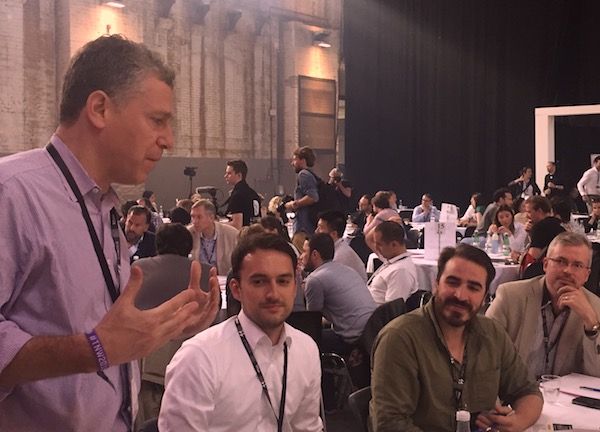 o startup community leaders from Budapest, Laszlo Jonas and Dorottya Orban from Design Terminal, told us they'd struggled to gain traction because many startups rejected them as "too small." So, they got bigger. Fast. They combined a few smaller local ecosystems into a regional center that coordinated operations, a strategic move that instantly increased their appeal.
Focus, Focus, Focus. Target specific startups with deep experience in a sector. Dubai has gained traction by positioning itself as a city of the future, said Daniel dos Reis, a Senior Portfolio Manager for the Government of Dubai. During our first session, Donn Rubin, a startup city builder from St. Louis, bemoaned how tough it was to compete with the world's tech capitals, and then casually mentioned that his mid-western city has become a global nexus for plant science, pharmaceuticals and agtech, attracting numerous top Israeli startups. That led a participant in our second round of brainstorms, Paul Maassen from the Provincie Noord-Brabant in Eindhoven, also known for its health tech and engineering chops, to remark that he would now consider St. Louis as a "sister" city, something he would have never conceived of before attending the summit.
Make the most of what you've got: another big learning from our brainstorming sessions. Out in the city of Oulu in the far north of Finland, daylight-starved and frozen for much of the year, officials came up a crazy idea that has worked like a charm to attract visitors in the dead of winter. Jarmo Lauronen, Head of Business Services for BusinessOulu, told us their "icehole" polar bear swim has brought international media, and more startups to a dynamic tech region already noted for social entrepreneurship, gaming and startups.
Karen Bhatia,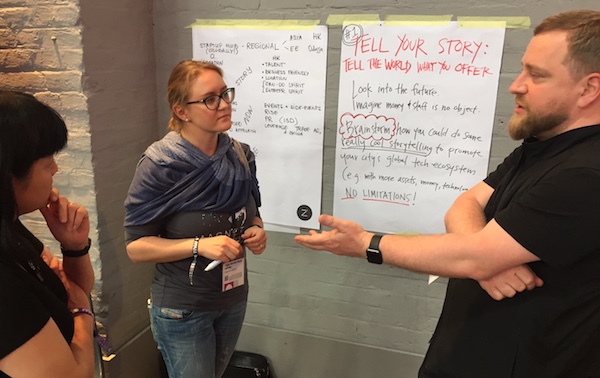 Vice President for the Center for Urban Innovation of the NYC Economic Development Corporation, wowed the crowd with a keynote on how her team has repositioned the Big Apple as an ideal launchpad for blockchain, VR/AR, and AI developers. To support local tech developer communities, they've been hosting events and round tables to stimulate comprehensive education among legislators, developers, and the public, particularly on blockchain. They're also creating publicly-funded labs to support new ventures with incubators and accelerators, piloting with NYC Media Lab. And they're backing corporate innovation and prototyping projects, workforce development programs, and more. "How did you manage to do all this?" asked an impressed European audience member. "How big is your team?" Karen smiled and said, "We are just three," proving that city teams can – and should – practice lean startup methods too.
Later, Ruben brought to the stage another team, the expert contributors from Porto, Helsinki, Barcelona, Antwerp, Milan, Vienna, and other cities, who helped produce StartupAmsterdam's new Scale Cities Handbook. Every attendee received a copy to ensure they'd bring back some of the world's best practices to implement in their home cities.
Design Your Startup City Playbook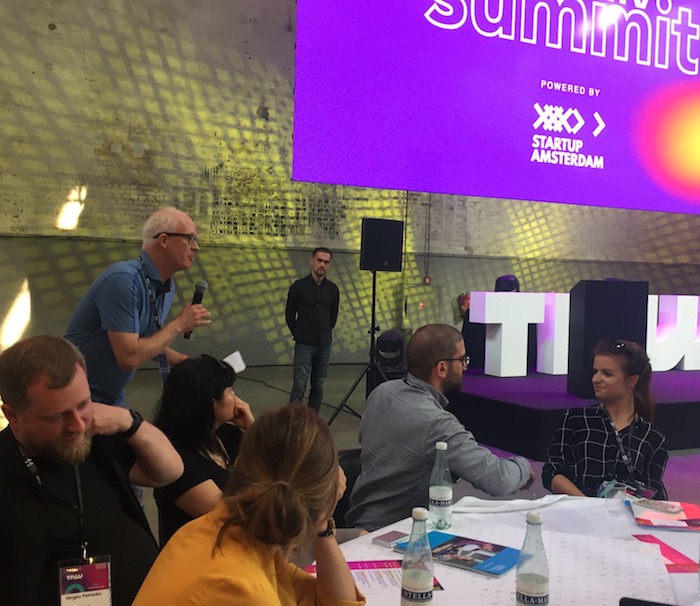 Before the day ended, we shared with all the attendees a great irony. Every city needs an essential guide for entrepreneurs, founders, investors and corporate scouts to grasp how to make the most of the local ecosystem. "Here's a funny irony," we said. "There's a great Silicon Valley Playbook, an essential online guide to how to make the most of our ecosystem. Do you think the city of San Francisco created this guide?"
Many in the audience shook their heads knowingly. They were right. This highly visual, well-designed guide was produced by the Dutch consulate in San Francisco. The Dutch do branding and experience design like no one else. From building a startup and scale-up guide to throwing international events like TNW and StartupCity Summit, the Dutch know how to foster a global ecosystem, working in synch with an increasingly connected network of talented government officials and startup leaders.
This week, many of the world's leaders listened. Now they'll head back to 80 different nests on nearly every continent, and plug into the growing global digital hive.
---
Web Summit Formula for Success: How to Meet the People Who Matter