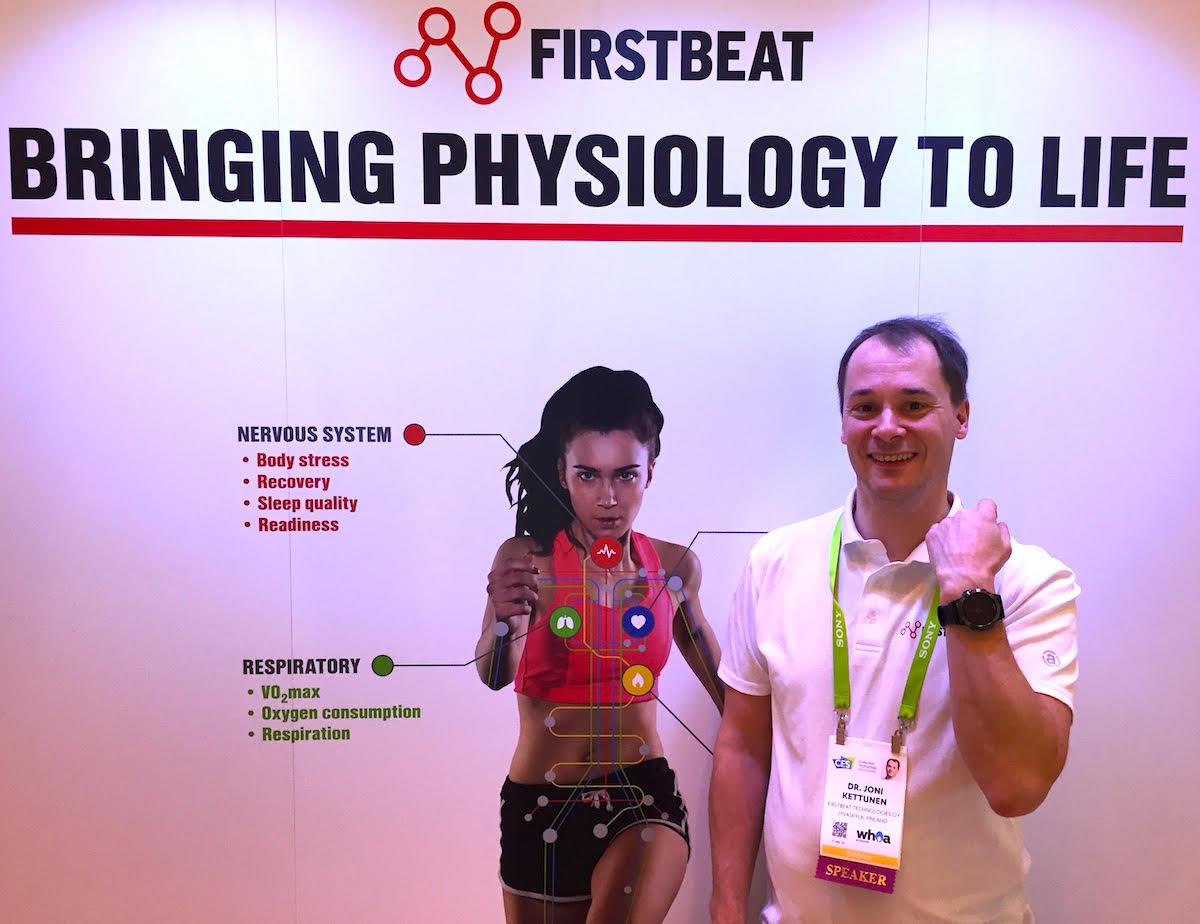 Last week's monstrous CES was enough to strike terror in the hearts of lowly humans. Google and Amazon are dueling to dominate the digital assistant space, AI is out to prove we really aren't so smart, and intelligent robots are moving into our homes as cute pets, with an eye on stealing our jobs. The Singularity seems to be closing in, so we decided to fight back, zeroing in on how to forestall the inevitable. We searched through thousands of vendors for stuff that's available now: sensor-fitted glasses to keep you from crashing your car, chips to smell whether a co-worker is friend or foe, pronged headbands to help you focus, heighten creativity or survive a downer day at the office, countless wearables to accelerate physical performance, right down to the individual muscle. Welcome to the mind-machine-body blur. The future has already arrived, and chances are, it's under $200 and just a click away.
The numbers are in: CES 2018 was the most colossal in the show's 51-year history. The official attendee count surpassed the combined populations of Palo Alto and Mountain View, a double stadium-sized 170,000, with 3,900 exhibitors throughout the Sands Expo Convention Center and other venues across Las Vegas, spanning more than 2.75 million square feet of exhibit space. Tech giants loomed large, most notably Google with its sprawling three-story outdoor pavilion. More than 900 international startups made the pilgrimage, led by the French (with 274 exhibitors, just a hair behind the 280 Americans), with the Dutch surprisingly also boasting 53 delegates (up from just two companies, two years ago). Less impressive was the dreary, overwhelming maleness. Women were scarce, both in attendees and presenters. Widely upbraided for the lack of female keynote speakers, the organizers scrambled to add a couple of women at the last minute. On the floor, the gender gap was starkly evident. Other than "booth babes" staffing some of the larger exhibits, women entrepreneurs or attendees were hard to find in the startup zone.
Hawking and Hyping Life-Changing Tech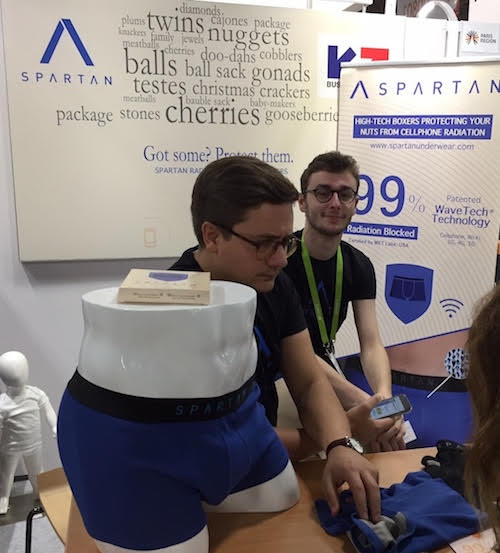 Eureka Park, Hall G of the convention center, was a bustling bazaar of geeks hawking and hyping life-changing tech. Sleep is a rich frontier for innovation, vital to the mind-body experience, and not surprisingly attendees could find a wide selection of sensory-based products, from DreaminzZz's hypnosis mask-and-headphone set to haptic zappers to snap you out of your sleep apnea. Audio and lighting solutions were popular, as well as a low-tech outlier that attracted lots of test rides, the Rocking Bed, which true to its name, simulated the calming sensation of gently swaying back and forth in a hammock or a sailboat.
Then there was the most direct form of human performance enhancement – protecting your manhood and the survival of the species from the ill-effects of wireless radiation (memo to dudes: it can half your potency, slim your testosterone, and double your ED risk). Plenty of the macho-challenged male attendees could have benefited from the radiation-repelling, Spartan Wavetech boxer brief, amply advertised by a couple of handsome young Frenchmen modeling the silver-mesh fashionable blue briefs. Spartan's packed booth featured a large poster with a few dozen slang words for you-know-what – from "gooseberries" to "thingamajigs" and "doo-dahs," and the catchy marketing hook, "Got some? Protect them."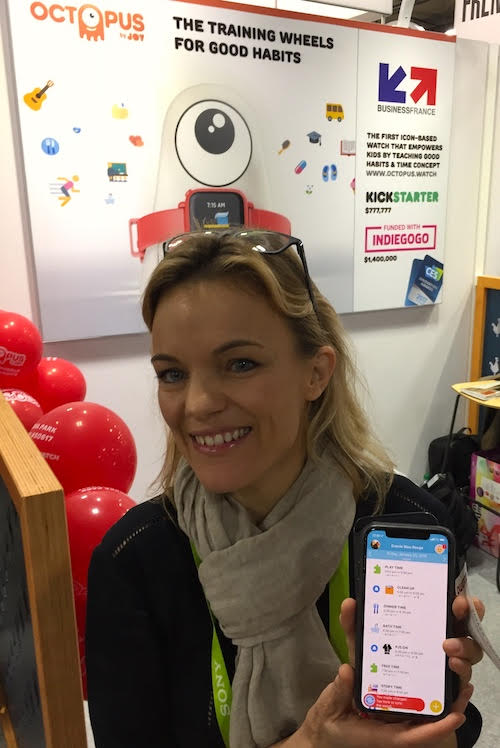 One of the fun things about CES is how many of the startups, like Spartan (hailing from Paris and New York), started on a lark and launched through crowd-funding campaigns. After the Spartan boys, down the row in the FrenchTech booths, we met Laurie Hickmann, a former financial analyst. While teaching French in San Francisco Laurie took a child development class at City College, and dreamed up an idea with her husband to create a watch for her children. Octopus, a brightly colored wearable for kids under nine, helps parents and children set realistic habits by scheduling simple tasks with hundreds of icons, like waking up or brushing your teeth. Laurie and her husband have raised more than $2 million in Kickstarter and Indiegogo campaigns, as well as major funding from the French government, and have sold more than 45,000 Octopuses online and in Target stores.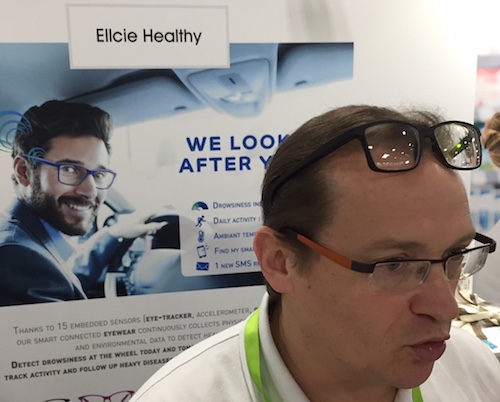 Adults meanwhile are exploring their DNA for an edge. Attendees were lined up at ORIG3N, to "unlock secrets in your DNA" through cheek-swab home test kits for fitness, nutrition, behavior, and your "Superhero" (your natural propensity for strength, intelligence and speed). Drowsiness detection was the focus of Ellcie Healthy's smart eyeglasses, with fifteen infrared sensors discreetly integrated into the frame to analyze blinking patterns and collect data to gauge your alertness. The sensors talk to an application – triggering alerts, buzzes and flashes when you start to doze off (say, at the wheel). Of course, with all this beeping and flashing, if you misplace them, you can easily find your glasses!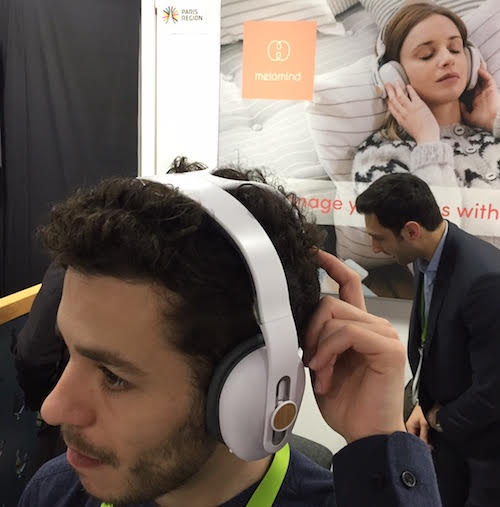 Finally, there were dozens of headphones purporting to transport you to the next level. Headphones to help you sleep or improve your productivity, and the intriguing Melomind from MyBrain. Started by a PhD and cognitive neuroscientist from the Brain and Spine Institute of Paris (ICM), the company offers headphones that jack into brain activity with four electroencephalographic sensors. The Melomind app cues up a range of natural white noise and synthetic music in neurofeedback-styled sessions in which the music evolves according to your stress levels. The goal: increasing your cognitive ability to tap relaxed states and diminish stress in five-minute sessions.
Scent was the secret sauce in wunderkind Guillaume Rolland's scent-diffusing alarm clock Oria, from SensorWake. No jarring beeping or loud music here. The clock sprays a pleasant, energizing scent from a custom capsule (in aromas like coffee, lavender, wild flowers, or buttered croissant). Like most teenagers, Guillaume struggled to get out of bed in the morning. An experimenter and engineer by nature, he built a prototype when he was just 17, at home in Nantes, France. A year later, he was in Mountain View at the 2014 Google Science Fair, where his garage-built prototype placed in the Top 15 "inventions that can change the world." Guillaume has since teamed up with Givaudan, the world leader in fragrance and flavor technologies, who helped him develop the scent capsules. He's also partnered with Disney and Universal to create olfactory wake-up clocks for kids. The Frozen (Disney) version offers a fresh peppermint scent to emulate the frosty world of Olaf and Elsa, and the Minions (Universal) clock smells like bananas.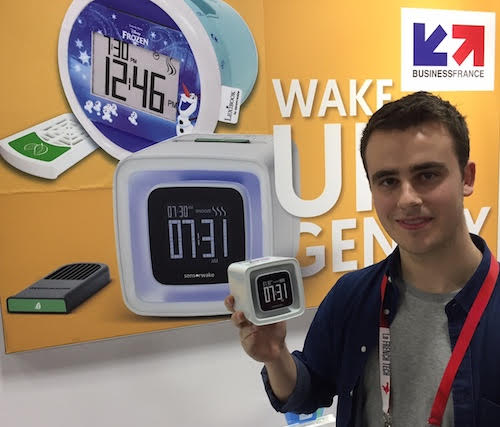 At Israel's large booth, we met Oren Gavriely, CEO and Co-Founder of NanoScent, a company on the verge of giving devices and robots the capability of smell. "We're in the business of enabling devices to pick up scent," he said. "We have a small sensor, and we're using it to create a scent pattern. We could look at smelling flowers, medical cannabis, or we can determine if a cow – or a woman – is pregnant by smelling her urine." NanoScent has been approached about increasing customer conversion in retail by manipulating scent, and in the supermarket by detecting and eliminating "bad smells." Security, he says will be big. "You can detect through the breath if someone is smuggling something in his stomach into prison." Next up is love or at least lust: "We can measure the attraction between people based on their scent patterns."
Firstbeat: The Tech Under the Hood
The sheer number and scope of devices and gizmos found at CES masked a larger truth. What really counts is the data and machine learning under the hood. For example, what do elite squads like Manchester United, Barcelona FC, the Brazilian National Soccer Team, the San Jose Sharks, and the Golden State Warriors all have in common? They're all part of an international order of 850 professional teams that tap a training recovery system developed by a little-known Finnish tech firm.
"Our specialty is how we combine biology and physiology with the mathematics," said Dr. Joni Kettunen, the CEO and co-founder of Firstbeat, a spin-off from the renowned Nordic sports institute at the University of Jyväskylä. That expertise in elite sports performance is now being directed at the average Joe and Jane. Joni sees Firstbeat's "biggest potential" as data and analysis to help just about everyone "to lead a healthier, more productive life." You wouldn't know it, but Firstbeat is already the invisible brains behind more than $2 billion in annual wearable sales, with more than 70 devices powered by Firstbeat, including popular models by Garmin, TomTom, Sony, Huawei, Pear, Suunto, and Jabra.
These wearables have leapt far beyond simply tracking your heart rate. They measure HRV (heat rate variability), and VO2 max, and gauge current and longer-term stress, whether from a workout or a gut-wrenching day at the office. Firstbeat's ability to track VO2 max is pivotal, as that's all about maximizing oxygen flow to your muscles to produce energy aerobically. Until recently the only way to test VO2 max was to strap on a mask for an onerous lab-rat styled test. Now Garmin, TomTom, Suunto and others include this Firstbeat VO2 max testing capability in their wearables, delivering a read-out with a 95 percent accuracy that grows even more precise the longer you wear the device.
No gimmick, this is about your life.  Just a year ago, the American Heart Association argued that VO2 max should be considered a "vital sign" by doctors and is a superior predictor of mortality risks than better known risk factors like smoking and high blood pressure. Higher VO2 max scores do more than protect against disease. They correlate to increased psychological well-being.
Firstbeat is looking to build on its success with elite teams and device makers to champion a whole new human performance business. The company has developed a Firstbeat workplace wellness program for companies in the Nordics and Europe. Health care providers, fitness clubs and others use the Firstbeat platform to provide a lifestyle assessment service for employees and members. "They wear a monitor for three days and that data and lifestyle information shows the risks, and they get feedback and advice from a health coach," says Joni. So far it seems to be delivering results. "Ninety-six percent of the employees recommend it to others," said Joni, and "82 percent are able to change some aspect of their lifestyle for the better."
The company is aiming upmarket into wellness, an initiative that Joni said is all about data: "We're taking the same level of physiology expertise used by the Golden State Warriors, and making it available for everybody."  With Apple's iHealth aiming to dominate the sector, that might seem an impossible goal until you remember that Firstbeat is already the human performance engine behind 20 million wearables, and the company has spent the last two decades studying and analyzing the world's greatest athletes.
Brainy Tech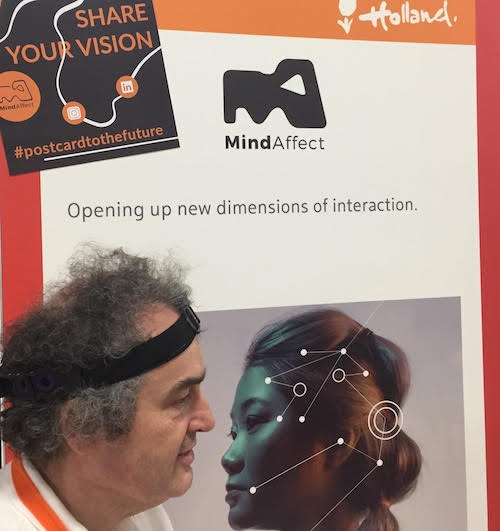 One of the cool things about CES is that you can connect directly with the geeks prototyping the future. Geeks like the Dutch scientists from MindAffect who showed us a 3D-printed prototype of their EEG cap, which molds to the head to capture brain signals through embedded sensors. The minimalist headset connects to a brain computer interface (BCI) that will soon allow ALS or "locked-in" patients to communicate.
No hands required. No blinking with eye-tracking tech. Capturing signals from the visual part of the brain – each impulse exhibits a unique blinking pattern – the interface enables immobile patients to "tap out" messages telepathically onto a keyboard. Gaming or robotics are potential uses for this futuristic technology, CEO Ivo de la Rive Box said, and the company hopes to roll out the product for ALS patients later this year.
"There's a lot more demand than we thought," Ivo told us. "There are a lot of people thinking of what's feasible, and they are ready to adopt it." And the amazing thing about CES, with nearly 4,000 vendors and 170,000 attendees wandering around the gargantuan conference, is that who really knows where this brain computer interface might end up next? Sonic innovation is a good bet. "We spoke with people from Bose Corporation and Dolby, and they are thinking about using audio as a trigger to connect to the computer," said Co-Founder Peter Desain. "They see what we are doing, and they want to talk about how can we combine efforts. " One potential application: active listening through "personal musical navigation." The ability to focus and shift what you hear in a recording of a band or orchestra through a brain interface.
Hold onto your seat. The brain-body-tech connection is coming fast to a device near you.
---
Can't get enough of SmartUp's conference coverage? Here's more.
Web Summit Formula for Success: How to Meet the People Who Matter