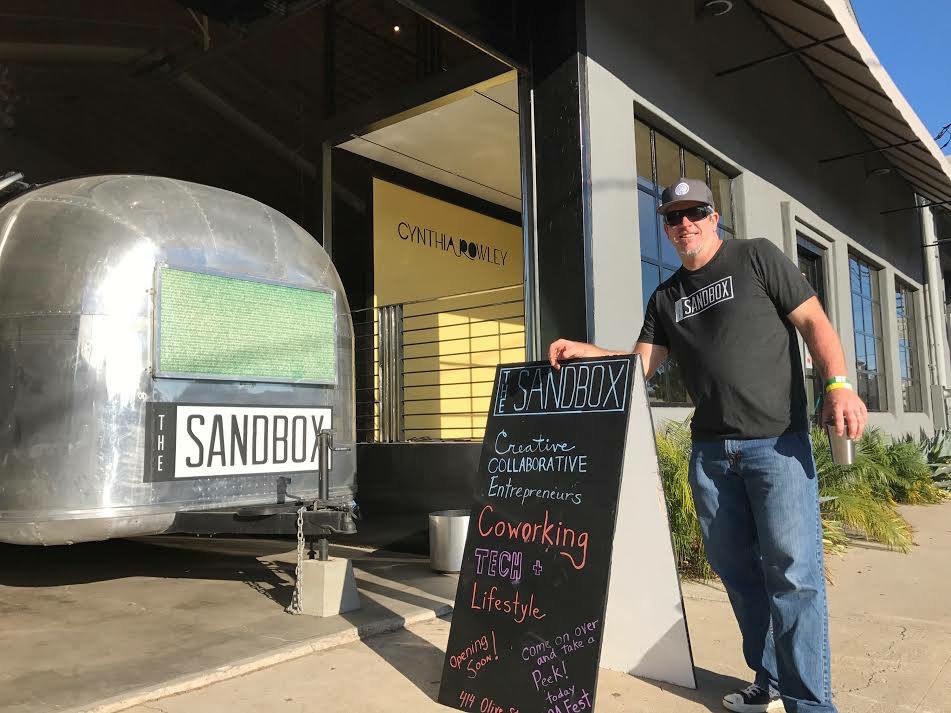 Santa Barbara, the stunningly beautiful California Central Coast city of 90,000, just 100 miles north of Los Angeles, is putting itself on the startup map. Hundreds of entrepreneurs, mentors and financiers are lending the human spark, technical knowhow, and capital to make this beach town more celebrated for its economic pulse than its waves. Meet Kyle Ashby, Alex Kehaya, and Jason Spievak, three business leaders at the forefront of Santa Barbara's transformation, embodying a textbook example of how the spirit of entrepreneurism and the building blocks of startup culture catch fire in a city or town.
We've come to expect startup success stories from the traditional urban tech epicenters of entrepreneurism and finance: Silicon Valley, San Francisco, London, Paris, Berlin, Tel Aviv, Singapore, and Sao Paulo.  But these major cities (or regions) are but one model for cultivating innovation. The entrepreneurial and tech wave hitting this upscale beach town mirrors the momentum sweeping other smaller cities around the US – such as Iowa's "Creative Corridor", the financial services hub in Little Rock, Arkansas, or Portland, Maine's craft and maker culture – providing lessons on how the spirit of entrepreneurism spreads and proliferates organically under favorable conditions.
One of the inspirational elements of this movement is how the key players in these cities play multiple roles in fostering innovation and building the culture. As in forensics, you can virtually draw lines connecting all of the characters to each other. Let's begin with Kyle Ashby, a leader in Santa Barbara's flourishing entrepreneurism community for more than a decade. Ashby is a surfer and former film and geography major at the University of California, Santa Barbara, who toiled in television back in the early days of the internet, gradually developing technical skills and crossing over into early web video, then dabbling with Santa Barbara startups. After earning his MBA from Babson College in 2009, he began plugging his newly honed business smarts into the local entrepreneurial scene. Ashby founded StartupSB in 2010, kicking off with a series of tech-related events in the offices of local startups. At the same time, he was collaborating on the White House initiative Startup America, and Santa Barbara's first Startup Weekend, hosted by SYNERGY Business & Technology Center. While popular among a core group of techies, the events were modestly attended until early in 2013, when Startup SB began charging a small, $20 registration fee: "When they had to pay, the crowds got much larger – 200 to 250 people," said Ashby. "They really started to take off."
Alex Kehaya arrived in town around the same time Ashby was stoking the Santa Barbara startup fire. The young school teacher always had a passion for entrepreneurship and started teaching Steve Blank's lean startup methodology to high school and middle school students.  It wasn't long before he was teaching the business class "Creating a Market-Tested Startup Model" at the University of California, Santa Barbara College of Engineering's Technology Management Program. "You have to apply to get in," said Kehaya of the class. "Twelve teams are accepted, and then they spend ten weeks building their business concept." The teams compete in UC Santa Barbara's premiere entrepreneurial contest, the New Venture Competition, the winners receiving millions in venture capital funding.
Kehaya has had the rare opportunity to teach alongside some major figures in Santa Barbara's startup culture, including Jason Spievak, a Silicon Valley veteran with a string of successful companies and tech investments in the Valley and Southern California. Spievak sees UC Santa Barbara (he earned his undergraduate degree in Political Science there, then an MBA from Northwestern) as integral to the city's outsized accomplishments. "UCSB has ten Nobel Prize winners in the last fifteen years, ranking it in the world's top universities," he said. "UCSB's Material Sciences program is number one in the world." Established entrepreneurs come to Santa Barbara, he said, because they can. "They've had success building companies elsewhere, and the beauty and active lifestyle is compelling," said Spievak. "I'm standing on our balcony right now, looking at palm trees and blue skies," he told me during a recent phone conversation. "If you can do it here, why wouldn't you?"
Entrepreneurs and techies in Santa Barbara increasingly stay put, resisting the pull of Silicon Valley, supported by a broad network of mentors, as well as a large talent pool of engineers, designers and creatives. Spievak rattled off local success stories. Citrix, the early SAAS hit, was started by a UCSB professor and grad student. Sonos, a major player in high-end audio components, has received nearly half a billion in funding. Then there's the team of UCSB students who won the New Venture Competition with the novel oxygen therapy product Inogen, currently valued at over $1 billion. Procore, maker of cloud-based project management tools for contractors, hit unicorn status at the close of 2016.
What makes Santa Barbara different, Spievak said, is the small-town feel combined with big-time opportunities. "We've got this proximity to Los Angeles and San Francisco," he noted. "Both are within driving distance or a quick flight away. Tier one venture capital has found Santa Barbara and that's led to a lot more opportunities to get your company funded." Spievak should know. He's one of the founders of Invoca, a Santa Barbara mobile analytics firm that has garnered $60 million in funding. Spievak has also invested in several New Venture winners, such as TrackR, a coin-shaped tracking device for phones, keys, wallets, and other personal items, started by a Santa Barbara student who lost his keys while surfing. UC Santa Barbara is teeming with Cinderella startup tales.
Take Apeel Sciences, for example, an innovation success story with the classic entrepreneurial edge. James Rogers, a UCSB doctoral student in material sciences, teamed up with fellow grad student Jenny Du to experiment with work he'd done on coating solar cells to see whether vegetables and fruits might be coated with micro-thin edible barriers to extend their shelf life. Working out of Rogers's garage, they developed a product, won the 2012 New Venture competition, and earned a $100,000 award from the Bill and Melinda Gates Foundation. Spievak is now the firm's Chief Commercial Officer, and late last year helped shepherd a $33 million round of funding from Andreessen Horowitz and DBL Partners (total funding is now $40 million). Apeel promises to disrupt current methods of preserving produce and fruit, such as wax, and save money on costly gas and refrigeration. "We use food to preserve food," Rogers told CBS News recently, explaining that by extracting food molecules from frozen grape skins and other organic material, they can create a powder to spray on fresh produce. "When it dries, it leaves behind the imperceptibly thin barrier of plant material on the outside of the produce, and that thin barrier slows down the rate that water gets out of the produce and it slows down the rate that oxygen gets in." Rogers said they can double or quintuple the shelf life of produce.
Apeel is evidence of the breadth and interconnectedness of Santa Barbara's entrepreneurial startup community, a movement visible in individuals and even one young married couple. Remember Alex Kehaya? After a bum experience hiring a software developer, he spent a couple of years learning how to code (studying online with the Kahn Academy, One Month, and CodeSchool), and now, along with his teaching, has a thriving online technology and services business called Action Wins, and is an entrepreneur-in-residence at the venture technology company Opus Logica.
Alex is married to Norah Eddy, who wrote her master's thesis on how to improve the Galapagos lobster fishery at UCSB's renowned Bren School of Environment Science & Management. She and Laura Johnson, her co-author on the study, entered the New Venture Competition, won the "People's Choice Award," and launched Salty Girl Seafood, a startup that counters widespread illegal fishing and lack of transparency in the industry with sustainably sourced and traceable fish. The award-winning woman-led firm has won contracts to sell its products in numerous national grocery chains and e-commerce giants, from Whole Foods Markets to Amazon.com.
Salty Girl's first office was in Santa Barbara's tech incubator Impact Hub. Headed by Dan Ferrick, a real estate professional (and UCSB grad), Impact Hub boasts a sprawling ultra-modern co-working space for mission-driven non-profits and commercial ventures in a converted downtown carpet emporium. The hub hosts pitch nights, lectures, and networking events for techies with a social mission, and offers state-of-the-art technology such as whisper studios for recording podcasts, and cool workspaces with standing desks and surfboard-like balancing platforms made by the Santa Barbara-based Indiegogo-funded FluidStance.
Kyle Ashby, meanwhile, has moved on, and in some ways come full-circle. He was a founding member of co-working space workzones, launched in 2012. Then, seeking a home for his popular StartupSB, he teamed up with local builder and businessman Mark Schulbach to create the brand-new 5,000-square-foot hybrid incubator and coworking space The Sandbox, located in Santa Barbara's Lagoon District, an up-and-coming industrial neighborhood rivaling the city's trendy Funk Zone.
The design is a hip, clean blend of beach bungalow, warehouse, and Manhattan loft, with a giant roll-up door and an Airstream conference room. Events are enhanced by a professional audio system and theater-sized screen. Ashby sees The Sandbox as the place for Santa Barbara creatives and techies to come together. "This is a very artistic community with great UX graphic designers, web designers, and CAD experts, but we also have all these lifestyle-driven entrepreneurs and brands, and creative professionals," he said. "Tech startups and entrepreneurs want mentorship. There's a huge need to mesh coders with good designers and creative people. We want to help them from the beginning, rather than when it's too late."
The Sandbox opened for work and play this February 23 with a packed forum on "The Business of Virtual Reality" with tech author Shel Israel, and VR experts and movie producers from Santa Barbara and Los Angeles.
"Virtual reality is just getting started," Ashby told the audience. "This won't be our last program on the topic."  And the growing chorus of creative entrepreneurs here in this beachside town, like the surfers out on Campus Point, seem to be lining up to catch the next wave.
---
Santa Barbara is a fine example of an inspirational trend happening in the US and worldwide. Medium-sized cities are asserting their value and independence, creating broad technical, human and physical resources to build a culture of innovation. If you haven't done so, check out our series, How We Work, where we've featured top tech incubators.
---