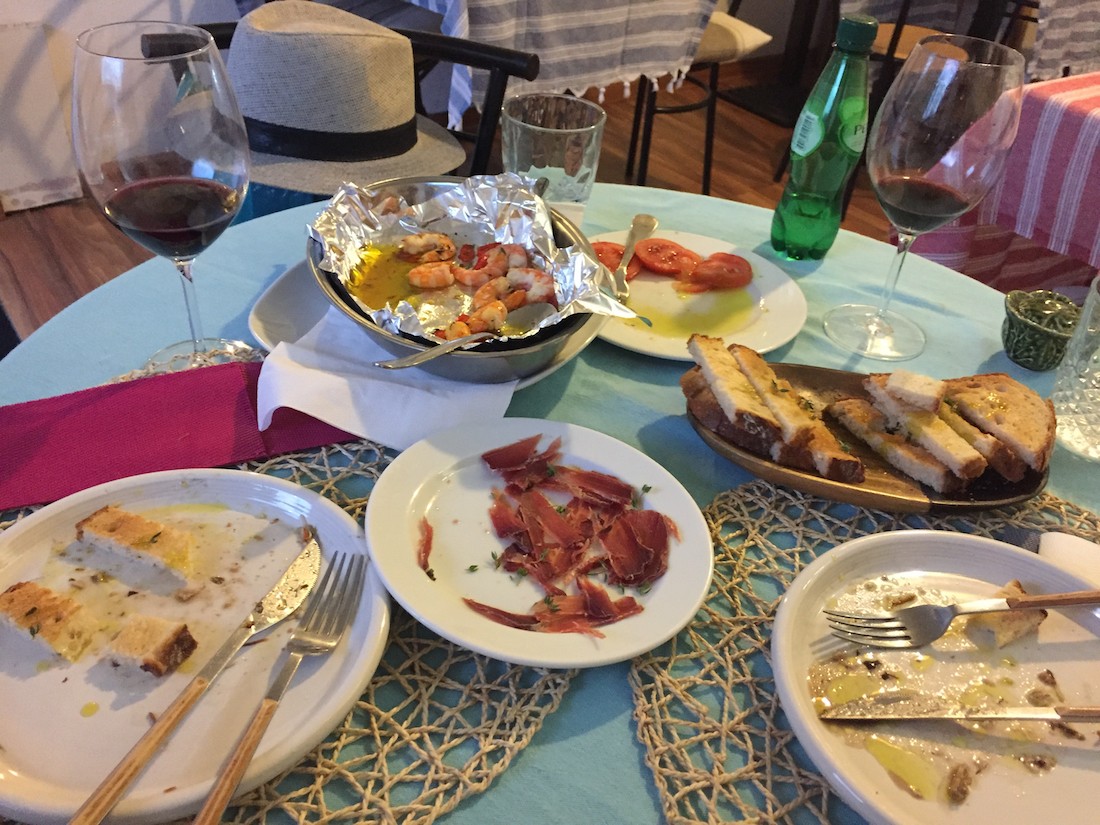 We are regulars at Zé's, as much as anyone can be, as Zé is anything but regular and everything Portugal. We've been living 50 meters from his adorable café without a name, absent an awning or posted hours – our favorite destination on our little neighborhood largo. It's early, some hazy time in the late afternoon. We've dropped by to work for a bit, drink some coffee, perhaps eat later. Today, Zé is uncharacteristically distracted.
"My cousin just fell off the sofa," he says in an off-hand way, in Portuguese. "He weighs 150 kilos."
We do a quick calculation – 150 kilos is 330 pounds!
"We have to go help put him back," he informs us after we offer our condolences, and for a moment we wonder if we're being drafted into this unfortunate endeavor. Then, he nods his head toward his friend now arriving. "I'll be back in five minutes. Do you want some wine?"
Zé opens a bottle of Alentejo tinto and leaves it on our table before heading out, and we think: how beautiful is that? We are alone, drinking wine in this place that is not really a restaurant but more like a dining room in Zé's house looking out on the square.
On lazy afternoons when the sun still beats down on the white tiled streets of picturesque Monte Estoril, a tiny seaside villa of about 3,000 in the outskirts of Lisbon, our ritual is to amble over to see if Zé's door is open so we can take a coffee and a sweet and work on our laptops. There are just four tables in this tight, cozily appointed space but we rarely see anyone sitting. Every ten minutes or so a helmeted construction worker stops in for a café normale, knocks it back and is gone. There's an ebb and flow of locals drifting in and out, workers or owners from the nearby mercado, tabacaria and farmácia. Staying in the neighborhood for a few weeks, and speaking a modicum of Portuguese, has granted us entrée into this laid-back, distinctly local social club. A small taste of what it might be like to live here, to skirt the tourists and explore what it is to be Portuguese.
There is music too. When Zé returns from his cousin's house ("Tudo bem!") he pops a CD into a bulky plastic 90s-era boombox and the evening continues apace. He favors Brazilian bossa nova and samba, and the occasional Bob Dylan. A little after six o'clock, when the last construction worker has gone, Zé pours a glass of cerveja for one of his buddies from the market across the square, and they chat while he prepares a dish. There is no menu, just a glass deli case displaying today's culinary creations, a refreshing alternative to the franchised sameness so common around the world.
Zé returns to check in on us every so often and chat, graciously allowing us to stumble along in our limited Portuguese. After a time he asks if we are hungry, and what kind of food we "feel" like. He has some quiche, a casserole, or he can fix us something else. We say we'd also like a salad, and then without a word, he walks out again, and when he returns we see that he's bought lettuce. But first he has in mind a special dish, which a while later turns out to be a few delicious shrimp in foil with butter and garlic. Followed by some fresh bread topped with goat cheese and a drizzle of honey. And the salad, a simple traditional mixto of lettuce, tomato and onion, with the perfect dressing.
Zé has a classic Portuguese face with perhaps a dash of Italian. Strong jaw, bushy brown hair, warm, intelligent eyes. We will see him everywhere, in Porto, Lagos, Lisbon. Or at least someone, who for a moment, is almost Zé. There are no other customers tonight, just locals taking a café or a copo do vinho served up with a  dash of friendship. We are guests passing through this place where Zé entertains pals old and new. When we're ready to go, he tallies up on a scrap of paper what we ate, and the bill is so small we wish it were more. Will he be here tomorrow? Maybe. Maybe not. Every afternoon we take a look, hoping a chair and table are out on the sidewalk, our cue that we can have coffee, wine, a good chat, and whatever comes next in the world of Zé.
---