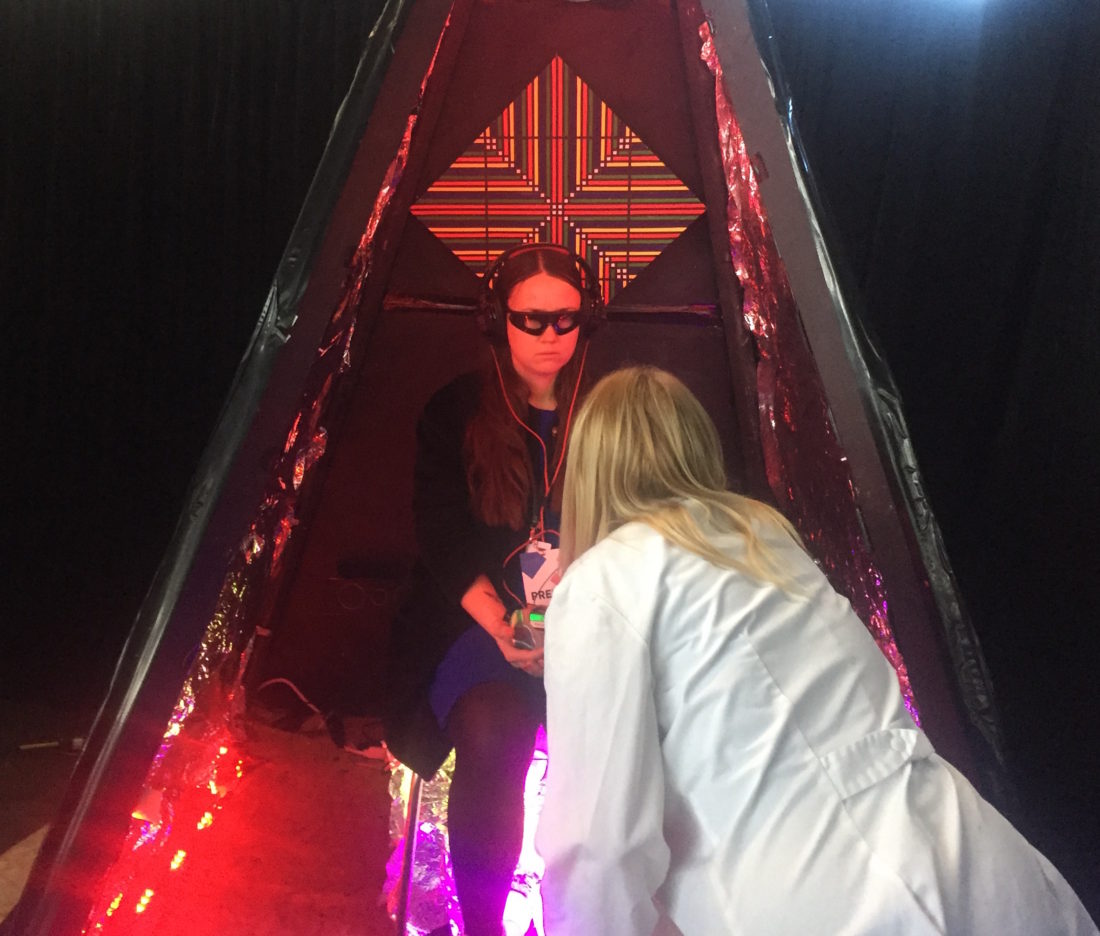 Plugging into trance-inducing states, playing full-body VR Pong, and zipping about on electric longboards and sci-fi-themed art vessels, thousands of geeks and tech enthusiasts convened in San Francisco for a taste of the Digital Now, while on stage, speakers shared utopian visions of smart cities, driverless cars, augmented and virtual realities, and algorithm-driven dating. Welcome to Worlds Fair Nano, a techno circus that may soon alight at a city near you.
Attendees at the two-day carnival-inspired extravaganza stepped into a weird, industrial nexus combining attributes of the Burning Man festival, a consumer electronics expo, a tomorrow-leaning tech conference, and a family-fun theme park. The massive Icarus art car pumped out smoke and techno dance tunes, crowds lined up for a spin aboard the aluminum Cosmic Carousel, a space saucer, kids and parents zipped around the Rideables Racecourse on motorized stuffies, while the more athletically inclined rode electric skateboards and Hoverboards next to the Drone Zone.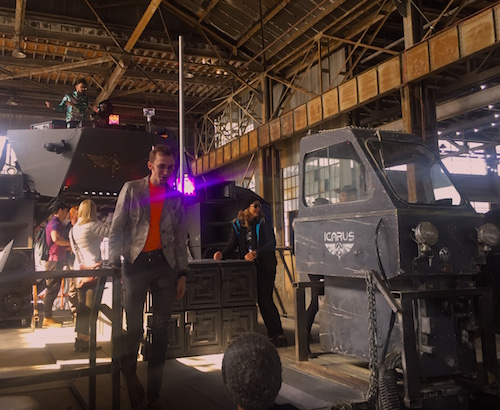 Housed within Building 12 at the Pier 70 Partners shipyard at Potrero Point and organized by Worlds Fair USA, an event company and tech promoter, the festival hosted an impressive slate of speakers – entrepreneurs, thinkers, authors, and visionaries – kicked off by a scholarly presentation by local architect Stephen Engblom on how World's Fairs and Olympics have spurred innovation, technology, and urban development. Indeed, the title of every one of the dozens of talks was prefaced by the word "future": The Future of Smart Cities, The Future of Cognitive Enhancement, The Future of Dating, The Future of Cannabis, and so on (to the point where attendees might have been forgiven for suffering future fatigue).
The real excitement – fun, curiosity, and taste of what's next – could be found in the aisles of the Technology Playground, featuring many products and exhibitors just back from earning accolades at CES in Las Vegas.  The longest lines and biggest crowds gathered for games and VR demos, sponsored by companies such as Virtual World Arcade, Nullspace VR, and perhaps the most popular, Human Pong by Modal VR. On the pong court, combatants donning VR headsets skittered side-to-side like crabs, to bat the virtual puck back and forth, while crowds spectated in bleachers as if watching a tennis match.
Brain and body were also hot. Disciples lined up for the AZoth Pyramid, where a blonde in a lab technician's coat plugged them one by one into a glowing neurotechnology-powered throne that induced calm and meditative states. Meanwhile, the packed booth for Crave, a design-your-own vibrator with USB rechargeability and a "smart button," was buzzing.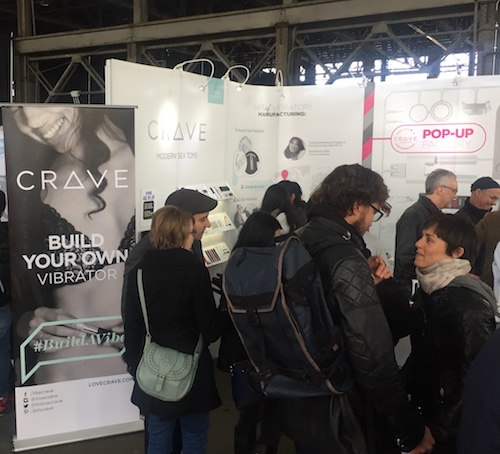 Nanotech devices featuring safety, stress relief, or mood monitoring were also popular themes.The SmartCap, an embedded head band, senses fatigue via EEG brain waves to detect sleepiness before accidents happen on the job. Stress and anxiety too may be nipped in the bud by the Lief Therapeutics ECG patch, which monitors heart rate and breathing to detect and ward off bad vibes before they get you down. And IQbuds, noise cancelling headphones, let you selectively tune out co-workers and the wider world to varying degrees with the tap of a finger.
The melding of fashion, design, and wearables was well represented in Amazfit's minimalist ceramic fitness bands, and the award-winning Helix Cuff by Ashley Chloe, wearable, wrist-activated wireless headphones. The Fireside Audiobox offered retro-meets-tech, a novel twist on the classic music box, an elegant wooden box and speaker system that syncs dancing flames to your favorite tunes.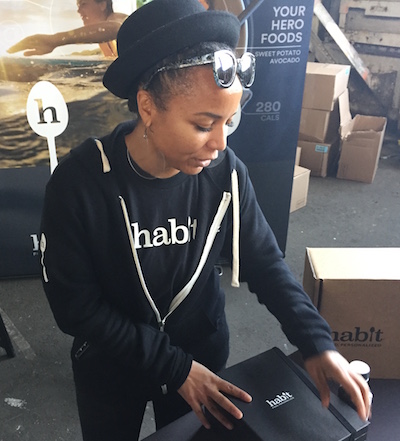 After taking in the exhibits, and the data-driven dreams of several speakers, it was time to eat. Food trucks beckoned outside, but inside was the future. Habit, a personalized nutrition company offering a sophisticated do-it-yourself DNA nutritional test kit drawing on data science and proprietary algorithms to identify your "Habit Type" and tell you what nutrients and foods you need now.
The future, it seems, is already on the menu.