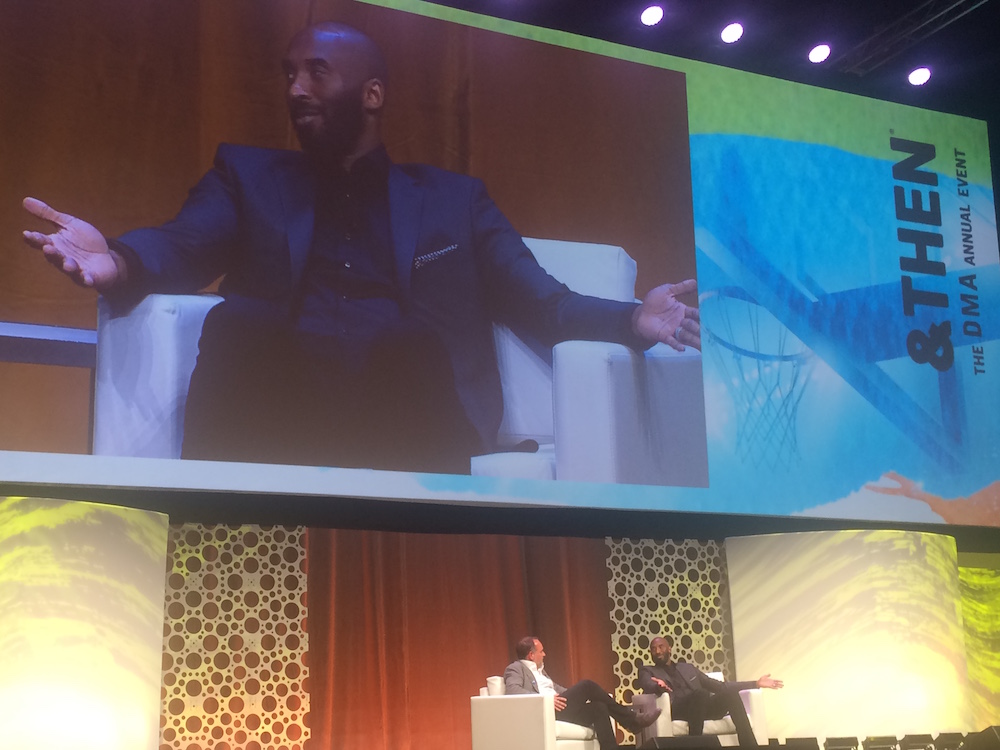 Kobe Bryant took to a new court last week, the Los Angeles Convention Center, smoothly professional in his new role as an entrepreneur and venture capitalist on the hunt for the next great startup, proving both that innovation and entrepreneurism are the coolest game, and also making a strong play for Silicon Beach as California's second San Francisco.
Bryant, speaking at the packed Data and Marketing Association's &THEN conference, was making his first major appearance after recently announcing his $100 million tech and data investment fund, with longtime business partner Jeff Stibel. He was far from the only star. The conference had a heavy innovation and big data theme with speakers like Beth Comstock, vice chair of General Electric, and Matt Marolda, chief analytics officer of global movie and multimedia powerhouse Legendary Entertainment. Comstock cautioned that "We have to accept the old is going away and the new hasn't completely emerged," and said the key to making the most of data is to "think big but observe small. Ask the right questions."
Disruption and breakthroughs in data, media, technology and marketing dominated the sessions – from "The Science of Creativity" to "Decoding Celebrity Influence" and "The Revolution of Big Data." Psychology marketing guru Jeanette McMurtry warned attendees that black and red logos stimulate cortisol, the "fight or flight" hormone, whereas more and more tech firms – Facebook, Twitter, LinkedIn – choose blue, "the color of trust," which studies show inspires creativity.
San Francisco and Silicon Valley's global tech leadership cast a long shadow on the megalopolis 400 miles to the South. But the conference was also a reminder that Silicon Beach, originally encompassing Santa Monica and Venice, and in recent years stretching south to Playa Vista and as far inland as Culver City, is exploding in entrepreneurial importance. California's other seaside startup capital plays sunny home to more than 500 startups, with major offices for Google, Facebook, Snapchat, Buzzfeed, Microsoft, and Sony Playstation. Rents in highly desirable Venice and Santa Monica have soared to $8 a square foot per month. Tech firms are snapping up commercial and industrial spaces of all shapes and sizes, including Howard Hughes's famous "Spruce Goose" airplane hangar, now home to Google's YouTube. Collaborative and co-working spaces abound, in fun waterfront settings with recreation areas and sprawling campuses featuring sleek cafes and restaurants.
Kobe gave the closing talk in his new uniform — fashionable sports jacket and iWatch — while disclosing his all-consuming passion for his new venture. He also discussed his extreme work ethic and attention to detail (just recently he designed the logo for his new firm). He spoke of how his skill and focus as a basketball player might inform his new life: "The detail it takes to be a great athlete is the same detail it takes to be a great writer or a great composer, great doctor or lawyer."
The former NBA star also expressed his admiration for Apple's design chief Jony Ive and Nike co-founder Phil Knight. Knight, he said, provided an avenue to express his creativity and love of storytelling in helping to forge Nike's identity. The athlete discovered that he had a natural talent for coming up with authentic stories, for uncovering what your company stands for and how "you can make a dent in the world," he said. "Once you start from that truth … the idea will emerge."
Kobe's drive for success fuels his intellectual and investment curiosity. So far, he and Stibel have revealed several investments, including The Players' Tribune, Alibaba, Scopely, LegalZoom, RingDNA, and Juicero. Today, the athlete who pushed Nike to shave millimeters off his shoes for an edge, and routinely analyzed game film during halftime to exploit defensive weaknesses, demands answers on technology and entrepreneurship at the highest levels. Everything is possible. Bryant, not unlike the young Steve Jobs, thinks nothing of cold-calling CEOs and thought leaders with questions, and more often than not, they take his call.
"I'll do a lot of research and try to learn as much as I can," Bryant said. "If all of a sudden a question pops into my head, I have to know the answer – I can't just let it go. So I call."
Los Angeles has long been the nexus of the world's entertainment industry. But there's a natural global convergence happening here between entertainment, celebrity and technology. Kobe represents the new, smarter generation, not content with the status quo of traditional stardom. He's breaking out of the old mold, riding the next wave in Silicon Beach.