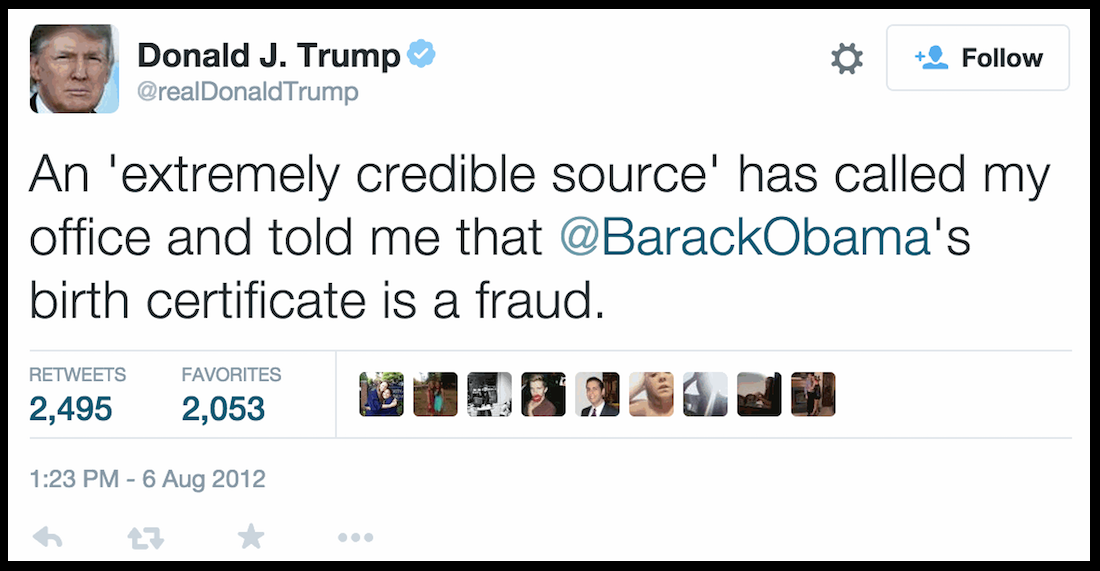 Lunching at Twitter's headquarters recently in a week dominated by inane tweets by our President, I thought of my favorite writer. George Orwell brilliantly anticipated the perils posed by authoritarian governments mercilessly ruled by strongmen, but he couldn't have imagined how swiftly technology would chip away at truth and democracy through something as seemingly harmless as a tweet.
There in the belly of the beast, deep within the inner workings of Trump's unwitting propaganda machine, I struggled to find a connection between my seemingly innocuous surroundings and the mad gyrations we've been spinning around in this past year. The reality is that Trump has flipped politics upside down by turning the platform into his personal bullhorn. Twitter isn't just any tech company, it's arguably the firm that gave Trump the tool he needed to land the White House.
Shape-Shifting the News
Enter the now legendary address on Market Street right next to Uber, and Twitter seems like any other serious tech headquarters. There's ample security. Check in downstairs in the lobby, then upon exiting the elevator, your host has you sign in on an iPad, and you receive a lanyard, your ticket to roam, especially after your host clicks you past the security guards to the interior offices.
Given Twitter's central role in the fractious, shape-shifting of our news cycle, today it's hard not to draw parallels to Orwell's Ministry of Truth: the propaganda bureau of the dystopian government in his novel 1984, an agency whose chief concern is the falsification of official historical narratives – in other words, fake news. Sadly, that fictional future describes our present, an age when demagogues, trolls, and bots have shaped Twitter into an effective propaganda weapon against objective truth. What's real and what's not can be hard to discern on Twitter, as reports in Newsweek and other publications have suggested: up to half of Trump's followers may be bots.
But, eating lunch here on a recent Thursday, one could briefly imagine this was just another tech firm. Floor upon floor of bountiful cafeterias with every dish imaginable, an endless supply of beer and wine on tap, and a miraculous, revolving dish-removing machine to whisk away your food scraps and speed your return to work. Apart from the occasional blue Twitter bird on the wall or a drink machine, there's little to identify this as Twitter. What's more, the environment seems to be conspicuously lacking in mission, ethos or culture. None of the inspirational messages or guiding principles found at so many other companies. Nothing of the ilk of Facebook's legendary agile prototyping mantra, "Move fast and break things," nor Patagonia's "inspire and implement solutions to the environmental crisis." Little of any meaning or purpose adorns the walls, unless you count the cheery branding touch in the main cafeteria, a large pulsing red LED heart next to a giant Twitter bird.
Jack Dorsey, Biz Stone, and Twitter's Role
My host took me on a brief tour, and we peeked into a modern library with elegant bookcases graced with objets d'art, yet nearly devoid of books of inhabitants. A man lounged on a stylish couch, while another black-clad figure sat facing the window, tapping on his laptop – a man who turned out to be co-founder Biz Stone. Outside the main cafeteria, on a vast, nearly empty Manhattan-style rooftop, far away, near the ledge, sat Twitter's other founder, the legendary introvert Jack Dorsey. "This is his thing," my friend told me of the man in the white t-shirt. "He comes out here and sits by himself at the edge and makes phone calls."
Swiped through to the interior office, we encountered ample evidence of Twitter's fixations on celebrity and marketing – posterboards featuring media stars, and gushing scribblings about "story." But here's what I really want to know: how does Twitter see its role in society, business, sports, and politics?
There was an early, sanguine moment when it seemed Twitter might evolve into a force of good. Remember the Arab Spring? Twitter and other platforms were deployed by the resistance to help organize demonstrations and keep people safe, giving a voice to the underdog, and spurring democratic movements. But nowhere at headquarters did I see any evidence of how Twitter had liberated people, or helped the oppressed rise up against authoritarian governments or corruption. Online you'll find Twitter's vanilla mission statement: "To give everyone the power to create and share ideas and information instantly, without barriers." But within the walls of 1355 Market Street there's little evidence of an overarching purpose. Indeed, the closest thing I found to any sort of context was a large screen displaying a dozen small panels of employee tweets, a bit like the company bulletin board.
Why no great tweets memorialized on the cafeteria walls? Why no scrolling tweets-of-the-week or a dashboard display of the most recent viral content? Why not design a dramatic wall of screens to broadcast what's big in politics, business, sports, celebrities at a glance? Why no effort to chronicle how this quirky, once obscure messaging app has irrevocably altered public discourse?
The Perfect Propaganda Platform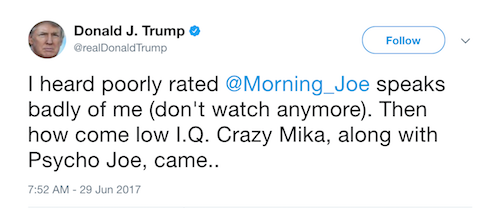 The answer may be that even Dorsey, Stone, and the thousands who work here must know in their hearts that their once beautiful little experiment has run amok. Twitter has devolved into the perfect propaganda platform, a stupidly simple and ingenious technology that has proven a surprising boon to those happy to harass, harangue and, yes, lie.
Imagine, for example, if Twitter created a wall covered with infamous Trump tweets. Tweets maligning women's bodies or intelligence. Tweets inciting violence against journalists. Tweets lying about President Obama – the lie that Obama wiretapped Trump, the birther-conspiracy lie, or the bizarre streak of lies attacking Obama for what increasingly appears to be Trump-abetted Russian election collusion at the precise moment that investigators probe whether Trump's digital campaign operations, overseen by Jared Kushner, "helped guide Russia's sophisticated voter targeting and fake news attacks on Hillary Clinton in 2016."
Of course, one can't imagine that wall because no one would work under such a damning visual reminder of Trump's steady Tweetstorm of hate.
Twitter defines Trump's rise and fall, a fact more evident than ever now with Donald Trump, Jr.'s extraordinary email stream recently dumped in a mind-numbingly stupid Twitter blast – demonstrating in an instant the awesome power of the medium to alter history, and perhaps the Presidency.
This is our eminently regrettable present, the impossible future even a seer like Orwell couldn't foresee: that we'd be so naïve as to imagine that technology and commerce would necessarily support democracy. Orwell presciently satirized the brutal reality we're living through, where a great nation has been so dazzled and distracted by a minimalist master of manipulation. Yet Orwell couldn't predict its final form: narcissism and idiocy played out in 140-character blasts, all in the naked pursuit of profit.
Bans and Business
It's make or break time for Twitter, which recently reported its first quarterly revenue decline since going public in 2013. Tweets are currency, and political tweets are easy money. Calls by a Congressman to ban Trump from the medium for his violent threats and gender-based attacks that patently violate Twitter's "hateful conduct" rule have fallen on deaf ears at the social media giant.
Trump now is Twitter's biggest attraction, and he makes the rules, and can keep right on hating. (According to the New York Times, as of June 28, 2017, Trump had insulted 337 people, places and things.)  Trump's hate is music to Twitter's bottom line. The company's Chairman spoke to Bloomberg last week at the exclusive invitation-only Allen & Company Sun Valley Conference, amid a who's who of tech and media CEOs, along with newcomers Jared Kushner and Ivanka Trump. The executive made clear the where the company stands.
Donald Trump is good for business. Said Twitter Executive Chairman Omid Kordestani: "It's good to have him talk on Twitter."