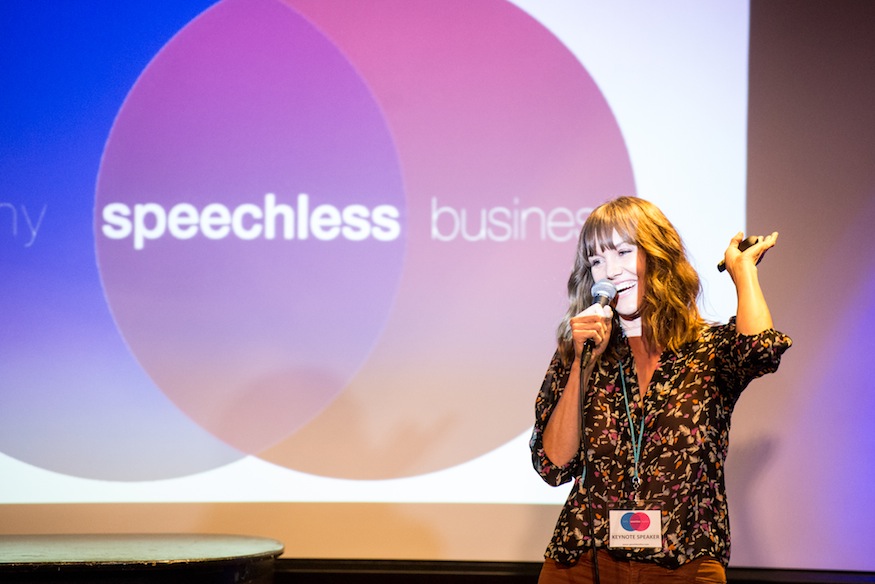 Everyone wants to gain greater confidence in pitching ideas or presenting, but how can you rise above the great gray mediocrity of corporate storytelling? The answer may be Sammy Wegent's Speechless. Part comedy show, part ingenious corporate training methodology, this clever idea just may revolutionize the dry world of business-related PowerPoint presentations.
Years ago, I took improv classes from Sammy at a San Francisco-based comedy school. Like most writers and lecturers, I believed in the holiness of the script. Sammy dashed that premise. Improvisation, he taught, demands that you go with the flow, that you build on the ideas of others – that you play! The more I studied improv, the more I realized that the improv mindset should be required training for anyone passionate about innovation.
Sammy's father loved comedy, and so Sammy was invited to watch and listen to the greats, from George Carlin to Robin Williams. By age seven, Sammy was parroting jokes. By junior high he was writing jokes. He founded a comedy troupe in college, and started on "this path of doing and teaching. When I wanted to learn I had to teach other people to play with me." Sammy bought all manner of books on comedy and was soon creating what he called "a giant football-like" playbook for teaching improv. His school comedy troupe thrived. By his senior year, he was an adjunct professor teaching improv. He kept teaching in grad school, headed a professional comedy troupe at a theatre in Florida during his summers, and took it on the road, and later to San Francisco, where he snagged a job at the social gaming company Zynga.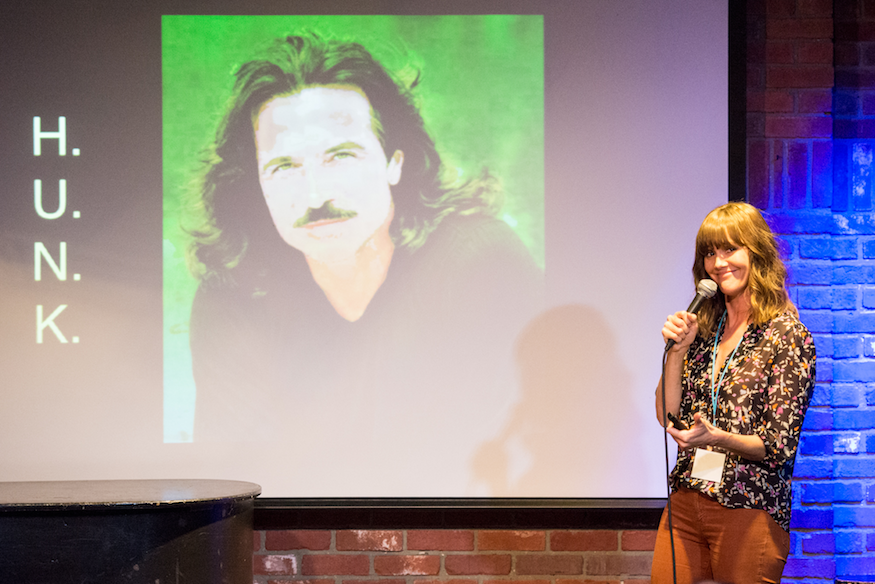 Crossing his comedy background with his day job sparked his breakthrough. Sammy started to notice how often business PowerPoints flopped or just plain sucked. Presenters stumbled when they screwed up the order of their slides, and lost their audience. Those blunders planted a seed in his comic mind. In early 2013, Wegent and fellow improv performer Marc Hershon were giving a corporate workshop in San Francisco. "I'd been thinking," recalled Wegent, "what if this was a show? What if you had people get up and they had no idea what the slides would be?" The workshop attendees became his guinea pigs. Sammy cobbled together a humorous, random PowerPoint deck with goofy photos and Photoshopped images intermixed with dull business slides (4th quarter sales projections, etc.). Then he invited the attendees up on stage to present on everything from an App launch to a mock Ted Talk, a sermon, or a corporate monologue on sexual harassment. "It was the funniest, best received part of the workshop," said Wegent. "Marc and I looked at each other and said, 'We've just created a monster.'"
With the help of Speechless co-founders Anthony Veneziale and Scott Litton, the impromptu workshop game spawned monthly San Francisco Speechless shows, which led to seminar and training gigs with Google, Salesforce, the Bill and Melinda Gates Foundation, and Adobe (Speechless team members are off to Bangalore and Hyderabad India this July for events for Zynga and Google). Speechless recently held a monthlong tournament called Speechless Madness on the campuses of Google, Adobe, Zynga, and Airbnb. Chet Haase of Google won, with a hilarious mock Ted Talk about the benefits of polygamy that featured the winning line: "How many things are so nice that you think you have to have them twice?"
Speechless is great entertainment – the show has found rapt audiences in L.A., New York and even Dubai, and has been written about in Newsweek and The Wall Street Journal – but how in the world might it help you give better presentations? The sad truth is that today's PowerPoints have deadened corporate storytelling. Compare Mad Men's Don Draper mastery with just a simple storyboard to the thousands of generic, dull corporate PowerPoint pitches given every day. The slides drain drama and spontaneity out of most pitches or presentations. We lean on them when we can't be bothered to stake out a bold, compelling narrative. Speechless teases you out onto a narrow ledge that's the opposite of a standard corporate talk. Suddenly you have no control: the slides are absurd, the topic ridiculous. The game teaches that you, The Presenter, must take command. You have to weave a story out of whole cloth. It's a wonderful inversion, and when a performer masters the medium it's astonishing. Through quick wit, imagination and verve, a talented presenter can connect and seemingly will the random slides into a coherent whole and have the audience laughing hysterically.
You've got to experience it to see the power of it. Wegent has lectured at my USF Creativity and Innovation class, and my students and I loved playing Speechless. (This summer Speechless is offering classes at San Francisco's Galvanize). But trying to explain Speechless is a bit like trying to use only words to teach someone how to ride a bike. This much I'm certain of: after playing Speechless, the next time I gave a seminar I felt relaxed and more willing to take chances. Speechless teaches you something more priceless than presentation skills or PowerPoint mastery. It teaches you to trust in your creative abilities and connect with the crowd. It teaches you good old-fashioned confidence. And Sammy's creative leap teaches us that it took a corporate outsider to transcend horrible PowerPoint presentations through the powerful lens of comedy.
Photos courtesy of Speechless