The topic at Schoolab SF last week was a subject we take seriously as an international consultancy and hub: place matters to those who strive to scale. Entrepreneur in Residence Jonathan Littman moderated a diverse panel of two startups and a spinoff on an evening that might have been titled Tech, Wine and Fire. What did they all have in common besides being native Portuguese speakers? A strong belief that California's open mindset and forward lean is key to their ambitions and strategies for scaling and going international.
The night began with a tasting of exquisite Californian, Portuguese and South African wines, a natural choice since one of the guests was Ana Ferreira, founder and CEO of b_create, the first product development platform for the thriving wine and beverage industry. Davi Macedo, co-founder of Back4App, the lone Brazilian on the panel, delighted the audience with how he improvised his way into attending and benefitting tremendously from Stanford's famous Launchpad accelerator. And Vasco Correia, the Chief Business Officer for a spinoff of Compta, Portugal's largest IT firm, had a story critical to our planet's health: how his company's Bee2Fire Detection system is being used to combat the devastating fires that have ravaged the Amazon, Portugal and California. The event was sponsored by Leadership Business Consulting of Portugal, the Portuguese Agency for Trade & Investment (AICEP), the Portuguese American Leadership Council of the United States (PALCUS), West to West, and Schoolab SF.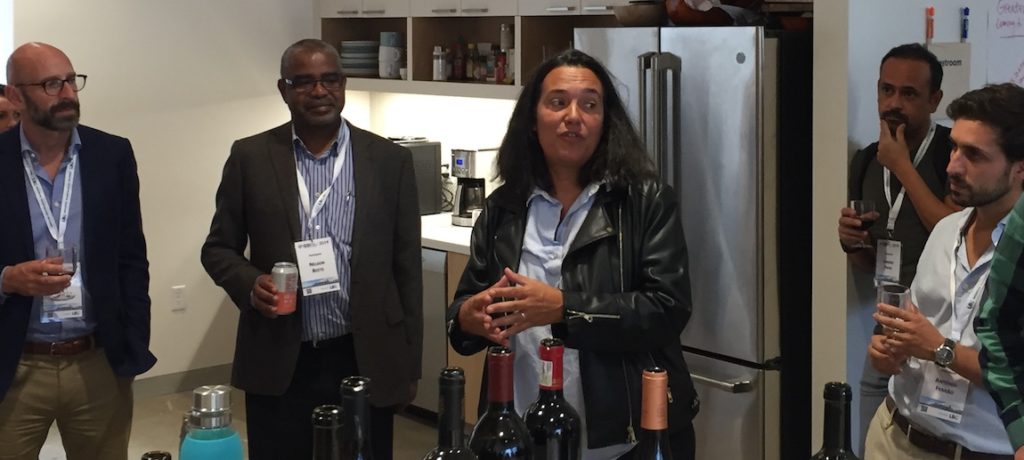 Improvise, Network, Prototype
Davi Macedo, a computer engineering graduate of Sao Paulo's highly regarded Technical Institute of Aeronautics, employed a quintessentially South American blend of improvisation and strategy for his app development tool. He reached out to Bay Area graduates of TIA, and dove in headfirst when he moved to San Francisco to live in a hacker house in the SoMa district. "So I stayed at a place that was like, bunkbeds where I could live together with like 200 other developers. It was one of the best things I did, It was the right place to get feedback and learn about the developers here."
Our tech and entrepreneurial community can be very welcoming to global startups coming to California, and this is how Ana Ferreira knew that she belonged. It doesn't hurt that Napa, Sonoma and the Central Valley are also ground zero for the global wine industry, so she's now here every other month and is planning on putting down roots. "Whenever I'm here," she says, "everyone always wants to know 'When are you coming back?'"
There can be challenges. Correia's target customers for Bee2Fire Detection are neither techies nor giants in the wine business. And the sales process can be extended for his hardware and software system. But the panelists agreed that the opportunity to secure major customers and investors in California is huge. This is Ferreira's third trip here in 15 months, each longer than the one before. On her first visit she landed a meeting with "one of the biggest companies in the world." On this current trip she met with more top-ranked companies. "The response from the beverage companies is different from other countries in Europe," she said. "Here they are so open to innovation."
What do these three international companies have to offer in California? Innovative, technical solutions to key business and environmental challenges. b_create, for instance, provides a streamlined tech platform for wine and beverage companies to develop and introduce dozens of new products every year, a necessary component in today's accelerating global marketplace where wine must compete with beer, cocktails and even newfangled CBD drinks. Meanwhile, Bee2Fire's hardware and software system has been proven to automatically detect fires in a few minutes, the critical early warning necessary to keep blazes from raging out of control – a capability sorely missing during last year's California's deadly and toxic disasters.
Back4App is a good example of new, increasingly international startups. Davi Macedo lives and works in Palo Alto with one colleague, regularly interacting with a robust team of ten engineers hired out of ITA in Sao Paulo. Correia and Ferreira also lead tech teams in their home offices in Lisbon and Porto. Engineering talent is robust in all three cities, and they all smiled and pointedly declined to answer – in English or Portuguese – when asked the salaries they pay their engineers, far less than the bloated cost of talent here in San Francisco.
Hustle is what these three all share, perhaps best summed up by Macedo's journey to California. "I tried to create a map of everybody I was somehow connected to," he said. "If not in the startup space here, close to my University." That strategy led him to a fellow Brazilian working at a major VC who happened to also be a Stanford MBA. That man invested in Back4App, and successfully lobbied for Macedo and Back4App to attend the 10-week Stanford Launchpad accelerator. That's not normally possible – Macedo was not enrolled at the University.
But international hustle takes you far in Silicon Valley. Macedo attended every class, and was enthralled by the focus on practice instead of theory. Launchpad's rapid prototyping pace – and the instant exposure to the world's greatest concentration of VCs – sped Back4App's development and earned it more investors. The next year Macedo spent seven months at the famed Alchemist accelerator in San Francisco.
Having a Local Face
Going global means having a footprint here, and an international team. If you live in the US, it pays to have an American on the team. "Americans, they like to deal with American people," said Correia. "We failed sometimes in the beginning, not showing up for events, and we didn't have any Americans. So one of the things that we are focused on until the end of the year is to have an American face for our company."
Ana Ferreira nodded in agreement as she told the audience that her engineering team is based in Portugal, also a wine country. "I think I have an advantage being in the wine industry. My engineers are also passionate about the wine business, and maybe they will go to California for the challenge and fall in love with a Californian. So, they will stay here forever!"
Amid the laughter, a programmer in the audience joked that he would work for her "for the wine discount." All kidding aside, the Portuguese and Brazilians are known for their adventurousness, and so perhaps it's no surprise that they are here in San Francisco in increasing numbers. By chance you can meet more Portuguese entrepreneurs at this week's Portugal Tech Summit, a showcase of tech talent and investment opportunities. Nos vamos!
---