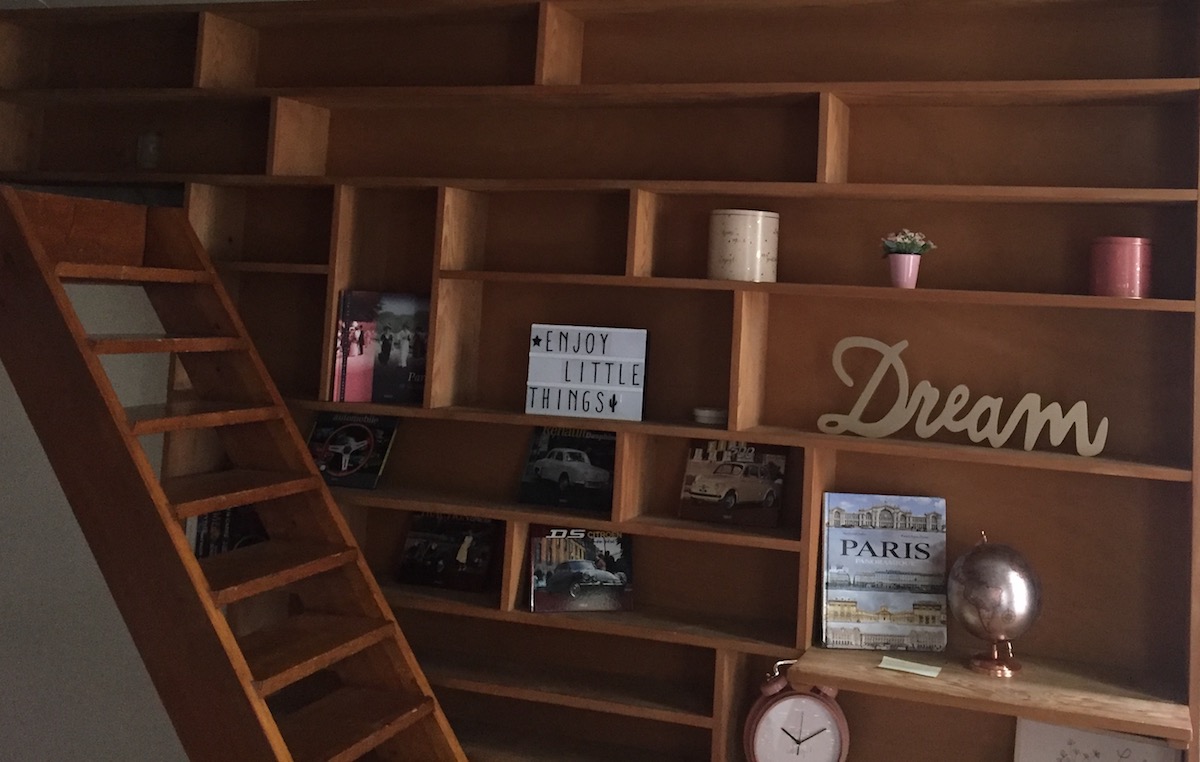 Dear Brian Chesky – Next time you're in Paris, you must check out this listing: "5 STARS – BEAUTIFUL – PARIS CENTER OF THE MARAIS." It's what makes your platform so awesome. The pics. OMG. Lovely, long white curtains. Stone walls. Wood floor and a big bookcase. A whimsical decorative woodblock sign, reading "Dreams." Ah, so nice. Why stay anywhere else?
When we got there last week, we informed Sam, our suave sunglass-wearing host, that we'd arrive slightly early, and he was so cool. He even sent us instructions for a three-step process to get in and drop our bags.
We opened the door to our new home and – whoa! – we wondered, maybe this was a chain smoker's "5 STARS". The place reeked of cigarettes. The bathroom featured a washing machine where your feet should go if you wished to sit on the toilet. The main overhead light in the living room did not function. The kitchen was low-ceilinged and cave-like, under a loft, ideally positioned for me to strike and and cut my head. Oh, and the bed in that loft lacked sheets, so the first thing you saw when you entered this Marais Marvel was a bare mattress.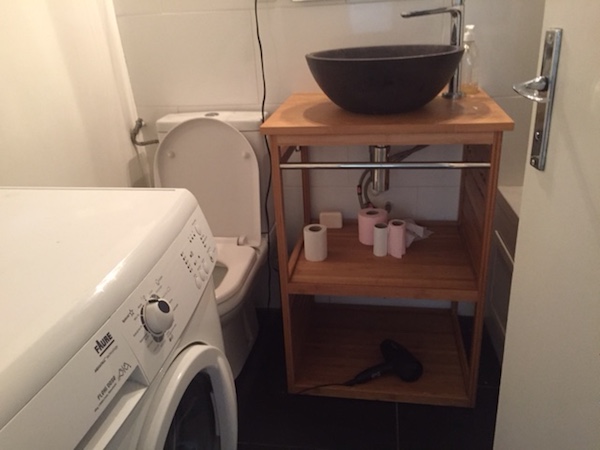 Later that afternoon we ditched the apartment, texted Sam and asked how to get on the wifi. He sent us a photo of a hand-scrawled note showing a long string of indecipherable characters. We asked for a typed version. Sam wasn't feeling it, and did not bother to reply. We asked for sheets for the bed. He begrudgingly had someone drop them off  (we'd have to put them on), and then scolded us in a terse text: we should have told him in advance that we didn't want a bare mattress in our living room. We asked Sam for working lights. Open the electrical box and figure it out, our dear host wrote.  And when we replied that we weren't electricians, and that nothing was marked in the circuit box, Sam went silent.
Thankfully, Brian, you have this amazing platform. We logged on and told your amazing Airbnb customer service reps all about Sam, in great writerly detail, and were promised we'd hear back right away. Nearly 48 hours later, just as we were checking out, we got a reply from "Anthony". At least we think it might been Anthony. His correspondence was well-composed, and heartfelt. He wished he could have helped more but as we were just leaving the apartment it was too late…. We pinged back, and then began to think Anthony might be related to Sam, or perhaps a bot, as he too did not bother to reply.
We hopped a plane to Lisbon and took a room at a five-star destination with the word "EPIC" in its title. Let me count the ways I love EPIC SANA Lisboa. The lights worked. The wifi sang to us, and the bed was double the width of Sam's, with fine cotton linen that was dreamy. There wasn't the slightest smell of smoke, and the bathroom was to die for, his-and-hers sinks, a full bathtub, bidet, and a shower so strong it felt like a Swedish massage on your shoulders. Best of all, there wasn't a washing machine in front of the toilet. Downstairs at the colossal spa, we worked the smoke and foul memories of the Marais-chez-Sam out of our lungs and pores, lifting weights in a full gym, swimming in the elegant pool, and sweating in the spacious sauna. The price beat Sam's Airbnb easily, less than $200 a night.
Dear Brian Chesky – Next time you're in Lisbon, you've got to check out this new concept in lodging. There's a lot to learn for a CEO like you, a graduate from the renowned Rhode Island School of Design, who believes in putting the customer at the center of an empathic, designed experience.
It's called a hotel.