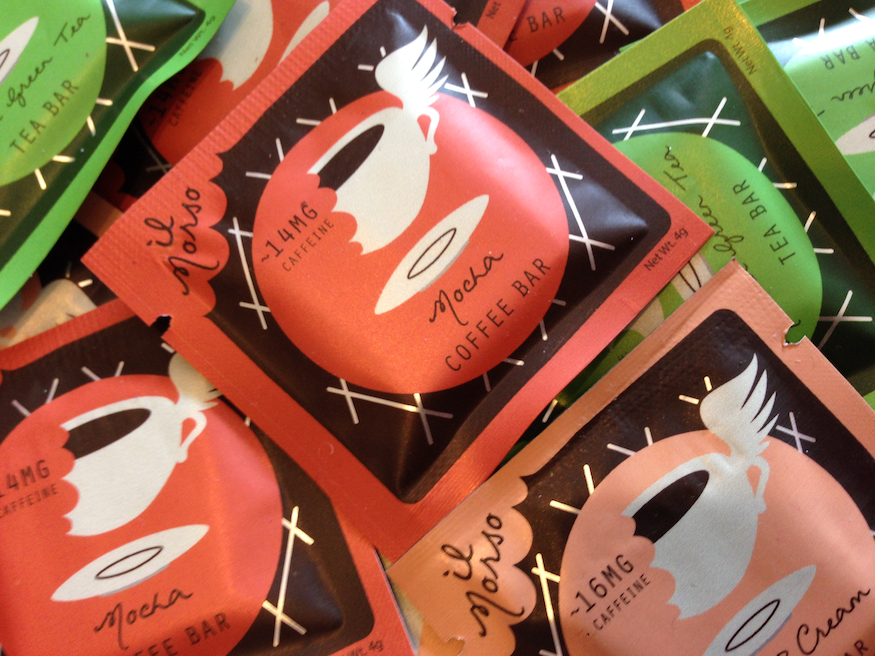 Jordan Schuster is a wiry, intense man who loves and dreams about chocolate, a man who wants to be "in that inspirational creative space" that feeds his hunger to design new foods and imagine new flavors, a man who knows good ideas often take time. More than a dozen years ago in Milan he had an epiphany that has finally come to fruition in a very small package that strikingly resembles something else (it's not food). He calls it, Il Morso, "The Bite."
In a cavernous warehouse on San Francisco's Treasure Island filled with colossal hanging sculptures of robots, and a big bosomed mermaid bound for the Burning Man festival, Jordan sports a hairnet in a small room and opens a barrel-shaped machine – The Conche Refiner – that resembles the shell from which it takes its name. "It's a beast," he says with obvious affection, as he reveals the chocolate-streaked plates inside with obvious affection. "It's designed to be a piece of lab equipment. It's from the 1990's, it's pretty rare."
Jordan has been employing this beast to create early renditions of Il Morso, inspired by that trip to a Milanese café. It all began when he was drinking a morning espresso, and the barista handed him a pastille. "I was about to eat it," he recalled. "And then, he said, 'No. Put it in the espresso.'" Jordan's eyes get dreamy when he recalls the moment. He dropped the pastille in for one final, rich chocolatey slurp. "I loved that experience. It was a great espresso with a nice chocolate finish."
That deep cultural experience stayed with Jordan. He founded Fearless, a chocolate company in Berkeley, and through the years he played with his Milanese inspiration, occasionally making chocolate coffee bars. While delicious, they didn't exactly translate that quintessential Italian experience to America. Then, in the summer of 2014, he met Jason Berton, an entrepreneur with experience in restaurants and fashion, and a keen eye for marketing. The two became instant friends and the concept gelled.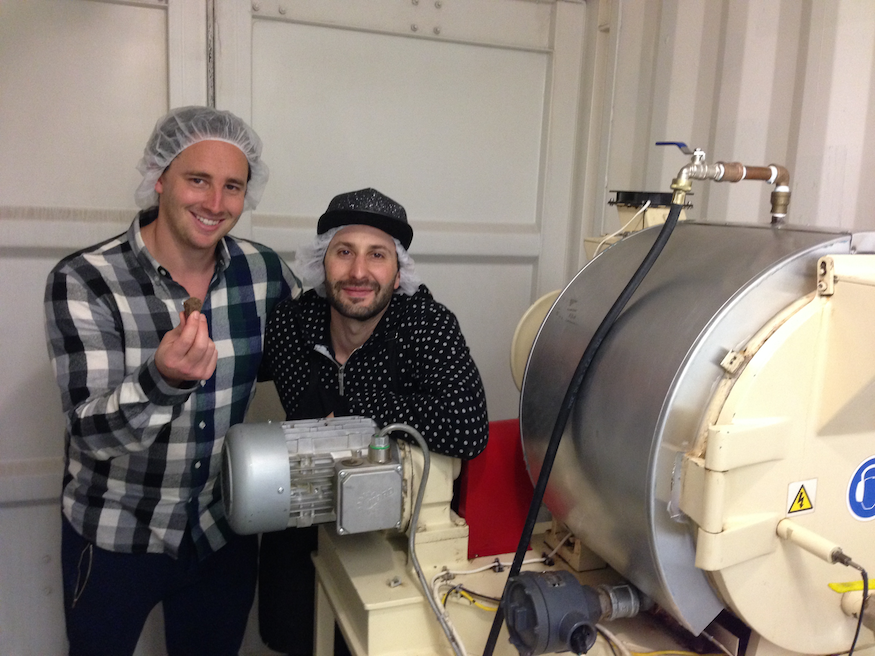 Jordan's experiments showed him "how much the cocoa butter is the chocolate experience," and heightened his appreciation of the joyful symbiosis between cocoa butter and caffeine. His tiny squares of cocoa butter, espresso beans and chocolate were profoundly strong. "Caffeine is fat soluble," he explains, as he stirs a thick, dark batch of chocolate. "It will bind to the fat lipids." What this means in practice is that caffeinated cocoa butter lights up your brain three times faster than drinking coffee. It's also incredibly efficient. You only need about one third the amount of caffeinated cocoa butter to pack the punch of a cup of coffee.
The duo began refining Il Morso, stamping out tiny chocolate squares with just 15 to 25 calories, almost no sugar, and 14 to 18 mg of caffeine, delivering the same stimulation as an espresso. The square packages gradually took shape: stiff, and a little bigger than a restaurant sugar packet, with a neatly raised circle in the middle to firmly hold the chocolate. The package design is a classic coffee cup, but with a bite chewed out in front, and wings on the back. It's a playful compression of the Italian café experience in tune with the American need to perform anywhere, anytime.
This March they exhibited at the Natural Foods Expo in Los Angeles, and the guy in the next booth promptly informed them that Il Morsos look like another popular product. "They do," agrees Jordan with a smile. "We thought it would be cool to have a circle," adding that the clear, visual similarity to that other ubiquitous product is a "happy accident."
Il Morsos will be priced at $1.49 to $1.99, discounted to $1.25 on the website – considerably less, Jason notes than the $3.28 average price of a cup of coffee. Who knows, they just might change how we view our daily sources of caffeine. Jordan thinks busy professionals on the run (dashing between meetings, or catching flights) might find them a heck of a lot more efficient, tasty, and low on calories than Starbucks concoctions, or overly sweet, calorie-dense bars.
I savored the texture and taste of a delicious mocha Morso before lifting weights, and dug the quick buzz, and the fact that it's only 15 calories and a single gram of sugar.
Warning: Il Morso works. Get ready for The Bite.