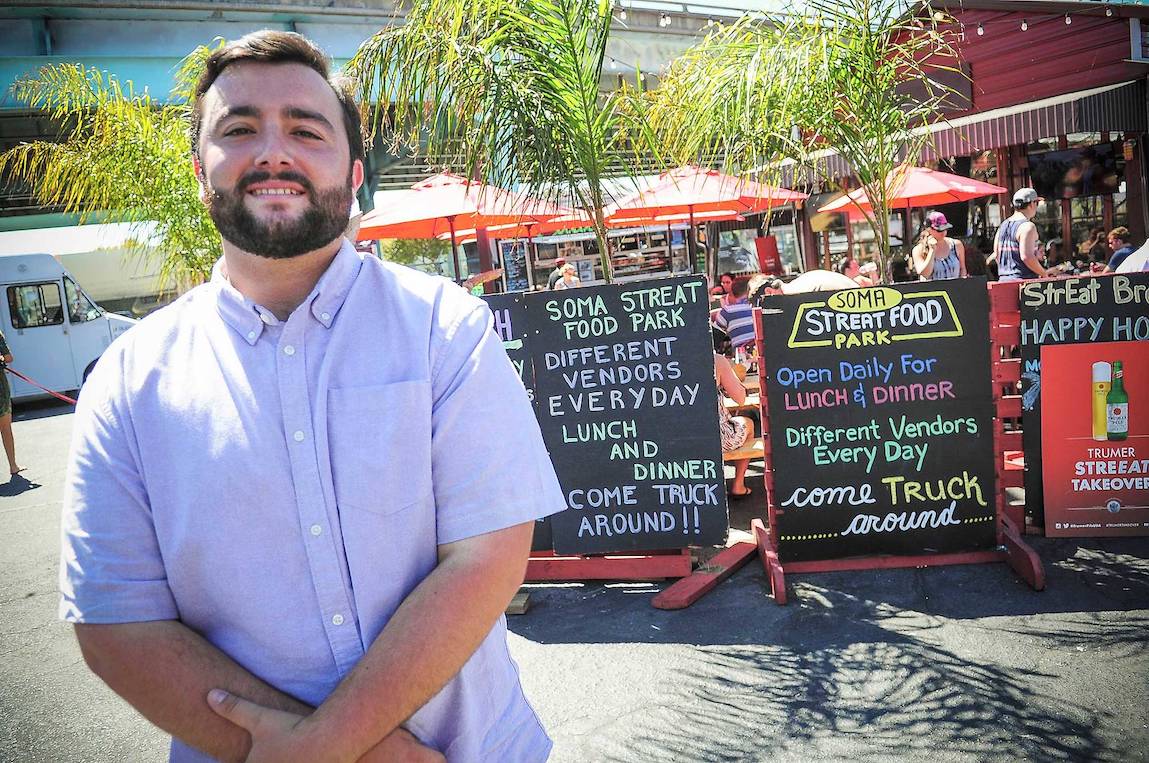 The platform is the Holy Grail in the world of startups and tech. Create the right, sticky elements, build and support your community, and boy can you scale. It all starts with someone we call the Conductor. I first met Carlos Muela where I teach aspiring young innovators, at the University of San Francisco. Carlos was just a few years out of school. Modest and fond of lumberjack shirts and jeans, Carlos didn't look anything like the typical smug tech founder. He could have gone on to manage his family's bustling Mission District tapas restaurants. But he studied entrepreneurship at USF, saw a revolution coming in the world of food, and had a radical, innovative idea. What if he could create the biggest restaurant in San Francisco? Without hiring a single chef, and without owning a restaurant? Carlos has already lived nine lives as an entrepreneur. He inspires me. His story and archetype are featured in our new book, The Entrepreneur's Faces.

[Below content is excerpted from The Entrepreneur's Faces, © 2020 by Jonathan Littman and Susanna Camp. All rights reserved.]

The Conductor designs novel experiences, quickly grasping the potential of creating a "network effect." They bring an innate tendency to think big, to explore how to build models that scale. Skilled at cross-pollinating with other experts to expand their reach, Conductors are constantly searching for more building blocks to add to their growing platforms, and aspire to share their passion. Models: Marc Benioff, Salesforce CEO, outspoken philanthropist and pioneer of Software as a Service (SaaS) cloud-based tech. Ben Silbermann, Pinterest Co-Founder.
Carlos Muela's Awakening
Carlos Muela was expected to take over his father's business, and in another place and time, that most certainly would have been his fate. His father owned two restaurants, and there was every reason to think that he would follow in his footsteps. A native of Madrid, Muela senior had opened Picaro and Esperpento in San Francisco's Mission District decades ago, a classic tale of an immigrant making good through old-fashioned initiative and hard work.
By the age of eight Carlos was already a fixture in his father's two bustling tapas restaurants, cleaning up and making himself useful. By fourteen he was a waiter, and by seventeen, a manager. There was no reason to think he would choose another path. He'd grown up in the sleepy, working class town of Martinez, more than an hour away by car from San Francisco. But Carlos wanted more. He aspired to achieve something his father had never had the opportunity to do, to go to college, and something told him that the place he studied mattered more than the school. Carlos had the face of a Madrileño. He had dark, thick hair and as he became a man, favored a beard or goatee. Stocky, with warm, friendly eyes, his rugged and simple clothes expressed his earnest modesty.
Carlos enrolled at the University of San Francisco in large part because he was attracted by the energy he felt when he worked at the family's restaurants, the vibrant, international buzz of the city. At USF he majored in hospitality but also a brand-new discipline just catching on, called entrepreneurship. Carlos wasn't like other students. He logged 40+ hours a week managing the family's restaurants, doing bar inventory, buying supplies, coordinating "the staff and flow of the night – 200 people with reservations – planning out the entire evening," all while somehow finding the time to attend and pass his classes.
Carlos could handle pressure. He also had dreams. By the time he neared graduation, he knew that he "wasn't going to be doing" what his parents had done. "I had a million ideas, and my father had his crazy ones." Father and son didn't talk sports. They talked of the next big thing in food. Of creating a San Francisco-based twist on the Mercado de San Miguel, Madrid's famous prototypical food court. "One of our many ideas was that we should do a market hall," said Carlos, who after he graduated from USF considered leasing a huge 20,000-square-foot space and slicing it up into tiny units to be subleased to small vendors. But the risky, capital-intensive nature of the business scared them off.
What about a sangria bar in the Mission, featuring a wild assortment of wine cocktails and Latin American beers? Carlos hired an architect to create some renderings, but ultimately decided that concept too had its limitations. He began to shift toward a stronger model with far greater potential. Food trucks were just starting to take off, and by chance, a friend had an empty lot in San Francisco's Mission District, and offered him a bargain lease. Sensing opportunity, Carlos began frequenting Off the Grid events in Fort Mason and various Bay Area farmers' markets, the festival-styled gatherings for food trucks. He talked to food truck vendors, and learned something that surprised him: "There were all these food trucks with nowhere to go." Despite the supposed boom, San Francisco's few dozen food trucks were struggling. Contrary to popular belief they couldn't just drive around town and pull over on any street to serve customers. City regulations required them to operate on private property, and to keep the wheels turning they needed more days than the farmers' markets and Off the Grid events could provide.
Due to zoning issues, Carlos knew his friend's empty lot in the Mission wouldn't fly, but he found an abandoned lot at 11th and Harrison. The year was 2011, the space on the periphery of what would soon become the center of the tech explosion in San Francisco's SoMa district. On the surface it was a disaster, filled with decrepit old U-Haul trucks, "homeless people, huge rats, garbage, and strung-out drug addicts." Yet Carlos also noted that it was across from a cavernous parking lot for several big box stores, and near the hot tech firms Zynga, RDIO and Pinterest. Unlike the Mission district property, this lot was zoned for industrial use, a big advantage. Carlos had an idea for a novel open-air food concept. Not a restaurant. Not a sangria bar. Not the Mercado de San Miguel. Something no one had tried before in this city famous for foodies. A permanent park designed just for food trucks.
The Conductor's Journey: Carlos shows us clearly that we don't have to do what our parents did – whether they are doctors, lawyers, accountants, or in his case, restaurant owners. Nor do we have to rebel. Carlos will deftly parlay the advantage and momentum of being a subject matter expert. Steeped in the business of food, Carlos smartly studied not just hospitality but entrepreneurship in college. And not just anywhere. In San Francisco because he senses it's his Place. The Bay Area has thousands of independent restaurant owners. But Carlos will be the one to innovate, to break free of the traditional track to orchestrate a revolution in food.
Next week: Daniel Lewis, The Outsider
---
---