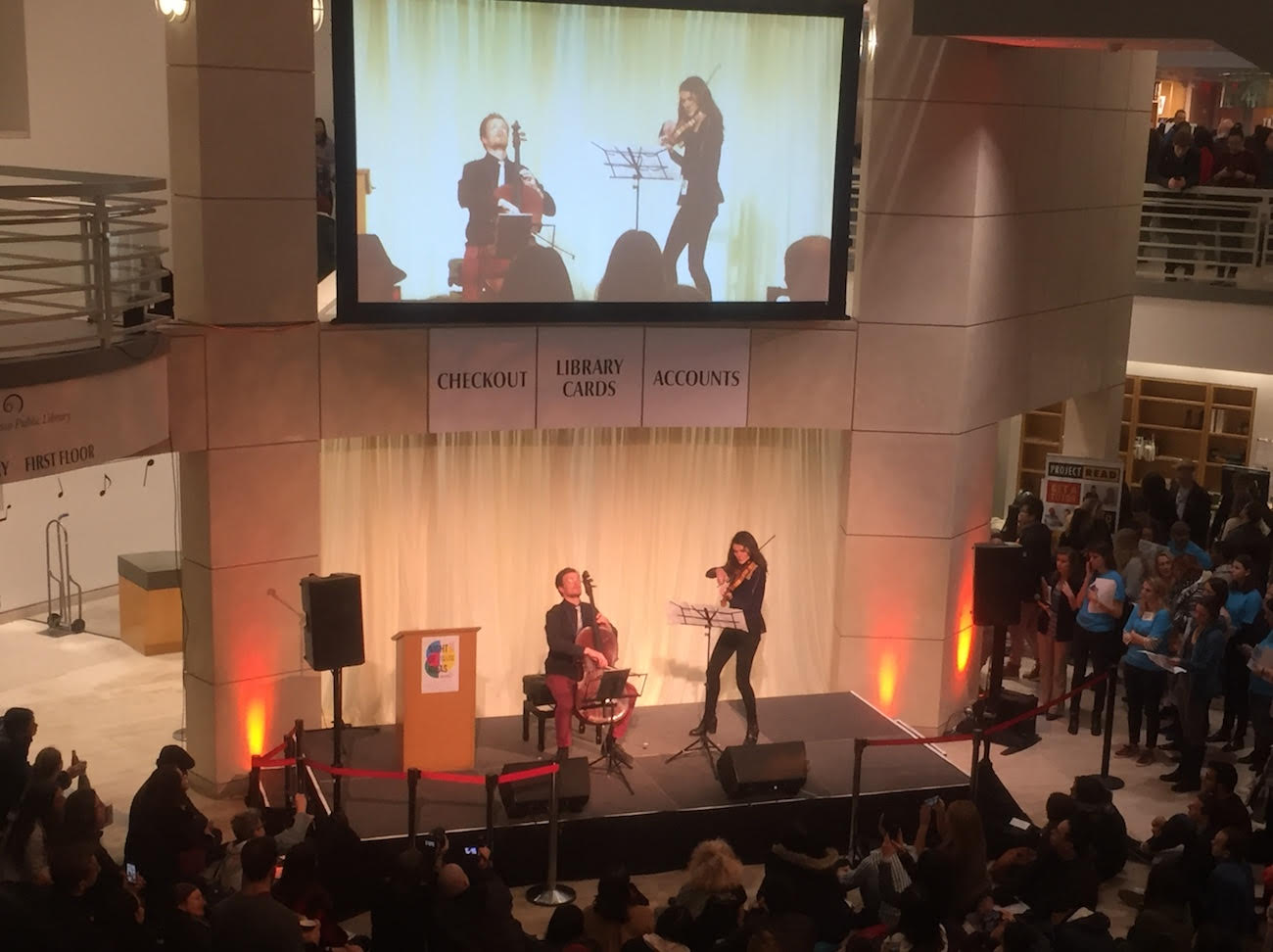 Bold intellectualism and philosophy lit up San Francisco this weekend on a French-inspired giant stage.  The Night of Ideas, sponsored by the French Embassy, MoMA, and the SF Public Library, featured a full slate of panels and performances by diverse local luminaries – from techies, to gay rights activists, Burning Man groupies, and all manner of artists and creatives.
Threading our way through the crowd of seven thousand, many of them chatting in French, we  took in the poetry, aerialists, hobnobbed with friends, and caught a glimpse of the French consul and a few other dignitaries. Early in the seven-hour evening, after a stroll  through the stacks, we caught the tech piece that brought us there. In a session called "A New Paradigm for Technology," that might as aptly have been called Back to the Future, Jaron Lanier, the larger-than-life dreadlocked pied piper of VR, played a pan-flute-like instrument called a khaen, and spun an age-old tale about the battle at the dawn of the internet.
Lanier took the San Francisco audience back to the 90s, recalling the fundamental clash between libertarians who just wanted information to be free, and capitalists aiming to cash in on the digital highway. Advertising was their compromise, he said, a fateful course that led to the political chicanery and loss of privacy that's come to define the internet today. Fight the "manipulation machine," Lanier exhorted the crowd. Stay relevant in the age of the automation. "AI depends on data … if you pay people for their data, you can create a new dignified society where people take pride in their data, become data artists, and it all kind of makes sense again," he said. On this evening about ideas, Lanier suggested that maybe, just maybe, we might win back some of our creativity and humanity by taking control of our data. Tapping the spill-over crowd in the library's atrium, he asked them to think of the wrong done to the people who'd had their ideas stolen. "Translators, investigative journalists, recording musicians," he said. "People who've all seen their careers collapse."
With that, Jaron Lanier waved his arms in a dramatic flourish, declaring, "And … that's the talk!" The Night of Ideas had just begun.
---