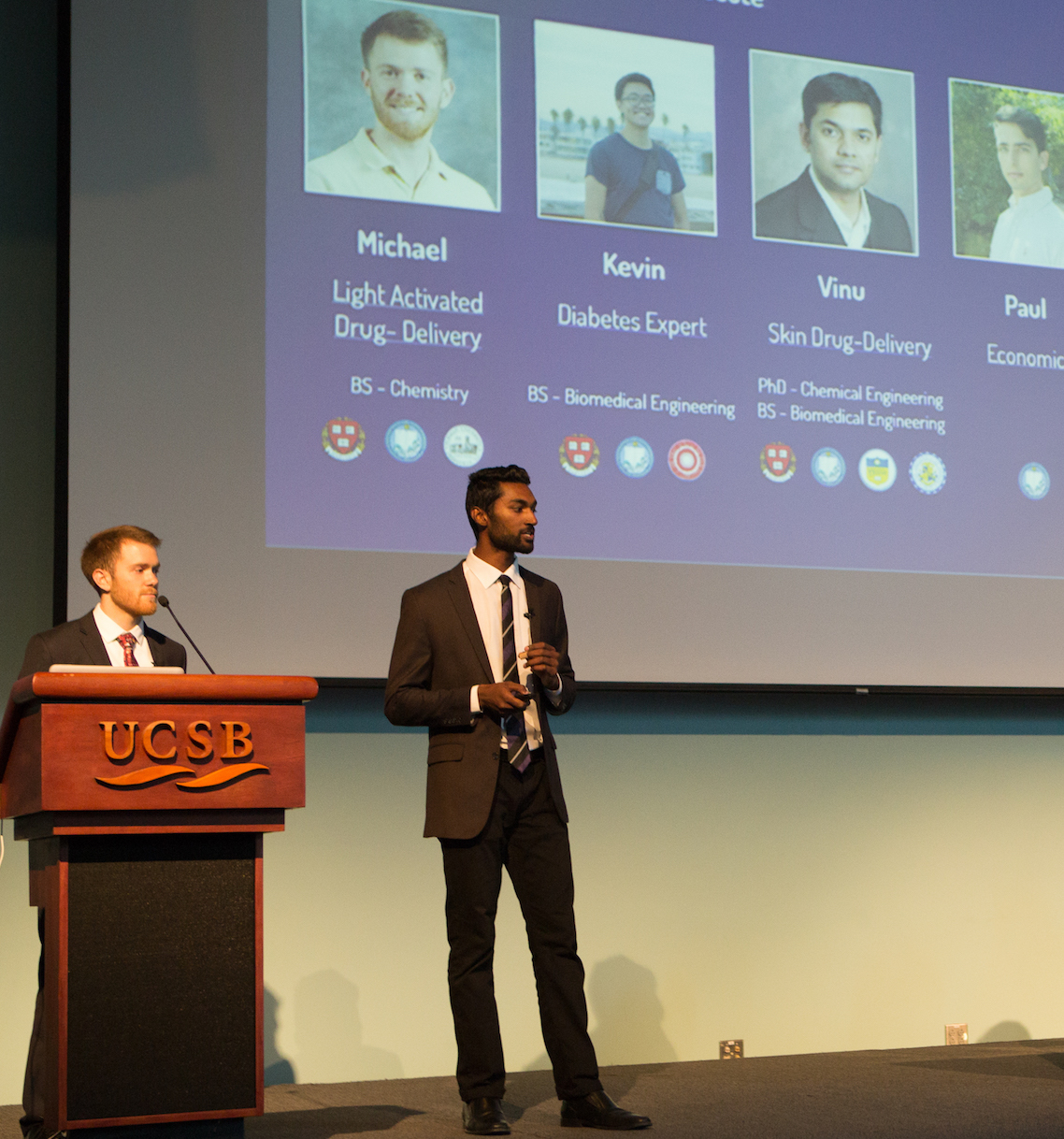 The proud mom in the front row was telling me all about her son. Nick Martitsch was about to compete in a prestigious collegiate event. This wasn't football, baseball or basketball. It was pitch day, a contest where young entrepreneurs vet their startup concepts, the new team sport sweeping America. The setting was not Stanford or even UC Berkeley, but another vanguard of the future, where change is happening fast with a proven formula for success.
Five hundred students, professors, mentors, investors, and parents were packed into the Corwin Pavillion on the UC Santa Barbara campus for the annual New Venture Competition finals. An elite panel of judges, a film crew, and multiple photographers stood at the ready. Six university teams were about to fight for a share of $40,000 in prize money. Past competitors have gotten angel and venture funding and launched major companies.
Proof Takes the Stage
Dave Adornetto, the entrepreneurship program director of UCSB's Technology Management Program, took the podium and asked the 2015 victors to stand and share a big update. "Two years ago, we won all those checks," said Evan Strenk of Milo Sensors. "We had a wearable alcohol sensor. The first of its kind." Strenk described how they developed an "electric chemical cell" people can wear like a Fitbit on their wrist, to read blood alcohol content through the skin. The product is called Proof. "We just launched on Indiegogo," Strenk said. "Overnight, we totally funded our $25,000 goal. Now we have another 30 days to rock and launch off that."
The crowd broke into wild applause. Proof (the product) was proof that this was more than just an exciting startup competition, but a process and methodology unfolding in the tight-knit community of UC Santa Barbara, where academic entrepreneurship meets lean startup development. It was also a metaphor for the reality that while the goal of business competitions is to provide the spark, inspiration must be followed by hard, grueling work.
The Pitches
"It's a grind," Dave Adornetto told the audience, explaining how most of this year's finalists had spent the entire academic year preparing for this highly anticipated moment. "It's the first test of entrepreneurship. They've got to really want it."
One by one, undergrads and PhDs took the stage for slick eight-minute presentations followed by eight minutes of grilling by the judges. They promised to heal diabetic ulcers through a proprietary light-activated molecule, and craft light AR glasses. Nick Martitsch and Brayden Curry were ready to battle scalpers and bloated ticket prices with blockchain technology, while next to me sat the beaming father of Shikha Sharma, whose squad sought to streamline apartment subleases with a web-based market approach. Every team had targeted a customer pain with a potentially potent commercial solution. My money was on the team designing THC-free medicinal pot, closely seconded by the students who hoped to magically transform chicken poop into organic fertilizer.
Local Startup with Global Appeal
A few hours before the New Venture Competition finals, Jason Spievak led me through a maze of cavernous hallways in a building the size of 50 houses near the UCSB campus, a visceral example of the contest's long-tail success. These are the brand new headquarters of the 2012 NVC winner, the venture capital-backed Apeel Sciences. The massive building was formerly leased by pharmaceutical giant Allergan, and once housed hundreds of employees in a sprawling 105,000 square feet outfitted with $20 million worth of wet labs.  Today, Apeel has just 75 employees, but hopes to ramp up to 300 in the next few years, the majority of them UCSB Gauchos. Fortune Magazine just underlined the company's tremendous, game-changing potential in a recent headline: "This Startup Has a Natural Solution to the $2.6 Trillion Food Waste Problem." Using leftover leaves, stems and plant parts, Apeel has created a miraculous, FDA-approved food coating that can be sprayed on produce to double shelf life.
The company was founded by James Rogers, a UCSB PhD who crossed his solar cell research over to food technology to win the NVC.  Spievak helped lead Apeel's first angel round of financing and then several subsequent rounds, the latest a $33 million round led by the prestigious venture firm of Andreessen Horowitz. Spievak is part of the tight-knit Santa Barbara Angel Alliance, who often provide the first hundreds of thousands of dollars of capital to UC Santa Barbara spinoffs, and also lend mentorship and management expertise. Besides serving as Apeel's Chief Commercial Officer, Spievak co-founded another hot UC Santa Barbara offshoot, Invoca, the call marketing giant. While Apeel has the potential to become an international commercial success, Inogen, an oxygen concentrator firm that came out of UCSB with support by the Angel Alliance, is to date the highest profile winner of the New Venture Competition, valued at $1.5 billion.
Programming Entrepreneurship
Increasingly robust UCSB coursework is expanding the numbers of students and teams entering the competition and launching companies.  Last fall, 350 students sought information on the NVC, twice the number two years ago. Professors and former participants spoke at invitational sessions, and previewed the lean-startup-style courses offered within the technology management program. Fall mixers and seminars sparked ideation and team formation. The teams were not just technically savvy undergrads but also PhDs in the sciences, and combo teams drawn from other schools, such as the elite Bren School of Environmental Science and Management. Many are also fostered within the university's world-renowned materials science graduate program, where Rogers of Apeel did his research.
"They'll brainstorm their ideas, get feedback from other students and mentors," Adornetto said of the program's initial events. "The idea is to let them pivot a bit, and get them introduced to other students, with the goal of multi-disciplinary teams coming out of it." Dozens of successful Santa Barbara entrepreneurs, senior executives and investors volunteer as mentors.
Thirty-eight teams formed this past fall, pursuing ideas ranging from the application of high-level UCSB graduate research, to software apps and services, as well as promising business concepts offered up from the supporting local community of entrepreneurs, doctors, and engineers.
By late November, the teams had crafted one-minute elevator pitches presented to professors and forty mentors for feedback. Some were encouraged to pivot, while others received an unqualified go. Winter was when the hardest work began.  Many team members went on to enroll in the foundational class taught by Spievak and a cadre of other professors: TMP 149, Creating a Market-Tested Startup Business Model.
Based on Steven Blank's "Lean LaunchPad" concept, the class is intensely customer-focused and grounded in an iterative philosophy. "They do at least ten customer interviews a week, and over the course of a semester they're talking to over a hundred customers, users, partners or influencers," said Adornetto. "You get out of the building and talk to people to test and get the right hypothesis – and pivot or persevere."
Students must form a team first with a business concept, and interview with the teaching team to be admitted.  Half don't make the cut. The New Venture Fair, the prelude to the final competition, is held in early May. "Out of the roughly 20 teams that participated in the Venture Fair, ten came out of our TMP 149 class," said Spievak. "It's a funnel, or feeder, for the competition."
Business: The Greatest Game
The first three squads – OrganicMatters, WanderLease, and Collatera – presented, and got ample tough love from the judges on the difficulty of finding paying customers, fighting off competitors, not to mention building a viable, scalable product. After an intermission, Delta Leaf Labs, PhantaField, and CRYPTIX pitched, and then everyone enjoyed food and wine while the judges deliberated.
That's when I met the charismatic Vince Kuppamala. Last year, Vince led a team that made the NVC finals. He loved the competition and coursework so much that the graduate in biochemistry and biology came back for another year to earn his Masters in Technology Management. Vince wants to be a different kind of doctor, one who "starts companies to innovate and solve medical problems" that might help thousands of people. Last fall he met some talented UCSB PhD and doctoral students with the radical idea that became Collatera, to use a light-activated small molecule to tackle the multi-billion crisis of diabetes-related amputation. The researchers have won grants to continue their research at Harvard this summer with the Mitragotri Lab, and if Vince gets funding, he'll go too. But wherever he goes and whatever he does, Vince is certain to bring his deep training and passion for entrepreneurship.
The next man I meet loves the NVC and the chance to play a pivotal role in startups that just might change the world. "I live for this," John Petote told me with a beaming smile. "To me, business is the greatest game ever invented." Petote founded the Angel Alliance, heads Santa Barbara's leading IT outsourcing firm, and has been closely following the NVC for two decades. He led Apeel's initial $1.2 million angel round, and has funded several other NVC winners. "I invest in people first. I have a knack for reading character and the ability to execute," he told me. "If you bet on the right guys, they will pivot successfully."
So I ask him, who's your pick tonight?
And The Winner Is…
It's hard to say who was the biggest winner. Earlier that evening, Adornetto spoke about how he and others at UCSB had been thinking less about prizes and more about what happens after the competition. Half a dozen teams that didn't make the finals this year had exceptionally promising concepts. "But if they don't get the support," said Adornetto, "it's not going to go anywhere."
And so, this year, many of these dedicated would-be student startups will have somewhere to go right on campus. It's a small space, not much bigger than a classroom, funded in part by the state and located in the Mosher Alumni house. The incubator, or "pre-accelerator", as Adornetto called it, will need ongoing financial backing from alumni, but it will provide teams a place to extend the competition, to incubate for a year after the finals, to "shift from idea creation and business model development to launch and commercialization."
It was nearly 7 p.m. when the votes finally came in. Shikha Sharma's Wanderlease took third, and the team I'd expected to win, the guys designing THC-free medicinal pot, Delta Leaf  Labs, grabbed second. Collatera, the PhD candidates led by Vince Kuppamala, won over the crowd in the highly coveted audience vote, taking the People's Choice award.
The team that won the judges' top honor had "solved a real market problem" through a process of "talking to actual potential customers and users," said Steve Zahm, one of the judges, and the president of local giant software construction firm Procore. "That shows that their business model is something that could actually grow into a successful venture."
This was CRYPTIX, headed by Brayden Curry and Nick Martitsch. The odds are strong that their blockchain ticket concept will become a reality. But if Nick's startup dream doesn't happen, he'll pivot. He's got promise.
He was John Petote's choice.
---
UC Santa Barbara's New Venture Competition is part of a state-wide, national trend to pour investment, state-of-the-art technology and design into reinventing higher education in the risk-taking mold of startups. Check out our story, UC San Diego's Rising Tech Wave.