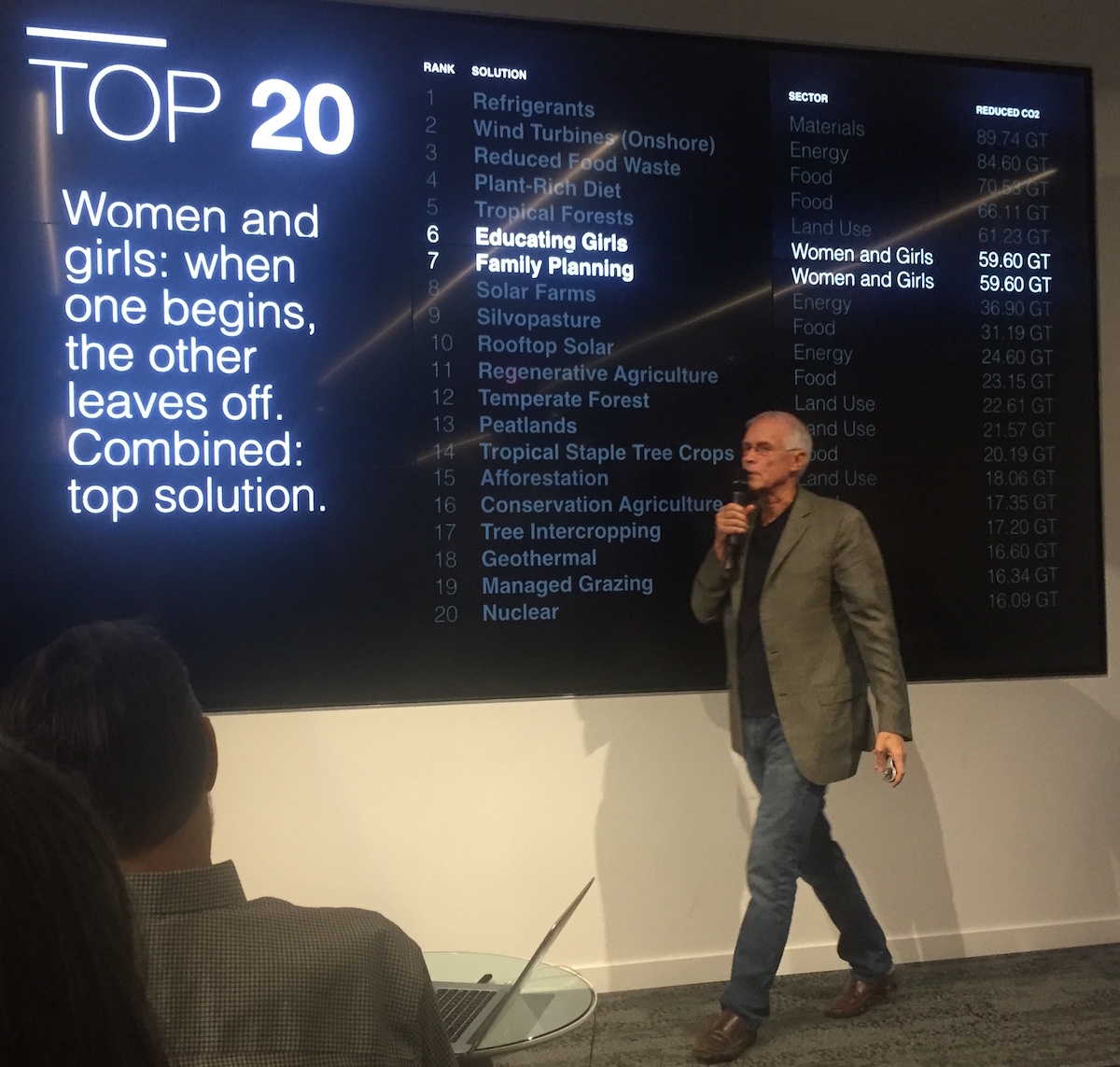 Paul Hawken has a bold vision for tackling global warming through crowdsourcing expertise, marshaling big data, and wielding a new, transparent language that shines a positive light on change. "Drawdown means the first time on a year-to-year basis greenhouse gases peak and go down," explained the inspiring environmentalist and entrepreneur, before an enthusiastic overflow crowd of 300 at last week's What's Now: San Francisco event at Capgemini's Applied Innovation Exchange. "What we wanted to do with Project Drawdown is to name the goal. If you don't name the goal, fat chance you're going to hit it."
Drawdown: The Most Comprehensive Plan Ever Proposed to Reverse Global Warming, the book, will be available in bookstores and on Amazon in a few days, but the audience was experiencing the nation's first public preview of the book – and movement – straight from the author. Pete Leyden of Reinvent, the What's Now host, framed the night with a candid recognition that the environment seems to be on the ropes. "The week started with our President issuing an executive order to roll back a lot of the progress that the Obama administration had made toward doing something about climate change," Leyden began. "We have to say that we're going backwards. We're going a couple of steps backwards," he said, before introducing his guest. "After tonight you're going to have a lot better week – a hell of a lot better."
Entrepreneurism Meets Environmentalism
Hawken's can-do, engaging talk (and sleek, professional slideshow) took the high road with a leader's optimism backed by science and the power of crowdsourced intelligence. And Hawken's impressive track record as an entrepreneur, author and environmentalist suggests that he's got the vision and chops to get the job done. Hawken worked with Martin Luther King's staff in Selma, Alabama, founded a natural foods wholesaler and the iconic Smith & Hawken boutique garden supply company, and started and heads OneSun, a thin-panel solar company. His bestsellers include The Next Economy, Growing a Business, and Natural Capitalism (Bill Clinton called it "one of the five most important books in the world") and now Drawdown.
Hawken began by acknowledging the failure of current strategies. "Mitigation, stabilization, reduction," he said. "It's a little bit like Thelma and Louise in slow motion … you're still going over the cliff."
His next slide presented dramatic data on the alarming rise in CO2 in the earth's atmosphere. "The last time we were at these levels was 14 million years ago," he said, pointing to the rising arrow on the chart. "Anybody who says they know what's going to happen – it's complete guesswork. We're in terra nova." Next, Hawken displayed a chart showing a rising CO2 line that peaks and then falls. "This is what Drawdown looks like theoretically," he said pointing to a potential peak in 2047. "It shows a point in time where there's an inflection. That's what we have to aim for."
Hawken says the genesis for Project Drawdown dates back to the Carbon Mitigation Initiative, launched by Princeton University and BP in 2000. Scientists have been working at least that long to identify ways to reduce the amount of carbon released into the air, the detrimental effects of which include climate change, extreme weather, and severe economic costs. Yet Hawken saw the initiative's tactics as wrongheaded. He noted that its 15 proposed solutions would have required energy, utility and car companies – "the most conservative companies in the world" – to take the lead in building and creating things that would be money losers. Instead, Hawken began talking to friends about creating a list of "what we can do, and what it would cost." Environmental NGOs told him it was a great idea, but they lacked the expertise. So did Hawken. The idea died.
Lean Startup: Crowdsourcing the Science
Fast forward to 2013. Borrowing a page out of the lean startup playbook, the serial entrepreneur dreamed up the outlandish idea of crowdsourcing the science and data for a book of solutions. "We didn't have any money," he said. "No one offered any money." Hawken and his collaborators instead reached out to PhDs and research fellows worldwide, paying them modest stipends for their input. "They are extraordinary people. They did the core research in Drawdown," he said. "twenty-two countries, six continents, 40 percent women, half PhD's, all advanced degrees. They mapped, measured, and modeled the most substantive solutions to global warming." The book also includes companion prose by such luminaries as Pope Francis, renowned environmentalist author Michael Pollan, and others.
Hawken enlisted 122 advisors to review the book's findings. Going big, broad, and deep, the opposite of the superficial "ten solutions to climate change" you might find in a cursory Google search, the project Drawdown team came up with 100 carbon-cutting solutions, ranked according to their potential impact by 2050.
Big Data Surprise Solutions
The surprise? Migrating away from fossil fuels is only part of the solution. As Hawken clicked through his slides, the tremendous variety of planet-saving efforts was on display. "Rice is one of the largest sources of methane emissions," he said. "You take the water off in the middle of production and you reduce methane production by 50 percent and improve the product, at no capital cost."
After quickly sharing some standard solutions – offshore wind turbines, nuclear, and rooftop solar – he pulled up a slide of an adolescent girl in school. "This is educating girls. This is one of the most important solutions – number 6," he said to an appreciative, clapping audience. "Girls are taken out of school at puberty, and married off and have an average of 5 children." Education, said Hawken, gives girls a chance "to be a woman" on her own terms. What's more, identifying the solution as "Educating Girls" as opposed to "Population Control" transforms the idea into a positive goal nearly everyone can get behind.
That's a key element of Drawdown: replacing the tired and often militaristic language hindering substantive climate change. Terms in the book consciously avoid the often negative framing associated with global warming.
Hawken continued his countdown – following education with food. "This is reduced food waste – number three," he said before pulling up a photo showing truckloads of rotting produce. He paused for effect. "Who knew? We just did the math."
And the number four solution? "A plant rich diet."
Hawken said the team was so astonished by many of the top solutions – number one is refrigerants (HFCs) – that he pulled together the top five and challenged an international expert to name them, and she got them all wrong. Two more experts were similarly off target.
"This is what surprised us," he said. "Food is bigger than energy. Who knew?" and that knowledge, Hawken said, grants us power. "We didn't make the plan, we found it. This is really important to understand. It's here. Humanity has the collective wisdom. Every solution that we modeled is scaling."
After Hawken received a standing ovation from the audience, Pete Leyden tapped the power of the crowd with a spirited Q&A. "How are you feeling about some of the bad news that rolled out of Washington and the tweeter-in-chief?" an audience member probed. "How much damage are we capable of doing before some of the good news begins to kick in?"
"Very little. Very, very little." Hawken said, dismissing President Trump's potential to inflict any lasting harm. "What he says and what he does are two different things. The clean energy plan was never instituted; it's been in court for two years. So he can't roll it back because it never happened. Second, we have created a bureaucracy that's so slow it's molasses in terms of trying to change it for the bad or the good. He wants to change it for the worse … But I just didn't pay attention at all to that," said an unfazed Hawken.
"This is a global model and if anything what we're seeing is a sunset effect on fossil fuels, not the rebirth of idiocy. And when the sun sets, it gets really bright, and then – boom – it's dark."
Drawdown the book, and its 100 solutions to global warming, goes on sale next week.
---
What's Now: San Francisco is a series hosted by Reinvent and Capgemini, featuring prominent people, technologies, and important ideas in SF. Check out our SmartUp What's Now stories on Gavin Newsom and Jen Pahlka and Tim O'Reilly.